Abstract
The effects of spirulina supplementation on preventing skeletal muscle damage on untrained human beings were examined. Sixteen students volunteered to take Spirulina platensis in addition to their normal diet for 3-weeks. Blood samples were taken after finishing the Bruce incremental treadmill exercise before and after treatment. The results showed that plasma concentrations of malondialdehyde (MDA) were significantly decreased after supplementation with spirulina (P < 0.05). The activity of blood superoxide dismutase (SOD) was significantly raised after supplementation with spirulina or soy protein (P < 0.05). Both of the blood glutathione peroxidaes (GP x ) and lactate dehydrogenase (LDH) levels were significantly different between spirulina and soy protein supplementation by an ANCOVA analysis (P < 0.05). In addition, the lactate (LA) concentration was higher and the time to exhaustion (TE) was significantly extended in the spirulina trail (P < 0.05). These results suggest that ingestion of S. platensis showed preventive effect of the skeletal muscle damage and that probably led to postponement of the time of exhaustion during the all-out exercise.
This is a preview of subscription content, log in to check access.
Access options
Buy single article
Instant access to the full article PDF.
US$ 39.95
Price includes VAT for USA
Subscribe to journal
Immediate online access to all issues from 2019. Subscription will auto renew annually.
US$ 199
This is the net price. Taxes to be calculated in checkout.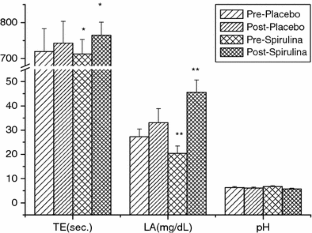 References
Al-Batshan HA, Al-Mufarrej SI, Al-Homaidan AA, Qureshi MA (2001) Enhancement of chicken macrophage phagocytic function and nitrite production by dietary Spirulina platensis. Immunopharm Immunotox 2(23):281–289

Alessio HM, Hagerman AE, Fulkerson BK, Ambrose J, Rice RE, Wiley RL (2000) Generation of reactive oxygen species after exhaustive aerobic and isometric exercise. Med Sci Sports Exerc 32(9):1576–1581

Ashmaig ME, Starkey BJ, Ziada AM, Amro AA, Sobki SH, Ferns GA (2001) Changes in serum concentrations of markers of myocardial injury following treadmill exercise testing in patients with suspected ischemic heart disease. Int Med J Exp Clin Res 7(1):54–57

Bagchi D, Bagchi M, Stohs SJ, Das DK, Ray SD, Kuszynski CA, Joshi SS, Pruess HG (2000) Free radicals and grape seed proanthocyanidin extract: importance in humanhealth and disease prevention. Toxicology 148(2–3):187–197

Beaton LJ, Allan DA, Tarnopolsky MA, Tiidus PM, Phillips SM (2002) Contraction-induced muscle damage is unaffected by vitamin E supplementation. Med Sci Sports Exerc 34(5):798–805

Belay A, Kato T, Ota Y (1996) Spirulina (Arthrospira): potential application as an animal feed supplement. J Appl Phycol 4–5(8):303–311

Bruce RA (1972) Multi-stage treadmill tests of maximal and submaximal exercise. In: American Heart Association (ed)Exercise testing and training of apparently healthy individuals: a handbook for physicians, New York, pp 32–34

Chen TC, Hsieh SS (2001) Effects of a 7-day eccentric training period on muscle damage and inflammation. Med Sci Sports Exerc 33(10):1732–1738

Chen YJ, Serfass RC, Apple FS (2000) Loss of myocardial CK-MB into the circulation following 3.5 hours of swimming in a rat model. Int J Sports Med 21(8):561–565

Chien YH, Pan CH, Hunter B (2003) The resistance to physical stress by Penaeus monodon juveniles fed diets supplemented with astaxanthin. Aquaculture 216(1–4):177–192

Farooq SM, Asokan D, Sakthivel R, Kalaiselvi P, Varalakshmi P (2004) Salubrious effect of C-phycocyanin against oxalate-mediated renal cell injury. Clin Chim Acta 348(1–2):199–205

Fox RD (1996) Spirulina, production and potential. Aix-en-Provence, Edisud, pp 9–232

Goldfarb AH (1995) Nutritional anti-oxidants as therapeutic and preventive modalities in exercise—induced muscle damage. Can J Appl Physiol 24(3):249–266

Gireesh T, Nair PP, Sudhakaran PR (2004) Studies on the bioavailability of the provitamin A carotenoid, beta-carotene, using human exfoliated colonic epithelial cells. Br J Nutr 92(2):241–245

Hayashi K, Hayashi T, Kojima I (1996) A natural sulfated polysaccharide, calcium spirulan, isolated from Spirulina platensis: in vitro and ex vivo evaluation of anti-herpes simplex virus and anti-human immunodeficiency virus activities. AIDS Res Human Retrovir 15(12):1463–1471

Hayashi O, Hirahashi T, Katoh T, Miyajima H, Hirano T, Okuwaki Y (1998) Class specific influence of dietary Spirulina platensis on antibody production in mice. J Nutr Sci Vitaminol 6(44):841–851

Huang LX, Lu XC, Yang B, Lin JS (2000) Effects of Spirulina platensis on exercise-induced muscle damage in rats. Sport Sci 20(2):58–59

Jackson MJ (1998) Free radical mechanisms in exercise-related muscle damage. In: Reznick AZ, Packer L, Sen CK, Holloszy JO, Jackson MJ (eds) Oxidative stress in skeletal muscle. Birkhauser Verlag, Basel, pp 75–86

Jain SK (1988) Evidence for membrane lipid peroxidation during the in vivo aging of human erythrocytes. Biochim Biophys Acta 937:205–210

Kanter MM, Williamhe MH (1995) Anti-oxydants, carnitine and choline as putative ergogenic aids. Int J Sports Nutr 5(2):120–131

Langberg H, Skovgaard D, Asp S, Kjaer M (2000) Time pattern of exercise induced changes in type I collagen turnover after prolonged endurance exercise in humans. Calcif Tissue Int 67(1):41–44

Mani UV, Desai S, Iyer U (2000) Studies on the long-term effect of spirulina supplementation on serum lipid profile and glycated proteins in NIDDM patients. J Nutra Func Med Foods 3(2):25–32

Mastaloudis A, Leonard SW, Traber MG (2001) Oxidative stress in athletes during extreme endurance exercise. Free Radic Biol Med 31:911–922

Mathew B, Rengaswamy S, Nair PP, Varghese C, Thara S, Amma BP, Amma NS, Nair MK (1995) Evaluation of chemoprevention of oral cancer with Spirulina fusiformis. Nutr Cancer 2(24):197–202

Matuschek E, Svanberg U (2002) Oxidation of polyphenols and the effect of in vitro iron accessibility in a model food system. J Food Sci 67(1):420–424

Micheletti A, Rossi R, Rufini S (2001) Zinc status in athletes: relation to diet and exercise. Sports Med 31(8):577–582

Nosaka K, Newton M, Sacco P (2002) Muscle damage and soreness after endurance exercise of the elbow flexors. Med Sci Sports Exerc 34(6):920–926

Overgaard K, Lindstrom T, Ingemann-Hansen T, Clausen T (2002) Membrane leakage and increased content of Na+ -K+ pumps and Ca2+ in human muscle after a 100-km run. J Appl Physiol: Resp Envir Exerc Physiol 92(5):1891–1898

Paredes-Carbajal MC, Torres-Duran PV, Diaz-Zagoya JC, Mascher D, Juarez-Oropeza MA (2001) Effects of the ethanolic extract of Spirulina maxima on endothelium dependent vasomotor responses of rat aortic rings. J Ethnopharm 1(75):37–44

Powers SK, Deruisseau KC, Quindry J, Hamilton KL (2004) Dietary anti-oxidants and exercise. J Sports Sci 22:81–94

Rodriguez-Hernandez A, Ble-Castillo JL, Juarez-Oropeza MA, Diaz-Zagoya JC (2001) Spirulina maxima prevents fatty liver formation in CD-1 male and female mice with experimental diabetes. Life Sci 9(69):1029–1037

Song Y, Igawa S, Horii A (1996) Anti-oxidant enzymes response to endurance exercise training and dietary proteins in rat skeletal muscle and liver. Appl Human Sci 15(5):219–525

Stuewe SR, Gwirtz PA, Mallet RT (2001) Exercise training increases creatine kinase capacity in canine myocardium. Med Sci Sports Exerc 33(1):92–98

Svensson M, Malm C, Tonkonogi M, Ekblom B, Sjodin B, Sahlin K (1999) Effect of Q10 supplementation on tissue Q10 levels and adenine nucleotide catabolism during high-intensity exercise. Int J Sports Nutr 9(2):166–180

Tanticharoen M, Reungjitchachawali M, Boonag B, Vonktaveesuk P, Vonshak A, Cohen Z (1994) Optimization of gamma-linolenic acid (GLA) production in Spirulina platensis. J Appl Phycol 3(6):295–300

Uliyar M, Alefia S, Uma I, Panam P (2000) The effect of Spirulina supplementation on blood hemoglobin levels of anaemic adult girls. J Food Sci Technol (Mysore) 6(37):642–644

Vonshak A (1997) Spirulina platensis (Arthrospira): physiology, cell-biology, and biotechnology, Taylor and Francis, London, pp 1–233

Wu GX, Feng LS, Feng WQ (2000) Effects of co-lecithin on serum testosterone and cortisone of athletes. Sport Sci 20(4):53–55

Zhang YF, Liu XC (1999) Study on the anti-fatigue effect of polysaccharide and polysaccharide-protein from Spirulina platensis. Mar Sci Bull/Haiyang Tongbao Tianjin 18(3):89–91
Acknowledgment
The authors would like to acknowledge the financial support of Chuang-Chun Chueh (president of FEMICO, Fareast Microalgae Industry, Taiwan).
About this article
Cite this article
Lu, H., Hsieh, C., Hsu, J. et al. Preventive effects of Spirulina platensis on skeletal muscle damage under exercise-induced oxidative stress. Eur J Appl Physiol 98, 220 (2006). https://doi.org/10.1007/s00421-006-0263-0
Keywords
Algae

Antioxidant

Lactate dehydrogenase

Fatigue

Malondialdehyde