Abstract
We determined the effects of protein supplementation immediately before (PRO-B) and after (PRO-A) resistance training (RT; 12 weeks) in older men (59–76 years), and whether this reduces deficits in muscle mass and strength compared to younger men (18–40 years). Older men were randomized to PRO-B (0.3 g/kg protein before RT + placebo after RT, n=9), PRO-A (placebo before + protein after RT, n=10), or PLA (placebo before and after RT, n=10). Lean tissue mass, muscle thickness of the elbow, knee, and ankle flexors and extensors, and leg and bench press strength were measured before and after RT and compared to databases of younger subjects (n=22–60). Myofibrillar protein degradation (3-methylhistidine) and bone resorption (cross-linked N-telopeptides) were also measured before and after RT. Lean tissue mass, muscle thickness (except ankle dorsi flexors), and strength increased with training (P<0.05), with little difference between groups. There were no changes in 3-methylhistidine or cross-linked N-telopeptides. Before RT, all measures were lower in the older compared to younger groups (P<0.05), except for elbow extensor muscle thickness. Following training, muscle thickness of the elbow flexors and ankle dorsi flexors and leg press strength were no longer different than the young, and elbow extensor muscle thickness was greater in the old men (P<0.05). Supplementation with protein before or after training has no effect on muscle mass and strength in older men. RT was sufficient to overcome deficits in muscle size of the elbow flexors and ankle dorsi flexors and leg press strength in older compared to younger men.
Access options
Buy single article
Instant access to the full article PDF.
US$ 39.95
Tax calculation will be finalised during checkout.
Subscribe to journal
Immediate online access to all issues from 2019. Subscription will auto renew annually.
US$ 119
Tax calculation will be finalised during checkout.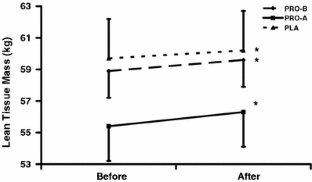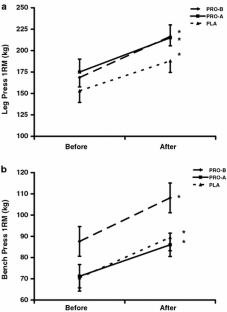 References
Andersen LL, Tufekovic G, Zebis MK, Crameri RM, Verlaan G, Kjaer M, Suetta C, Magnusson P, Aagaard P (2005) The effect of resistance training combined with timed ingestion of protein on muscle fiber size and muscle strength. Metabolism 54:151–156

Barzel US (1995) The skeleton as an ion exchange system: implications for the role of acid–base imbalance in the genesis of osteoporosis. J Bone Miner Res 10:1431–1436

Beaumont D, Lehmann AB, James OFW (1989) Protein turnover in malnourished elderly subjects: the effects of refeeding. Age Ageing 18:235–240

Biolo G, Tipton KD, Klein S, Wolfe RR (1997) An abundant supply of amino acids enhances the metabolic effect of exercise on muscle protein. Am J Physiol Endocrinol Metab 273:E122–E129

Bos C, Benamouzig R, Bruhat A, Roux C, Mahe S, Valensi P, Gaudichon C, Ferriere F, Rautureau J, Tome D (2000) Short-term protein and energy supplementation activates nitrogen kinetics and accretion in poorly nourished elderly subjects. Am J Clin Nutr 71:1129–1137

Burke DG, Chilibeck PD, Davison KS, Candow DG, Farthing J, Palmer TS (2001) The effect of whey protein supplementation with and without creatine monohydrate combined with resistance training on lean tissue and muscle strength. Int J Sport Nutr Exerc Metab 11:349–364

Burke DG, Chilibeck PD, Parise G, Candow DG, Mahoney D, Tarnopolsky MA (2003) Effect of creatine and weight training on muscle creatine performance in vegetarians. Med Sci Sports Exerc 35:1946–1955

Bylund-Fellenius AC, Ojamaa KM, Flaim KE, Li JB, Wassner SJ, Jefferson LS (1984) Protein synthesis versus energy state in contracting muscle of perfused rat hindlimb. Am J Physiol 259:E297–E305

Campbell WW, Crim MC, Young VR, Joseph LJ, Evans WJ (1995) Effects of resistance training and dietary protein intake on protein metabolism in older adults. Am J Physiol Endocrinol Metab 31:E1143–E1153

Candow DG, Chilibeck PD (2005) Differences in size, strength, and power of upper and lower body muscle groups in young and older men. J Gerontol Biol Sci 60:148–156

Candow DG, Chilibeck PD, Burke DG, Davison KS, Palmer TS (2001) Effect of glutamine supplementation combined with resistance training in young men. Eur J Appl Physiol 86:142–149

Carraro F, Stuart CA, Hartl WH, Rosenblatt J, Wolfe RR (1990) Effect of exercise and recovery on muscle protein synthesis in human subjects. Am J Physiol 259:E470–E476

Chilibeck PD, Calder AW, Sale DG, Webber CE (1998) A comparison of strength and muscle mass increases during resistance training in young women. Eur J Appl Physiol Occup Physiol 77:170–175

Chrusch MJ, Chilibeck PD, Chad KE, Davison KS, Burke DG (2001) Creatine supplementation combined with resistance training in older men. Med Sci Sports Exerc 33:2111–2117

Dawson-Hughes B, Harris SS, Rasmussen H, Song L, Dallal GE (2004) Effect of dietary protein supplements on calcium excretion in healthy older men and women. J Clin Endocrinol Metab 89:1169–1173

Esmarck B, Andersen JL, Olsen S, Richter EA, Mizuno M, Kjaer M (2001) Timing of postexercise protein intake is important for muscle hypertrophy with resistance training in elderly humans. J Physiol 535:301–311

Godard MP, Williamson DL, Trappe SW (2002) Oral amino-acid provision does not affect muscle strength or size in older men. Med Sci Sports Exerc 34:1126–1131

Janssen I, Heymsfield SB, Wang A, Ross R (2000) Skeletal muscle mass and distribution in 468 men and women aged 18–88 yr. J Appl Physiol 89:81–88

Kerstetter JE, Mitnick ME, Gundberg CM, Caseria DM, Ellison AF, Carpenter TO, Insogna KL (1999) Changes in bone turnover in young women consuming different levels of dietary protein. J Clin Endocrinol Metab 84:1052–1055

Kraemer WJ, Volek JS, Bush JA, Putukian M, Sebastianelli WJ (1998) Hormonal responses to consecutive days of heavy-resistance exercise with or without nutritional supplementation. J Appl Physiol 85:1544–1555

Kraemer WJ, Hakkinen K, Newton RU, Nindl BC, Volek JS, McCormick M, Gotshalk LA, Gordon SE, Fleck SJ, Campbell WW, Putukian M, Evans WJ (1999) Effects of heavy-resistance training on hormonal response patterns in younger vs. older men. J Appl Physiol 87:982–992

Kraemer WJ, Ratamess NA, Volek JS, Hakkinen K, Rubin MR, French DN, Gomez AL, McGuigan MR, Scheett TP, Newton RU, Spiering BA, Izquierdo M, Dioguardi FS (2006) The effects of amino acid supplementation on hormonal responses to resistance training overreaching. Metabolism 55:282–291

Lukaski HC, Mendez J, Buskirk ER, Cohn SH (1981) Relationship between endogenous 3-methylhistidine excretion and body composition. Am J Physiol 240:E302–E307

Mazzetti SA, Kraemer WJ, Volek JS, Duncan ND, Ratamess NA, Gomez AL (2000) The influence of direct supervision of resistance training on strength performance. Med Sci Sports Exerc 32:1175–1184

Pannemans DL, Schaafsma G, Westerterp KR (1997) Calcium excretion, apparent calcium absorption and calcium balance in young and elderly subjects: influence of protein intake. Br J Nutr 77:721–729

Phillips SM (2004) Protein requirements and supplementation in strength sports. J Nutr 20:689–695

Pinkoski C, Chilibeck PD, Candow DG, Esliger D, Ewaschuk JB, Facci M, Farthing JP, Zello GA (2006) The effects of conjugated linoleic acid supplementation during resistance training. Med Sci Sports Exerc 38:339–348

Pivarnik JM, Hickson JF, Wolinsky I (1989) Urinary 3-methylhistidine excretion increases with repeated weight training exercise. Med Sci Sports Exerc 21:283–286

Rennie MJ, Millward DL (1983) 3-Methylhistidine excretion and urinary 3-methylhistidine/creatinine ratios are poor indicators of skeletal muscle protein breakdown. Clin Sci 65:217–225

Rennie MJ, Edwards RH, Krywawych S, Davies CT, Halliday D, Waterlow JC, Millward DL (1981) Effect of exercise on protein turnover in man. Clin Sci 61:627–639

Siri WE (1966) Body composition from fluid spaces and density: analysis of methods. In: Brozek J, Henschel A (eds) Techniques for measuring body composition. National Academy of Sciences National Research Council, Washington, pp 223–224

Thomas S, Reading I, Shephard RJ (1992) Revision of the Physical Activity Readiness Questionnaire (PAR-Q). Can J Sport Sci 17:338–345

Tipton KD, Rasmussen BB, Miller SL, Wolf SE, Owens-Stovall SK, Petrini BE, Wolfe RR (2001) Timing of amino acid–carbohydrate ingestion alters anabolic response of muscle to resistance exercise. Am J Physiol Endocrinol Metab 281:E197–E206

Trappe T, Williams R, Carrithers J, Raue U, Esmarck B, Kjaer M, Hickner R (2004) Influence of age and resistance exercise on human skeletal muscle proteolysis: a microdialysis approach. J Physiol 554:803–813

Wassner SJ, Schlitzer JL, Li JB (1980) A rapid, sensitive method for the determination of 3-methylhistidine levels in urine and plasma using high-pressure liquid chromatography. Anal Biochem 104:284–289

Welle S, Thornton CA (1998) High-protein meals do not enhance myofibrillar synthesis after resistance exercise in 62- to 75-yr-old men and women. Am J Physiol 274:E677–E683

Welle S, Thornton C, Statt M (1995) Myofibrillar protein synthesis in young and old human subjects after three months of resistance training. Am J Physiol 268:E422–E427
Acknowledgments
This study was supported through a research grant from Experimental and Applied Sciences, Golden, CO, USA, and by the Natural Sciences and Engineering Research Council of Canada. Funding for the weight training equipment was provided by the Saskatchewan Health Research Foundation. The authors would like to thank Dr Bernhard Juurlink, Department of Anatomy and Cell Biology at the University of Saskatchewan for the use of his lab and materials.
About this article
Cite this article
Candow, D.G., Chilibeck, P.D., Facci, M. et al. Protein supplementation before and after resistance training in older men. Eur J Appl Physiol 97, 548–556 (2006). https://doi.org/10.1007/s00421-006-0223-8
Accepted:

Published:

Issue Date:
Keywords
Age

Muscle

Strength

Catabolism

Bone