Abstract
Omega-3 polyunsaturated fatty acids such as docosahexaenoic acid (DHA) and eicosapentaenoic acid (EPA) have beneficial effects on the heart and vasculature. We tested the hypothesis that 6 weeks of dietary supplementation with DHA (2.0 g/day) and EPA (3.0 g/day) enhances exercise-induced increases in brachial artery diameter and blood flow during rhythmic exercise. In seven healthy subjects, blood pressure, heart rate and brachial artery diameter, blood flow, and conductance were assessed before and during the last 30 s of 90 s of rhythmic handgrip exercise (30% of maximal handgrip tension). Blood pressure (MAP), heart rate (HR), and brachial artery vascular conductance were also determined. This paradigm was also performed in six other healthy subjects who received 6 weeks of placebo (safflower oil). Placebo treatment had no effect on any variable. DHA and EPA supplementation enhanced contraction-induced increases in brachial artery diameter (0.28 ± 0.04 vs. 0.14 ± 0.03 mm), blood flow (367 ± 65 vs. 293 ± 55 ml min−1) and conductance (3.86 ± 0.71 vs. 2.89 ± 0.61 ml min−1 mmHg−1) (P < 0.05). MAP and HR were unchanged. Results indicate that treatment with DHA and EPA enhances brachial artery blood flow and conductance during exercise. These findings may have implications for individuals with cardiovascular disease and exercise intolerance (e.g., heart failure)
This is a preview of subscription content, log in to check access.
Access options
Buy single article
Instant access to the full article PDF.
US$ 39.95
Price includes VAT for USA
Subscribe to journal
Immediate online access to all issues from 2019. Subscription will auto renew annually.
US$ 199
This is the net price. Taxes to be calculated in checkout.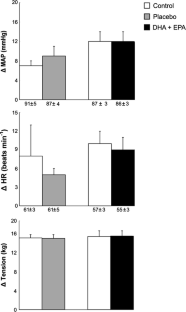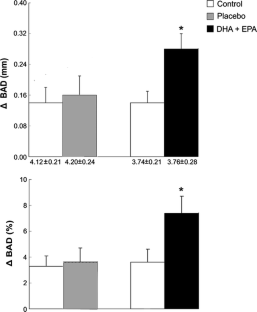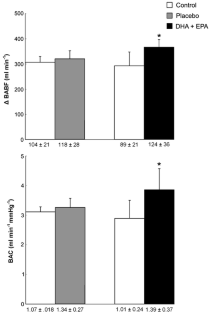 References
Cannon PJ (1984) Eicosanoids and the blood vessel wall. Circulation 70:523–528

Chin JPF, Gust AP, Nestel PJ, Dart AM (1993) Marine oils dose-dependently inhibit vasoconstriction of forearm resistance vessels in humans. Hypertension 21:22–28

Clark AL, Poole-Wilson PA, Coats AJS (1996) Exercise limitation in chronic heart failure: central role of the periphery. J Am Coll Cardiol 28:1092–1102

D'Alessandro ME, Lombardo YB, Chicco A (2002) Effect of dietary fish oil on insulin sensitivity in the skeletal muscle of normal rats. Ann Nutr Metab 46:114–120

Delarue J, Labarthe F, Cohen R (2003) Fish-oil supplementation reduces stimulation of plasma glucose fluxes during exercise in untrained males. Br J Nutr 90:777–786

Fleischhauer F, Wei-Dong Y, Fischell TA (1993) Fish oil improves endothelium-dependent coronary vasodilation in heart transplant patients. J Am Coll Cardiol 21:982–989

Folkow B, Sonnenschein RR, Wright DL (1971) Loci of neurogenic and metabolic effects on precapillary vessels on skeletal muscle. Acta Physiol Scand 81:459–471

Frandsen U, Lopez-Figueroa M, Hellsten Y (1996) Localization of nitric oxide synthase in human skeletal muscle. Biochem Biophys Res Commun 227:88–93

Grabowski EF, Jaffe EA, Weksler BB (1985) Prostacyclin production by cultured endothelial monolayers exposed to step increases in shear stress. J Lab Clin Med 105:36–43

Green D (2005) Point: flow mediated dilation does reflect nitric oxide-mediated endothelial function. J Appl Physiol 99:1233–1234

Guazzi M, Lenatti L, Tumminello G et al (2004) The behaviour of the flow-mediated brachial artery vasodilatation during orthostatic stress in normal man. Acta Physiol Scand 182:53–360

Hickner RC, Fisher JS, Ehsani AA, Kohrt WM (1997) Role of nitric oxide in skeletal muscle blood flow at rest and during dynamic exercise in humans. Am J Physiol 273:H405–H410

Hishinuma T, Yamazaki T, Mizugaki M (1999) Effects of long-term supplementation of eicosapentaenoic and docosahexaenoic acid on the 2, 3-series prostacyclin production by endothelial cells. Prostaglandins Other Lipid Mediat 57:333–340

Kingwell BA, Formosa M, Muhlmann M, Bradley SJ, McConell GK (2003) Type 2 diabetic individuals have impaired leg blood flow responses to exercise. Role of endothelium-dependent vasodilation. Diabetes Care 26:899–904

Koller A, Kaley G (1991) Endothelial regulation of wall shear stress and blood flow in skeletal muscle microcirculation. Am J Physiol 260:H862–H868

Lim PO, MacFadyen RJ, Clarkson PB, MacDonald TM (1996) Impaired exercise tolerance in hypertensive patients. Ann Int Med 124:41–55

Mehta JL, Lopez LM, Lawson D, Wargovich TJ, Williams LL (1988) Dietary supplementation with omega-3 polyunsaturated fatty acids in patients with stable coronary heart disease. Effects on indices of platelet and neutrophil function and exercise performance. Am J Med 84:45–52

Monahan KD, Wilson TE, Ray CA (2004) Omega-3 fatty acid supplementation augments sympathetic nerve activity responses to physiological stressors in humans. Hypertension 44:732–738

Rubanyi GM, Romero JC, Vanhoutte PM (1996) Flow-induced release of endothelium-derived relaxing factor. Am J Physiol 250:H1145–H1149

Sander M, Chavoshan B, Harris SA, Iannaccone ST, Stull JT, Thomas GD, Victor RG (2000) Functional muscle ischemia in neuronal nitric oxide synthase-deficient skeletal muscle of children with Duchenne muscular dystrophy. Proc Natl Acad Sci USA 97:13818–13823

Schrage WG, Joyner MJ, Dinenno FA (2004) Local inhibition of nitric oxide and prostaglandins independently reduces forearm exercise hyperaemia in humans. J Physiol 577:599–611

Segal SS (1992) Communication among endothelial and smooth muscle cells coordinates blood flow control during exercise. News Physiol Sci 7:152–156

Sohal PS, Baracos VE, Clandinin MT (1992) Dietary ω3 fatty acid alters prostaglandin synthesis, glucose transport, and protein turnover in skeletal muscle of healthy and diabetic rats. Biochem J 286:405–411

Stebbins CL, Walser B, Jafarazdeh M (2002) Cardiovascular responses to static and dynamic contraction during comparable workloads in humans. Am J Physiol 283:R568–R575

Stebbins CL, Stice JP, Knowlton AA (2004) Effects of DHA on eNOS expression in cultured human coronary endothelial cells. FASEB Journal 18:A1001 (Abstract)

Tagawa H, Shimokawa H, Tagawa T, Kuroiwa-Matsumoto M, Hirooka Y, Takeshita A (1999) Long-term treatment with eicosapentaenoic acid augments both nitric oxide-mediated and non-nitric oxide-mediated endothelium-dependent forearm vasodilation in patients with coronary artery disease. J Cardiovasc Pharmacol 33:633–640

Tagawa T, Hirooka Y, Shimokawa H, Hironaga K, Sakai K, Oyama J, Takeshita A (2002) Long-term treatment with eicosapentaenoic acid improves exercise induced vasodilation in patients with coronary artery disease. Hypertens Res 25:823–829

Visioli F (2001) Effects of vitamin E on the endothelium: equivocal? α-tocopherol and endothelial dysfunction. Cardiovasc Res 51:198–201
Acknowledgement
This work was supported by the UC Davis Clinical Nutrition Research Unit, NIH P30-DK35747.
About this article
Cite this article
Walser, B., Giordano, R.M. & Stebbins, C.L. Supplementation with omega-3 polyunsaturated fatty acids augments brachial artery dilation and blood flow during forearm contraction. Eur J Appl Physiol 97, 347–354 (2006). https://doi.org/10.1007/s00421-006-0190-0
Accepted:

Published:

Issue Date:
Keywords
Docosahexaenoic acid

Eicosapentaenoic acid

Brachial artery blood flow

Brachial artery conductance

Brachial artery dilation

Exercise