Abstract
We investigated the hemodynamic and hormonal responses to a short-term low-intensity resistance exercise (STLIRE) with the reduction of muscle blood flow. Eleven untrained men performed bilateral leg extension exercise under the reduction of muscle blood flow of the proximal end of both legs pressure-applied by a specially designed belt (a banding pressure of 1.3 times higher than resting systolic blood pressure, 160–180 mmHg), named as Kaatsu. The intensity of STLIRE was 20% of one repetition maximum. The subjects performed 30 repetitions, and after a 20-seconds rest, they performed three sets again until exhaustion. The superficial femoral arterial blood flow and hemodynamic parameters were measured by using the ultrasound and impedance cardiography. Serum concentrations of growth hormone (GH), vascular endothelial growth factor (VEGF), noradrenaline (NE), insulin-like growth factor (IGF)-1, ghrelin, and lactate were also measured. Under the conditions with Kaatsu, the arterial flow was reduced to about 30% of the control. STLIRE with Kaatsu significantly increased GH (0.11±0.03 to 8.6±1.1 ng/ml, P < 0.01), IGF-1 (210±40 to 236±56 ng/ml, P < 0.01), and VEGF (41±13 to 103±38 pg/ml, P < 0.05). The increase in GH was related to neither NE nor lactate, but the increase in VEGF was related to that in lactate (r = 0.57, P < 0.05). Ghrelin did not change during the exercise. The maximal heart rate (HR) and blood pressure (BP) in STLIRE with Kaatsu were higher than that without Kaatsu. Stroke volume (SV) was lower due to the decrease of the venous return by Kaatsu, but, total peripheral resistance (TPR) did not change significantly. These results suggest that STLIRE with Kaatsu significantly stimulates the exercise-induced GH, IGF, and VEGF responses with the reduction of cardiac preload during exercise, which may become a unique method for rehabilitation in patients with cardiovascular diseases.
Access options
Buy single article
Instant access to the full article PDF.
USD 39.95
Price includes VAT (USA)
Tax calculation will be finalised during checkout.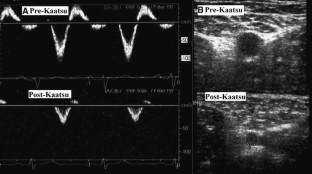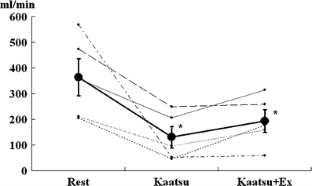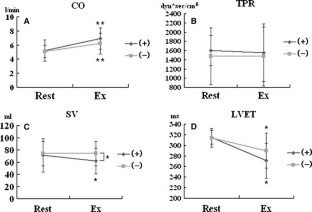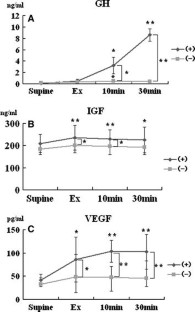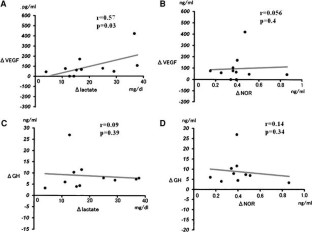 References
Abe T, DeHoyos DV, Pollock ML, Garzarella L (2000) Time course for strength and muscle thickness changes following upper and lower body resistance training in men and women. Eur J Appl Physiol 81:174–180

Amaral SL, Papanek PE, Greene AS (2001) Angiotensin II and VEGF are involved in anigiogenesis induced by short-term exercise training. Am J Physiol Heart Circ Physiol 281:H1163–H1169

Bezucha GR, Lenser MC, Hanson PG, Nagle FJ (1982) Comparison of hemodynamic responses to static and dynamic exercise. J Appl Physiol 53:1589–1593

Bosisio E, Arosio A, Maudelli V, Sergi M (1980) Ventilatory and presser response to isometric exercise in normal subjects. Respiration 40:337–343

Breen EC, Johnson EC, Wagner H, Tseng HM, Sung LA, Wagner PD (1996) Angiogenic growth factor mRNA responses in muscle to a single bout of exercise. J Appl Physiol 81:355–361

Fazio S, Sabatini D, Capaldo B, Vigorito C, Giordano A, Guida R, Pardo F, Biondi B, Sacca L (1996) A preliminary study of growth hormone in the treatment of dilated cardiomyopathy. N Engl J Med 28:809–814

Fortin J, Habenbacher W, Gruellenberger R, Wach P, Skrabal F (1998) Real-time monitor for hemodynamic beat-to-beat parameters and power spectra analyses of the biosignals. In: Proccedings of the 20th annual international conference of the IEEE Engineering in Medicine and Biology Society, vol 20, pp 360–363

Foster-Schubert KE, McTiernan A, Frayo RS, Schwartz RS, Rajan KB, Yasui Y, Tworoger SS, Cummings DE (2005) Human plasma ghrelin levels increase during a one-year exercise program. J Clin Endocrinol Metab 90:820–825

Gavin TP, Wagner PD (2001) Effect of short-term exercise training on angiogenic growth factor gene responses in rats. J Appl Physiol 90:1219–1226

Genth-Zots S, Zotz R, Geil S, Voigtlander T, Meyer J, Darius H (1999) Recombinant growth hormone therapy in patients with ischemic cardiomyopathy; effects on hemodynamics, left ventricular function, and cardiopulmonary exercise capacity. Circulation 99:18–21

Glustina A, Veldhuis JD (1998) Pathophysiology of the neuroregulation of growth hormone secretion in experimental animals and the human. Endocrine Rev 19:717–797

Godfrey RJ, Madgwick Z, Whyte GP (2003) The exercise-induced growth hormone response in athletes. Sports Med 33:599–613

Gosselink KL, Grindeland RE, Roy RR, Zhony H, Bigbee AJ, Grossman EJ, Edgerton VR (1998) Skeletal muscle afferent regulation of bioassayable growth hormone in the rat pituitary. J Appl Physiol 84:1425–1430

Gratze G, Fortin J, Holler A, Grasenick K, Pfurscheller G, Wach P, Schonegger J, Kotanko P, Skrabal F (1998) A software package for non-invasive, real-time beat-to-beat monitoring of total peripheral resistance and for assessment of autonomic function. Comput Biol Med 28:121–142

Gratze G, Fortin J, Labugger R, Binder A, Kotanko P, Timmermann B, Luft FC, Hoehe MR, Skrabal F (1999) ß-2 Adrenergic receptor variants affect resting blood pressure and agonist-induced vasodilation in young adult caucasians. Hypertension 33:1425–1430

Gustafsson T, Puntschart A, Kaijser L, Jansson E, Sundberg CJ (1999) Exercise-induced expression of angiogenesis-related transcription and growth factors in human skeletal muscle. Am J Physiol 276:H679–H685

Gustafsson T, Knutsson A, Puntschart A, Kaijser L, Nordqvist AC, Sundberg CJ, Jansson E (2002) Increased expression of vascular endothelial growth factor in human skeletal muscle in response to short-term one-legged exercise training. Pflugers Arch 444:752–759

Gute D, Fraga C, Laughlin MH, Amann JF (1996) Regional changes in capillary supply in skeletal muscle of high-intensity endurance-trained rats. J Appl Physiol 81:619–626

Helfant RH, De Villa MA, Meister SG (1971) Effect of sustained isometric handgrip exercise on left ventricular performance. Circulation 44:982–993

Khan AS, Sane DC, Wannenburg T, Sonntag WE (2002) Growth hormone, insulin-like growth factor-1 and the aging cardiovascular system. Cardiovasc Res 54:25–35

Kilbom A, Brundin T (1976) Circulatory effects of isometric muscle contractions, performed separately, and in combination with dynamic exercise. Eur J Appl Physiol 36:7–17

Kojima M, Hosoda H, Date Y, Nakazato M, Matsuo H, Kangawa K (1999) Ghrelin is a growth-hormone-releasing acylated peptide from stomach. Nature 402:656–660

Kraemer WJ, Marchitelli L, Gordon SE, Harman E, Dziados JE, Mello R, Frykman P, McCurry D, Fleck SJ (1990) Hormonal and growth factor responses to heavy resistance protocols. J Appl Physiol 69:1442–1450

Kubicek WG, Karnegis JN, Patterson RP, Witsoe DA, Mattson RH (1966) Development and evaluation of an impedance cardiac output system. Aerospace Med 37:1208–1212

Lewis SF, Taylor WF, Graham RM, Pettinger WA, Schutte JE, Blomqvist CG (1983) Cardiovascular responses to exercise as functions of absolute and relative work load. J Appl Physiol 54:1314–1323

Lombardi G, Colao A, Cuocolo A, Longobardi S, Di Somma C, Orio F, Merola B, Nicolai E, Salvatore M (1997) Cardiological aspects of growth hormone and insulin-like growth factor-I. J Pediatr Endocrinol Metab 10:553–560

Lukaszewska J, Biczowa B, Bobiewicz D, Wilk M, Obuchowicz-Fidelus B (1976) Effect of physical exercise on plasma cortisol and growth hormone levels in young weight lifters. Endokrynol Pol 27:149–157

MacDougall JD, Ward GR, Sale DG, Sutton JR (1977) Biochemical adaptation of human skeletal muscle to heavy resistance training and immobilization. J Appl Physiol 43:700–703

Miles DS, Owens JJ, Golden JC, Gotshall RW (1987) Central and peripheral hemodynamics during maximal leg extension exercise. Eur J Appl Physiol 56:12–17

Minchenko A, Bauer T, Salceda S, Caro J (1994) Hypoxic stimulation of vascular endothelial growth factor expression in vitro and in vivo. Lab Invest 71:374–379

Moore DR, Burgomaster KA, Schofield LM, Gibala M, Sale DG, Phillips SM (2004) Neuromuscular adaptations in human muscle following low intensity resistance training with vascular occlusion. Eur J Appl Physiol 92:399–406

Nygren AT, Sundberg CJ, Goransson H, Esbjornsson-Liljedahl M, Jansson E, Kaijser L (2000) Effects of dynamic ischaemic training on human skeletal muscle dimensions. Eur J Appl Physiol 82:137–141

Penaz J (1973) Photoelectric measurement of blood pressure, volume and flow in the finger. Digest of the 10th international conference on medical and biological engineering, Dresden

Perez Gonzalez JF (1981) Factors determining the blood pressure responses to isometric exercise. Circ Res 48:176–186

Richardson RS, Noyszewski EA, Kendrick KF, Leigh JS, Wagner PD (1995) Myoglobin O2 desaturation during exercise Evidence of limited O2 transport. J Clin Invest 96:1916–1926

Shinohara M, Kouzaki M, Yoshihisa T, Fukunaga T (1998) Efficacy of tourniquet ischemia for strength training with low resistance. Eur J Appl Physiol 77:189–191

Shweiki D, Itin A, Soffer D, Keshet E (1992) Vascular endothelial growth factor induced by hypoxia may mediate hypoxia-initiated angiogenesis. Nature 359:843–845

Staron RS, Hikida RS, Hagerman FC, Dudley GA, Murray TF (1984) Human skeletal muscle fiber type adaptability to various workloads. J Histochem Cytochem 32:146–152

Stein I, Neeman M, Shweiki D, Itin A, Keshet E (1995) Stabilization of vascular endothelial growth factor mRNA by hypoxia and hypoglycemia and co-regulation with other ischemia-induced genes. Mol Cell Biol 15:5363–5368

Takarada Y, Takazawa H, Sato Y, Takebayashi S, Tanaka Y, Ishii N (2000a) Effects of resistance exercise combined with moderate vascular occlusion on muscle function in humans. J Appl Physiol 88:2097–2106

Takarada Y, Nakamura Y, Aruga S, Onda T, Miyazaki S, Ishii N (2000b) Rapid increase in plasma growth hormone after low-intensity resistance exercise with vascular occlusion. J Appl Physiol 88:61–65

Takaya K, Ariyasu H, Kanamoto N, Iwakura H, Yoshimoto A, Harada M, Mori K, Komatsu Y, Usui T, Shimatsu A, Ogawa Y, Hosoda K, Akamizu T, Kojima M, Kangawa K, Nakao K (2000) Ghrelin strongly stimulates growth hormone release in humans. J Clin Endocrinol Metab 85:4908–4911

VanHelder WP, Radomski MW, Goode RC (1984) Growth hormone responses during intermittent weight lifting exercise in men. Eur J Appl Physiol 53:31–34

Yang HT, Dinn RF, Terjung RL (1990) Training increases muscle blood flow in rats with peripheral arterial insufficiency. J Appl Physiol 69:1353–1359

Yasuda T, Abe T, Sato Y, Midorikawa T, Inoue K, Ryushi T, Kearns CF, Ishii N (2004) Muscle fiber cross-sectional area increased after two weeks of low-intensity "Kaatsu" resistance training (Abstract). In: 9th annual congress European college of sports science, Book of Abstracts, 195
About this article
Cite this article
Takano, H., Morita, T., Iida, H. et al. Hemodynamic and hormonal responses to a short-term low-intensity resistance exercise with the reduction of muscle blood flow. Eur J Appl Physiol 95, 65–73 (2005). https://doi.org/10.1007/s00421-005-1389-1
Accepted:

Published:

Issue Date:
Keywords
Resistance exercise

Ischemia

Growth hormone

Vascular endothelial growth factor

Hemodynamics

Cardiac output

Rehabilitation

Blood flow

Preload