Abstract
The purpose of this study was to systematically evaluate the effect of endurance exercise duration on hormone concentrations in male subjects while controlling for exercise intensity and training status. Eight endurance-trained males (19–49 years) completed a resting control session and three treadmill runs of 40, 80, and 120 min at 55% of VO2max . Blood samples were drawn before the session and then 1, 2, 3 and 4 h after the start of the run. Plasma was analyzed for luteinizing hormone (LH), dehydroepiandrosterone sulfate (DHEAS), cortisol, and free and total testosterone. LH was significantly greater at rest compared to the running sessions. Both free and total testosterone generally increased in the first hour of the 80 and 120 min runs and then showed a trend for a steady decline for the next 3 h of recovery. Dehydroepiandrosterone sulfate increased in a dose-response manner with the greatest increases observed during the 120-min run, followed by the 80-min run. Cortisol only increased in response to the 120-min run and showed a decline across time in all other sessions. The ratios of anabolic hormones (testosterone and DHEAS) to cortisol were greater during the resting session and the 40-min run compared to the longer runs. The results indicate that exercise duration has independent effects on the hormonal response to endurance exercise. At a low intensity, longer duration runs are necessary to stimulate increased levels of testosterone, DHEAS and cortisol and beyond 80 min of running there is a shift to a more catabolic hormonal environment.
This is a preview of subscription content, log in to check access.
Access options
Buy single article
Instant access to the full article PDF.
US$ 39.95
Price includes VAT for USA
Subscribe to journal
Immediate online access to all issues from 2019. Subscription will auto renew annually.
US$ 199
This is the net price. Taxes to be calculated in checkout.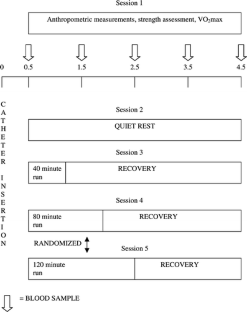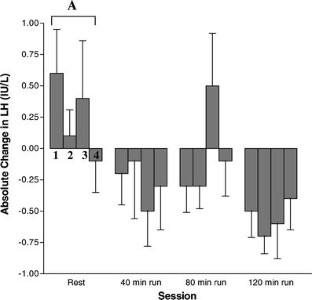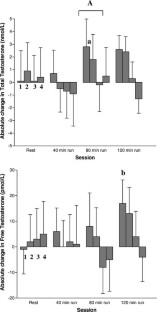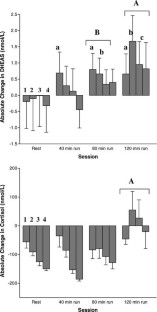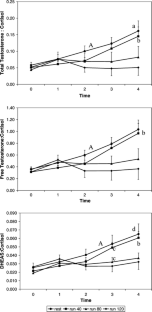 References
Canadian Society for Exercise Physiology (1998) The Canadian physical activity, fitness, and lifestyle appraisal, 2nd edn. Canadian Society for Exercise Physiology, Ottawa

Copeland JL, Tremblay MS (2004) Effect of HRT on hormone responses to resistance exercise in post-menopausal women. Maturitas 48(4): 360–371

Copeland JL, Consitt LA, Tremblay MS (2002) Hormonal responses to endurance and resistance exercise in females aged 19–69 years. J Gerontol A Biol Sci Med Sci 57A:B158-B165

Cumming DC (2000) The male reproductive system, exercise and training. In: Warren MP, Constantini NW (eds) Sports endocrinology. Humana, Totowa, pp 119–131

Cumming DC, Brunsting LA, Strich G, Ries AL, Rebar RW (1986) Reproductive hormone increases in response to acute exercise in men. Med Sci Sports Exerc 18:369–373

Duclos M, Corcuff JB, Rashedi M, Fougere V, Manier G (1996) Does functional alteration of the gonadotropic axis occur in endurance trained athletes during and after exercise? A preliminary study. Eur J Appl Physiol Occup Physiol 73:427–433

Galbo H, Hummer L, Petersen B, Christensen NJ, Bie N (1977) Thryoid and testicular hormone responses to graded and prolonged exercise in man. Eur J Appl Physiol 36:101–106

Guglielmini C, Paolini AR, Conconi F (1984) Variations of serum testosterone concentrations after physical exercises of different duration. Int J Sports Med 5:246–249

Hackney AC (1996) The male reproductive system and endurance exercise. Med Sci Sports Exerc 28:180–189

Hackney AC (2001) Endurance exercise training and reproductive endocrine dysfunction in men: alterations in the hypothalamic-pituitary-testicular axis. Curr Pharm Des 7:261–273

Hackney AC, Fahrner CL, Gulledge TP (1998) Basal reproductive hormonal profiles are altered in endurance trained men. J Sports Med Phys Fitness 38:138–141

Hackney AC, Szczepanowska E, Viru AM (2003) Basal testicular testosterone production in endurance-trained men is suppressed. Eur J Appl Physiol 89:198–201

Jezova D, Vigas M, Tatar P, Kvetnansky R, Nazar K, Kaciuba-Uscilko H, Kozlowski S (1985) Plasma testosterone and catecholamine responses to physical exercise of different intensities in men. Eur J Appl Physiol Occup Physiol 54:62–66

Keizer H, Janssen GM, Menheere P, Kranenburg G (1989) Changes in basal plasma testosterone, cortisol, and dehydroepiandrosterone sulfate in previously untrained males and females preparing for a marathon. Int J Sports Med 10(Suppl 3):S139-S145

Kuoppasalmi K, Naveri H, Harkonen M, Adlercreutz H (1980) Plasma cortisol, androstenedione, testosterone and luteinizing hormone in running exercise of different intensities. Scand J Clin Lab Invest 40: 403–409

Lutoslawska G, Obminski Z, Krogulski A, Sendecki W(1991) Plasma cortisol and testosterone following 19-km and 42-km kayak races. J Sports Med Phys Fitness 31:538–542

Nindl BC, Kraemer WJ, Deaver DR, Peters JL, Marx JO, Heckman JT, Loomis GA (2001) LH secretion and testosterone concentrations are blunted after resistance exercise in men. J Appl Physiol 91:1251–1258

Ponjee GA, De Rooy HA,Vader HL (1994) Androgen turnover during marathon running. Med Sci Sports Exerc 26:1274–1277

Rose R, Kreuz L, Holaday J, Sulak K, Johnson C (1972) Diurnal variation of plasma testosterone and cortisol. J Endocrinol 54: 177–178

Snegovskaya V, Viru A (1993) Steroid and pituitary hormone responses to rowing: relative significance of exercise intensity and duration and performance level. Eur J Appl Physiol Occup Physiol 67:59–65

Sutton J, Coleman M, Casey J, Lazarus L (1973) Androgen responses during physical exercise. Br Med J 1:520–522

Tarpenning KM, Wiswell RA, Hawkins SA, Marcell TJ (2001) Influence of weight training exercise and modification of hormonal response on skeletal muscle growth. J Sci Med Sport 4:431–446

Tremblay MS, Copeland JL, Van Helder W (2004) Effect of training status and exercise mode on endogenous steroid hormones in men. J Appl Physiol 96:531–539

Viru A, Smirnova T, Karelson K, Snegovskaya V, Viru M (1996) Determinants and modulators of hormonal responses to exercise. Biol Sport 13:169–187

Webb ML, Wallace JP, Hamill C, Hodgson JL, Mashaly MM (1984) Serum testosterone concentration during two hours of moderate intensity treadmill running in trained men and women. Endocrinol Res 10:27–38

Wheeler GD, Wall SR, Belcastro AN, Cumming DC (1984) Reduced serum testosterone and prolactin levels in male distance runners. JAMA 252: 514–516
About this article
Cite this article
Tremblay, M.S., Copeland, J.L. & Van Helder, W. Influence of exercise duration on post-exercise steroid hormone responses in trained males. Eur J Appl Physiol 94, 505–513 (2005). https://doi.org/10.1007/s00421-005-1380-x
Accepted:

Published:

Issue Date:
Keywords
Androgens

Steroid hormones

Running

Endurance activity