Abstract
The impact of meditation on cardiorespiratory synchronization with respect to breathing oscillations and the modulations of heart rate induced by respiration (respiratory sinus arrhythmia, RSA) was investigated in this study. Four different exercises (spontaneous breathing, mental task, Zen meditation, and Kinhin meditation) were consecutively performed by nine subjects mainly without any experience in meditation. An electrocardiogram and a respiratory trace were recorded simultaneously. On this basis the degree of cardiorespiratory synchronization was quantified by a technique which has been adopted from the analysis of weakly coupled chaotic oscillators. Both types of meditation showed a high degree of synchronization, whereas heartbeat and respiration were hardly synchronized during spontaneous breathing. During the mental task exercise the extent of synchronization was slightly higher than during spontaneous breathing. These results were largely determined by the breathing frequency because the two types of meditation induce low breathing frequencies which led to a pronounced and in-phase RSA. During the meditation the low breathing frequencies led to a decrease in the high frequency of heart rate variability, whereas the low frequency and the extent of RSA increased. The heart rate primarily reflected the degree of physical effort. The high degree of cardiorespiratory synchronization during meditation in unexperienced meditators suggests that the physiological implications of meditation does not require prior experience in meditation.
This is a preview of subscription content, log in to check access.
Access options
Buy single article
Instant access to the full article PDF.
US$ 39.95
Price includes VAT for USA
Subscribe to journal
Immediate online access to all issues from 2019. Subscription will auto renew annually.
US$ 199
This is the net price. Taxes to be calculated in checkout.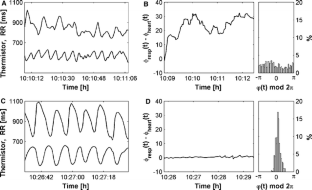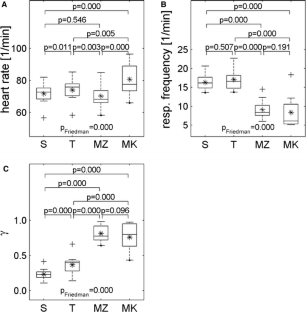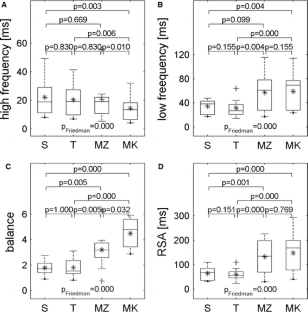 References
Angelone A, Coulter NA (1964) Respiratory sinus arrhythmia: a frequency dependent phenomenon. J Appl Physiol 19:479–482

Antonovsky A (1987) Unraveling the mystery of health. How people manage stress and stay well. Jossey-Bass, San Francisco

Barnes VA, Treiber FA, Davis H (2001) Impact of transcendental meditation on cardiovascular function at rest and during acute stress in adolescents with high normal blood pressure. J Psychosom Res 51:597–605

Bernardi L, Spadacini G, Bellwon J, Hajric R, Roskamm H, Frey AW (1998) Effect of breathing rate on oxygen saturation and exercise performance in chronic heart failure. Lancet 351:1308–1311

Bernardi L, Wdowczyk-Szulc J, Valenti C, Castoldi S, Passino C, Spadacini G, Sleight P (2000) Effects of controlled breathing, mental activity and mental stress with or without verbalization on heart rate variability. J Am Coll Cardiol 35:1462–1469

Bernardi L, Sleight P, Bandinelli G, Cencetti S, Fattorini L, Wdowczyc-Szulc J, Lagi A (2001) Effect of rosary prayer and yoga mantras on autonomic cardiovascular rhythms: comparative study. BMJ 323:1446–1449

Bernardi L, Porta C, Spicuzza L, Bellwon J, Spadacini G, Frey AW, Yeung LY, Sanderson JE, Pedretti R, Tramarin R (2002) Slow breathing increases arterial baroreflex sensitivity in patients with chronic heart failure. Circulation 105:143–145

Berntson GG, Cacioppo JT, Quigley KS (1993) Respiratory sinus arrhythmia: autonomic origins, physiological mechanisms, and psychophysiological implications. Psychophysiology 30:183–196

Bettermann H, von Bonin D, Frühwirth M, Cysarz D, Moser M (2002) Effects of speech therapy with poetry on heart rate rhythmicity and cardiorespiratory coordination. Int J Cardiol 84:77–88

Bortz J, Lienert GA, Boehnke K (2000) Verteilungsfreie Methoden in der Biostatistik. Springer, Berlin Heidelberg New York

Brown TE, Beightol LA, Koh J, Eckberg DL (1993) Important influence of respiration on human R-R interval power spectra is largely ignored. J Appl Physiol 75:2310–2317

Büssing A (2001) Kinhin – Meditation im Gehen. In: Büssing A (ed) Regen über den Kiefern. Zen Meditation für chronisch Kranke und Tumorpatienten. Johannes M. Mayer Verlag, Stuttgart, pp 38–40

Büssing A (2005) Auf dem weglosen Weg gehen – Zentrierende Meditationen mit Tumorpatienten. Das Goetheanum 84:16–17

Cysarz D, von Bonin D, Lackner H, Heusser P, Moser M, Bettermann H (2004) Oscillations of heart rate and respiration synchronize during poetry recitation. Am J Physiol Heart Circ Physiol 287:H579–H587

Giardino ND, Glenny RW, Borson S, Chan L (2003) Respiratory sinus arrhythmia is associated with efficiency of pulmonary gas exchange in healthy humans. Am J Physiol Heart Circ Physiol 284:H1585–H1591

Grossman E, Grossman A, Schein MH, Zimlichman R, Gavish B (2001) Breathing-control lowers blood pressure. J Hum Hypertens 15:263–269

Hayano J, Mukai S, Sakakibara M, Okada A, Takata K, Fujinami T (1994) Effects of respiratory interval on vagal modulation of heart rate. Am J Physiol 267:H33–H40

Hayano J, Yasuma F, Okada A, Mukai S, Fujinami T (1996) Respiratory sinus arrhythmia: A phenomenon improving pulmonary gas exchange and circulatory efficiency. Circulation 94:842–847

Hirsch JA, Bishop B (1981) Respiratory sinus arrhythmia in humans: how breathing patterns modulates heart rate. Am J Physiol 241:H620–H629

Lee MS, Kim BG, Huh HJ, Ryu H, Lee HS, Chung HT (2000) Effect of Qi-training on blood pressure, heart rate and respiration rate. Clin Physiol 20:173–176

Lehrer P, Sasaki Y, Saito Y (1999) Zazen and cardiac variability. Psychosom Med 61:812–821

Lehrer PM, Vaschillo E, Vaschillo B (2000) Resonant frequency biofeedback training to increase cardiac variability: rationale and manual for training. Appl Psychophysiol Biofeedback 25:177–191

Lutz A, Greischar LL, Rawlings NB, Ricard M, Davidson RJ (2004) Long-term meditators self-induce high-amplitude gamma synchrony during mental practice. Proc Natl Acad Sci USA 101:16369–16373

Metzger HJ (2001) Sitzen – Sit!zen ZaZen. In: Büssing A (ed) Regen über den Kiefern. Zen Meditation für chronisch Kranke und Tumorpatienten. Johannes M. Mayer Verlag, Stuttgart, pp 23–37

Peng CK, Mietus JE, Liu Y, Khalsa G, Douglas PS, Benson H, Goldberger AL (1999) Exaggerated heart rate oscillations during two meditation techniques. Int J Cardiol 70:101–107

Peng CK, Henry IC, Mietus JE, Hausdorff JM, Khalsa G, Benson H, Goldberger AL (2004) Heart rate dynamics during three forms of meditation. Int J Cardiol 95:19–27

Pitzalis MV, Mastropasqua F, Massari F, Passantino A, Colombo R, Mannarini A, Forleo C, Rizzon P (1998) Effect of respiratory rate on the relationships between RR interval and systolic blood pressure fluctuations: a frequency-dependent phenomenon. Cardiovasc Res 38:332–339

Rosenblum MG, Kurths J (1998) Analysing synchronization phenomena from bivariate data by means of the Hilbert transform. In: Kantz H, Kurths J, Mayer-Kress G (eds) Nonlinear analysis of physiological data. Springer, Berlin Heidelberg New York, pp 91–99

Rosenblum MG, Pikovsky AS, Kurths J (1996) Phase synchronization of chaotic oscillators. Phys Rev Lett 76:1804–1807

Rosenblum MG, Pikovsky AS, Kurths J (1997) From phase to lag synchronization in coupled chaotic oscillators. Phys Rev Lett 78:4193–4196

Stark R, Schienle A, Walter B, Vaitl D (2000) Effects of paced respiration on heart period and heart period variability. Psychophysiology 37:302–309

Sudsuang R, Chentanez V, Veluvan K (1991) Effect of Buddhist meditation on serum cortisol and total protein levels, blood pressure, pulse rate, lung volume and reaction time. Physiol Behav 50:543–548

Task Force of the European Society of Cardiology and the North American Society of Pacing and Electrophysiology (1996) Heart rate variability: standards of measurement, physiological interpretation, and clinical use. Circulation 93:1043–1065

Telles S, Nagarathna R, Nagendra HR (1995) Autonomic changes during "OM" meditation. Indian J Physiol Pharmacol 39:418–420

Travis F (2001) Autonomic and EEG patterns distinguish transcending from other experiences during transcendental meditation practice. Int J Psychophysiol 42:1–9

Wenneberg SR, Schneider RH, Walton KG, Maclean CR, Levitsky DK, Salerno JW, Wallace RK, Mandarino JV, Rainforth MV, Waziri R (1997) A controlled study of the effects of the Transcendental Meditation program on cardiovascular reactivity and ambulatory blood pressure. Int J Neurosci 89:15–28
Acknowledgments
Both authors express their gratitude for the financial support of the Software AG Stiftung, Darmstadt.
About this article
Cite this article
Cysarz, D., Büssing, A. Cardiorespiratory synchronization during Zen meditation. Eur J Appl Physiol 95, 88–95 (2005). https://doi.org/10.1007/s00421-005-1379-3
Accepted:

Published:

Issue Date:
Keywords
Heart rate variability

Respiratory sinus arrhythmia

Respiration

Synchronization

Bivariate data analysis

Meditation