Abstract
Submaximal exercise performance has not previously been assessed in the late follicular phase of the menstrual cycle, which is associated with a pre-ovulatory surge in oestrogen. Therefore, we compared cycling time trial performance during the early follicular (EF), late follicular (LF) and mid-luteal (ML) phase of the menstrual cycle in trained and untrained eumenorrhoeic women who cycled 30 and 15 km, respectively, in a non-fasted state. The women completed the three cycling time trials on a conventional racing bicycle mounted on an air-braked ergometer. We required resting oestrogen to increase by at least twofold above EF phase values in both the LF and ML phases and this resulted in a number of exclusions reducing the sample size of each group. No significant difference was noted in the finishing time between the different menstrual phases in trained (n=5) or untrained (n=8) group, albeit limited by sample size. However, analysis of the combined trained and untrained group data (n=13) revealed a trend for a faster finishing time (P=0.027) in the LF phase compared to the EF phase as 73% of the subjects showed improvements with an average of 5.2±2.9% (or 2.1±1.1 min) in the LF phase (for α=0.05 requires P<0.017). Combined group analysis yielded no difference between performance in the EF and ML phase or between the LF and ML phase. Thus, further research is encouraged to confirm the tendency for a faster time trial in the LF phase, which coincides with the pre-ovulatory surge in oestrogen.
Access options
Buy single article
Instant access to the full article PDF.
US$ 39.95
Tax calculation will be finalised during checkout.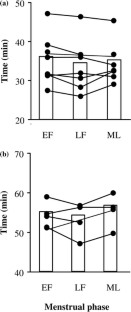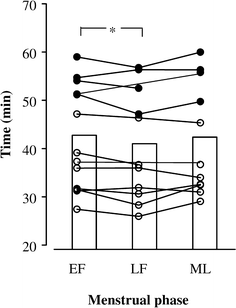 References
Achten J, Gleeson M, Jeukendrup AE (2002) Determination of the exercise intensity that elicits maximal fat oxidation. Med Sci Sports Exerc 34:92–97

Bailey SP, Zacher CM, Mittleman KD (2000) Effect of menstrual cycle phase on carbohydrate supplementation during prolonged exercise to fatigue. J Appl Physiol 88:690–697

Baker FC, Driver HS, Rogers GG, Paiker J, Mitchell D (1999) High nocturnal body temperatures and disturbed sleep in women with primary dysmenorrhea. Am J Physiol 277:E1013–E1021

Beidleman BA, Rock PB, Muza SR, Fulco CS, Forte VA Jr, Cymerman A (1999) Exercise V E and physical performance at altitude are not affected by menstrual cycle phase. J Appl Physiol 86:1519–1526

Bemben DA, Salm PC, Salm AJ (1995) Ventilatory and blood lactate responses to maximal treadmill exercise during the menstrual cycle. J Sports Med Phys Fitness 35:257–262

Bishop D (1997) Reliability of a 1-h endurance performance test in trained female cyclists. Med Sci Sports Exerc 29:554–559

Campbell SE, Febbraio MA (2001) Effect of ovarian hormones on mitochondrial enzyme activity in fat oxidation pathway of skeletal muscle. Am J Physiol 281:E803–E808

Campbell SE, Febbraio MA (2002) Effect of the ovarian hormones on GLUT4 expression and contraction-stimulated glucose uptake. Am J Physiol 282:E1139–E1146

Campbell SE, Angus DJ, Febbraio MA (2001) Glucose kinetics and exercise performance during phases of the menstrual cycle: effect of glucose ingestion. Am J Physiol 281:E817–E825

Carter S, McKenzie S, Mourtzakis M, Mahoney DJ, Tarnopolsky MA (2001) Short-term 17β-estradiol decreases glucose R a but not whole body metabolism during endurance exercise. J Appl Physiol 90:139–146

Curran-Everett D (2000) Multiple comparisons: philosophies and illustrations. Am J Physiol 279:R1–R8

De Souza MJ, Maguire MS, Rubin KR, Maresh CM (1990) Effects of menstrual phase and amenorrhea on exercise performance in runners. Med Sci Sports Exerc 22:575–580

Dean TM, Perreault L, Mazzeo RS, Horton TJ (2003) No effect of menstrual cycle phase on lactate threshold. J Appl Physiol 95:2537–2543

D'Eon TM, Sharoff C, Chipkin SR, Grow D, Ruby BC, Braun B (2002) Regulation of exercise carbohydrate metabolism by estrogen and progesterone in women. Am J Physiol 283:E1046–E1055

Dombovy ML, Bonekat HW, Williams TJ, Staats BA (1987) Exercise performance and ventilatory response in the menstrual cycle. Med Sci Sport Exerc 19:111–117

Duncan GE, Howley ET, Johson BN (1997) Applicability of VO2max criteria: discontinuous versus continuous protocols. Med Sci Sports Exerc 19:111–117

Hackney AC, Curley CS, Nicklas BJ (1991) Physiological responses to submaximal exercise at the mid-follicular, ovulatory and mid-luteal phases of the menstrual cycle. Scand J Med Sci Sports 1:94–98

Hatta H, Atomi Y, Shinohara S, Yamamoto Y, Yamada S (1988) The effects of ovarian hormones on glucose and fatty acid oxidation during exercise in female ovariectomized rats. Horm Metab Res 20: 609–611

Hessemer V, Brück K (1985) Influence of menstrual cycle on thermoregulatory, metabolic, and heart rate responses to exercise at night. J Appl Physiol 59:1911–1917

Hickey MS, Costill DL, McConell GK, Widrick JJ, Tanaka H (1992) Day to day variation in time trial cycling performance. Int J Sports Med 13:467–670

Jeukendrup A, Wim HM, Brouns F, Kester AD (1996) A new validated endurance performance test. Med Sci Sports Exerc 28:266–270

Jurkowski Hall JE, Jones NL, Toews CJ, Sutton JR (1981) Effects of the menstrual cycle on blood lactate, O2 delivery, and performance during exercise. J Appl Physiol 51:1493–1499

Kanaley JA, Boileau RA, Bahr JA, Misner JE, Nelson RA (1992) Substrate oxidation and GH responses to exercise are independent of menstrual phase and status. Med Sci Sports Exerc 24:873–880

Kendrick ZV, Steffen CA, Rumsey WL, Goldberg DI (1987) Effect of estradiol on tissue glycogen metabolism in exercised oophorectomized rats. J Appl Physiol 63:492–496

Lavoie J-M, Dionne N, Helie R, Brisson GR (1987) Menstrual cycle phase dissociation of blood glucose homeostasis during exercise. J Appl Physiol 62:1084–1089

Lebrun CM, McKenzie DC, Prior JC, Taunton JE (1995) Effects of menstrual cycle phase on athletic performance. Med Sci Sports Exerc 27:437–444

Nicklas BJ, Hackney AC, Sharp RL (1989) The menstrual cycle and exercise: performance, muscle glycogen, and substrate responses. Int J Sports Med 10:264–269

Palmer GS, Dennis SC, Noakes TD, Hawley JA (1996) Assessment of the reproducibility of performance testing on an air-braked cycle ergometer. Int J Sports Med 17:293–298

Pivarnik JM, Marichal CJ, Spillman T, Morrow JR Jr (1992) Menstrual cycle phase affects temperature regulation during endurance exercise. J Appl Physiol 72:543–548

Reilly T (2000) The menstrual cycle and human performance: an overview. Biol Rhythm Res 31:29–40

Ruby BC, Robergs RA, Waters DL, Burge M, Mermier C, Stolarczyk L (1997) Effects of estradiol on substrate turnover during exercise in amenorrheic females. Med Sci Sports Exerc 29:1160–1169

Schoene RB, Robertson HT, Pierson DJ, Peterson AP (1981) Respiratory drives and exercise in menstrual cycles of athletic and nonathletic women. J Appl Physiol 50:1300–1305

Seebauer M, Frühwirth M, Moser M (2002) Changes of respiratory sinus arrhythmia during the menstrual cycle depend on average heart rate. Eur JAppl Physiol 87:309–314

Zderic TW, Coggan AR, Ruby BC (2001) Glucose kinetics and substrate oxidation during exercise in the follicular and luteal phases. J Appl Physiol 90:447–453
Acknowledgements
We would like to thank Sr. F. Koetle for her medical assistance. This study was funded by the Medical Research Council of South Africa and the National Research Foundation.
About this article
Cite this article
Oosthuyse, T., Bosch, A.N. & Jackson, S. Cycling time trial performance during different phases of the menstrual cycle. Eur J Appl Physiol 94, 268–276 (2005). https://doi.org/10.1007/s00421-005-1324-5
Received:

Accepted:

Published:

Issue Date:
Keywords
Ovarian hormones

Eumenorrhoeic women

Endurance performance