Abstract
We hypothesised that l-carnitine could accelerate recovery from exhaustive exercise since increased blood l-carnitine concentrations elicit a vasodilation in isolated animal vessels as well as in patients with peripheral vascular or coronary artery disease during exercise. Twelve subjects received either 2 g l-carnitine or a placebo in a study which was double-blind and crossover in design. Two hours after administration, the subjects performed a constant-load exercise test (CET1) cycling at their individual anaerobic threshold to exhaustion. Three hours later this test was repeated (CET2). After 4–14 days, each subject performed the same cycling tests after having taken the other substance. Exercise times of the 12 subjects were identical with l-carnitine (CET1: 21.3±5.7 min; CET2: 21.4±5.3 min) and placebo (CET1: 21.9±6.2 min; CET2: 20.4±4.8 min). Also, heart rate, oxygen consumption, respiratory exchange ratio, and blood lactate concentration were identical. In conclusion, 2 g of L-carnitine taken 2 h before a first of two constant-load exercise tests had no influence on the second tests performed 3 h after the first test compared with placebo.
This is a preview of subscription content, log in to check access.
Access options
Buy single article
Instant access to the full article PDF.
US$ 39.95
Price includes VAT for USA
Subscribe to journal
Immediate online access to all issues from 2019. Subscription will auto renew annually.
US$ 199
This is the net price. Taxes to be calculated in checkout.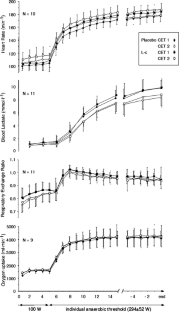 References
Bartels GL, Remme WJ, Holwerda KJ, Kruijssen DA (1996) Anti-ischaemic efficacy of l-propionylcarnitine—a promising novel metabolic approach to ischaemia? Eur Heart J 17:414–420

Bettini V, Aragno R, Bettini MB, Braggion G, Calore L, Concolato MT, Favaro P, Montin S (1990) Partecipazione del fattore endoteliale di rilasciamento negli effetti colinomimetici della carnitina in arterie isolate. Med Sport 43:153–160

Brass EP (2000) Supplemental carnitine and exercise. Am J Clin Nutr 72(Suppl):S618–S623

Brevetti G, Chiariello M, Ferulano G (1988) Increases in walking distance in patients with peripheral vascular disease treated with l-carnitine: a double-blind, cross-over study. Circulation 77:767–773

Brevetti G, Attisano T, Perna S, Rossini A, Policicchio A, Corsi M (1989) Effect of l-carnitine on the reactive hyperemia in patients affected by peripheral vascular disease: a double-blind, crossover study. Angiology 40:857–862

Cherchi A, Lai C, Angelino F (1985) Effects of l-carnitine on exercise tolerance in chronic stable angina A multicenter, double-blind, randomised, placebo-controlled crossover study. Int J Clin Pharmacol Ther Toxicol 23:569–572

Colombani P, Wenk C, Kunz I, Kraehenbuehl S, Kuhnt M, Arnold M, Frey-Rindova P, Frey W, Langhans W (1996) Effects of l-carnitine supplementation on physical performance and energy metabolism of endurance-trained athletes: a double-blind crossover field study. Eur J Appl Physiol 73:434–439

Dauber JM, VanBenthuysen KM, McMurthy JF, Wheeler GS, Lenefsky EJ, Horwitz LD, Neil JV (1990) Functional coronary microvascular injury evident as increased permeability due to brief ischemia and reperfusion. Circ Res 66:986–998

Fujiwara M, Nakano T, Tamoto S, Yamada Y, Fukai M, Takada K, Aschida H, Shimada T, Ishihara T, Seki I (1991) Effect of l-carnitine in patients with ischemic heart disease. J Cardiol 21:493–504

Giamberardino MA, Dragani L, Valente R, DiLisa F, Saggini R, Vecchiet L (1996) Effects of prolonged l-carnitine administration on delayed muscle pain and CK release after eccentric effort. Int J Sports Med 17:320–324

Harper P, Elwin C-E, Cederblad G (1988) Pharmacokinetics of bolus intravenous and oral doses of l-carnitine in healthy subjects. Eur J Clin Pharmacol 35:69–75

Hülsmann WC, Dubelaar ML (1992) Carnitine requirement of vascular endothelial and smooth muscle cells in imminent ischemia. Mol Cell Biochem 116:125–129

Karlic H, Lohninger A (2004) Supplementation of l-carnitine in athletes: does it make sense? Nutrition 20:709–715

Lagioia R, Scrutinio D, Mangini SG, Ricci A, Mastropasqua F, Valentini G, Ramunni G, Fila GT, Rizzon P (1992) Propionyl-l-carnitine: a new compound in the metabolic approach to the treatment of effort angina. Int J Cardiol 34:167–172

Rizza V, Lorefice R, Rizza N, Calabrese V (1992) Pharmacokinetics of l-carnitine in human subjects. In: Ferrari R, Sherwood SDWG (eds) l-Carnitine and its role in medicine: From function to therapy. Academic, London, pp 63–77

Signorelli SS, Malaponte G, di Pino L, Digrandi D, Pennisi G, Mazzarino MC (2001) Effects of ischaemic stress on leukocyte activation processes in patients with chronic peripheral occlusive arterial disease: role of l-propionyl carnitine administration. Pharmacol Res 44:305–309

Tsao PS, Lefer AM (1990) Time course and mechanism of endothelial dysfunction in isolated ischemic- and hypoxic-perfused rat hearts. Am J Physiol 259:H1660–H1666

VanHall G, Saris WHM, Wagenmakers AJM (1998) Effect of carbohydrate supplementation on plasma glutamine during prolonged exercise and recovery. Int J Sports Med 19:82–86

Volek JS, Kraemer WJ, Rubin MR, Gómez AL, Ratamess NA, Gaynor P (2002) l-carnitine l-tartrate supplementation favorably affects markers of recovery from exercise stress. Am J Physiol Endocrinol Metab 282:E474–E482

Wächter S, Vogt M, Kreis R, Boesch C, Bigler P, Hoppeler H, Krähenbühl S (2002) Long-term administration of l-carnitine to humans: effect on skeletal muscle carnitine content and physical performance. Clin Chim Acta 318:51–61
Acknowledgements
We thank Sigma-Tau Switzerland, who kindly supplied identical l-carnitine and placebo tablets, and Wander, who donated Isostar.
About this article
Cite this article
Stuessi, C., Hofer, P., Meier, C. et al. l-Carnitine and the recovery from exhaustive endurance exercise: a randomised, double-blind, placebo-controlled trial. Eur J Appl Physiol 95, 431–435 (2005). https://doi.org/10.1007/s00421-005-0020-9
Accepted:

Published:

Issue Date:
Keywords
Constant-load exercise

Vasodilative effect

Endurance performance