Abstract
The hypothesis that the initial responses to cold water immersion could be attenuated by repeated cold showers was tested. Eighteen (13 men, 5 women) non-habituated subjects undertook two 3-min head-out seated immersions into stirred water at 10°C wearing swim wear. The immersions were separated by 4 days during which time they took six cold showers. The subjects were randomly split into three groups with different showering regimes: 3 min at 10°C on the back (10B); 3 min at 15°C on the back (15B); and 30 s at 10°C on the back followed by 30 s on the front (10BF). Over the first 30 s of immersion respiratory frequency ( f R) was reduced by 21% in groups 10B and 10BF from 54 (14) to 44 (16) breaths.min−1 ( P <0.05), and 33 (8) to 26 (10) breaths.min−1 ( P <0.05) respectively, following repeated showers. Group 15B showed no change in f R. The tachycardia induced on immersion in water at 10°C was not reduced by repeated showers except in group 15B during the last 150 s [from 119 (23) to 105 (25) beats.min−1, P <0.05]. Repeated showering in water at 10°C reduced the respiratory drive (as measured by f R) during head-out immersion in water at the same temperature. No such habituation was observed with repeated showers in warmer water (15°C). It is concluded that when the body surface area cooled is the same, the rate of change of skin temperature is an important factor in determining the degree of habituation produced.
We're sorry, something doesn't seem to be working properly.
Please try refreshing the page. If that doesn't work, please contact support so we can address the problem.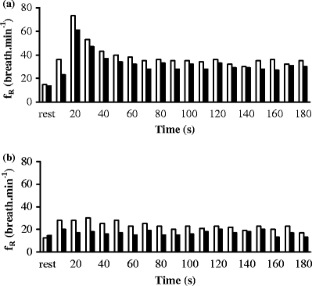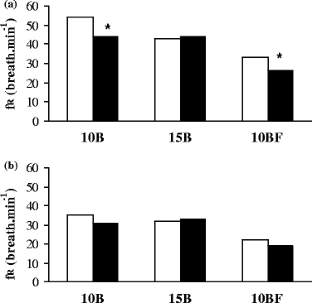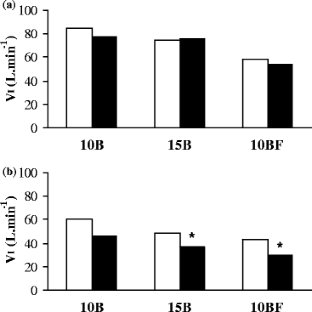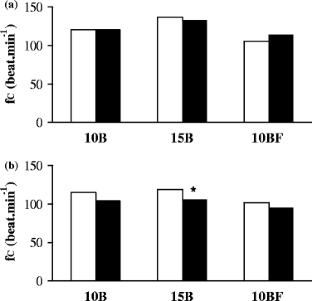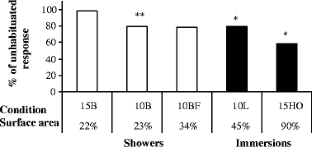 References
Burke W, Mekjavic I (1991) Estimation of regional cutaneous cold sensitivity by analysis of the gasping response. J Appl Physiol 71:1933–1940

Golden F, Tipton M (1988) Human adaptation to repeated cold immersions. J Physiol (Lond) 396:349–363

Hayward J, French C (1989) Hyperventilation response to cold water immersion: reduction by staged entry. Aviat Space Environ Med 6:1163–1165

Keatinge W, Evans M (1961) The respiratory and cardiovascular response to immersion in cold and warm water. Q J Exp Physiol 46:83–94

Keatinge W, McIlroy M, Goldfien A (1964) Cardiovascular responses to ice cold showers. J Appl Physiol 19:1145–1150

Mekjavic I, La Prairie A, Burke W, Lindborg B (1987) Respiratory drive during sudden cold water immersion. Resp Physiol 70:121–130

Tipton M (1989) The initial responses to cold-water immersion in man. Clin Sci 77:581–588

Tipton M, Golden F (1987) The influence of regional insulation on the initial responses to cold immersion. Aviat Space Environ Med 58:1192–1196

Tipton M, Stubbs D, Elliot D (1991) Human initial responses to immersion in cold water at three temperatures and after hyperventilation. J Appl Physiol 70:317–322

Tipton M, Golden F, Mekjavic I, Higenbottam C, Eglin C (1998a) Temperature dependence of habituation of the initial responses to cold water immersion. Eur J Appl Physiol 78:253–257

Tipton M, Eglin C, Golden F (1998b) Habituation of the initial responses to cold water immersion in humans: a central or peripheral mechanism. J Physiol (Lond) 512:621–628
Acknowledgements
We would like to thank all the subjects for participating in the study, Dr E.H.N. Oakley for providing medical cover and Dr R. Pethybridge (retired) for advice concerning statistics over the years. This study was funded by the MoD Corporate Research Package.
About this article
Cite this article
Eglin, C.M., Tipton, M.J. Repeated cold showers as a method of habituating humans to the initial responses to cold water immersion. Eur J Appl Physiol 93, 624–629 (2005). https://doi.org/10.1007/s00421-004-1239-6
Accepted:

Published:

Issue Date:
Keywords