Abstract
Previous pharmacological and pathological studies have reported negative relationships between circulating testosterone and certain stress hormones (i.e., cortisol and prolactin) in humans. These relationships have subsequently been used in hypotheses explaining the subclinical resting testosterone levels often found in some endurance-trained males, but as of yet no one has specifically examined these relationships as they relate to exercise. Thus, we examined the relationship between total and free testosterone levels and cortisol, and between total and free testosterone and prolactin following prolonged endurance exercise in trained males. Twenty-two endurance-trained males volunteered to run at 100% of their ventilatory threshold (VT) on a treadmill until volitional fatigue. Blood samples were taken at pre-exercise baseline (B0); volitional fatigue (F0); 30 min (F30), 60 min (F60), and 90 min (F90) into recovery; and at 24 h post-baseline (P24 h). At F0 [mean running time = 84.8 (3.8) min], exercise induced significant changes (P<0.05) from B0 in total testosterone, cortisol and prolactin. All three of these hormones were still significantly elevated at F30; but at F60 only cortisol and prolactin were greater than their respective B0 values. Free testosterone displayed no significant changes from B0 at F0, F30, or the F60 time point. At F90, neither cortisol nor prolactin was significantly different from their B0 values, but total and free testosterone were reduced significantly from B0. Cortisol, total testosterone and free testosterone at P24 h were significantly lower than their respective B0 levels. Negative relationships existed between peak cortisol response (at time F30) versus total testosterone (at F90, r=−0.53, P<0.05; and at P24 h, r=−0.60, P<0.01). There were no significant relationships between prolactin and total or free testosterone. In conclusion, the present findings give credence to the hypothesis suggesting a linkage between the low resting testosterone found in endurance-trained runners and stress hormones, with respect to cortisol.
Access options
Buy single article
Instant access to the full article PDF.
USD 39.95
Price excludes VAT (USA)
Tax calculation will be finalised during checkout.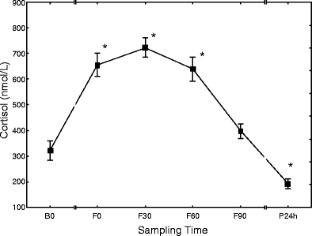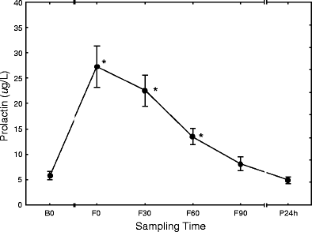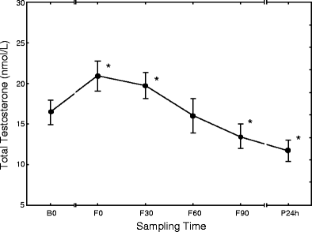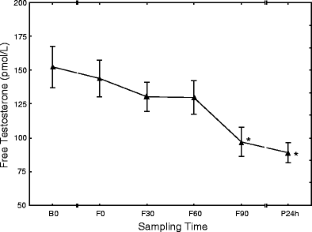 References
Carter JN, Tyson JE, Tolis G, Van Vliet S, Faiman C, Friesen HG (1978) Prolactin-secreting tumors and hypogonadism in 22 men. N Engl J Med 299:847–852

Cumming DC, Quigley ME, Yen SSC (1983) Acute suppression of circulating testosterone levels by cortisol in men. J Clin Endocrinol Metab 57:671–673

Davies CTM, Few JD (1973) Effects of exercise on adrenocortical function. J Appl Physiol 5:887–891

Dill DB, Costill DL (1974) Calculation and percentages in volumes of blood, plasma, and red cells in dehydration. J Appl Physiol 37:247–248

Doerr P, Pirke KM (1976) Cortisol-induced suppression of plasma testosterone in normal adult males. J Clin Endocrinol Metab 43:622–629

Duncan GE, Howley ET, Johnson BN (1997) Applicability of VO2max criteria: discontinuous versus continuous protocols. Med Sci Sports Exerc 29:273–278

Durnin JV, Wormersly J (1974) Body fat assessed from total body density and its estimation from skinfold thickness: measurements on 481 men and women aged from 16 to 72 years. Br J Nutr 32:77–97

Hackney AC, Dobridge J (2003) Exercise and male hypogonadism: testosterone, the hypothalamic-pituitary-testicular axis, and physical exercise In: Winters S (ed) Male hypogonadism: basic, clinical, and therapeutic principles. Humana Press, Totowa, N.J., pp305–330

Hackney AC, Viru A (1999) Twenty-four cortisol response to multiple daily exercise sessions of moderate and high intensity. Clin Physiol 19:178–182

Hackney AC, Sharp RL, Runyan WS, Ness RJ (1989) Relationship of resting prolactin and testosterone in males during intensive training. Br J Sports Med 23:194

Hackney AC, Fahrner CL, Stupnicki R (1997) Reproductive hormonal responses to maximal exercise in endurance-trained men with low resting testosterone levels. Exp Clin Endocrinol Diabetes 105:291–295

Hackney AC, Fahrner CL, Gulledge TP (1998) Basal reproductive hormonal profiles are altered in endurance trained men. J Sports Med Phys Fit 38:138–141

Magrini G, Ebiner JR, Burckhardt P, Felber JP (1976) Study on the relationship between plasma prolactin levels and androgen metabolism in man. J Clin Endocrinol Metab 43:944–947

McArdle WD, Katch FI, Katch VL (1996) Exercise physiology: energy, nutrition, and human performance. Williams and Wilkins, Philadelphia, Pa.

McMurray RG, Hackney AC (2000) Endocrine responses to exercise and training. In: Garrett W (ed) Exercise and sport science, vol 10. Lippincott Williams and Wilkins, Philadelphia, Pa., pp 135–162

Pollock ML, Wilmore JH (1990) Exercise in health and disease, 2nd edn. Saunders, Philadelphia, Pa.

Smals AGH, Kloppenborg PWC, Benraad TJ (1977) Plasma testosterone profiles in Cushing's syndrome. J Clin Endocrinol Metab 45:240–245

Stachenfeld NS, Eskenazi M, Complan NL, Nicholas JA (1992) Predictive accuracy of criteria used to assess maximal oxygen consumption. Am Heart J 123:922–925

Viru A (1992) Plasma hormones and physical exercise. Int J Sports Med 13:201–209

Wasserman K (1984) The anaerobic threshold measurement in exercise testing. Clin Chest Med 5:77–88

Wheeler GD, Wall SR, Belcastro AN, Cumming DC (1984) Reduced serum testosterone and prolactin levels in male distance runners. JAMA 252:514–516

Wheeler GH, Singh M, Pierce WD, Epling WF, Cumming DC (1991) Endurance training decreases serum testosterone levels in men without change in luteinizing hormone pulsatile release. J Clin Endocrinol Metab 72:422–425

Wilson JD (1998) Williams textbook of endocrinology, 9th edn. Saunders, Philadelphia
Acknowledgements
The authors are deeply grateful to the subjects who participated in this study and the graduate students of the Applied Physiology Laboratory for their help and support.
About this article
Cite this article
Daly, W., Seegers, C.A., Rubin, D.A. et al. Relationship between stress hormones and testosterone with prolonged endurance exercise. Eur J Appl Physiol 93, 375–380 (2005). https://doi.org/10.1007/s00421-004-1223-1
Accepted:

Published:

Issue Date:

DOI: https://doi.org/10.1007/s00421-004-1223-1
Keywords
Androgens

Endocrine

Fatigue

Glucocorticoids