Abstract
To determine the effects of simultaneous explosive strength and soccer training in young men, 8 experimental (S) and 11 control (C) players, aged 17.2 (0.6) years, were tested before and after an 11-week training period with respect to the load-vertical jumping curve [loads of 0–70 kg (counter-movement jump CMJ0–70)], 5- and 15-m sprint performances, submaximal running endurance and basal serum concentrations of testosterone, free testosterone and cortisol. In the S group, the 11-week training resulted in significant increases in the low-force portion of the load-vertical jumping curve (5–14% in CMJ0–30, P<0.01) and in resting serum total testosterone concentrations (7.5%, P<0.05), whereas no changes were observed in sprint running performance, blood lactate during submaximal running, resting serum cortisol and resting serum free testosterone concentrations. In the C group, no changes were observed during the experimental period. In the S group, the changes in CMJ0 correlated (P<0.05–0.01) with the changes in the 5-m (r=0.86) and 15-m (r=0.92) sprints, whereas the changes in CMJ40 correlated negatively with the changes in the testosterone:cortisol ratio (r=−0.84, −0.92, respectively, P<0.05). These data indicate that young trained soccer players with low initial strength levels can increase explosive strength by adding low-frequency, low-intensity explosive-type strength training. The inverse correlations observed between changes in CMJ40 and changes in the testosterone:cortisol ratio suggest that a transient drop in this ratio below 45% cannot always be interpreted as a sign of overstrain or neuroendocrine dysfunction.
Access options
Buy single article
Instant access to the full article PDF.
USD 39.95
Price excludes VAT (USA)
Tax calculation will be finalised during checkout.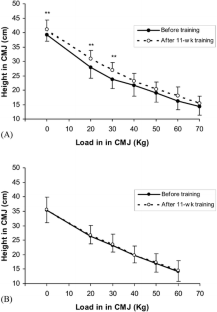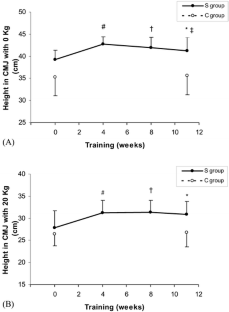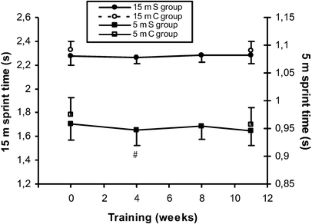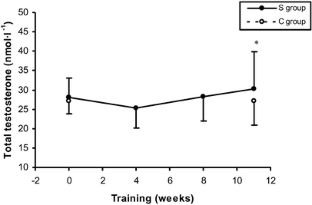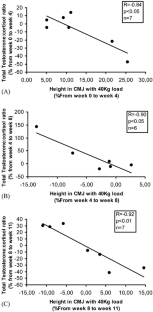 References
Aagaard P, Simonsen EB, Trolle M, Klausen K (1994) Effects of different strength training regimes on moment and power generation during dynamic knee extensions. Eur J Appl Physiol 69:382–386

Adlercreutz H, Harkonen M, Kuoppasalmi K, Karvonen J (1986) Effect of training on plasma anabolic and catabolic steroid hormones and their response during physical exercise. Int J Sports Med 7 (Suppl):27–28

Andersen JL, Bangsbo J, Klitgaard H, Saltin B (1992) Changes in short-term performance and muscle fibre composition by strength training of elite soccer players. J Sports Sci 10:162–163

Bangsbo J (1994) The physiology of soccer—with special reference to intense intermittent exercise. Acta Physiol Scand 151 (suppl 619):1–155

Cometti G, Maffiuletti NA, Pousson M, Chatard JC, Maffulli N (2001) Isokinetic strength and anaerobic power of elite, subelite and amateur French soccer players. Int J Sports Med 22:45–51

Delecluse C, Van Coppenolle H, Wilems E, Van Leemputte M, Diels R, Goris M (1995) Influence of high-resistance and high-velocity training on sprint performance. Med Sci Sports Exerc 27:1203–1209

De Proft E, Cabri J, Dufour W, Clarys JP (1988) Strength training and kick performance in soccer players. In: Reilly T, Lees A, Davids K, Murphy WS (eds) Science and football. Spon, London, pp 108–113

Dudley GA, Djamil R (1985) Incompatibility of endurance- and strength-training modes of exercise. J Appl Physiol 59:1446–1451

Ekblom B (1986) Applied physiology of soccer. Sports Med 3:50–60

Frick U, Schmidtbleicher D, Stutz R (1995) Muscle activation during acceleration-phase in sprint running with special reference to starting posture (abstract). XV Congress of the International Society of Biomechanics. Jyvaskyla, Finland

Fry AC, Kraemer WJ, Stone MH, Koziris LP, Thrush JT, Fleck SJ (2000). Relationships between serum testosterone, cortisol, and weightlifting performance. J Strength Cond Research 14:338–343

Gorostiaga EM, Izquierdo M, Iturralde P, Ruesta M, Ibáñez J (1999) Effects of heavy resistance training on maximal and explosive force production, endurance and serum hormones in adolescent handball players. Eur J Appl Physiol 80:485–493

Häkkinen K, Komi PV (1985) Effect of explosive type strength training on electromyographic and force production characteristics of leg extensor muscles during concentric and various stretch-shortening cycle exercises. Scand J Sports Sci 7:65–76

Häkkinen K, Komi PV, Alen M (1985) Effects of explosive type strength training on isometric force-and relaxation time, electromyographic and muscle fibre characteristics of leg extensor muscles. Acta Physiol Scand 125:587–E600

Häkkinen K, Pakarinen A, Alen M, Kauhanen H, Komi PV (1987) Relationships between training volume, physical performance capacity, and serum hormone concentrations during prolonged training in elite weight lifters. Int J Sports Med 8 (Suppl):61–65

Helgerud J, Engen LC, Wisloff U, Hoff J (2001) Aerobic endurance training improves soccer performance. Med Sci Sports Exerc 33:1925–1931

Hickson RC (1980) Interference of strength development why simultaneously training for strength and endurance. Eur J Appl Physiol 45:255–263

Hoogeveen AR, Zonderland ML (1996) Relationships between testosterone, cortisol and performance in professional cyclists. Int J Sports Med 17:423–428

Komi PV, Bosco C (1978) Utilization of stored elastic energy in leg extensor muscles by men and women. Med Sci Sports Exerc 10:261–265

Kraemer WJ (2000) Endocrine responses to resistance exercise. In: Essentials of strength training and conditioning. Human Kinetics, Champaign, pp 91–114

Kraemer WJ, Ratamess NA (2000) Physiology of resistance training. Current issues. Orthop Phys Therapy Clin North Am 9:1059–1516

Kraemer WJ, Patton JF, Gordon SE, Harman EA, Deschenes MR, Reynolds K, Newton RU, Triplett NT, Dziados JE (1995) Compatibility of high-intensity strength and endurance training on hormonal and skeletal muscle adaptations. J Appl Physiol 78:976–989

Kraemer WJ, Staron RS, Hagerman FC, Hikida RS, Fry AC, Gordon SE, Nindl BC, Gothshalk LA, Volek JS, Marx JO, Newton RU, Häkkinen K (1998) The effects of short-term resistance training on endocrine function in men and women. Eur J Appl Physiol 78:69–76

Paavolainen L, Häkkinen K, Rusko HK (1991) Effects of explosive type strength training on physical performance characteristics in cross-country skiers. Eur J Appl Physiol 62:251–255

Paavolainen L, Häkkinen K, Hamalainen I, Nummela A, Rusko H (1999) Explosive-strength training improves 5-km running time by improving running economy and muscle power. J Appl Physiol 86:1527–1533

Rusko HK, Bosco C (1987) Metabolic response of endurance athletes to training with added load. Eur J Appl Physiol 56:412–418

Staron RS, Karapondo DL, Kraemer WJ, Fry AC, Gordon SE, Falkel JE, Hagerman FC, Hikida RS (1994) Skeletal muscle adaptations during early phase of heavy-resistance training in men and women. J Appl Physiol 76:1247–1255

Taiana F, Grehaigne JF, Cometti G (1992) The influence of maximal strength training of lower limbs of soccer players on their physical and kick performances. J Sports Sci 10:170

Tesch PA (1988) Skeletal muscle adaptations consequent to long-term heavy resistance exercise. Med Sci Sports Exerc 20:S132–S134

Vervoorn C, Quist AM, Vermulst LJM, Erich WBM, De Vries WR, Thijssen JHH (1991) The behaviour of the plasma free testosterone/cortisol ratio during a season of elite rowing training. Int J Sports Med 12:257–263

Viitasalo J (1985) Measurement of force-velocity characteristics for sportsmen in field conditions. In: Winter DA, Norman RW, Wells RP, Hayes KC, Patla AE (eds.) Biomechanics IX-A. Human Kinetics, Champaign, pp 96–101

Weltman A (1995) The blood lactate response to exercise. Human Kinetics, Champaign

Wilson GJ, Newton RU, Murphy AJ, Humphries BJ (1993) The optimal training load for the development of dynamic athletic performance. Med Sci Sports Exerc 25:1279–1286

Wisloff U, Helgerud J, Hoff J (1998) Strength and endurance of elite soccer players. Med Sci Sports Exerc 30:462–467
Declaration
The experiments comply with the current laws of the country in which the experiments were performed
About this article
Cite this article
Gorostiaga, E.M., Izquierdo, M., Ruesta, M. et al. Strength training effects on physical performance and serum hormones in young soccer players. Eur J Appl Physiol 91, 698–707 (2004). https://doi.org/10.1007/s00421-003-1032-y
Accepted:

Published:

Issue Date:

DOI: https://doi.org/10.1007/s00421-003-1032-y
Keywords
Soccer

Strength training

Endurance

Vertical jump

Testosterone