Abstract
The objective was to estimate the contribution of experience, body size and maturity status to variation in the functional capacities of adolescent football (soccer) players. The sample included 69 players 13.2–15.1 years of age from three clubs which competed in the highest division for their age group in the first Portuguese national division. Height and weight were measured and stage of pubic hair development was assessed at clinical examination. The number of years of experience in football was obtained at interview. Three tests of functional capacity were administered: 30-m dash (running speed), vertical jump (explosive power) and a yo-yo intermittent endurance test (aerobic resistance). Multiple linear regression analysis was used to estimate the relative contributions of age, stage of sexual maturity, height, weight and years of formal training in football to the three indicators of functional capacity. Stage of puberty, body size and years of training accounted for 21% to 50% of the variance in the three tasks. Sexual maturity status was the primary contributor to the variance in the intermittent shuttle run, whereas weight and height were the primary contributors to the explained variance in the 30-m dash and vertical jump, respectively. In conclusion, biological maturity status significantly influences the functional capacity of adolescent football players 13–15 years of age. Training is a significant contributor to aerobic resistance, whereas weight and height are significant contributors to the sprint and vertical jump, respectively.
Access options
Buy single article
Instant access to the full article PDF.
USD 39.95
Price includes VAT (USA)
Tax calculation will be finalised during checkout.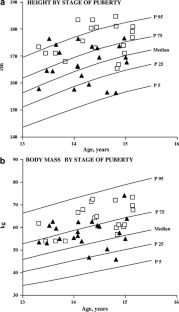 References
Balsom P (1994) Evaluation of physical performance. In: Ekblom B (ed) Football (soccer). Blackwell Science, Oxford, pp 102–123

Bangsbo J (1996) Yo-yo tests. Copenhagen, Denmark, http://www.soccerfitness.com/index.htm

Baxter-Jones A, Goldstein H, Helms P (1993) The development of aerobic power in young athletes. J Appl Physiol 75:1160–1167

Bell W (1988) Physiological characteristics of 12-year-old soccer players. In: Reilly T, Lees A, Davids K, Murphy WJ (eds) Science and football. Spon, London, pp 175–179

Berg KE, LaVoie JC, Latin RW (1985) Physiological training effects of playing youth soccer. Med Sci SportsExerc 17:656–660

Beunen G, Malina RM (1988) Growth and physical performance relative to the timing of the adolescent spurt. Exerc Sports Sci Rev 16:503–540

Beunen G, Ostyn M, Simons J, Renson R, Van Gerven D (1980) Motorische vaardigheid somatische ontwikkeling en biologische maturiteit. Geneeskunde Sport 13:36–42

Beunen G, Ostyn M, Simons J, Renson R, Van Gerven D (1981) Chronological and biological age as related to physical fitness in boys 12 to 19 years. Ann Hum Biol 8:321–331

Beunen G, Malina RM, Van't Hof MA, Simons J, Ostyn M, Renson R, Van Gerven D (1988) Adolescent growth and motor performance: a longitudinal study of Belgian boys. Human Kinetics, Champaign, Ill.

Beunen G, Baxter-Jones ADG, Mirwald RL, Thomis M, Lefevre J, Malina RM, Bailey DA (2002) Intraindividual allometric development of aerobic power in 8- to 16-year-old boys. Med Sci Sports Exerc 33:503–510

Bosco C (1994) La valoracion de la fuerza con el test de Bosco. In Coleccion Deporte e Entrenamiento [translated by J. Riu]. Editorial Paidotribo, Barcelona

Cacciari E, Mazzanti L, Tassinari D, Bergamaschi R, Magnani D, Zappula F, Nanni G, Cobianchi C, Ghini T, Pini R, Tani G (1990) Effects of sport (football) on growth: auxological, anthropometric and hormonal aspects. Eur J Appl Physiol 61:149–158

Centers for Disease Control and Prevention (2000) National Center for Health Statistics CDC growth charts: United States, http://www.cdc.gov/growthcharts.htm

Chin MK, So RC, Yuan YW, Li RC, Wong AS (1994) Cardiorespiratory fitness and isokinetic muscle strength of elite Asian junior soccer players. J Sports Med Phys Fit 34:250–257

Comas ES, Pereira MHN, Matsudo VKR (1992) Comparação da aptidao fisica de jogadores de futebol de quatro categorias diferentes. Revista Associação dos Professores de Educação Fisica de Londrina (Brasil) 7:44–50 (July)

Dal Monte A, Leonardi LM, Sardella F, Faina M, Gallippi P (1980) Evaluation test of the alternate aerobic-anaerobic potential in subjects at development age. In: Vecchiet L (ed) Proceedings on the First International Congress on Sports Medicine Applied to Football, vol. II. Guanella, Rome, pp 788–794

Feliu Rovira A, Albanell Pemán M, Bestit Cartasona C, Baños Martínez F, Fernández Ballart J, Marti-Heneberg M (1991) Predicción de la capacidad física de deportistas durante la pubertad: Análysis en futbolistas de alto rendimiento. An Esp Pediatr 35:323–326

Garganta J, Maia J (1991) Descrição e comparação de valores de força explosiva dos membros inferiores em jovens praticantes de futebol. In: Bento J, Marques A (eds) As ciencias do desporto e a pratica desportiva. Universidade do Porto, Porto, pp 71–80

Garganta J, Maia J, Pinto J (1993a) Somatotype, body composition and physical performance capacities of elite young soccer players. In: Reilly T, Clarys J, Stibbe A (eds) Science and football II. Spon, London, pp 292–294

Garganta J, Maia J, Silva R, Natal A (1993b) A comparative study of explosive leg strength in elite and non-elite young soccer players. In: Reilly T, Clarys J, Stibbe A (eds) Science and football II. Spon, London, pp 304–306

Hansen L, Bangsbo J, Twisk J, Klausen K (1999) Development of muscle strength in relation to training and level of testosterone in young male soccer players. J Appl Physiol 87:1141–1147

Jankovic S, Heimer N, Matkovic BR (1993) Physiological profile of prospective soccer players. In: Reilly T, Clarys J, Stibbe A (eds) Science and football II. Spon, London, pp 295–297

Jones ADG, Helms P (1993) Cardiorespiratory fitness in young British soccer players. In: Reilly T, Clarys J, Stibbe A (eds) Science and football II. Spon, London, pp 298–303

Malina RM (1994) Physical growth and biological maturation of young athletes. Exerc Sports Sci Rev 22:389–433

Malina RM, Peña Reyes ME, Eisenmann JC, Horta L, Rodrigues J, Miller R (2000) Height, mass, and skeletal maturity of elite Portuguese soccer players 11–16 years of age. J Sports Sci 18:685–693

Malina RM, Bouchard C, Bar-Or O (2004) Growth, maturation, and physical activity, 2nd edn. Human Kinetics, Champaign, Ill. (in press)

Matsudo VKR (1978) Efeitos do treinamento nas caracteristicsas de aptidao fisica de futebolistas adolescentes e adultos. In Anais do VI Simposio de Ciencias do Esporte, Centro de Estudos do Laboratorio de Aptidao Fisica de Sao Caetano do Sul (CELAFISCS), reprinted in CELAFISCS: Des Anas de Contribuicao as Ciencias do Esporte. Centro de Estudos do Laboratorio de Aptidao Fisica de Sao Caetano do Sul, Sao Caetano, Sao Paulo, Brazil, pp 298–304

Mirwald RL, Bailey DA (1986) Maximal aerobic power. Sports Dynamics, London, Ontario, Canada

Mosher RE, Rhodes EC, Wenger HA, Filsinger B (1985) Interval training: The effects of a 12-week programme on elite, prepubertal male soccer players. J Sports Med Phys Fit 25:5–9

Nowacki PE, Cai DY, Buhl C, Krümmelbein U (1988) Biological performance of German soccer players (professionals and juniors) tested by special ergometry and treadmill methods. In: Reilly T, Lees A, Davids K, Murphy WJ (eds) Science and football. Spon, London, pp 145–157

Peña Reyes ME, Cardenas-Barahona E, Malina RM (1994) Growth, physique, and skeletal maturation of soccer players 7–17 years of age. Humanbiol Budapestin 5:453–458

Rösch D, Hodgson R, Peterson L, Graf-Baumann T, Junge A, Chomiak J, Dvorak J (2000) Assessment and evaluation of football performance. Am J Sports Med Suppl 28:S29–S39

Soares EA, Matsudo VKR (1982) Efeitos do treinamento de futebol sobre a PWC170 em escolares. Rev Brasil Cien Esporte 4:7–10

Tanner JM (1962) Growth at adolescence, 2nd edn. Blackwell, Oxford
About this article
Cite this article
Malina, R.M., Eisenmann, J.C., Cumming, S.P. et al. Maturity-associated variation in the growth and functional capacities of youth football (soccer) players 13–15 years. Eur J Appl Physiol 91, 555–562 (2004). https://doi.org/10.1007/s00421-003-0995-z
Accepted:

Published:

Issue Date:
Keywords
Adolescence

Aerobic resistance

Power

Puberty

Speed