Abstract
The measurement of human muscle size is essential when assessing the effects of training, disuse and ageing. The considered 'gold standard' for cross-sectional area measurements of muscle size is magnetic resonance imaging (MRI). However, MRI is costly and often inaccessible. The aim of the present study was to test the reproducibility and validity of a more accessible alternative method using ultrasonography (ULT). We examined the cross-sectional areas in the vastus lateralis muscle of six individuals. Axial-plane ULT scans were taken at given levels along the entire muscle length. The ULT scanning was repeated on different days (reliability) and validated against MRI-based measurements. Mean intraclass correlation coefficients were 0.998 for the reliability of ULT and 0.999 for the validity of ULT against MRI. The coefficient of variation values for cross-sectional area measurements assessed by six different experimenters were 2.1% and 0.8% for images obtained with ULT and MRI, respectively. The ULT method is a valid and reliable alternative tool for assessing cross-sectional areas of large individual human muscles. The present findings justify the application of the ULT method for the detection of changes throughout large muscles in response to training, disuse or as a consequence of sarcopenia.
Access options
Buy single article
Instant access to the full article PDF.
USD 39.95
Price excludes VAT (USA)
Tax calculation will be finalised during checkout.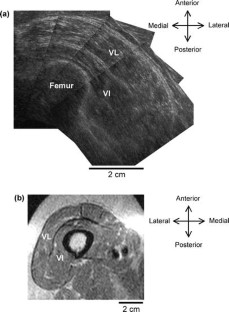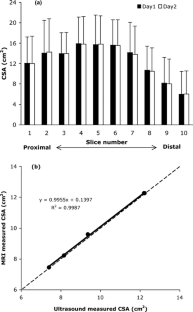 References
Berg HE, Dudley GA, Haggmark T, Ohlsen H, Tesch PA (1991) Effects of lower limb unloading on skeletal muscle mass and function in humans. J Appl Physiol 70:1882–1885

Berg HE, Tedner B, Tesch PA (1993) Changes in lower limb muscle cross-sectional area and tissue fluid volume after transition from standing to supine. Acta Physiol Scand 148:379–385

Berg HE, Larsson L, Tesch PA (1997) Lower limb skeletal muscle function after 6 wk of bed rest. J Appl Physiol 82:182–188

Esformes JI, Narici MV, Maganaris CN (2002) Measurement of human muscle volume using ultrasonography. Eur J Appl Physiol 87:90–92

Fiatarone MA, Marks EC, Ryan ND, Meredith CN, Lipsitz LA, Evans WJ (1990) High-intensity strength training in nonagenarians. Effects on skeletal muscle. J Am Med Assoc 263:3029–3034

Lieber RL (1992) Skeletal muscle: structure and function. Williams and Wilkins, Baltimore, Md.

Narici MV, Capodaglio P, Minetti AE, Ferrari-Bardile A, Maini M, Cerretelli P (1998) Changes in human skeletal muscle architecture induced by disuse-atrophy. J Physiol (Lond) 506P:59

Rankin G, Stokes M (1998) Reliability of assessment tools in rehabilitation: an illustration of appropriate statistical analyses. Clin Rehabil 12:187–199

Roubenoff R, Hughes VA (2000) Sarcopenia: current concepts. J Gerontol A Biol Sci Med Sci 55:M716–724

Sipila S, Suominen H (1993) Muscle ultrasonography and computed tomography in elderly trained and untrained women. Muscle Nerve 16:294–300
Acknowledgements
This work has been partly supported by Italian Space Agency funds.
About this article
Cite this article
Reeves, N.D., Maganaris, C.N. & Narici, M.V. Ultrasonographic assessment of human skeletal muscle size. Eur J Appl Physiol 91, 116–118 (2004). https://doi.org/10.1007/s00421-003-0961-9
Accepted:

Published:

Issue Date:

DOI: https://doi.org/10.1007/s00421-003-0961-9
Keywords