Abstract
The purpose of this study was to compare the effects of active vs. passive recovery on the time to exhaustion for intermittent runs (15 s) at supramaximal velocity (120% of maximal aerobic speed). Twelve male subjects performed a graded test, an intermittent run to exhaustion with active recovery (50% of maximal aerobic speed) and an intermittent run to exhaustion with passive recovery. Results showed that intermittent runs to exhaustion with passive recovery [745 (171) s] allowed subjects to run for a significantly longer (p<0.001) time than intermittent runs to exhaustion with active recovery [445 (79) s]. These results could be explained by a significantly higher (p<0.001) energy requirement for intermittent runs with active recovery [59.9 (9.6) ml·kg−1·min−1] than for intermittent runs with passive recovery [48.9 (6.9) ml·kg−1·min−1]. It could be also hypothesized that the energy required to run during short active recovery would result in less oxygen being available to reload myoglobin and haemoglobin, to remove lactate concentrations and to resynthesize the phosphocreatine. Consequently, for intermittent runs with short recovery periods, passive recovery will induce a longer time to exhaustion than active recovery.
Access options
Buy single article
Instant access to the full article PDF.
US$ 39.95
Tax calculation will be finalised during checkout.
Subscribe to journal
Immediate online access to all issues from 2019. Subscription will auto renew annually.
US$ 119
Tax calculation will be finalised during checkout.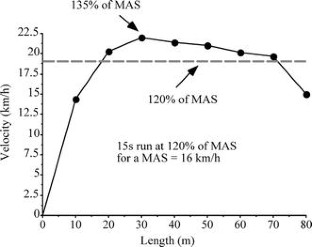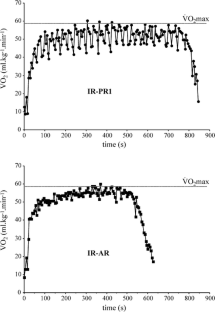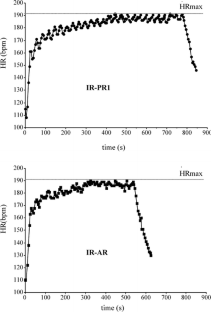 References
Arsac LM, Locatelli E (2002) Modeling the energetics of 100-m running by using speed curves of world champions. J Appl Physiol 92:1781–1788

Åstrand I, Åstrand PO, Christensen EH, Hedman R (1960) Intermittent muscular work. Acta Physiol Scand 48:448–453

Bahr R (1992) Excess post exercise oxygen consumption magnitude, mechanisms and practical implications. Acta Physiol Scand 605(144):36

Balsom PD, Gaitanos GC, Ekblom B, Sjödin B (1994) Reduced oxygen availability during high intensity intermittent exercise impairs performance. Acta Physiol Scand 152:279–285

Berthoin S, Pelayo P, Lensel-Corbeil G, Robin H, Gerbeaux M (1996) Comparison of maximal aerobic speed as assessed with laboratory and field measurements in moderately trained subjects. Int J Sports Med 17(7):525–529

Billat VL (2001) Interval training for performance: a scientific and empirical practice. Special recommendations for middle- and long-distance running. Part I: Aerobic interval training. Sports Med 31(1):13–31

Billat VL, Slawinski J, Bocquet V, Chassaing P, Demarle A, Koralsztein JP (2001) Very short (15 s 15 s) interval-training around the critical velocity allows middle-aged runners to maintain V̇O2max for 14 minutes. Int J Sports Med 22:201–208

Bogdanis GC, Nevill ME, Lakomy HKA, Graham CM, Louis G (1996) Effects of active recovery on power output during repeated maximal sprint cycling. Eur J Appl Physiol 74(5):461–469

Bonen A, Belcastro AN (1976) Comparison of self-selected recovery methods on lactic-acid removal rates. Med Sci Sports Exerc 8(3):176–178

Christensen EH, Hedman R, Saltin B (1960) Intermittent and continuous running. Acta Physiol Scand 50:269–286

Christmass MA, Dawson B, Passeretto P, Arthur P (1999) A comparison of skeletal muscle oxygenation and fuel use in sustained continuous and intermittent exercise. Eur J Appl Physiol 80(5):423–435

di Prampero PE, Ferretti G (1999) The energetics of anaerobic muscle metabolism: a reappraisal of older and recent concepts. Respir Physiol 118:103–115

di Prampero PE, Atchou G, Brückner JC, Moia C (1986) The energetics of endurance running. Eur J Appl Physiol 55:259–266

Dupont G, Blondel N, Lensel G, Berthoin S (2002) Critical velocity and time spent at a high level of V̇O2 for short intermittent runs at supramaximal velocities. Can J Appl Physiol 27(2):103–115

Fox EL, Robinson S, Wiegman DL (1969) Metabolic energy sources during continuous and interval running. J Appl Physiol 27:174–178

Gaitanos G, Williams C, Boobis LH, Brooks S (1993) Human muscle metabolism during intermittent maximal exercise. J Appl Physiol 75:712–719

Gupta S, Goswami A, Sadhukhan AK, Mathur DN (1996) Comparative study of lactate removal in short massage of extremities, active recovery and a passive recovery period after supramaximal exercise sessions. Int J Sports Med 17(2):106–110

Harris RC, Edwards RHT, Hultman E, Nordesjo LO, Nylind B, Sahlin K (1976) The time course of phosphorylcreatine resynthesis during recovery of the quadriceps muscle in man. Pflugers Arch 367:137–142

Haseler LJ, Hogan MC, Richardson RC (1999) Skeletal muscle phosphocreatine recovery in exercise-trained humans is dependent on O2 availability. J Appl Physiol 86(6):2013–2018

Kamber M (1992) Laktatmessungen in der Sportmedizin: Messmethodenvergleich. Schweiz. Ztschr Sportmed 40:77–86

Komi PV, Kaneko M, Aura O (1987) EMG activity of the leg extensor muscles with special reference to mechanical efficiency in concentric and eccentric exercise. Int J Sports Med 8(1):22–29

Leger L, Boucher R (1980) An indirect continuous running multistage field test: the University de Montréal Track Test. Can J Appl Sports Sci 5(2):77–84

McCully KK, Iotti S, Kendrick K, Wang Z, Posner JD, Leigh J, Chance B (1994) Simultaneous in vivo measurements of HbO2 saturation and PCr kinetics after exercise in normal humans. J Appl Physiol 77(1):5–10

McLaughlin JE, King GA, Howley ET, Bassett DR Jr, Ainsworth BE (2001) Validation of the COSMED K4 b2 portable metabolic system. Int J Sports Med 22:280–284

Signorile JF, Ingalls C, Tremblay LM (1993) The effects of active and passive recovery on short-term, high-intensity power output. Can J Appl Physiol 18(1):31–42

Tabata I, Irisawa K, Kouzaki M, Nishimura K, Ogita F, Miyachi M (1997) Metabolic profile of high intensity intermittent exercises. Med Sci Sports Exerc 29(3):390–395

Taoutaou Z, Granier P, Mercier B, Mercier J, Ahmaidi S, Prefaut C (1996) Lactate kinetics during passive and partially active recovery in endurance and sprint athletes. Eur J Appl Physiol 73:465–470

Wenger HA, Bell GJ (1986) The interactions of intensity, frequency and duration of exercise training in altering cardiorespiratory fitness. Sports Med 3:346–356
Acknowledgements
The authors gratefully acknowledge the administration of the Stade Régional Couvert de Liévin where the field tests were performed; Dr Bacquaert and the Institut Régional de Biologie et de Médecine du Sport, Région Nord-Pas de Calais, for medical assistance.
About this article
Cite this article
Dupont, G., Blondel, N. & Berthoin, S. Performance for short intermittent runs: active recovery vs. passive recovery. Eur J Appl Physiol 89, 548–554 (2003). https://doi.org/10.1007/s00421-003-0834-2
Accepted:

Published:

Issue Date:
Keywords
Interval training

Lactate concentration

Oxygen uptake

Performance