Abstract
The purpose of this study was to determine the effect of one night's sleep deprivation on anaerobic performance in the morning and afternoon of the following day. Thirteen healthy males were studied twice in a balanced, randomized design. The experiment consisted of two conditions 1 week apart. In the sleep deprivation condition (SDN) subjects remained awake overnight and in the control condition (reference night, RN) the same subjects slept at home, retiring between 2230 and 2330 hours, as decided individually, and rising at 0500 hours. In both conditions, activity, sleep and diet were monitored by actimetry and daily activity and dietary diaries. Physical performance testing was carried out at 0600 hours and at 1800 hours after the one night of sleep and the one night of sleep deprivation. At each test occasion, subjects were measured for maximal power (P max), peak power (P peak) and mean power (P mean). Blood lactate concentrations were measured at rest, at the end of the force–velocity (F–V) test, just before and just after the Wingate test and again 5 min later. Oral temperatures were measured every 2 h. In both conditions, the results showed a circadian rhythm in temperature. Analysis of variance revealed a significant (sleep × time of day of test) interaction effect on P peak, P mean and P max. These variables improved significantly from morning to afternoon after RN and SDN. The reference night was followed by a greater improvement than the SDN. Up to 24 h of waking, anaerobic power variables were not affected; however, they were impaired after 36 h without sleep. Analysis of variance revealed that blood lactate concentrations were unaffected by sleep loss, by time of day of testing or by the interaction of the two. In conclusion, sleep deprivation reduced the difference between morning and afternoon in anaerobic power variables. Anaerobic performances were unaffected after 24 h of wakefulness but were impaired after 36 h without sleep.
Access options
Buy single article
Instant access to the full article PDF.
USD 39.95
Price includes VAT (USA)
Tax calculation will be finalised during checkout.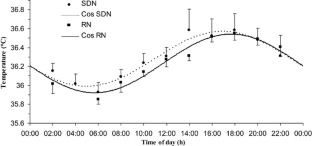 References
Ahnve S, Theorell T, Akerstedt T, Froberg JE, Halberg F (1981) Circadian variations in cardiovascular parameters during sleep deprivation. A noninvasive study of young healthy men. Eur J Appl Physiol 46:9–19

Akerstedt T (1979) Altered sleep/wake patterns and circadian rhythms. Acta Physiol Scand Suppl 469:1–48

Angus RG, Heslegrave RJ, Myles WS (1985) Effects of prolonged sleep deprivation, with and without chronic physical exercise, on mood and performance. Psychophysiology 22:276–282

Bar-Or O (1987) The Wingate anaerobic test an update on methodology, reliability and validity. Sports Med 4:381–394

Bastuji H, Jouvet M (1985) Intérêt de l'agenda de sommeil pour l'étude des troubles de la vigilance. Electroencephalogr Clin Neurophysiol 60:299–305

Bedu M, Fellmann N, Spielvogel H, Falgaraitte G, Van Praagh E, Coudert J (1991) Force–velocity and 30-s Wingate tests in boys at high and low altitudes. J Appl Physiol 70:1031–1037

Bergh U, Ekblom B (1979) Influence of the muscle temperature on maximal muscle strength and power output in human skeletal muscles. Acta Physiol Scand 107:33–37

Bernard T, Giacomoni M, Gavarry O, Seymat M, Falgairette G (1998) Time-of-day effects in maximal anaerobic leg exercise. Eur J Appl Physiol 77:133–138

Boivin DB, Duffy JF, Kronauer RE, Czeisler CA (1996) Dose-response relationships for resetting of human circadian clock by light. Nature 379:540–542

Bonnet MH (1980) Sleep, performance and mood after the energy-expenditure equivalent of 40 hours of sleep deprivation. Psychophysiology 17:56–63

Bulbulian R, Heaney JH, Leake CN, Sucec AA, Sjoholm NT (1996) The effect of sleep deprivation and exercise load on isokinetic leg strength and endurance. Eur J Appl Physiol 73:273–277

Callard D, Davenne D, Gauthier A, Lagarde D, Van Hoecke J (2000) Circadian rhythms in human muscular efficiency: continuous physical exercise versus continuous rest. A crossover study. Chronobiol Int 17:693–704

Conroy RTWL, Mills JN (1970) Human circadian rhythms. Churchill, London

Cunningham DA, Noble EG, Paterson D, Pettigrew F, Taylor AW (1986) Combat engineer fatigue in sustained operations. Final contract report to Canadian Department of national Defence, project No. 01SE. 97711-4-8015

Czeisler CA, Kronauer RE, Allan JS, Duffy JF, Jewett ME, Brown EN, Ronda JM (1989) Bright light induction of strong (type 0) resetting of the human circadian pacemaker. Science 244:1328–1333

Down A, Reilly T, Parry-Billings M (1985) Time of day and performance of the anaerobic test. J Sports Sci 3:214

Hill DW, Smith JC (1991) Circadian rhythm in anaerobic power and capacity. Can J Sport Sci 16:30–32

Hill DW, Borden DO, Darnaby KM, Hendricks DN (1994) Aerobic and anaerobic contributions to exhaustive high-intensity exercise after sleep deprivation. J Sports Sci 12:455–461

Honma K, Honma S, Wada T (1987) Phase-dependent shift of free-running human circadian rhythms in response to a single bright light pulse. Experientia 43:1205–1207

Horne JA, Östberg O (1976) A self assessment questionnaire to determine morningness-eveningness in human circadian rhythms. Int J Chronobiol 4:97–110

Ikai M, Steinhaus AH (1961) Some factors modifying the expression of human strength. J Appl Physiol 16:157–163

Ilmarinen J, Ilmarinen R, Korhonen O, Nurminen M (1980) Circadian variation of physiological functions related to physical work capacity. Scand J Work Environ Health 6:112–122

Jewett ME, Dijk DJ, Kronauer RE, Dinges DF (1999) Dose-response relationship between sleep duration and human psychomotor vigilance and subjective alertness. Sleep 22:171–179

Johnson LC (1982) Sleep deprivation and performance. In: Webb WB (ed) Biological rhythms, sleep and performance. Wiley, New York, pp 111–141

Kollar EJ, Slater GR, Palmer JO, Doctor RF, Mandell AJ (1966) Stress in subjects undergoing sleep deprivation. Psychosom Med 28:101–13

Martin BJ (1981) Effect of sleep deprivation on tolerance of prolonged exercise. Eur J Appl Physiol 47:345–354

Melhim AF (1993) Investigation of circadian rhythms in peak power and mean power of female physical education students. Int J Sports Med 14:303–306

Meney I, Waterhouse J, Atkinson G, Reilly T, Davenne D (1998) The effect of one night's sleep deprivation on temperature, mood, and physical performance in subjects with different amounts of habitual physical activity. Chronobiol Int 15:349–363

Mercier J, Mercier B, Prefaut C (1989) Participation of lactic anaerobic metabolism during short and intense repeated exercises. C R Seances Soc Biol Fil 183:60–66

Mercier J, Mercier B, Prefaut C (1991) Blood lactate increase during the force velocity exercise test. Int J Sports Med 12:17–20

Minors DS, Waterhouse JM (1994) Deriving a "phase response curve" from adjustment to simulated time zone transitions. J Biol Rhythms 9:275–282

Montelpare WJ, Plyley MJ, Shephard RJ (1992) Evaluating the influence of sleep deprivation upon circadian rhythms of exercise metabolism. Can J Sport Sci 17:94–97

Mougin F, Bourdin H, Simon-Rigaud ML, Didier JM, Toubin G, Kantelip JP (1996) Effects of a selective sleep deprivation on subsequent anaerobic performance. Int J Sports Med 17:115–119

Reilly T, Down A (1992) Investigation of circadian rhythms in anaerobic power and capacity of the legs. J Sports Med Physical Fitness 32:343–347

Reilly T, Atkinson G, Waterhouse J (1997) Biological rhythms and exercise. Oxford University Press, Oxford

Shephard RJ (1984) Sleep, biorhythms and human performance. Sports Med 1:11–37

Stamford BA, Rowland R, Moffatt RJ (1978) Effects of severe prior exercise on assessment of maximal oxygen uptake. J Appl Physiol 44:559–563

Symons JD, VanHelder T, Myles WS (1988a) Physical performance and physiological responses following 60 hours of sleep deprivation. Med Sci Sports Exerc 20:374–380

Symons JD, Bell DG, Pope J, VanHelder T, Myles WS (1988b) Electro-mechanical response times and muscle strength after sleep deprivation. Can J Sport Sci 13:225–230

Takeuchi L, Davis GM, Plyley M, Goode R, Shephard RJ (1985) Sleep deprivation, chronic exercise and muscular performance. Ergonomics 28:591–601

Vandewalle H, Pérès G, Monod H (1987) Standard anaerobic exercise tests. Sports Med 4:268–289

VanHelder T, Radomski MW (1989) Sleep deprivation and the effect on exercise performance. Sports Med 7:235–247
Acknowledgements
Research supported by a grant from the Lower Normandy Regional Council. The authors would like to express their gratitude to John Lee for his help with the English translation of the manuscript and to our subjects who generously and patiently provided their time and effort, thus allowing the successful completion of the study.
About this article
Cite this article
Souissi, N., Sesboüé, B., Gauthier, A. et al. Effects of one night's sleep deprivation on anaerobic performance the following day. Eur J Appl Physiol 89, 359–366 (2003). https://doi.org/10.1007/s00421-003-0793-7
Accepted:

Published:

Issue Date:
Keywords
Anaerobic performance

Daily variations

Lactate

Sleep deprivation

Temperature