Abstract
Background
Chronic computer-related neck pain is common among office workers. Studies have proposed neck strengthening exercise as a therapy to pain relieving and function improvement. The aim of this study was to compare the efficacy of different loading resistance trainings and we hypothesized that women with work-related neck pain could benefit more from progressive resistance training for pain and function recovery.
Methods
A randomized controlled trial was conducted and subjects characterized by monotonous jobs were recruited. One hundred and nine employed women with chronic neck pain were randomly allocated into three groups, namely, progressive resistance training (PRT), fixed resistance training (FRT), and control group (CG). In PRT and FRT, four exercises for neck muscles with an elastic rubber band were performed on regular basis for 6 weeks. The therapeutic effectiveness was then evaluated at pretreatment, 2, 4, and 6 weeks during training period, and 3-month posttreatment. Assessment tools included visual analog scale (VAS), Neck Disability Index (NDI), pressure pain threshold (PPT), and maximal isometric neck strength.
Results
The outcomes were significantly better in PRT and FRT than those in CG at 6-week timepoint and 3-month follow-up (p = 0.000), in terms of VAS, NDI, PPT, and neck muscle strength. Besides, there were statistically significant decreases observed in VAS scores of PRT group compared with those in FRT at 4-, 6-week timepoints, and 3-month follow-up (p < 0.05).
Conclusions
The neck resistance training was an effective method for pain relieving, mobility improving, pain threshold, and neck muscle strength enhancing in women with chronic computer-related neck pain. Thus, our study provided evidence that women with work-related neck pain might benefit more from PRT, which may have important implications for future clinical practice.
Trial registration
The study was qualified and registered in the Chinese Clinical Trial Registry as ChiCTR-TRC-12002723.
Access options
Buy single article
Instant access to the full article PDF.
USD 39.95
Price excludes VAT (USA)
Tax calculation will be finalised during checkout.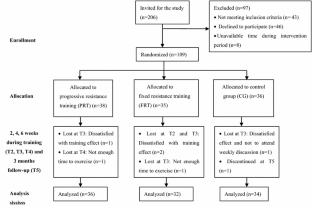 References
American College of Sports Medicine position stand (2009) Progression models in resistance training for healthy adults. Med Sci Sports Exerc 41:687–708

Andersen LL, Kjaer M, Sogaard K, Hansen L, Kryger AI, Sjogaard G (2008) Effect of two contrasting types of physical exercise on chronic neck muscle pain. Arthritis Rheum 59:84–91

Andersen LL, Saervoll CA, Mortensen OS, Poulsen OM, Hannerz H, Zebis MK (2011) Effectiveness of small daily amounts of progressive resistance training for frequent neck/shoulder pain: randomised controlled trial. Pain 152:440–446

Ataee J, Koozehchian MS, Kreider RB, Zuo L (2014) Effectiveness of accommodation and constant resistance training on maximal strength and power in trained athletes. Peer J 2:e441

Borisut S, Vongsirinavarat M, Vachalathiti R, Sakulsriprasert P (2013) Effects of strength and endurance training of superficial and deep neck muscles on muscle activities and pain levels of females with chronic neck pain. J Phys Ther Sci 25:1157–1162

Cagnie B, Danneels L, Van Tiggelen D, Cambier D (2007a) Individual and work related risk factors for neck pain among office workers: a cross sectional study. Eur Spine J 16:679–686

Cagnie B, Cools A, De Loose V, Cambier D, Danneels L (2007b) Differences in isometric neck muscle strength between healthy controls and women with chronic neck pain: the use of a reliable measurement. Arch Phys Med Rehabil 88:1441–1445

Chiu TT, Sing KL (2002) Evaluation of cervical range of motion and isometric neck muscle strength: reliability and validity. Clin Rehabil 16:851–858

Chiu TT, Lam TH, Hedley AJ (2002) Maximal isometric muscle strength of the cervical spine in healthy volunteers. Clin Rehabil 16:772–779

Chiu TT, Lam TH, Hedley AJ (2005) A randomized controlled trial on the efficacy of exercise for patients with chronic neck pain. Spine 30:E1–E7

Cho CY, Hwang YS, Cherng RJ (2012) Musculoskeletal symptoms and associated risk factors among office workers with high workload computer use. J Manip Physiol Ther 35:534–540

Chow S-C, Shao J, Wang H (2007) Sample size calculation in clinical research, 2nd edn. Taylor & Francis, New York, pp 302–307 (ISBN:9780824709709)

Colado JC, Garcia-Masso X, Triplett TN, Flandez J, Borreani S, Tella V (2012) Concurrent validation of the OMNI-resistance exercise scale of perceived exertion with Thera-band resistance bands. J Strength Cond Res 26:3018–3024

Conley MS, Stone MH, Nimmons M, Dudley GA (1997) Specificity of resistance training responses in neck muscle size and strength. Eur J Appl Physiol Occup Physiol 75:443–448

De Loose V, Burnotte F, Cagnie B, Stevens V, Van Tiggelen D (2008) Prevalence and risk factors of neck pain in military office workers. Mil Med 173:474–479

Fischer AA (1987) Pressure algometry over normal muscles. Standard values, validity and reproducibility of pressure threshold. Pain 30:115–126

Hains F, Waalen J, Mior S (1998) Psychometric properties of the neck disability index. J Manip Physiol Ther 21:75–80

Hakala PT, Rimpela AH, Saarni LA, Salminen JJ (2006) Frequent computer-related activities increase the risk of neck-shoulder and low back pain in adolescents. Eur J Public Health 16:536–541

Jay K, Schraefel M, Andersen CH, Ebbesen FS, Christiansen DH, Skotte J, Zebis MK, Andersen LL (2013) Effect of brief daily resistance training on rapid force development in painful neck and shoulder muscles: randomized controlled trial. Clin Physiol Funct Imaging 33:386–392

Jordan A, Mehlsen J, Bulow PM, Ostergaard K, Danneskiold-Samsoe B (1999) Maximal isometric strength of the cervical musculature in 100 healthy volunteers [J]. Spine 24:1343–1348

Jose JA (2012) Outcome measures and prognosis of WRMSD [J]. Work 41(Suppl 1):4848–4849

Kjellman G, Oberg B, Hensing G, Alexanderson K (2001) A 12-year follow-up of subjects initially sicklisted with neck/shoulder or low back diagnoses. Physiother Res Int 6:52–63

Kraemer WJ, Ratamess NA (2004) Fundamentals of resistance training: progression and exercise prescription. Med Sci Sports Exerc 36:674–688

Kraemer WJ, Adams K, Cafarelli E, Dudley GA, Dooly C, Feigenbaum MS, Fleck SJ, Franklin B, Fry AC, Hoffman JR, Newton RU, Potteiger J, Stone MH, Ratamess NA, Triplett-Mcbride T (2002) American College of Sports Medicine position stand. Progression models in resistance training for healthy adults. Med Sci Sports Exerc 34:364–380

Levoska S (1993) Manual palpation and pain threshold in female office employees with and without neck-shoulder symptoms. Clin J Pain 9:236–241

Ma C, Wu S, Li G, Xiao X, Mai M, Yan T (2010) Comparison of miniscalpel-needle release, acupuncture needling, and stretching exercise to trigger point in myofascial pain syndrome. Clin J Pain 26:251–257

Phillips BA, Lo SK, Mastaglia FL (2000) Muscle force measured using "break" testing with a hand-held myometer in normal subjects aged 20–69 years. Arch Phys Med Rehabil 81:653–661

Pietrobon R, Coeytaux RR, Carey TS, Richardson WJ (2002) DeVellisRF. Standard scales for measurement of functional outcome for cervical pain or dysfunction: a systematic review. Spine 27:515–522

Reading AE (1983) Pain measurement and experience. J Psychosom Res 27:415–420

Salo PK, Hakkinen AH, Kautiainen H, Ylinen JJ (2010) Effect of neck strength training on health-related quality of life in females with chronic neck pain: a randomized controlled 1-year follow-up study. Health Qual Life Outcomes 8:48

Silverman JL, Rodriquez AA, Agre JC (1991) Quantitative cervical flexor strength in healthy subjects and in subjects with mechanical neck pain. Arch Phys Med Rehabil 72:679–681

Smeets RJ, Wade D, Hidding A, Vlaeyen JW, Knottnerus JA (2006) The association of physical deconditioning and chronic low back pain: a hypothesis-oriented systematic review. Disabil Rehabil 28:673–693

Takala EP, Viikari-Juntura E, Tynkkynen EM (1994) Does group gymnastics at the workplace help in neck pain? A controlled study. Scand J Rehabil Med 26:17–20

Todd KH, Funk JP (1996) The minimum clinically important difference in physician-assigned visual analog pain scores. Acad Emerg Med 3:142–146

Viikari-Juntura E (1987) Interexaminer reliability of observations in physical examinations of the neck. Phys Ther 67:1526–1532

Viljanen M, Malmivaara A, Uitti J, Rinne M, Palmroos P, Laippala P (2003) Effectiveness of dynamic muscle training, relaxation training, or ordinary activity for chronic neck pain: randomised controlled trial. BMJ 327:475

Waling K, Sundelin G, Ahlgren C, Jarvholm B (2000) Perceived pain before and after three exercise programs—a controlled clinical trial of women with work-related trapezius myalgia. Pain 85:201–207

Wu S, Ma C, Mai M, Li G (2010) Translation and validation study of Chinese versions of the neck disability index and the neck pain and disability scale. Spine 35:1575–1579

Ylinen J (2007) Physical exercises and functional rehabilitation for the management of chronic neck pain. Eura Medicophys 43:119–132

Ylinen J, Takala EP, Nykanen M, Hakkinen A, Malkia E, Pohjolainen T, Karppi SL, Kautiainen H, Airaksinen O (2003) Active neck muscle training in the treatment of chronic neck pain in women: a randomized controlled trial. JAMA 289:2509–2516

Ylinen J, Salo P, Nykanen M, Kautiainen H, Hakkinen A (2004) Decreased isometric neck strength in women with chronic neck pain and the repeatability of neck strength measurements. Arch Phys Med Rehabil 85:1303–1308

Ylinen J, Takala EP, Kautiainen H, Nykanen M, Hakkinen A, Pohjolainen T, Karppi SL, Airaksinen O (2005) Effect of long-term neck muscle training on pressure pain threshold: a randomized controlled trial. Eur J Pain 9:673–681

Ylinen JJ, Hakkinen AH, Takala EP, Nykanen MJ, Kautiainen HJ, Malkia EA, Pohjolainen TH, Karppi SL, Airaksinen OV (2006) Effects of neck muscle training in women with chronic neck pain: one-year follow-up study. J Strength Cond Res 20:6–13

Zebis MK, Andersen CH, Sundstrup E, Pedersen MT, Sjogaard G, Andersen LL (2014) Time-wise change in neck pain in response to rehabilitation with specific resistance training: implications for exercise prescription. PLoS One 9(4):e93867
Acknowledgements
This work was funded by the Grant of National Science Foundation of China (81171469 and 81671088).
Ethics declarations
Conflict of interest
The authors declare no competing interests.
About this article
Cite this article
Li, X., Lin, C., Liu, C. et al. Comparison of the effectiveness of resistance training in women with chronic computer-related neck pain: a randomized controlled study. Int Arch Occup Environ Health 90, 673–683 (2017). https://doi.org/10.1007/s00420-017-1230-2
Received:

Accepted:

Published:

Issue Date:

DOI: https://doi.org/10.1007/s00420-017-1230-2
Keywords
Chronic computer-related neck pain

Resistance training

Women

Progressive