Abstract
Purpose
Coke oven emissions containing polycyclic aromatic hydrocarbons (PAHs) are predominant toxic constituents of particulate air pollution that have been linked to increased risk of lung cancer. Numerous epidemiological studies have suggested that oxidative DNA damage may play a pivotal role in the carcinogenic mechanism of lung cancer. Little is known about the effect of interaction between PAHs exposure and lifestyle on DNA oxidative damage.
Methods
The study population is composed by coke oven workers (365) and water treatment workers (144), and their urinary levels of four PAH metabolites and 8-hydroxydeoxyguanosine (8-OHdG) were determined. Airborne samples of exposed sites (4) and control sites (3) were collected, and eight carcinogenic PAHs were detected by high-performance liquid chromatography.
Results
The median values of the sum of eight carcinogenic PAHs and BaP in exposed sites were significantly higher than control sites (P < 0.01). The study found that the urinary PAH metabolites were significantly elevated in coke oven workers (P < 0.01). Multivariate logistic regression analysis revealed that the risk of high levels of urinary 8-OHdG will increase with increasing age, cigarette consumption, and levels of urinary 1-hydroxypyrene, and P for trend were all <0.05. Smoking can significantly modify the effects of urinary 1-hydroxypyrene on high concentrations urinary 8-OHdG, during co-exposure to both light or heavy smoking and high 1-hydroxypyrene levels (OR 4.28, 95% CI 1.32–13.86 and OR 5.05, 95% CI 1.63–15.67, respectively).
Conclusions
Our findings quantitatively demonstrate that workers exposed to coke oven fumes and smoking will cause more serious DNA oxidative damage.
This is a preview of subscription content, log in to check access.
Access options
Buy single article
Instant access to the full article PDF.
US$ 39.95
Price includes VAT for USA
Subscribe to journal
Immediate online access to all issues from 2019. Subscription will auto renew annually.
US$ 199
This is the net price. Taxes to be calculated in checkout.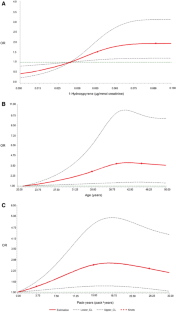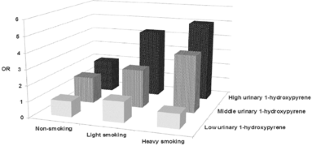 References
Asami S, Manabe H, Miyake J, Tsurudome Y, Hirano T, Yamaguchi R, Itoh H, Kasai H (1997) Cigarette smoking induces an increase in oxidative DNA damage, 8-hydroxydeoxyguanosine, in a central site of the human lung. Carcinogenesis 18:1763–1766

Asano S, Rice KM, Kakarla S, Katta A, Desai DH, Walker EM, Wehner P, Blough ER (2007) Aging influences multiple indices of oxidative stress in the heart of the fischer 344/nnia x brown norway/binia rat. Redox Rep 12:167–180

Besaratinia A, Van Schooten FJ, Schilderman PA, De Kok TM, Haenen GR, Van Herwijnen MH, Van Agen E, Pachen D, Kleinjans JC (2001) A multi-biomarker approach to study the effects of smoking on oxidative DNA damage and repair and antioxidative defense mechanisms. Carcinogenesis 22:395–401

Cadet J, Berger M, Douki T, Ravanat JL (1997) Oxidative damage to DNA: Formation, measurement, and biological significance. Rev Physiol Biochem Pharmacol 131:1–87

Cao C, Lai T, Li M, Zhou H, Lv D, Deng Z, Ying S, Chen Z, Li W, Shen H (2016) Smoking-promoted oxidative DNA damage response is highly correlated to lung carcinogenesis. Oncotarget 7:18919–18926

Cooke MS, Evans MD, Herbert KE, Lunec J (2000) Urinary 8-oxo-2′-deoxyguanosine–source, significance and supplements. Free Radic Res 32:381–397

Crawford JO, Dixon K, Miller BG, Cherrie JW (2014) A review of the effectiveness of respirators in reducing exposure to polycyclic aromatic hydrocarbons for coke oven workers. Ann Occup Hyg 58:943–954

Cui X, Ohtsu M, Mise N, Ikegami A, Mizuno A, Sakamoto T, Ogawa M, Machida M, Kayama F (2016) Heavy metal exposure, in combination with physical activity and aging, is related with oxidative stress in japanese women from a rural agricultural community. Springerplus 5:885.

Duan H, Leng S, Pan Z, Dai Y, Niu Y, Huang C, Bin P, Wang Y, Liu Q, Chen W, Zheng Y (2009) Biomarkers measured by cytokinesis-block micronucleus cytome assay for evaluating genetic damages induced by polycyclic aromatic hydrocarbons. Mutat Res 677:93–99

Duan H, Jia X, Zhai Q, Ma L, Wang S, Huang C, Wang H, Niu Y, Li X, Dai Y, Yu S, Gao W, Chen W, Zheng Y (2016) Long-term exposure to diesel engine exhaust induces primary DNA damage: a population-based study. Occup Environ Med 73:83–90

Elovaara E, Vaananen V, Mikkola J (2003) Simultaneous analysis of naphthols, phenanthrols, and 1-hydroxypyrene in urine as biomarkers of polycyclic aromatic hydrocarbon exposure: Intraindividual variance in the urinary metabolite excretion profiles caused by intervention with beta-naphthoflavone induction in the rat. Arch Toxicol 77:183–193

Erhola M, Toyokuni S, Okada K, Tanaka T, Hiai H, Ochi H, Uchida K, Osawa T, Nieminen MM, Alho H, Kellokumpu-Lehtinen P (1997) Biomarker evidence of DNA oxidation in lung cancer patients: association of urinary 8-hydroxy-2′-deoxyguanosine excretion with radiotherapy, chemotherapy, and response to treatment. FEBS Lett 409:287–291

Gackowski D, Speina E, Zielinska M, Kowalewski J, Rozalski R, Siomek A, Paciorek T, Tudek B, Olinski R (2003) Products of oxidative DNA damage and repair as possible biomarkers of susceptibility to lung cancer. Cancer Res 63:4899–4902

Grollman AP, Moriya M (1993) Mutagenesis by 8-oxoguanine: an enemy within. Trends Genet 9:246–249

Haugen A, Becher G, Benestad C, Vahakangas K, Trivers GE, Newman MJ, Harris CC (1986) Determination of polycyclic aromatic hydrocarbons in the urine, benzo(a)pyrene diol epoxide-DNA adducts in lymphocyte DNA, and antibodies to the adducts in sera from coke oven workers exposed to measured amounts of polycyclic aromatic hydrocarbons in the work atmosphere. Cancer Res 46:4178–4183

Hecht SS (1999) Tobacco smoke carcinogens and lung cancer. J Natl Cancer Inst 91:1194–1210

Honda M, Yamada Y, Tomonaga M, Ichinose H, Kamihira S (2000) Correlation of urinary 8-hydroxy-2′-deoxyguanosine (8-ohdg), a biomarker of oxidative DNA damage, and clinical features of hematological disorders: A pilot study. Leuk Res 24:461–468

Hong YC, Park EY, Park MS, Ko JA, Oh SY, Kim H, Lee KH, Leem JH, Ha EH (2009) Community level exposure to chemicals and oxidative stress in adult population. Toxicol Lett 184:139–144

Huang YK, Lin CW, Chang CC, Chen PF, Wang CJ, Hsueh YM, Chiang HC (2012) Heat acclimation decreased oxidative DNA damage resulting from exposure to high heat in an occupational setting. Eur J Appl Physiol 112:4119–4126

Jongeneelen FJ (2001) Benchmark guideline for urinary 1-hydroxypyrene as biomarker of occupational exposure to polycyclic aromatic hydrocarbons. Ann Occup Hyg 45:3–13

Kasai H (2016) What causes human cancer? Approaches from the chemistry of DNA damage. Genes Environ 38:19.

Kasai H, Crain PF, Kuchino Y, Nishimura S, Ootsuyama A, Tanooka H (1986) Formation of 8-hydroxyguanine moiety in cellular DNA by agents producing oxygen radicals and evidence for its repair. Carcinogenesis 7:1849–1851

Kim H, Cho SH, Kang JW, Kim YD, Nan HM, Lee CH, Lee H, Kawamoto T (2001) Urinary 1-hydroxypyrene and 2-naphthol concentrations in male koreans. Int Arch Occup Environ Health 74:59–62

Kuang D, Zhang W, Deng Q, Zhang X, Huang K, Guan L, Hu D, Wu T, Guo H (2013) Dose-response relationships of polycyclic aromatic hydrocarbons exposure and oxidative damage to DNA and lipid in coke oven workers. Environ Sci Technol 47:7446–7456

Lee MW, Chen ML, Lung SC, Tsai CJ, Lai CF, Yang SC, Mao IF (2012) Increase of urinary concentrations of 8-hydroxy-2′-deoxyguanosine in diesel exhaust emission inspector exposed to polycyclic aromatic hydrocarbons. Int Arch Occup Environ Health 85:273–282

Li P, Gu Y, Yu S, Li Y, Yang J, Jia G (2014) Assessing the suitability of 8-ohdg and micronuclei as genotoxic biomarkers in chromate-exposed workers: a cross-sectional study. BMJ Open 4:e005979.

Liu HH, Lin MH, Chan CI, Chen HL (2010) Oxidative damage in foundry workers occupationally co-exposed to pahs and metals. Int J Hyg Environ Health 213:93–98

Moktar A, Singh R, Vadhanam MV, Ravoori S, Lillard JW, Gairola CG, Gupta RC (2011) Cigarette smoke condensate-induced oxidative DNA damage and its removal in human cervical cancer cells. Int J Oncol 39:941–947

Muller FL, Lustgarten MS, Jang Y, Richardson A, Van Remmen H (2007) Trends in oxidative aging theories. Free Radic Biol Med 43:477–503

Murugaiyan SB, Ramasamy R, Nakkeeran M, Rangdhol V, Srinivasan AR, Niranjan G (2015) Urinary 8-hydroxydeoxyguanosine as a marker of oxidative stress induced genetic toxicity in oral cancer patients. Indian J Dent Res 26:226–230

Palackal NT, Lee SH, Harvey RG, Blair IA, Penning TM (2002) Activation of polycyclic aromatic hydrocarbon trans-dihydrodiol proximate carcinogens by human aldo-keto reductase (akr1c) enzymes and their functional overexpression in human lung carcinoma (a549) cells. J Biol Chem 277:24799–24808

Pan CH, Chan CC, Wu KY (2008) Effects on chinese restaurant workers of exposure to cooking oil fumes: a cautionary note on urinary 8-hydroxy-2′-deoxyguanosine. Cancer Epidemiol Biomarkers Prev 17:3351–3357

Pena N, Carrillo D, Munoz JP, Chnaiderman J, Urzua U, Leon O, Tornesello ML, Corvalan AH, Soto-Rifo R, Aguayo F (2015) Tobacco smoke activates human papillomavirus 16 p97 promoter and cooperates with high-risk e6/e7 for oxidative DNA damage in lung cells. PLoS One 10:e0123029

Pilger A, Rudiger HW (2006) 8-hydroxy-2′-deoxyguanosine as a marker of oxidative DNA damage related to occupational and environmental exposures. Int Arch Occup Environ Health 80:1–15

Redmond CK (1983) Cancer mortality among coke oven workers. Environ Health Perspect 52:67–73

Rybka J, Kupczyk D, Kedziora-Kornatowska K, Pawluk H, Czuczejko J, Szewczyk-Golec K, Kozakiewicz M, Antonioli M, Carvalho LA, Kedziora J (2011) Age-related changes in an antioxidant defense system in elderly patients with essential hypertension compared with healthy controls. Redox Rep 16:71–77

Sarker AH, Chatterjee A, Williams M, Lin S, Havel C, Jacob P 3rd, Boldogh I, Hazra TK, Talbot P, Hang B (2014) Neil2 protects against oxidative DNA damage induced by sidestream smoke in human cells. PLoS One 9:e90261

Sauvain JJ, Setyan A, Wild P, Tacchini P, Lagger G, Storti F, Deslarzes S, Guillemin M, Rossi MJ, Riediker M (2011) Biomarkers of oxidative stress and its association with the urinary reducing capacity in bus maintenance workers. J Occup Med Toxicol 6:18

Sjogaard G, Zebis MK, Kiilerich K, Saltin B, Pilegaard H (2013) Exercise training and work task induced metabolic and stress-related mrna and protein responses in myalgic muscles. Biomed Res Int 2013:984523.

Talaska G, Thoroman J, Schuman B, Kafferlein HU (2014) Biomarkers of polycyclic aromatic hydrocarbon exposure in european coke oven workers. Toxicol Lett 231:213–216

Unwin J, Cocker J, Scobbie E, Chambers H (2006) An assessment of occupational exposure to polycyclic aromatic hydrocarbons in the uk. Ann Occup Hyg 50:395–403

Wu MT, Mao IF, Ho CK, Wypij D, Lu PL, Smith TJ, Chen ML, Christiani DC (1998) Urinary 1-hydroxypyrene concentrations in coke oven workers. Occup Environ Med 55:461–467

Wu MT, Pan CH, Huang YL, Tsai PJ, Chen CJ, Wu TN (2003) Urinary excretion of 8-hydroxy-2-deoxyguanosine and 1-hydroxypyrene in coke-oven workers. Environ Mol Mutagen 42:98–105

Yuan J, Chen L, Chen D, Guo H, Bi X, Ju Y, Jiang P, Shi J, Yu Z, Yang J, Li L, Jiang Q, Sheng G, Fu J, Wu T, Chen X (2008) Elevated serum polybrominated diphenyl ethers and thyroid-stimulating hormone associated with lymphocytic micronuclei in chinese workers from an e-waste dismantling site. Environ Sci Technol 42:2195–2200

Zheng KC, Ariizumi M (2007) Modulations of immune functions and oxidative status induced by noise stress. J Occup Health 49:32–38
Acknowledgements
This work was supported by research funding from the National Nature Science Foundation of China (NSFC 81273041, 30901180). The authors declare that they have no conflict of interest.
Electronic supplementary material
Below is the link to the electronic supplementary material.
About this article
Cite this article
Yang, J., Zhang, H., Zhang, H. et al. Smoking modify the effects of polycyclic aromatic hydrocarbons exposure on oxidative damage to DNA in coke oven workers. Int Arch Occup Environ Health 90, 423–431 (2017). https://doi.org/10.1007/s00420-017-1206-2
Received:

Accepted:

Published:

Issue Date:
Keywords
Polycyclic aromatic hydrocarbons

1-Hydroxypyrene

Smoking

8-Hydroxydeoxyguanosine