Abstract
Purpose
Several epidemiological studies indicate that inhaled nitrogen dioxide (NO2) at low concentrations have been statistically associated with adverse health effects. However, these results are not reflected by exposure studies in humans. The aim of the study was to assess the acute functional and cellular responses to different NO2 concentrations in healthy human subjects with various techniques.
Methods
Twenty-five subjects were exposed for 3 h to NO2 concentrations 0, 0.1, 0.5, and 1.5 ppm in a randomized crossover study design during 4 consecutive weeks. In each subject, lung function, diffusion capacity and exhaled nitric oxide were measured and inflammation markers were assessed in blood, nasal secretions, induced sputum and exhaled breath condensate.
Results
From all lung function indices under consideration, only intrathoracic gas volume was borderline significantly increased after 0.5 ppm (p = 0.048) compared to 0.1 ppm NO2. Regarding the cellular effect parameters, the macrophage concentration in induced sputum decreased with increasing NO2 concentration, although these changes were only borderline significant (p = 0.05).
Conclusion
These results do not suggest a considerable acute adverse response in human subjects after 3 h of exposure to NO2 in the NO2 concentration range investigated in this study.
This is a preview of subscription content, log in to check access.
Access options
Buy single article
Instant access to the full article PDF.
US$ 39.95
Price includes VAT for USA
Subscribe to journal
Immediate online access to all issues from 2019. Subscription will auto renew annually.
US$ 199
This is the net price. Taxes to be calculated in checkout.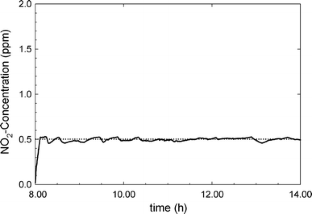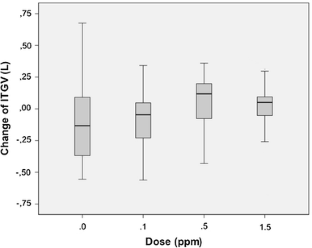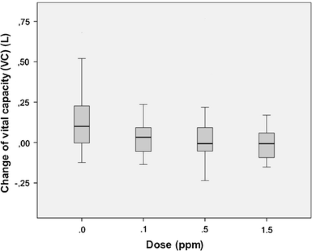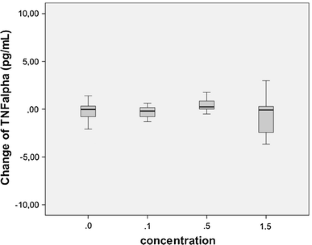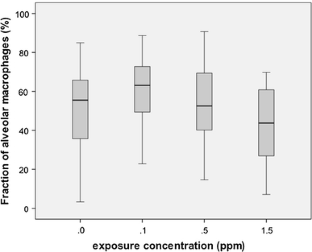 References
Antonini JM, Lewis AB, Roberts JR, Whaley DA (2003) Pulmonary effects of welding fumes: review of worker and experimental animal studies. Am J Ind Med 43(4):350–360. doi:10.1002/ajim.10194

ATS (1995) Standardization of spirometry: 1994 update. Am J Respir Crit Care Med 152:1107–1136

Barck C et al (2002) Ambient level of NO2 augments the inflammatory response to inhaled allergen in asthmatics. Respir Med 96(11):907–917

Barck C, Lundahl J, Hallden G, Bylin G (2005) Brief exposures to NO2 augment the allergic inflammation in asthmatics. Environ Res 97(1):58–66. doi:10.1016/j.envres.2004.02.009

Barnes PJ (1995) Nitric oxide and airway disease. Ann Med 27(3):389–393. doi:10.3109/07853899509002592

Blomberg A et al (1997) The inflammatory effects of 2 ppm NO2 on the airways of healthy subjects. Am J Respir Crit Care Med 156(2 Pt 1):418–424

Brand P et al (2010) Internal exposure, effect monitoring and lung function in welders after acute short term exposure to welding fumes from different welding processes. JOEM 52:887–892

Brand P et al (2013a) Exposure of healthy subjects with emissions from a gas metal arc welding process: part 3-biological effect markers and lung function. Int Arch Occup Environ Health 86(1):39–45. doi:10.1007/s00420-012-0740-1

Brand P et al (2013b) Exposure of healthy subjects with emissions from a gas metal arc welding process: part 1-exposure technique and external exposure. Int Arch Occup Environ Health 86(1):25–30. doi:10.1007/s00420-012-0739-7

Chawes BL et al (2010) A novel method for assessing unchallenged levels of mediators in nasal epithelial lining fluid. J Allergy Clin Immunol 125(6):1387–1389. doi:10.1016/j.jaci.2010.01.039

Conventz A et al (2007) Simultaneous determination of 3-nitrotyrosine, tyrosine, hydroxyproline and proline in exhaled breath condensate by hydrophilic interaction liquid chromatography/electrospray ionization tandem mass spectrometry. J Chromatogr B 860:78–85

Davidson CA, Kaminski PM, Wu M, Wolin MS (1996) Nitrogen dioxide causes pulmonary arterial relaxation via thiol nitrosation and NO formation. Am J Physiol 270(3 Pt 2):H1038–H1043

Devlin RB et al (1999) Inflammatory response in humans exposed to 2.0 ppm nitrogen dioxide. Inhal Toxicol 11(2):89–109. doi:10.1080/089583799197195

Folinsbee LJ (1992) Does nitrogen dioxide exposure increase airways responsiveness? Toxicol Ind Health 8(5):273–283

Frampton MW et al (2002) Nitrogen dioxide exposure: effects on airway and blood cells. Am J Physiol Lung Cell Mol Physiol 282(1):L155–L165

Gube M et al (2010) Biological effect markers in exhaled breath condensate and biomonitoring in welders: impact of smoking and protection equipment. Int Arch Occup Environ Health 83:803–811. doi:10.1007/s00420-010-0516-4

Hazucha MJ et al (1983) Effects of 0.1 ppm nitrogen dioxide on airways of normal and asthmatic subjects. J Appl Physiol 54(3):730–739

Helleday R, Sandstrom T, Stjernberg N (1994) Differences in bronchoalveolar cell response to nitrogen dioxide exposure between smokers and nonsmokers. Eur Respir J 7(7):1213–1220

Hesterberg TW, Bunn WB, McClellan RO, Hamade AK, Long CM, Valberg PA (2009) Critical review of the human data on short-term nitrogen dioxide (NO2) exposures: evidence for NO2 no-effect levels. Crit Rev Toxicol 39(9):743–781. doi:10.3109/10408440903294945

Holz O, Jorres RA, Koschyk S, Speckin P, Welker L, Magnussen H (1998) Changes in sputum composition during sputum induction in healthy and asthmatic subjects. Clin Exp Allergy 28(3):284–292

Jorres R, Magnussen H (1990) Airways response of asthmatics after a 30 min exposure, at resting ventilation, to 0.25 ppm NO2 or 0.5 ppm SO2. Eur Respir J 3(2):132–137

Jorres R, Magnussen H (1991) Effect of 0.25 ppm nitrogen dioxide on the airway response to methacholine in asymptomatic asthmatic patients. Lung 169(2):77–85

Latza U, Gerdes S, Baur X (2009) Effects of nitrogen dioxide on human health: systematic review of experimental and epidemiological studies conducted between 2002 and 2006. Int J Hyg Environ Health 212(3):271–287. doi:10.1016/j.ijheh.2008.06.003

Linn WS et al (1985) Effects of exposure to 4 ppm nitrogen dioxide in healthy and asthmatic volunteers. Arch Environ Health 40(4):234–239

MAK-Commission (2012) Stickstoffdioxid [MAK Value Documentation in German language], vol 1–9. Whiley

Morfeld P et al (2010) Effect of dust exposure and nitrogen oxides on lung function parameters of German coalminers: a longitudinal study applying GEE regression 1974–1998. Int Arch Occup Environ Health 83(4):357–371. doi:10.1007/s00420-009-0489-3

Morrow PE et al (1992) Pulmonary performance of elderly normal subjects and subjects with chronic obstructive pulmonary disease exposed to 0.3 ppm nitrogen dioxide. Am Rev Respir Dis 145(2 Pt 1):291–300

Orehek J, Massari JP, Gayrard P, Grimaud C, Charpin J (1976) Effect of short-term, low-level nitrogen dioxide exposure on bronchial sensitivity of asthmatic patients. J Clin Invest 57(2):301–307. doi:10.1172/JCI108281

Peel JL et al (2005) Ambient air pollution and respiratory emergency department visits. Epidemiology 16(2):164–174. doi:10.1097/01.ede.0000152905.42113.db

Rubinstein I, Reiss TF, Bigby BG, Stites DP, Boushey HA Jr (1991) Effects of 0.60 PPM nitrogen dioxide on circulating and bronchoalveolar lavage lymphocyte phenotypes in healthy subjects. Environ Res 55(1):18–30. doi:10.1016/S0013-9351(05)80137-9

Sandström T et al (1991) Inflammatory cell response in bronchoalveolar lavage fluid after nitrogen dioxide exposure of healthy subjects: a dose-response study. Eur Respir J 4(3):332–339

Sandström T, Helleday R, Bjermer L, Stjernberg N (1992a) Effects of repeated exposure to 4 ppm nitrogen dioxide on bronchoalveolar lymphocyte subsets and macrophages in healthy men. Eur Respir J 5(9):1092–1096

Sandström T, Ledin MC, Thomasson L, Helleday R, Stjernberg N (1992b) Reductions in lymphocyte subpopulations after repeated exposure to 1.5 ppm nitrogen dioxide. Br J Ind Med 49(12):850–854

Solomon C et al (2000) Effect of serial-day exposure to nitrogen dioxide on airway and blood leukocytes and lymphocyte subsets. Eur Respir J 15(5):922–928

Spiegel-Ciobanu EV (2009) Exposure to nitrogen oxides (NO/NO2) in welding. Weld World 53:12–19

Strand V, Rak S, Svartengren M, Bylin G (1997) Nitrogen dioxide exposure enhances asthmatic reaction to inhaled allergen in subjects with asthma. Am J Respir Crit Care Med 155(3):881–887

Strand V, Svartengren M, Rak S, Barck C, Bylin G (1998) Repeated exposure to an ambient level of NO2 enhances asthmatic response to a nonsymptomatic allergen dose. Eur Respir J 12(1):6–12

Tolbert PE, Klein M, Peel JL, Sarnat SE, Sarnat JA (2007) Multipollutant modeling issues in a study of ambient air quality and emergency department visits in Atlanta. J Expo Sci Environ Epidemiol 17(Suppl 2):S29–S35. doi:10.1038/sj.jes.7500625

Tsoukias NM, George SC (1998) A two-compartment model of pulmonary nitric oxide exchange dynamics. J Appl Physiol 85(2):653–666

US Environmental Protection Agency (2008) Integrated science assessment for oxides of nitrogen—health criteria. National Center for Environmental Assessment-RTP Division. U.S. Environmental Protection Agency, Research Triangle Park

von Nieding G, Wagner HM (1979) Effects of NO2 on chronic bronchitics. Environ Health Perspect 29:137–142
Acknowledgments
This study has been financially supported by the European Research Group on Environment and Health in the Transport Sector (EUGT).
Ethics declarations
Conflict of interest
None of the authors have a conflict of interest to declare in relation to this work.
Electronic supplementary material
Below is the link to the electronic supplementary material.
About this article
Cite this article
Brand, P., Bertram, J., Chaker, A. et al. Biological effects of inhaled nitrogen dioxide in healthy human subjects. Int Arch Occup Environ Health 89, 1017–1024 (2016). https://doi.org/10.1007/s00420-016-1139-1
Received:

Accepted:

Published:

Issue Date:
Keywords
Nitrogen dioxide

Exposure

Human subjects

Topic effects

Systemic effects