Abstract
Purpose
Retention of senior employees is a challenge for most developed countries. We aimed to identify psychosocial work environment factors of importance for the retention of older employees by evaluating the association between the psychosocial work environment and voluntary early retirement in a longitudinal study.
Methods
Data about work environment, health, and background factors came from the DANES 2008 questionnaire survey. We followed members of the Danish early retirement scheme for up to 4 years in national registers—focusing on the age range, 60–64 years, where early retirement was possible. We used Cox proportional hazard regression to analyze the rate of early retirement.
Results
The study included 16 psychosocial work environment factors. The following 10 psychosocial factors were significant predictors of early retirement in covariate adjusted analyses: Low job satisfaction, low influence in job, low possibilities for development, low role clarity, perceived age discrimination, low recognition from management, low workplace justice, poor trust in management, poor leadership quality, and poor predictability. No significant association with early retirement was found for work pace, quantitative demands, emotional demands, role conflicts, social community between colleagues, and trust between colleagues.
Conclusion
Older employees with high job satisfaction, influence, possibilities for development, positive management relations, and jobs with no age discrimination remained longer at the labor market. However, we found no evidence that low demands or good relations between colleagues could influence older employees' decision on early retirement.
Access options
Buy single article
Instant access to the full article PDF.
US$ 39.95
Tax calculation will be finalised during checkout.
Subscribe to journal
Immediate online access to all issues from 2019. Subscription will auto renew annually.
US$ 119
Tax calculation will be finalised during checkout.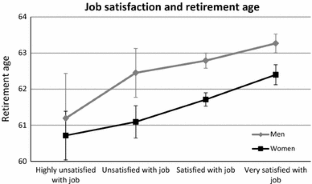 References
Abdi H (2010) Holm's sequential Bonferroni procedure in encyclopedia of research design

Armstrong-Stassen M, Schlosser F (2008) Benefits of a supportive development climate for older workers. J Manag Psychol 23:419–437

Bech P, Rasmussen NA, Olsen LR, Noerholm V, Abildgaard W (2001) The sensitivity and specificity of the major depression inventory, using the present state examination as the index of diagnostic validity. J Affect Disord 66:159–164

Beehr TA, Glazer S, Nielson NL, Farmer SJ (2000) Work and nonwork predictors of employees' retirement ages. J Vocat Behav 57:206–225

Bjorner JB, Kristensen TS, Orth-Gomér K, Tibblin G, Sullivan M, Westerholm P (1996) Self-rated health: a useful concept in research, prevention and clinical medicine

Blekesaune M, Solem PE (2005) Working conditions and early retirement: a prospective study of retirement behavior. Res Aging 27:3–30

Bos JT, Donders NC, Bouwman-Brouwer KM, Van der Gulden JW (2009) Work characteristics and determinants of job satisfaction in four age groups: university employees' point of view. Int Arch Occup Environ Health 82:1249–1259

de Wind AD, Geuskens GA, Ybema JF, Blatter BM, Burdorf AJ, Bongers PM et al (2013) Health, job characteristics, skills, and social and financial factors in relation to early retirement-results from a longitudinal study in the Netherlands. Scand J Work Environ Health 40:186–194

Delong DM, Guirguis GH, So YC (1994) Efficient computation of subset-selection probabilities with application to cox regression. Biometrika 81:607–611

Ebbinghaus B (2006) Reforming early retirement in Europe, Japan and the USA, Oxford University Press, UK

Elovainio M, Forma P, Kivimaki M, Sinervo T, Sutinen R, Laine M (2005) Job demands and job control as correlates of early retirement thoughts in Finnish social and health care employees. Work Stress 19:84–92

Gruber J, Wise D (1999) Social security, retirement incentives, and retirement behavior: an international perspective. EBRI Issue Brief 209:1–22

Gruber J, Wise DA (2005) Social security programs and retirement around the world: micro-estimation. ILR Rev 58:314–316

Hartlapp M, Schmid G (2008) Labour market policy for 'active ageing' in Europe: expanding the options for retirement transitions. J Soc Policy 37:409–431

Hengel KMO, Blatter BM, Geuskens GA, Koppes LL, Bongers PM (2012) Factors associated with the ability and willingness to continue working until the age of 65 in construction workers. Int Arch Occup Environ Health 85:783–790

Heponiemi T, Kouvonen A, Vanska J, Halila H, Sinervo T, Kivimaki M et al (2008) Health, psychosocial factors and retirement intentions among Finnish physicians. Occup Med Oxf 58:406–412

Hjollund NH, Larsen FB, Andersen JH (2007) Register-based follow-up of social benefits and other transfer payments: accuracy and degree of completeness in a Danish interdepartmental administrative database compared with a population-based survey. Scand J Public Health 35:497–502

Hofäcker D (2010) Older workers in a globalizing world: an international comparison of retirement and late-career patterns in Western industrialized countries. Edward Elgar Publishing Ltd, Cheltenham, UK

Ilmarinen J (2006) Towards a longer worklife: ageing and the quality of worklife in the European Union. Finnish Institute of Occupational Health, Helsinki

Jensen PH (2005) Reversing the trend from "early" to "late" exit: push, pull and jump revisited in a Danish context. Geneva Pap Risk Insur Issues Pract 30:656–673

Karasek RA (1979) Job demands, job decision latitude, and mental strain: implications for job redesign. Adm Sci Q 24:285–308

Kosloski K, Ekerdt D, DeViney S (2001) The role of job-related rewards in retirement planning. J Gerontol B Psychol Sci Soc Sci 56:160–169

Landis JR, Koch GG (1977) Measurement of observer agreement for categorical data. Biometrics 33:159–174

Lund T, Villadsen E (2005) Who retires early and why? Determinants of early retirement pension among Danish employees 57–62 years. Eur J Ageing 2:275–280

Mein G, Martikainen P, Stansfeld SA, Brunner EJ, Fuhrer R, Marmot MG (2000) Predictors of early retirement in British civil servants. Age Ageing 29:529–536

OECD (2011) Trends in retirement and in working at older ages. doi:10.1787/pension_glance-2011-6-en

Pejtersen JH, Kristensen TS, Borg V, Bjorner JB (2010) The second version of the copenhagen psychosocial questionnaire. Scand J Public Health 38:8–24

Reday-Mulvey G (2007) Working beyond 60: key policies and practices in Europe. ILR Rev 60:436–438

Robroek SJ, Schuring M, Croezen S, Stattin M, Burdorf AJ (2013) Poor health, unhealthy behaviors, and unfavorable work characteristics influence pathways of exit from paid employment among older workers in Europe: a four year follow-up study. Scand J Work Environ Health 39:125–133

Rose D, Harrison E (2007) The european socio-economic classification: a new social class schema for comparative European research. Eur Soc 9:459–490

Seitsamo J (2005) Qualities of work, functioning and early retirement. A longitudinal study among Finnish ageing workers in 1981–1997. Int Congr Ser 1280:136–141

Sejbaek CS, Nexo MA, Borg V (2013) Work-related factors and early retirement intention: a study of the Danish eldercare sector. Eur J Pub Health 23:611–616

Sibbald B, Bojke C, Gravelle H (2003) National survey of job satisfaction and retirement intentions among general practitioners in England. Br Med J 326:22–24

Siegrist J (1996) Adverse health effects of high-effort/low-reward conditions. J Occup Health Psychol 1:27–41

Siegrist J, Wahrendorf M (2009) Quality of work, health, and retirement. Lancet 374:1872–1873

Siegrist J, Wahrendorf M, Von Dem Knesebeck O, Jurges H, Borsch-Supan A (2007) Quality of work, well-being, and intended early retirement of older employees: baseline results from the SHARE Study. Eur J Public Health 17:62–68

Soidre T (2005) Retirement-age preferences of women and men aged 55–64 years in Sweden. Ageing Soc 25:943–963

Thorsen S, Rugulies R, Longaard K, Borg V, Thielen K, Bjorner JB (2012) The association between psychosocial work environment, attitudes towards older workers (ageism) and planned retirement. Int Arch Occup Environ Health 85:437–445

Thorsen SV, Rugulies R, Hjarsbech PU, Bjorner JB (2013) The predictive value of mental health for long-term sickness absence: the Major Depression Inventory (MDI) and the Mental Health Inventory (MHI-5) compared. BMC Med Res Methodol 13:115

van Dalen HP, Henkens K, Henderikse W, Schippers J (2006) Dealing with an ageing labour force: What do European employers expect and do? NiDi Report nr. 73. Netherlands Interdisciplinary Demographic Institute, Den Haag

van den Berg TIJ, Elders LAM, Burdorf A (2010) Influence of health and work on early retirement. J Occup Environ Med 52:576–583

Vickerstaff S, Loretto W, White P (2007) The future for older workers: opportunities and constraints. In: Loretto W, Vickerstaff S, White P (eds) The future for older workers: New perspectives. Policy Press, Britstol, pp 203–226

Wahrendorf M, Dragano N, Siegrist J (2013) Social position, work stress, and retirement intentions: a study with older employees from 11 European countries. Eur Soc Rev 29:792–802

Walker A (1999) Combating age discrimination at the workplace. Exp Aging Res 25:367–377

Walker A, Taylor P (1999) Good practice in the employment of older workers in Europe. Ageing Int 25:62–79

Walker, Alan C (2002) A Strategy for Active Ageing. Int Soc Secur Rev 55:121–139. http://ssrn.com/abstract=309071

Westerlund H, Kivimaki M, Singh-Manoux A, Melchior M, Ferrie JE, Pentti J et al (2009) Self-rated health before and after retirement in France (GAZEL): a cohort study. Lancet 374:1889–1896
Acknowledgments
The study was primarily financed by a special grant from the Danish Government regarding absence and exclusion. Results from the study have been presented at the third International Wellbeing at Work conference held in Copenhagen, May 26–28, 2014.
Ethics declarations
Conflict of interest
The authors declare they have no conflict of interest.
About this article
Cite this article
Thorsen, S.V., Jensen, P.H. & Bjørner, J.B. Psychosocial work environment and retirement age: a prospective study of 1876 senior employees. Int Arch Occup Environ Health 89, 891–900 (2016). https://doi.org/10.1007/s00420-016-1125-7
Received:

Accepted:

Published:

Issue Date:
Keywords
Early retirement

Working conditions

Job satisfaction

Management quality

Recognition

Job control