Abstract
Objective
Physically demanding work may increase the risk of preterm delivery (PTD), defined as delivery before 37 weeks. We assessed the available evidence.
Methods
A systematic search in Medline, Embase and Nioshtic for the period 1990 to June 2012 for observational and intervention studies on physically demanding work (prolonged standing, heavy lifting, physical exertion, occupational fatigue and demanding posture) and PTD. Selected studies were assessed for their risk of bias and pooled using a random effects model. Results of case–control and cohort studies were reported separately in subgroups.
Results
We found 10 studies with low risk of bias and seven studies with moderate risk of bias. Standing and walking at work during pregnancy for more than 3 h per day was associated with an increased risk for PTD [OR 1.3 (95 % CI 1.1–1.6)], just as lifting and carrying >5 kg [OR 1.3 (95 % CI 1.05–1.6)] or lifting and carrying in the third trimester of the pregnancy [OR 1.3 (95 % CI 1.01–1.8)]. Jobs that required physical effort or physical exertion were associated with an increased risk of PTD [OR 1.4 (95 % CI 1.19–1.66)]. Working during pregnancy in jobs with a combination of two or more physical tasks, physical effort or occupational fatigue was also associated with an increased risk of PTD [OR 1.5 (95 % CI 1.1–2.0)].
Conclusions
Physically demanding work during pregnancy is associated with an increased risk of PTD, especially in jobs with a combination of tasks with physical effort. In general, only small to moderate elevations of risks were found.
Access options
Buy single article
Instant access to the full article PDF.
US$ 39.95
Tax calculation will be finalised during checkout.
Subscribe to journal
Immediate online access to all issues from 2019. Subscription will auto renew annually.
US$ 119
Tax calculation will be finalised during checkout.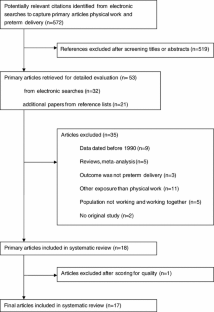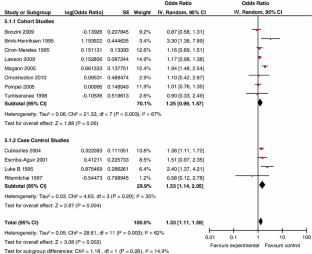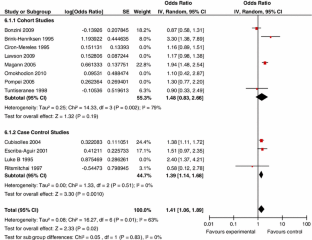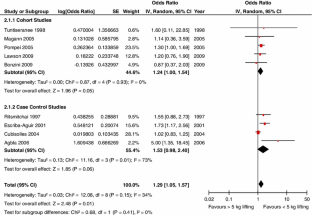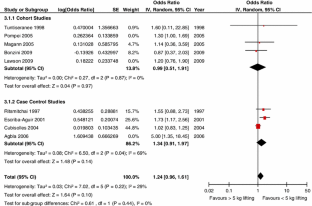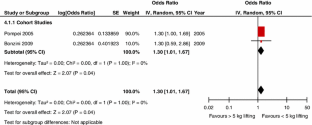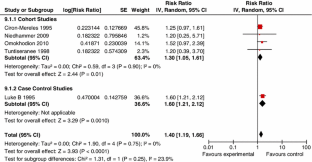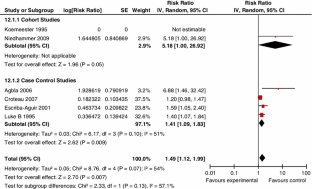 References
Agbla F, Ergin A, Boris NW (2006) Occupational working conditions as risk factors for preterm birth in Benin. West Africa. Rev Epidemiol Sante Publique 54(2):157–165

Ananth CV, Vintzileos AM (2006) Epidemiology of preterm birth and its clinical subtypes. J Matern Fetal Neonatal Med 19(12):773–782

Bonzini M, Coggon D, Palmer KT (2007) Risk of prematurity, low birth weight, and preeclampsia in relation to working hours and physical activities: a systematic review. Occup Environ Med 64:228–243

Bonzini M, Coggon D, Godfrey K, Inskip H, Crozier S, Palmer KT (2009) Occupational physical activities, working hours and outcome of pregnancy: findings from the Southampton Women's Survey. Occup Environ Med 66(10):685–690

Both MI, Overvest MA, Wildhagen MF, Golding J, Wildschut HIJ (2010) The association of daily physical activity and birth outcome: a population-based cohort study. Eur J Epidemiol 25:421–429

Brink-Henriksen T, Hedegaard M, Secher NJ, Wilcox AJ (1995a) Standing at work and preterm delivery. Br J Obstet Gynaecol 102:198–206

Brink-Henriksen T, Hedegaard M, Secher NJ (1995b) Standing and walking at work and birthweight. Acta Obstet Gynecol Scand 74:509–516

Céron-Mireles P, Harlow SD, Sanchez-Carrillo CI (1996) The risk of prematurity and small-for-gestational-age birth in Mexico City: the effects of working conditions and antenatal leave. Am J Public Health 86:825–831

Chang HH, Larson J, Blencowe H, Spong CY, Howson CP, Cairns-Smith S, Lackritz EM, Lee SK, Mason E, Serazin AC, Walani S, Simpson JL, Lawn JE (2013) Born Too Soon preterm prevention analysis group. Preventing preterm births: analysis of trends and potential reductions with interventions in 39 countries with very high human development index. Lancet 381(9862):223–234

Croteau A, Marcoux S, Brisson C (2007) Working activity in pregnancy, preventive measures, and the risk of preterm delivery. Am J Epidemiol 166:951–965

Domingues MR, Matijasevich A, Barros AJ (2009) Physical activity and preterm birth: a literature review. Sports Med 39(11):961–975

Escribà-Agüir V, Perez-Hoyos S, Saurel-Cubizolles MJ (2001) Physical load and psychological demand at work during pregnancy and preterm birth. Int Arch Occup Environ Health 74:583–588

Goldenberg RL, Culhane JF, Iams JD, Romero R (2008) Epidemiology and causes of preterm birth. Lancet 371(9606):75–84

Jansen PW, Tiemeier H, Verhulst FC, Burdorf A, Jaddoe VW, Hofman A, Moll HA, Verburg BO, Steegers EA, Mackenbach JP, Raat H (2010) Employment status and the risk of pregnancy complications: the Generation R Study. Occup Environ Med 67(6):387–394

Koemeester AP, Leegwater A, Broersen JPJ, Hoekstra EJ (1993). Zwangerschap, postpartumperiode en lichamelijke arbeidsbelasting. Deel 1: Effecten van lichamelijke arbeidsbelasting op gezondheid en op de arbeidsparticipatie van zwangere werknemers tijdens de zwangerschap en op het zwangerschapsbeloop. Amsterdam, Coronel rapport 93-01 Ministerie van Sociale zaken en werkgelegenheid (in Dutch)

Koemeester AP, Broersen JP, Treffers PE (1995) Physical work load and gestational age at delivery. Occup Environ Med 52(5):313–315

Koemeester AP, Leegwater A, Broersen JPJ, Hoekstra EJ (1997) Physical work load and the onset of maternity leave. J Occup Rehab 7(2):75–82

Lawson CC, Whelan EA, Hibert EN, Grajewski B, Spiegelman D, Rich-Edwards JW (2009) Occupational factors and risk of preterm birth in nurses. Am J Obstet Gynecol 200:51.e1–51.e8

Lerman Y, Jacubovich R, Green MS (2001) Pregnancy outcome following exposure to shortwaves among female physiotherapists in Israel. Am J Ind Med 39(5):499–504

Liberati A, Altman DG, Tetzlaff J, Mulrow C, Gøtzsche PC, Ioannidis JP, Clarke M, Devereaux PJ, Kleijnen J, Moher D (2009) The PRISMA statement for reporting systematic reviews and meta-analyses of studies that evaluate healthcare interventions: explanation and elaboration. BMJ 21(339):b2700. doi:10.1136/bmj.b2700

Luke B, Mamelle N, Keith L, Munoz F, Minogue J, Papiernik E, Johnson TR (1995) The association between occupational factors and preterm birth: a United States nurses' study. Research Committee of the Association of Women's Health, Obstetric, and Neonatal Nurses. Am J Obstet Gynecol 173(3 Pt 1):849–862

Magann EF, Evans SF, Chauhan SP, Nolan TE, Henderson J, Klausen JH, Newnham JP, Morrison JC (2005) The effects of standing, lifting and noise exposure on pre-term birth, growth restriction, and perinatal death in healthy low-risk working military women. J Matern Fetal Neonatal Med 18:155–162

Mamelle N, Munoz F (1987) Occupational working conditions and preterm birth: a reliable scoring system. Am J Epidemiol 126:150–152

Misra DP, Strobino DM, Stashinko EE, Nagey DA, Nanda J (1998) Effects of physical activity on preterm birth. Am J Epidemiol 147:628–635

Moutquin MJ (2003a) Socio-economic and psychosocial factors in the management and prevention of preterm labour. BJOG 110:56–60

Moutquin JM (2003b) Classification and heterogeneity of preterm birth. BJOG 110(Suppl 20):30–33

Mozurkewich EL, Luke B, Avni M, Wolf FM (2000) Working conditions and adverse pregnancy outcome: a meta-analysis. Obstet Gynecol 95:623–634

Murphy JF, Dauncey M, Newcombe R, Garcia J, Elbourne D (1984) Employment in pregnancy: prevalence, maternal characteristics, perinatal outcome. Lancet 8387:1163–1166

Netherlands Society of Occupational Medicine (NVAB) (2007) Practice Guideline Pregnancy, Postpartum Period and Work Advice and guidance by the occupational physician. Utrecht (Translated in English) http://nvab.artsennet.nl/Artikel-3/Zwangerschap-postpartumperiode-en-werk.htm

NHS Plus, Royal College of Physicians, Faculty of Occupational Medicine (2009) Physical and shift work in pregnancy: occupational aspects of management. A national guideline. RCP, London

Niedhammer I, O'Mahony D, Daly S, Morrison JJ, Kelleher CC (2009) Occupational predictors of pregnancy outcomes in Irish working women in the Lifeways cohort. Lifeways Cross-Generation Cohort Study Steering Group. BJOG 116(7):943–952

Omokhodion FO, Onadeko MO, Roberts OA, Beach JR, Burstyn I, Cherry NM (2010) Paid work, domestic work, and other determinants of pregnancy outcome in Ibadan, southwest Nigeria. Int J Gynaecol Obstet 111(2):165–170

Pompeii LA, Savitz DA, Evenson KR, Rogers B, McMahon M (2005) Physical exertion at work and the risk of preterm delivery and small-for-gestational age birth. Obstet Gynecol 106:1279–1288

Review Manager (RevMan) (2012) [Computer program]. Version 5.2. Copenhagen. The Nordic Cochrane Centre. The Cochrane Collaboration

Ritsmitchai S, Geather AF, Chongsuviwatvong V (1997) Prolonged standing and physical exertion during pregnancy increases the risk of preterm birth for Thai Mothers. J Occup Health 39(3):217–222

Rodrigues T, Barros H (2008) Maternal employment status: an indicator of spontaneous preterm delivery risk. Eur J Epidemiol 23(10):689–693

Rothman KL, Greenland S (1998) Modern epidemiology, 2nd edn. Lippincott Williams and Wilkins, Philadelphia

Saurel-Cubizolles MJ, Zeitlin J, Lelong N, Papiernik E, Di Renzo GC, Bréart G, Europop Group (2004) Employment, working conditions, and preterm birth: results from the Europop case-control survey. J Epidemiol Community Health 58:395–401

Savitz DA, Murnane P (2010) Behavioral influences on preterm birth: a review. Epidemiology 21(3):291–299

Schaaf JM, Mol BW, Abu-Hanna A, Ravelli AC (2011) Trends in preterm birth: singleton and multiple pregnancies in the Netherlands, 2000-2007. BJOG 118(10):1196–1204

Schuring M, Burdorf A, Kunst A, Mackenbach J (2007) The effects of ill health on entering and maintaining paid employment: evidence in European countries. J Epidem Commun Health 61(7):597–604

Stengel B, Saurel-Cubizolles MJ, Kaminksi M (1987) Healthy worker effect and pregnancy: role of adverse obstetic history and social characteristics. J Epidem Commun Health 41:312–320

Stinson JC, Lee KA (2003) Premature labor and birth: influence of rank and perception of fatigue in active duty military women. Mil Med 168:385–390

Takito MY, Benício MH (2010) Physical activity during pregnancy and fetal outcomes: a case-control study. Rev Saude Publica 44(1):90–101

Takito MY, Benício MH, de Neri LC (2009) Physical activity by pregnant women and outcomes for newborns: a systematic review. Rev Saude Publica 43(6):1059–1069

Tuntiseranee P, Geater A, Chongsuvivatwong V, Kor-anantakul O (1998a) The effect of heavy maternal workload on fetal growth retardation and preterm delivery. J Occup Environ Med 40:1013–1021

Tuntiseranee P, Olsen J, Geater A, Kor-anantakul O (1998b) Are long working hours and shiftwork risk factors for subfecundity? A study among couples from southern Thailand. Occup Environ Med 55(2):99–105
Acknowledgments
The authors wish to thank Dr. J. H. A. M. Verbeek (Finnish Institute of Occupational Health, Kuopio, Finland) for his help with the meta-analysis.
Conflict of interest
The authors declare that they have no conflict of interest.
Appendix 1 Summary of search strategies
Appendix 1 Summary of search strategies
PubMed: combinations of amongst others:
'Pregnancy'[Mesh] OR 'Pregnant Women'[Mesh]
'Work'[Mesh] OR work* OR occupation* OR employ*
'Premature Birth'[Mesh] OR 'Infant, Premature'[Mesh]
'Lifting'[Mesh] OR manual* OR pull* OR load* OR handl* OR push* OR lift* OR stand* OR kneel* OR 'squat' OR 'Physical Exertion'[Mesh]
EMBASE and NIOSHTIC-2: Combinations of amongst others:
(pregnant or pregnancy) and (lifting or manual* or pull* or load* or handl* or push* or lift* or stand* or kneel* or squat* or prolonged standing or physical load) and (preterm or premature)
About this article
Cite this article
van Beukering, M.D.M., van Melick, M.J.G.J., Mol, B.W. et al. Physically demanding work and preterm delivery: a systematic review and meta-analysis. Int Arch Occup Environ Health 87, 809–834 (2014). https://doi.org/10.1007/s00420-013-0924-3
Received:

Accepted:

Published:

Issue Date:
Keywords
Physically demanding work

Preterm delivery

Pregnancy outcome

Occupational exposure