Abstract
Objective
We developed a manual-based psychological group program aimed at teachers and focussing on their professional relationships. The intervention comprised ten sessions over a 10-month period. The aim of the program was to strengthen teachers' health. We investigated whether the effects of our intervention, during which the MBI and ERI were applied, result in general alleviation of occupational stress experienced by teachers.
Methods
This is a randomized controlled trial. All teachers (N = 2,484) of two school types (grammar schools and secondary modern schools) in 3 districts of southwestern Germany were invited to take part in our program. All teachers declaring their interest (N = 337) in the intervention were included in the project. They were randomly assigned to either the intervention group (N = 171) or to the control group (N = 166).
Results
We found that teachers who participated in at least 50% of the program benefited from this short intervention. Significant improvement was achieved on the two MBI scales, Emotional Exhaustion and Personal Accomplishment, as well as on the ERI subscale Appreciation.
Conclusion
Teachers' occupational stress level may be decreased by taking part in a short manual-based psychological group intervention that focuses on more effective handling of interpersonal problems in school. Therefore, teachers should receive support and guidance in developing the appropriate skills necessary to cope with stress appropriately.
Access options
Buy single article
Instant access to the full article PDF.
US$ 39.95
Tax calculation will be finalised during checkout.
Subscribe to journal
Immediate online access to all issues from 2019. Subscription will auto renew annually.
US$ 119
Tax calculation will be finalised during checkout.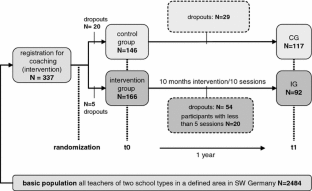 References
Albjerg GP (1999) Teacher Burnout. In: Understanding and preventing teacher burnout—a source book of international research and practice. University Press, Cambridge, pp 285–292

Bakker AB, Van Emmerik H, van Riet P (2008) How job demands, resources, and burnout predict objective performance: a constructive replication. Anxiety Stress Coping 21:309–324. doi:10.1080/10615800801958637

Bauer J (2002) Das Gedächtnis des Körpers. Eichborn, Frankfurt

Bauer J et al (2006) Correlation between burnout syndrome and psychological and psychosomatic symptoms among teachers. Int Arch Occup Environ Health 79:199–204. doi:10.1007/s00420-005-0050-y

Bauer J et al (2007a) Working conditions, adverse events and mental health problems in a sample of 949 German teachers. Int Arch Occup Environ Health 80:442–449. doi:10.1007/s00420-007-0170-7

Bauer J et al. (2007b) Gesundheitsprophylaxe für Lehrkräfte, Manual für Lehrer-Coachinggruppen nach dem Freiburger Modell. In: Handlungsanleitungen zur Erhaltung und Förderung der Gesundheit von Lehrerinnen und Lehrern. Selbstverlag der Technischen Universität Dresden, Dresden

Belcastro P, Gold R (1983) Teacher stress and burnout: implications for school health personnel. J Sch Health 53:404–407. doi:10.1111/j.1746-1561.1983.tb03148.x

Bowers T (2001) Teacher absenteeism and ill health retirement: a review. Camb J Educa 31:135–157

Brouwers A, Tomic W (2000) Teacher burnout, perceived self-efficacy in classroom management, and student disruptive behaviour in secondary education. Teach Teach Educa 16:239–253

Brown J, Gilmour WH, Macdonald EB (2006) Ill health retirement in Scottish teachers: process, outcomes and re-employment. Int Arch Occup Environ Health 79:433–440

Burke RJ, Greenglass ER (1995) A longitudinal study of psychological burnout in teachers. Hum Relat 48:187–202

Burke RJ, Greenglass ER, Schwarzer R (1996) Predicting teacher burnout over time: effects of work stress, social support, and self-doubts on burnout and its consequences. Anxiety Stress Coping 9:261–275

Buschmann I, Gamsjäger E (1999) Determinanten des Lehrer-Burnout. Psychol Erzieh Unterr 46:281–292

Büssing A, Perrar K (1992) Die Messung von Burnout. Untersuchung einer deutschen Fassung des Maslach Burnout Inventory (MBI-D). Diagnostica 38:328–353

Cohen J (1988) Statistical power analysis for the behavioral sciences, 2nd edn. Routledge Academic

Daniel J, Schuller IS (2000) Burnout in teacher's profession: age, years of practice and some disorders. Stud Psychol 42:33–41

Franke G (1995) SCL-90-R die symptom-checkliste von derogatis. Z Klinische Psychol Psychother 32:333–334

Freudenberger H (1974) Staff-burn-out. J Soc Issues 30:159–165

Frieling E, Sonntag K (1999) Lehrbuch Arbeitspsychologie, 2nd edn. Huber, Bern, pp 228–237

Guglielmi RS, Tatrow K (1998) Occupational stress, burnout, and health in teachers: a methodological and theoretical analysis. Rev Educa Res 68:61–99

Jin P et al (2008) Identifying teachers at risk in Hong Kong: psychosomatic symptoms and sources of stress. J Psychosom Res 65:357–362

Leiter MP (1993) Burnout as a development process: considerations of models. In: Schaufeli WB, Maslach C, Marek T (eds) Professional burnout: recent developments in theory and research. Series in applied psychology: Social issues and questions. Taylor & Francis, Philadelphia, pp 237–250

Maguire M, O'Connell T (2007) Ill-health retirement of schoolteachers in the Republic of Ireland. Occup Med 57:191–193

Maslach C, Jackson S (1981) The measurement of experienced Burnout. J Occup Behav 2:99–113

Maslach C, Jackson S (1984) Burnout in organizational settings. In: Applied social psychology annual. Sage, Beverly Hills, pp 133–153

Maslach C, Jackson S, Leiter M (1996) Maslach burnout inventory manual. Consulting Psychologists Press, IncPalo Alto

Mazumdar S et al (1999) Intent-to-treat analysis for longitudinal clinical trials: coping with the challenge of missing values. J Psychiatr Res 33:87–95

Moher D, Schulz K, Altman D (2001) The CONSORT statement: revised recommendations for improving the quality of reports of parallel-group randomised trials. Lancet 357:1191–1194

Pithers RT, Soden R (1998) Scottish and Australian teacher stress and strain: a comparative study. The Br J Educa Psychol 68:269–279

Rödel A et al (2004) Fragebogen zur Messung beruflicher Gratifikationskrisen: psychometrische testung an einer repräsentativen deutschen Stichprobe. Z Differ Diagn Psychol 25:227–238

Salim A et al (2008) Comparison of data analysis strategies for intent-to-treat analysis in pre-test-post-test designs with substantial dropout rates. Psychiatr Res 160:335–345

Schaarschmidt U (2004) Halbtagsjobber? Weinheim, Beltz

Schmitz N, Kruse J, Tress W (1999) Psychometric properties of the general health questionaire (GHQ-12) in a German primary care sample. Acta Psychiatr Scand 100:462–468

Schwarzer R, Schmitz G, Tang C (2000) Teacher burnout in Hong Kong and Germany: a cross-cultural validation of the Maslach Burnout Inventory. Anxiety Stress Coping 13:309–327

Siegrist J (1996) Adverse health effects of high effort/low reward conditions. J Occup Health Psychol 1:27–41

Siegrist J (2001) A theory of occupational stress. In: Stress in the workplace: past, present and future. Whurr, London, pp 52–66

Tang CS et al (2001) Mental health outcomes of job stress among Chinese teachers: role of stress resouce factors and burnout. J Organ Behav 22:887–901

Travers C (2001) Stress in Teaching. In: Stress in the workplace: past, present and future. Whurr, London, pp 130–163

Unterbrink T et al (2007) Burnout and effort-reward-imbalance in a sample of 949 German Teachers. Int Arch Occup Environ Health 80:433–441

Unterbrink T et al (2008) Parameters influencing health variables in a sample of 949 German teachers. Int Arch Occup Environ Health 82:117–123

Unterbrink T et al (2010) Improvement in school teachers' mental health by a manual-based psychological group program. Psychother Psychosom 79:262–264

Wang Z et al (2002) Study of the occupational stress of the teachers in primary and secondary school. Mod Prev Med 29:129–131

Weber A, Weltle D, Lederer P (2006) Ill health and early retirement among school principals in Bavaria. Int Arch Occup Environ Health 78:325–331

Wu S et al (2006) Intervention on occupational stress among teachers in the middle schools in China. Stress and Health 22:329–336

Zolnierczyk-Zreda D (2005) An intervention to reduce work-related burnout in teachers. Int J Occup Saf Ergon 11:423–430

Zurlo MC, Pes D, Cooper CL (2007) Stress in teaching: a study of occupational stress and its determinants among Italian schoolteachers. Stress Health J Int Soc Investig Stress 23:231–241

Zurlo MC et al (2010) Validity and reliability of the effort-reward imbalance questionnaire in a sample of 673 Italian teachers. Int Arch Occup Environ Health 83:665–674
Acknowledgments
This project was supported by a grant from the Bundesanstalt für Arbeitsschutz und Arbeitsmedizin (Federal Institute for Occupational Safety and Health), Berlin. We are grateful to Prof. Klaus Scheuch and Dr. Reingard Seibt (University of Dresden) who coordinated the project named "Lange Lehren". The author thanks Siegfried Specker, Head of the Department of Education of the Regierungspraesidium Freiburg, for his valuable support. Special thanks go to the psychologists and psychotherapists who, after being trained and remaining under our supervision, moderated the intervention groups (in alphabetical order): Dr. Eva Albermann, Dipl.-Psych. Petra Bischoff, StDir. Veronika Buhl-Grießhaber, Dr. Irmtraud Dieterle, Lotte Fehrle, Dipl.-Psych Dorothea Fritsch, Dipl.-Psych. Brigitte Frommhold, Dipl.-Psych. Hubert Haaser, Dipl.-Psych. Anna Hack, Dr. Angela Kantner-Rauch, Dr. Klaus Kuhn, cand. phil. Mateo Lorei, Dr. Ilse Meyhöfer, Dr. Herbert Müller-Franke, Dipl.-Psych Dagmar Riepe, Dr. Gotthard von Stackelberg.
Conflict of interest
The authors have no conflicts of interest.
About this article
Cite this article
Unterbrink, T., Pfeifer, R., Krippeit, L. et al. Burnout and effort–reward imbalance improvement for teachers by a manual-based group program. Int Arch Occup Environ Health 85, 667–674 (2012). https://doi.org/10.1007/s00420-011-0712-x
Received:

Accepted:

Published:

Issue Date:
Keywords
Teacher

Stress

Prevention

MBI

ERI

Occupational burden

Health