Abstract
Background
Pressure pain threshold mapping is a valuable method for the identification of distinct zones of mechanical pain sensitivity. Such approach was applied for the first time in relation to self-reported musculoskeletal disorders and long-term sickness absence (LTSA) within the last 12 months among cleaners.
Methods
About 29 cleaners filled out a self-administered questionnaire regarding health, work-related measures and musculoskeletal disorders. Subsequently, PPTs were measured at (1) tibialis anterior (control location, 1 point), (2) the neck-shoulder (48 points) and (3) the low back regions (27 points). LTSA was defined as ten or more consecutive workdays with sick leave.
Results
The PPT maps revealed the spatial heterogeneity in mechanical sensitivity among cleaners. The level of pain in the neck and dominant shoulder and upper back within the last 7 days correlated negatively with most PPT measurements. The group of cleaners with LTSA had significantly lower levels of PPT (large effects) in the neck-shoulder region than the cleaners with no LTSA (P < 0.05; partial η2 = 0.19 in average).
Conclusions
The present study investigated pressure pain topographical maps from the neck-shoulder and low back region in cleaners. Cleaners with LTSA the last year exhibited mechanical hyperalgesia as depicted by lower PPT in the neck-shoulder compared with cleaners without LTSA. More studies assessing the relation between PPT maps, self-reported musculoskeletal disorders and sickness absence are warranted.
Access options
Buy single article
Instant access to the full article PDF.
USD 39.95
Price includes VAT (USA)
Tax calculation will be finalised during checkout.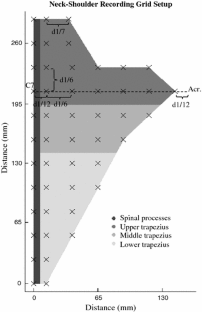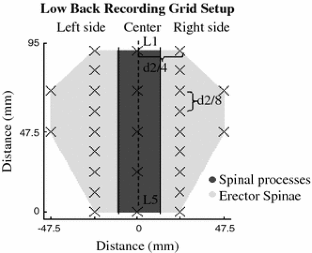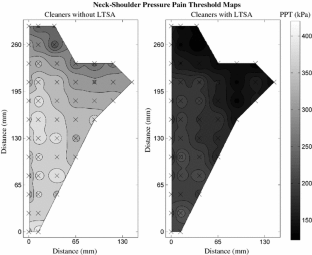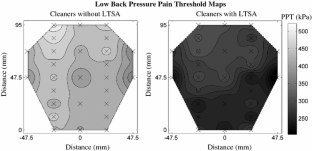 References
Andersen H, Arendt-Nielsen L, Danneskiold-Samsoe B, Graven-Nielsen T (2006) Pressure pain sensitivity and hardness along human normal and sensitized muscle. Somatosens Mot Res 23:97–109. doi:10.1080/08990220600856255

Banic B, Petersen-Felix S, Andersen OK, Radanov BP, Villiger PM, Arendt-Nielsen L, Curatolo M (2004) Evidence for spinal cord hypersensitivity in chronic pain after whiplash injury and in fibromyalgia. Pain 107:7–15. doi:10.1016/j.pain.2003.05.001

Binderup AT, Arendt-Nielsen L, Madeleine P (2008) Pressure pain threshold mapping–A new imaging modality of muscle sensitivity to pain. 2008 Annual IEEE Student Paper Conference 1:126–129. doi:10.1109/AISPC.2008.4460549

Binderup AT, Arendt-Nielsen L, Madeleine P (2010a) Cluster analysis of pressure pain threshold maps from the trapezius muscle. Comput Methods Biomech Biomed Engin 8:1. doi:10.1080/10255840903446979

Binderup AT, Arendt-Nielsen L, Madeleine P (2010b) Pressure pain threshold mapping of the trapezius muscle reveals heterogeneity in the distribution of muscular hyperalgesia after eccentric exercise. Eur J Pain 14:705–712. doi:10.1016/j.ejpain.2009.11.001

Binderup AT, Arendt-Nielsen L, Madeleine P (2010c) Pressure pain sensitivity maps of the neck-shoulder and the low back regions in men and women. BMC Musculoskelet Disord 11:234. doi:10.1186/1471-2474-11-234

Burdorf A, Naaktgeboren B, Post W (1998) Prognostic factors for musculoskeletal sickness absence and return to work among welders and metal workers. Occup Environ Med 55:490–495

Fernandez-de-Las-Penas C, Madeleine P, Martinez-Perez A, Arendt-Nielsen L, Jimenez-Garcia R, Pareja JA (2010) Pressure pain sensitivity topographical maps reveal bilateral hyperalgesia of the hands in patients with unilateral carpal tunnel syndrome. Arthritis Care Res (Hoboken). doi:10.1002/acr.20189

Ge HY, Nie H, Madeleine P, Danneskiold-Samsoe B, Graven-Nielsen T, Arendt-Nielsen L (2009) Contribution of the local and referred pain from active myofascial trigger points in fibromyalgia syndrome. Pain 147:233–240. doi:10.1016/j.pain.2009.09.019

Gjesdal S, Ringdal PR, Haug K, Maeland JG (2004) Predictors of disability pension in long-term sickness absence: results from a population-based and prospective study in Norway 1994–1999. Eur J Public Health 14:398–405. doi:10.1093/eurpub/14.4.398

Gold JE, Punnett L, Katz JN (2006) Pressure pain thresholds and musculoskeletal morbidity in automobile manufacturing workers. Int Arch Occup Environ Health 79:128–134. doi:10.1007/s00420-005-0005-3

Hägg GM, Åström A (1997) Load pattern and pressure pain threshold in the upper trapezius muscle and psychosocial factors in medical secretaries with and without shoulder/neck disorders. Int Arch Occup Environ Health 69:423–432

Henderson M, Glozier N, Holland Elliott K (2005) Long term sickness absence. BMJ 330:802–803. doi:10.1136/bmj.330.7495.802

Holtermann A, Hansen JV, Burr H, Sogaard K (2010a) Prognostic factors for long-term sickness absence among employees with neck-shoulder and low-back pain. Scand J Work Environ Health 36:34–41

Holtermann A, Jorgensen MB, Gram B, Christensen JR, Faber A, Overgaard K, Ektor-Andersen J, Mortensen OS, Sjogaard G, Sogaard K (2010b) Worksite interventions for preventing physical deterioration among employees in job-groups with high physical work demands: background, design and conceptual model of FINALE. BMC Public Health 10:120. doi:10.1186/1471-2458-10-120

Kuorinka I, Jonsson B, Kilbom A, Vinterberg H, Biering-Sorensen F, Andersson G, Jorgensen K (1987) Standardised Nordic questionnaires for the analysis of musculoskeletal symptoms. Appl Ergon 18:233–237

Madeleine P, Lundager B, Voigt M, Arendt-Nielsen L (1998) Sensory manifestations in experimental and work-related chronic neck-shoulder pain. Eur J Pain 2:251–260

Madeleine P, Lundager B, Voigt M, Arendt-Nielsen L (2003) The effects of neck-shoulder pain development on sensory-motor interactions among female workers in the poultry and fish industries. A prospective study. Int Arch Occup Environ Health 76:39–49. doi:10.1007/s00420-002-0375-8

Miranda H, Punnett L, Viikari-Juntura E, Heliövaara M, Knekt P (2008) Physical work and chronic shoulder disorder. Results of a prospective population-based study. Ann Rheum Dis 67:218–223. doi:10.1136/ard.2007.069419

Nie H, Kawczynski A, Madeleine P, Arendt-Nielsen L (2005) Delayed onset muscle soreness in neck/shoulder muscles. Eur J Pain 9:653–660. doi:10.1016/j.ejpain.2004.12.009

Nielsen PK, Andersen LL, Olsen HB, Rosendal L, Sjogaard G, Sogaard K (2010) Effect of physical training on pain sensitivity and trapezius muscle morphology. Muscle Nerve 41:836–844. doi:10.1002/mus.21577

O'Neill S, Manniche C, Graven-Nielsen T, Arendt-Nielsen L (2007) Generalized deep-tissue hyperalgesia in patients with chronic low-back pain. Eur J Pain 11:415–420. doi:10.1016/j.ejpain.2006.05.009

Punnett L, Wegman DH (2004) Work-related musculoskeletal disorders: the epidemiologic evidence and the debate. J Electromyogr Kinesiol 14:13–23. doi:10.1016/j.jelekin.2003.09.015

Schenk P, Laeubli T, Klipstein A (2007) Validity of pressure pain thresholds in female workers with and without recurrent low back pain. Eur Spine J 16:267–275. doi:10.1007/s00586-006-0124-x

Sell L, Bultmann U, Rugulies R, Villadsen E, Faber A, Sogaard K (2009) Predicting long-term sickness absence and early retirement pension from self-reported work ability. Int Arch Occup Environ Health. doi:10.1007/s00420-009-0420-y

Søgaard K, Blangsted AK, Herod A, Finsen L (2006) Work design and the labouring body: examining the impacts of work organization on Danish cleaners' health. Antipode 38:579–602. doi:10.1111/j.0066-4812.2006.00596.x

Steenstra IA, Verbeek JH, Heymans MW, Bongers PM (2005) Prognostic factors for duration of sick leave in patients sick listed with acute low back pain: a systematic review of the literature. Occup Environ Med 62:851–860. doi:10.1136/oem.2004.015842

Unge J, Ohlsson K, Nordander C, Hansson GA, Skerfving S, Balogh I (2007) Differences in physical workload, psychosocial factors and musculoskeletal disorders between two groups of female hospital cleaners with two diverse organizational models. Int Arch Occup Environ Health 81:209–220
Acknowledgments
The authors are grateful to Gry Barstad and Marianne Hagbarth (Technical Administration, Aalborg University) for their support. This work was financially supported by Gigtforeningen and is a part of the FINALE programme supported by a grant from the Danish Working Environment Research Foundation.
Conflict of interest
The authors declare that they have no conflict of interest.
About this article
Cite this article
Binderup, A.T., Holtermann, A., Søgaard, K. et al. Pressure pain sensitivity maps, self-reported musculoskeletal disorders and sickness absence among cleaners. Int Arch Occup Environ Health 84, 647–654 (2011). https://doi.org/10.1007/s00420-011-0627-6
Received:

Accepted:

Published:

Issue Date:
Keywords
Pressure pain topography

Work-related musculoskeletal disorders

Neck-shoulder region

Low back region

Sick leave