Abstract
Objective
The aim of this study was to assess the construct and predictive validity of a new instrument for self-rating of stress-related Exhaustion Disorder (s-ED).
Methods
Public healthcare workers and social insurance officers, 85% females, were included (N = 2,683) in a longitudinal study. The s-ED instrument, based on clinical criteria for Exhaustion Disorder, was used at baseline to classify participants into three categories: non-s-ED, light/moderate s-ED and pronounced s-ED. Other assessments include burnout, anxiety, depression and work ability. Sick leave at follow-up after 2 years was defined as 14 days of ongoing sick leave (SA14) or a period of 60 days of sick leave during the last 12 months (SA60). Associations at baseline were expressed as prevalence ratios, and adjusted relative risks (RR) were calculated using Cox regression.
Results
At baseline, 16% reported s-ED. Scores of depression, anxiety and burnout and the rate of poor work ability increased with increasing severity of s-ED. Self-reported exhaustion at baseline increased the risk of reporting sickness absence at follow-up; pronounced s-ED RR 2.7; CI 1.8–4.0 for SA14 and RR 3.4; CI 2.3–5.2 for SA60.
Conclusions
Self-rated ED corresponded well to established scales for mental health, indicating sufficient construct validity. Individuals reporting s-ED at baseline were more likely to report sickness absence at follow-up, confirming its predictive properties. The s-ED instrument may be a useful tool for occupational health services in identifying human service workers at risk of having or developing a potentially disabling stress-related mental illness.
Access options
Buy single article
Instant access to the full article PDF.
US$ 39.95
Tax calculation will be finalised during checkout.
Subscribe to journal
Immediate online access to all issues from 2019. Subscription will auto renew annually.
US$ 119
Tax calculation will be finalised during checkout.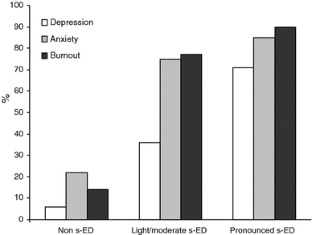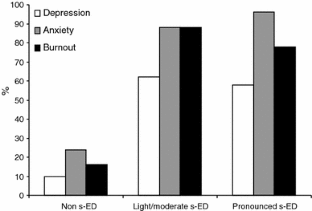 References
Ahola K, Kivimaki M, Honkonen T, Virtanen M, Koskinen S, Vahtera J, Lonnqvist J (2008) Occupational burnout and medically certified sickness absence: a population-based study of Finnish employees. J Psychosom Res 64:185–193

Bjelland I, Dahl AA, Haug TT, Neckelmann D (2002) The validity of the Hospital Anxiety and Depression Scale. An updated literature review. J Psychosom Res 52:69–77

Borritz M, Bultmann U, Rugulies R, Christensen KB, Villadsen E, Kristensen TS (2005) Psychosocial work characteristics as predictors for burnout: findings from 3-year follow up of the PUMA Study. J Occup Environ Med 47:1015–1025

Borritz M, Rugulies R, Christensen KB, Villadsen E, Kristensen TS (2006) Burnout as a predictor of self-reported sickness absence among human service workers: prospective findings from three year follow up of the PUMA study. Occup Environ Med 63:98–106

de Zwart BC, Frings-Dresen MH, van Duivenbooden JC (2002) Test-retest reliability of the Work Ability Index questionnaire. Occup Med (Lond) 52:177–181

Duijts SF, Kant I, Swaen GM, van den Brandt PA, Zeegers MP (2007) A meta-analysis of observational studies identifies predictors of sickness absence. J Clin Epidemiol 60:1105–1115

Elo AL, Leppanen A, Jahkola A (2003) Validity of a single-item measure of stress symptoms. Scand J Work Environ Health 29:444–451

Ferrie JE, Kivimaki M, Head J, Shipley MJ, Vahtera J, Marmot MG (2005) A comparison of self-reported sickness absence with absences recorded in employers' registers: evidence from the Whitehall II study. Occup Environ Med 62:74–79

Fischer FM, Borges FN, Rotenberg L, Latorre Mdo R, Soares NS, Rosa PL, Teixeira LR, Nagai R, Steluti J, Landsbergis P (2006) Work ability of health care shift workers: What matters? Chronobiol Int 23:1165–1179

Grossi G, Perski A, Evengard B, Blomkvist V, Orth-Gomer K (2003) Physiological correlates of burnout among women. J Psychosom Res 55:309–316

Hensing G, Wahlstrom R (2004) Sickness absence and psychiatric disorders. Scand J Public Health Suppl 63:152–180

Kujala V, Tammelin T, Remes J, Vammavaara E, Ek E, Laitinen J (2006) Work ability index of young employees and their sickness absence during the following year. Scand J Work Environ Health 32:75–84

Liira J, Matikainen E, Leino-Arjas P, Malmivaara A, Mutanen P, Rytkönen H, Juntunen J (2000) Work ability of middle aged Finnish construction workers- a follow up study in 1991–1995. Int J Ind Ergon 25:477–481

Maslach C, Jackson SE (1981) The measurement of experienced burnout. J Organ Behav 2:99–113

Maslach C, Schaufeli WB, Leiter MP (2001) Job burnout. Annu Rev Psychol 52:397–422

Melamed S, Kushnir T, Shirom A (1992) Burnout and risk factors for cardiovascular diseases. Behav Med 18:53–60

National Board of Health and Welfare (2003) Exhaustion disorder. (In Swedish: Utmattningssyndrom- stressrelaterad psykisk ohälsa) Stockholm

Schaufeli WB, Enzman D (1998) The burnout companion to study and practice, a critical analysis. Taylor, London

Severens JL, Mulder J, Laheij RJ, Verbeek AL (2000) Precision and accuracy in measuring absence from work as a basis for calculating productivity costs in The Netherlands. Soc Sci Med 51:243–249

Shirom A, Melamed S, Toker S, Berliner S, Shapira I (2005) Burnout and health review: current knowledge and future research directions. In: Ford JK, Hodgkinson GP (eds) International review of industrial and organizational psychology, vol 20. Wiley, New York, pp 269–308

Sjogren-Ronka T, Ojanen MT, Leskinen EK, Tmustalampi S, Malkia EA (2002) Physical and psychosocial prerequisites of functioning in relation to work ability and general subjective well-being among office workers. Scand J Work Environ Health 28:184–190

Stefansson CG (2006) Major public health problems-mental ill-health. Scand J Public Health 34(Suppl 67):87–103

Stenbeck M, Persson G (2006) Working life, work environment and health. In: Persson G, Danielsson M, Rosén M, Alexandersson K, Lundberg O, Lundgren B, Stenbeck M, Wall S (eds) Health in Sweden: the National Public Health Report 2005, vol. 67. Scand J Public Health Suppl, Stockholm, pp 229–245

Sullivan M, Karlsson J, Ware JE Jr (1995) The Swedish SF-36 Health Survey-I. Evaluation of data quality, scaling assumptions, reliability and construct validity across general populations in Sweden. Soc Sci Med 41:1349–1358

Toppinen-Tanner S, Ojajarvi A, Vaananen A, Kalimo R, Jappinen P (2005) Burnout as a predictor of medically certified sick-leave absences and their diagnosed causes. Behav Med 31:18–27

Torgén M (2002) Work ability in relation to age and occupational factors- results from a general population study. In: Caldenfors D, Eklund J, Kiviloog L (eds) The 34th NES Congress "Humans in a Complex Environment". Kolmården: Linköping University, Linköping, pp 767–773

Tuomi K, Ilmarinen J, Eskelinen L, Jarvinen E, Toikkanen J, Klockars M (1991a) Prevalence and incidence rates of diseases and work ability in different work categories of municipal occupations. Scand J Work Environ Health 17(Suppl 1):67–74

Tuomi K, Luostarinen T, Ilmarinen J, Klockars M (1991b) Work load and individual factors affecting work disability among aging municipal employees. Scand J Work Environ Health 17(Suppl 1):94–98

van Poppel MN, de Vet HC, Koes BW, Smid T, Bouter LM (2002) Measuring sick leave: a comparison of self-reported data on sick leave and data from company records. Occup Med (Lond) 52:485–490

Voss M, Stark S, Alfredsson L, Vingard E, Josephson M (2008) Comparisons of self-reported and register data on sickness absence among public employees in Sweden. Occup Environ Med 65:61–67

Zigmond AS, Snaith RP (1983) The hospital anxiety and depression scale. Acta Psychiatr Scand 67:361–370
Acknowledgments
This study was supported by a grant from the Swedish government.
Conflict of Interest
The authors declare that they have no conflict of interest.
About this article
Cite this article
Glise, K., Hadzibajramovic, E., Jonsdottir, I.H. et al. Self-reported exhaustion: a possible indicator of reduced work ability and increased risk of sickness absence among human service workers. Int Arch Occup Environ Health 83, 511–520 (2010). https://doi.org/10.1007/s00420-009-0490-x
Received:

Accepted:

Published:

Issue Date:
Keywords
Burnout

Exhaustion

Validity

Sickness absence

Work ability

Health personnel