Abstract
Objective
Two hundred and fifteen hairdressers suffering from occupational skin diseases (OSD) have attended a 6-month combined dermatological and educational prevention program with an education and counseling scheme as well as an intervention in the respective hairdressers' shops. The aim of this program, conducted from 1994 to 1997, was to enable the affected hairdressers to remain at work without suffering from major OSD.
Methods
To assess the sustainability of this interdisciplinary medical and educational training program, the intervention group (IG, N = 215) and a control group (CG, hairdressers with OSD who solely received dermatological treatment, N = 85) were followed up 9 month and 5 years after their individual project participation by a standardized questionnaire. A subcohort of the intervention group (IG1994, participants in 1994, N = 62) was followed up again 10 years after their participation.
Results
The follow-up survey 9 months after the beginning of the program (response rate: IG: N = 163, 75.8%; CG: N = 80, 94.1%) showed that 71.8% (N = 117) of the intervention group could remain in work as opposed to 60.0% (N = 48) in the control group. In the intervention group 14.7% gave up work due to OSD versus 22.5% in the control group (no statistically significant effect).
In the 5-year follow-up (response rate: IG: N = 172, 80%; CG: N = 55, 64.7%) 58.7% (N = 101) of the IG remained at work versus 29.1% (N = 16) of the CG. In the IG 12.8% had stopped work because of OSD versus 27.3% in the CG (p < 0.001, Cramer's V = 0.26). Ten years after intervention, the follow-up showed a stabilization of the effects shown by the 5-year follow-up results.
In addition to the criteria 'remaining' or 'not remaining at work' the results show that our interdisciplinary intervention program led to an increased and sustained knowledge on OSD and more adequate prevention at the work place in the IG. The results confirm that interdisciplinary training can be successful in effecting self-protection against workplace hazards by using positive approaches that include the learning of "safe" behavior and insuring transferability to real workplace settings ("empowerment"). Combined preventive measures as studied in this program have recently become the standard offered by different statutory accident liability insurances for patients in different wet work occupations with OSD in Germany.
Access options
Buy single article
Instant access to the full article PDF.
USD 39.95
Price excludes VAT (USA)
Tax calculation will be finalised during checkout.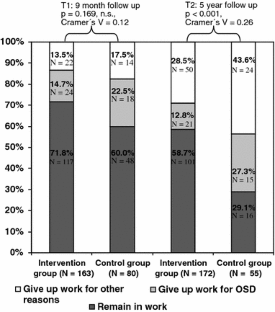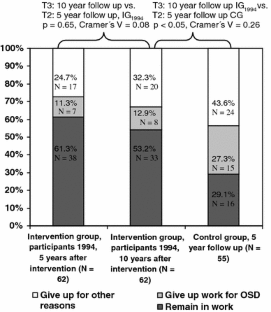 References
Agner T, Held E (2002) Skin protection programmes. Contact Dermat 47:253–256

Bauer A, Kelterer D, Bartsch R, Pearson J, Stadeler M, Kleesz P, Elsner P, Williams H (2002) Skin protection in bakers' apprentices. Contact Dermat 46:81–85

Berndt U, Hinnen U, Iliev D, Elsner P (2000) Hand eczema in metalworker trainees—an analysis of risk factors. Contact Dermat 43:327–332

Ehlers A, Gieler U, Stangier U (1995) Treatment of atopic dermatitis: a comparison of psychological and dermatological approaches to relapse prevention. J Consult Clin Psychol 63:624–635

Flyvholm MA, Mygind K, Sell L, Jensen A, Jepsen KF (2005) A randomised controlled intervention study on prevention of work related skin problems among gut cleaners in swine slaughterhouses. Occup Environ Med 62:642–649

Frosch PJ, John SM (2006) Clinical aspects of irritant contact dermatitis. In: Frosch PJ, Menné T, Lepoittevin JP (eds) Contact dermatitis, 4th edn. Springer, Berlin, pp 255–294

Geraut C, Tripodi D (2002) Prevention of occupational dermatitis. Rev Prat 52:1446–1450

Graziani C, Rosenthal MP, Diamond JJ (1999) Diabetes education program use and patient-perceived barriers to attendance. Fam Med 31:358–363

Held E, Wolff C, Gyntelberg F, Agner T (2001) Prevention of work-related skin problems in student auxiliary nurses: an intervention study. Contact Dermat 44:297–303

Held E, Mygind K, Wolff C, Gyntelberg F, Agner T (2002) Prevention of work related skin problems: an intervention study in wet work employees. Occup Environ Med 59:556–561

Heron RJL (1997) Worker education in the primary prevention of occupational dermatoses. Occup Med 47:407–410

Jensen LK, Kofoed LB (2002) Musculoskeletal disorders among floor layers: is prevention possible? Appl Occup Environ Hyg 17:797–806

Kanzler MH, Gorsulowsky DC (2002) Patients' attitudes regarding physical characteristics of medical care providers in dermatologic practices. Arch Dermatol 138:463–466

Lorish CD, Boutaugh ML (1997) Patient education in rheumatology. Curr Opin Rheumatol 9:106–111

Napalkov N (1995) The role of the World Health Organization in promoting patient education with emphasis on chronic diseases. In: Assal J-P, Golay A, Visser AP (eds) New trends in patient education. Elsevier, Amsterdam, pp 5–7

Nienhaus A, Rojahn K, Skudlik C, Wulfhorst B, Dulon M, Brandenburg S (2004) Sekundäre Individualprävention bei FriseurInnen mit arbeitsbedingten Hauterkrankungen. Gesundheitswesen 66:759–764

Radulescu M, Bock M, Bruckner T, Ellsäßer G, Fels H, Diepgen TL (2007) Health education on occupational allergies and dermatoses for adolescents. JDDG 5: 576–582, English online version www.blackwell-synergy.com/loi/ddg

Schmid-Ott G, Jaeger B, Kuensebeck HW, Ott R, Lamprecht F (1996) Dimension of stigmatisation in patients with psoriasis in a "Questionnaire on experience with skin complaints". Dermatology 193:304–310

Schurer NY, Klippel U, Schwanitz HJ (2005) Secondary individual prevention of hand dermatitis in geriatric nurses. Int Arch Occup Environ Health 78:149–157

Schwanitz HJ, Wulfhorst B (2000) Workers education. In: Kanerva L et al (eds) Occupational dermatoses handbook. Springer, Berlin, pp 441–443

Schwanitz HJ, Riehl U, Schlesinger T, Bock M, Skudlik C, Wulfhorst B (2003) Skin care management: educational aspects. Int Arch Occup Environ Health 76:374–381

Skudlik C, Breuer K, Junger M, Allmers H, Brandenburg S, John SM (2008a) Optimal care of patients with occupational hand dermatitis. Considerations of German occupational health insurance. Hautarzt 59:690–695

Skudlik C, John SM (2007) Skin protection in hairdressers. In: Schliemann S, Elsner P (eds) Skin protection; series: current problems in dermatology, vol 34. Karger, Basel, pp 133–137

Skudlik C, Wulfhorst B, Gediga G, Bock M, Allmers H, John SM (2008b) Tertiary individual prevention of occupational skin diseases: a decade's experience with recalcitrant occupational dermatitis. Int Arch Occup Environ Health 81:1059–1064

Skudlik C, Weisshaar E, Scheidt R, Wulfhorst B, Diepgen TL, Elsner P, Schönfeld M, John SM (2008c) Multicenter study "medical-occupational rehabilitation procedure skin—optimizin and quality assurance of inpatient-management (ROQ)". JDDG 6. doi: 10.1111/j.1610-0387.2008.06864.x

Weisshaar E, Radulescu M, Bock M, Albrecht U, Diepgen TL (2006) Educational and dermatological aspects of secondary individual prevention in healthcare workers. Contact Dermat 54:254–260

World Health Organization (WHO) (1986) Ottawa Charta for Health Promotion. WHO, Genf

Wulfhorst B, Schwanitz HJ (2003) Gesundheitserziehung in Hautrisikoberufen. Allergologie 29:387–395

Wulfhorst B, Bock M, John SM (2006) Worker's education and teaching programmes: the German experience. In: Frosch PJ, Menné T, Lepoittevin J-P (eds) Textbook of contact dermatitis, 4th edn. Springer, Berlin, pp 855–860
Conflict of interest statement
The authors declare that they have no conflict of interest.
About this article
Cite this article
Wulfhorst, B., Bock, M., Gediga, G. et al. Sustainability of an interdisciplinary secondary prevention program for hairdressers. Int Arch Occup Environ Health 83, 165–171 (2010). https://doi.org/10.1007/s00420-009-0480-z
Received:

Accepted:

Published:

Issue Date:

DOI: https://doi.org/10.1007/s00420-009-0480-z
Keywords
Occupational skin diseases (OSD)

Prevention program

Health education

Educational training program

Long-term effectiveness

Hairdressers