Abstract
Objectives
To estimate the mesothelioma risk and environmental asbestos exposure (EAE) due to an asbestos-cement plant.
Methods
A spatial case–control study including 48 malignant mesothelioma (MM) cases occurred in the period 1993–2003 selected from the regional mesothelioma register (RMR) and 273 controls. The disease risk was estimated by means of a logistic-regression model, in which the probability of disease-occurrence is expressed as a function of the classes of distances. A non-parametric method was applied to estimate the full relative risk surface.
Results
Significant MM odds ratio of 5.29 (95 CI: 1.18–23.74) was found for people living within a range up to 500 m centered on the plant. The non-parametric estimation of relative risk surface unveiled a marked peak near the plant not paralleled by the spatial distribution of controls.
Conclusion
Evidence of an association between mesothelioma risk and EAE is highlighted. The role played by the RMR in increasing the public health local authorities awareness is stressed.
Access options
Buy single article
Instant access to the full article PDF.
USD 39.95
Price excludes VAT (USA)
Tax calculation will be finalised during checkout.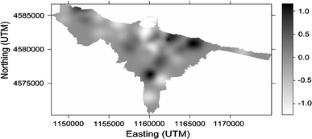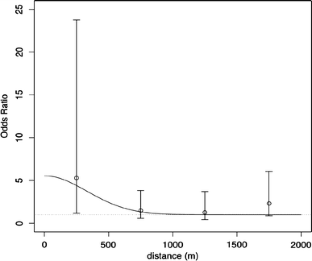 References
Albin M, Magnani C, Krstev S, Rapiti E, Shefer I (1999) Asbestos and cancer: an overview of current trends in Europe. Environ Health Perspect 107(Suppl 2):289–298. doi:10.2307/3434419

Amendola P, Belli S, Binazzi A, Cavalleri A, Comba P, Mastrantonio M et al (2003) Mortality from malignant pleural neoplasms in Broni (Pavia), 1980–1997. Epidemiol Prev 27(2):86–90

Berman M, Diggle PJ (1989) Estimated weighted integrals of the second-order intensity of a spatial point process. JRSS B 51:81–92

Bianchi C, Bianchi T (2007) Malignant mesothelioma: global incidence and relationship with asbestos. Ind Health 45(3):379–387. doi:10.2486/indhealth.45.379

Bianchi F, Biggeri A, Cadum E, Comba P, Forastiere F, Martuzzi M et al (2006) Environmental epidemiology and polluted areas in Italy. Epidemiol Prev 30(3):146–152

Biggeri A, Barbone F, Lagazio C, Bovensi M, Stanta G (1996) Air pollution and lung cancer in Trieste, Italy: spatial analysis of risk as a function of distance from sources. Environ Health Perspect 104:750–754. doi:10.2307/3433221

Bilancia M, Cavone D, Pollice A, Musti M (2003) Valutazione del rischio di mesotelioma: il caso di una fabbrica per la produzione di cemento-amianto nella città di Bari. Epidemiol Prev 27(5):277–282

Boffetta P (2006) Human cancer from environmental pollutants: the epidemiological evidence. Mutat Res 608(2):157–162

Bourdes V, Boffetta P, Pisani P (2000) Environmental exposure to asbestos and risk of pleural mesothelioma: review and meta-analysis. Eur J Epidemiol 16(5):411–417. doi:10.1023/A:1007691003600

Burdorf A, Järvholm B, Englund A (2005) Explaining differences in incidence rates of pleural mesothelioma between Sweden and the Netherlands. Int J Cancer 113(2):298–301. doi:10.1002/ijc.20552

Comba P, Ascoli V, Belli S, Benedetti M, Gatti L, Ricci P et al (2003) Risk of soft tissue sarcomas and residence in the neighbourhood of an incinerator of industrial wastes. Occup Environ Med 60(9):680–683. doi:10.1136/oem.60.9.680

Comba P, Merler E, Pasetto R (2005) Asbestos-related diseases in Italy: epidemiologic evidences and public health issues. Int J Occup Environ Health 11(1):36–44

Coviello V, Carbonara M, Bisceglia L, Di Pierri C, Ferri GM, Lo Izzo A et al (2002) Mortality in a cohort of asbestos cement workers in Bari. Epidemiol Prev 26(2):65–70

Cuzick J, Edwards R (1990) Spatial clustering for inhmogeneous population (with discussion). JRSS B 52:73:104

DeGiovanni D, Pesce B, Pondrano N (2004) Asbestos in Italy. Int J Occup Environ Health 10(2):193–197

Diggle P (2003) Statistical analysis of spatial point patterns, 2n edn. Hodder Arnold

Diggle PJ, Rowlingson BS (1994) A conditional approach to point process modelling of elevated risk. JRSS A 157:433–440

Dreassi E, Lagazio C, Maule MM, Magnani C, Biggeri A (2007) Sensitivity analysis of the relationship between disease occurrence and distance from a putative source of pollution (submitted)

Elliott P, Wartenberg D (2004) Spatial epidemiology: current approaches and future challenges. Environ Health Perspect 112(9):998–1006

Gatrell AC, Bailey TC, Diggle PJ, Rowlingson BS (1996) Spatial point pattern analysis and its application in geographical epidemiology. Trans Inst Engl Geogr 21:256–274. doi:10.2307/622936

Goldberg M, Luce D (2005) Can exposure to very low levels of asbestos induce pleural mesothelioma? Am J Respir Crit Care Med 172:939–940. doi:10.1164/rccm.2507003

Han D, Rogerson PA, Bonner MR, Nie J, Vena JE, Muti P, et al (2005) Assessing spatio-temporal variability of risk surfaces using residential history data in a case control study of breast cancer. Int J Health Geogr 12:4(1)

Hillerdal G (1999) Mesothelioma cases associated with non-occupational and low dose exposures. Occup Environ Med 56(8):505–513

Jacquez GM, Meliker JR, Avruskin GA, Goovaerts P, Kaufmann A, Wilson ML et al (2006) Case control geographic clustering for residential histories accounting for risk factors and covariates. Int J Health Geogr 5:32. doi:10.1186/1476-072X-5-32

La Vecchia C, Decarli A, Peto J, Levi F, Tomei F, Negri E (2000) An age, period and cohort analysis of pleural cancer mortality in Europe. Eur J Cancer Prev 9(3):179–184. doi:10.1097/00008469-200006000-00006

Magnani C, Agudo A, Gonzalez CA, Andrion A, Calleja A, Chellini E et al (2000) Multicentric study on malignant mesothelioma and non-occupational exposure to asbestos. Br J Cancer 83(1):104–111. doi:10.1054/bjoc.2000.1161

Magnani C, Dalmasso P, Biggeri A, Ivaldi C, Mirabelli D, Terracini B (2001) Increased risk of malignant mesothelioma of the pleura after residential or domestic exposure to asbestos: a case–control study in Casale Monferrato, Italy. Environ Health Perspect 109(9):915–919. doi:10.2307/3454992

Marinaccio A, Montanaro F, Mastrantonio M, Mastrantonio M, Uccelli R, Altavista P et al (2005) Predictions of mortality from pleural mesothelioma in Italy: a model based on asbestos consumption figures supports results from age-period-cohort models. Int J Cancer 115(1):142–147. doi:10.1002/ijc.20820

Mather FJ, White LE, Langlois EC, Shorter CF, Swalm CM, Shaffer JG et al (2004) Statistical methods for linking health, exposure, and hazards. Environ Health Perspect 112(14):1440–1445

Maule MM, Magnani C, Dalmasso P, Mirabelli D, Merletti F, Biggeri A (2007) Modeling mesothelioma risk associated with environmental asbestos exposure. Environ Health Perspect 115(7):1066–1071

Mirabelli D, Calisti R, Barone Adesi F, Fornero E, Merletti F, Magnani C (2008) Excess of mesotheliomas after exposure to chrysotile in Balangero, Italy. Occup Environ Med. 2008 Jun 4 Epub ahead of print

Morris SE, Wakefield JC (2000) Assessment of disease risk in relation to a pre-specified source. In: Elliot P, Wakefield JC, Best NG, Briggs DJ (eds) Spatial epidemiology—methods and applications. Oxford University Press, Oxford, pp 153–184

Musti M, Cavone D, Aalto Y, Scattone A, Serio G, Knuutila S (2002) A cluster of familial malignant mesothelioma with del (9p) as the sole chromosomal anomaly. Cancer Genet Cytogenet 138(1):73–76

Napoli S (1975) Inquinamento da amianto: rilievi critici sulle metodiche ed esperienze nella città di Bari. Lavoro Umano XXVII, 148–55

Newhouse ML, Thompson H (1993) Mesothelioma of pleura, peritoneum following exposure to asbestos in the London area. 1965. Br J Ind Med 50(9):769–778

Nuckols JR, Ward MH, Jarup L (2004) Using geographic information systems for exposure assessment in environmental epidemiology studies. Environ Health Perspect 112(9):1007–1015

Osman E, Hasan B, Meral U, Ercan A, Mehmet T, Nazan B et al (2007) Recent discovery of an old disease: malignant pleural mesothelioma in a village in south-east Turkey. Respirology 12(3):448–451

Pan XL, Day HW, Wang W, Beckett LA, Schenker MB (2005) Residential proximity to naturally occurring asbestos and mesothelioma risk in California. Am J Respir Crit Care Med 172(8):1019–1025

Pannelli F, Montanaro F, Pascucci C, Mirabelli D, Gennaro V (2006) Mesothelioma incidence and time trend in the worlds. Med Lav 97(5):682–693

Pasetto R, Comba P, Marconi A (2005) Mesothelioma associated with environmental exposure. Med Lav 96(4):330–337

Reid A, Berry G, de Klerk N, Hansen J, Heyworth J, Ambrosini G et al (2007) Age and sex differences in malignant mesothelioma after residential exposure to blue asbestos (crocidolite). Chest 131(2):376–382

Rogerson PA (2006) Statistical methods for the detection of spatial clustering in case–control data. Stat Med 25(5):811–823

Schneider J, Rödelsperger K, Pohlabeln H, Woitowitz HJ (1996) Environmental and indoor air exposure to asbestos fiber dust as a risk and causal factor of diffuse malignant pleural mesothelioma. Zentralbl Hyg Umweltmed 199(1):1–23

Szeszenia-Dabrowska N, Wilczynska U, Szymczak W, Laskowicz K (1998) Environmental exposure to asbestos in asbestos cement workers: a case of additional exposure from indiscriminate use of industrial wastes. Int J Occup Med Environ Health 11(2):171–177

Vieira V, Webster T, Aschengrau A, Ozonoff D (2002) A method for spatial analysis of risk in a population-based case–control study. Int J Hyg Environ Health 205(1–2):115–120
Acknowledgments
We thank Professor Annibale Biggeri for his comments to the manuscript. The authors would like to thank Professor Benedetto Terracini for the ideas on which this paper is based. Conflict of interest statement: None declared by any author.
About this article
Cite this article
Musti, M., Pollice, A., Cavone, D. et al. The relationship between malignant mesothelioma and an asbestos cement plant environmental risk: a spatial case–control study in the city of Bari (Italy). Int Arch Occup Environ Health 82, 489–497 (2009). https://doi.org/10.1007/s00420-008-0358-5
Received:

Accepted:

Published:

Issue Date:

DOI: https://doi.org/10.1007/s00420-008-0358-5
Keywords
Asbestos-cement plant

Environmental-neighborhood exposure

Mesothelioma register

Spatial case–control study

Public health

Italy