Abstract
Objectives: In search of less time-consuming methods of smoking cessation Allen Carr' seminars performed at workplaces in Austria were evaluated. Methods: Of all the 357 smokers attending a seminar in summer 2002, 308 (86%), consented to participate in a repeated health survey, including the SF-36 questionnaire. After 3 months 268 (87%) gave computer-aided telephone interviews and 223 (72%) after 1 year. Analysis by logistic regression was done separately for males and females. Results: The 1-year quit rate was 40% (worst case assumption) to 55% (best estimate). In 96% of quitters an intensive counseling for 6 h without pharmaceutical aid thereafter was sufficient to maintain abstinence for 12 months. A long smoking history or many earlier unsuccessful attempts to quit did not predict failure. The risk of relapse was found higher in young men with a high number of pack-years and in women with good physical fitness but high Fagerstroem score and financial reasons for the intention to quit smoking. While an average weight gain of 3 kg in males was not associated with failure to quit smoking, we found the highest weight gain (4 kg) in females in the group abstinent at 3 months but smoking again at 12 months. In all participants subjective life quality scored by SF-36 improved. In quitters perception of general health improved more. Conclusions: Group counseling at the workplace was found to be an efficient method of smoking cessation, capable of increasing subjective life quality and health and to smooth the way to smoke-free enterprises.
This is a preview of subscription content, log in to check access.
Access options
Buy single article
Instant access to the full article PDF.
US$ 39.95
Price includes VAT for USA
Subscribe to journal
Immediate online access to all issues from 2019. Subscription will auto renew annually.
US$ 199
This is the net price. Taxes to be calculated in checkout.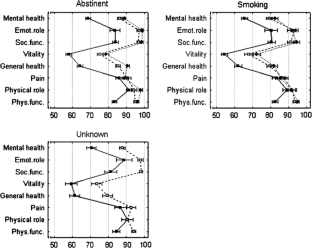 References
1.

Austrian Council on Smoking and Health. http://www.aerzteinitiative.at/

2.

Burns DM, Shanks TG, Major JM et al (2000) Restrictions on smoking in the workplace. In: Population based smoking cessation. U.S. Department of Health and Human Services, National Institutes of Health, National Cancer Institute. Monograph 12, NIH Publication No 4892, Bethesda, pp 99–128

3.

Carr A (1991) The easy way to stop smoking. London: Penguin Books, < http://www.allen-carr.com>

4.

Fagerstroem KO (1978) Measuring degree of physical dependence to tobacco smoke with reference to individualization of treatment. Addict Behav 3:235–241

5.

Fichtenberg CM, Glantz SA (2002) Effect of smoke-free workplaces on smoking behaviour: systematic review. Br Med J 325:188–91

6.

Fisher KJ, Glasgow RE, Terborg JR (1990) Work-site smoking cessation: a meta-analysis of long-term quit rates from controlled studies. J Occup Med 32:429–39

7.

Moher M, Hey K, Lancaster T (2003) Workplace interventions for smoking cessation. The Cochrane Library, Oxford, Issue 3

8.

Neuberger M (2003) Chemikalienmanagement am Arbeitsplatz. Sichere Arbeit 1:19–24. http://www.sicherearbeit.at/downloads/download_1107.pdf

9.

Pisinger C, Vestbo J, Borch-Johnsen K et al (2005) It is possible to help smokers in early motivational stages to quit The Inter99 study. Prev Med 40:278–284

10.

QualityMetric Inc. (2001) SF-36® health survey manual and interpretation guide. QualityMetric Inc., Lincoln. http://www.sf-36.org/

11.

Simpson D (2005) Austria: small but deadly. Tob Control 14:3–4

12.

Smedslund G, Fisher KJ, Boles SM et al (2004) The effectiveness of workplace smoking cessation programmes: a meta-analysis of recent studies. Tob Control 13:197–204

13.

Stead LF, Lancaster T (2003) Group behaviour therapy programmes for smoking cessation. The Cochrane Library, Oxford, Issue 3
Acknowledgements
There are no financial or other competing interests of the authors, but we acknowledge that Easyway Austria agreed to distribute questionnaires at the beginning of the seminars, to obtain written consent for two telephone interviews thereafter and to cover the costs of these interviews performed by an independent company. We gratefully acknowledge that Eric Stadler (marketmind, Vienna) supplied the original data.
Additional information
The Corresponding Author has the right to grant on behalf of all authors and does grant on behalf of all authors, an exclusive license on a worldwide basis to permit this article (if accepted) to be published in Int Arch Occup Environ Health.
About this article
Cite this article
Hutter, H., Moshammer, H. & Neuberger, M. Smoking cessation at the workplace: 1 year success of short seminars. Int Arch Occup Environ Health 79, 42–48 (2006). https://doi.org/10.1007/s00420-005-0034-y
Received:

Accepted:

Published:

Issue Date:
Keywords
Smoking cessation

Workplace

Group counseling

Health survey

SF-36