Abstract
Objectives
Epidemiological studies have reported an association between exposure to extremely low frequency electromagnetic fields (ELF-EMFs) and increased risk of cancerous diseases, albeit without dose–effect relationships. The validity of such findings can be corroborated only by demonstration of dose-dependent DNA-damaging effects of ELF-EMFs in cells of human origin in vitro.
Methods
Cultured human diploid fibroblasts were exposed to intermittent ELF electromagnetic fields. DNA damage was determined by alkaline and neutral comet assay.
Results
ELF-EMF exposure (50 Hz, sinusoidal, 1–24 h, 20–1,000 μT, 5 min on/10 min off) induced dose-dependent and time-dependent DNA single-strand and double-strand breaks. Effects occurred at a magnetic flux density as low as 35 μT, being well below proposed International Commission of Non-Ionising Radiation Protection (ICNIRP) guidelines. After termination of exposure the induced comet tail factors returned to normal within 9 h.
Conclusion
The induced DNA damage is not based on thermal effects and arouses concern about environmental threshold limit values for ELF exposure.
This is a preview of subscription content, log in to check access.
Access options
Buy single article
Instant access to the full article PDF.
US$ 39.95
Price includes VAT for USA
Subscribe to journal
Immediate online access to all issues from 2019. Subscription will auto renew annually.
US$ 199
This is the net price. Taxes to be calculated in checkout.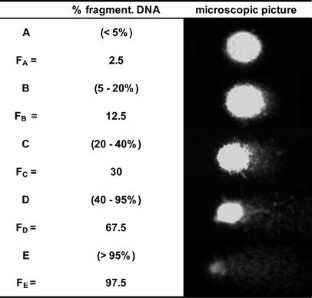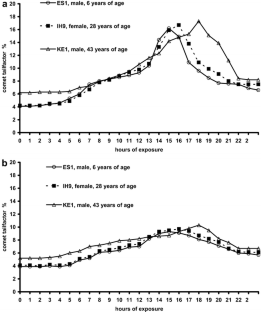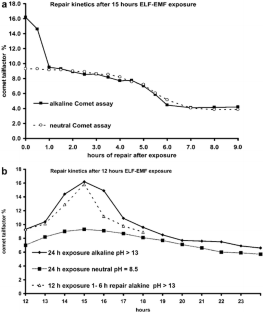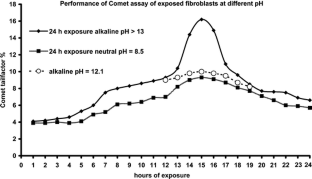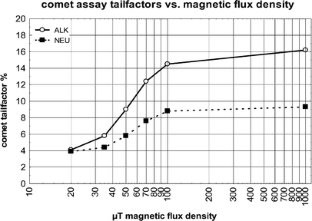 References
Anderson D, Yu TW, Phillips BJ, Schmerzer P (1994) The effect of various antioxidants and other modifying agents on oxygen-radical-generated DNA damage in human lymphocytes in the comet assay. Mutat Res 307:261–271

Diem E, Ivancsits S, Rüdiger HW (2002) Basal levels of DNA strand breaks in human leukocytes determined by comet assay. J Toxicol Environ Health A 65:641–648

Fairbairn JJ, Khan MW, Ward KJ, Loveridge BW, Fairbairn DW, O'Neill KL (1995) Induction of apoptotic cell DNA fragmentation in human cells after treatment with hyperthermia. Cancer Lett 89:183–188

Feychting M, Forssen U, Floderus B (1997) Occupational and residential magnetic field exposure and leukemia and central nervous system tumors. Epidemiology 8:384–389

International Agency for Research on Cancer (2002) Non-ionizing radiation, part 1: static and extremely low-frequency (ELF) electric and magnetic fields. IARC Monogr Eval Carcinog Risks Hum 80:1–395

International Commission on Non-Ionizing Radiation Protection (1998) Guidelines for limiting exposure to time-varying, magnetic, and electromagnetic fields up to 300 GHz. Health Phys 74:494–522

Ivancsits S, Diem E, Pilger A, Rüdiger HW, Jahn O (2002a) Induction of DNA strand breaks by exposure to extremely-low-frequency electromagnetic fields in human diploid fibroblasts. Mutat Res 519:1–13

Ivancsits S, Pilger A, Diem E, Schaffer A, Rüdiger HW (2002b) Vanadate induces DNA strand breaks in cultured human fibroblasts at doses relevant to occupational exposure. Mutat Res 519:25–35

Lai H, Singh N (1997) Acute exposure to a 60 Hz magnetic field increases DNA strand breaks in rat brain cells. Bioelectromagnetics 18:156–165

Li CY, Theriault G, Lin RS (1997) Residential exposure to 60 Hz magnetic fields and adult cancers in Taiwan. Epidemiology 8:25–30

McCann J, Dietrich F, Rafferty C, Martin AO (1993) A critical review of the genotoxic potential of electric and magnetic fields. Mutat Res 297:61–95

McCann J, Dietrich F, Rafferty C (1998) The genotoxic potential of electric and magnetic fields: an update. Mutat Res 411:45–86

Moulder JE (1998) Power-frequency fields and cancer. Crit Rev Biomed Eng 26:1–116

Murphy JC, Kaden DA, Warren J, Sivak A (1993) Power frequency electric and magnetic fields: a review of genetic toxicology. Mutat Res 296: 221–240

Östling O, Johanson KJ (1984) Microelectrophoretic study of radiation-induced DNA damages in individual mammalian cells. Biochem Biophys Res Commun 123:291–298

Savitz DA, Wachtel H, Barnes FA, John EM, Tvrdik JG (1988) Case control study of childhood cancer and exposure to 60 Hz magnetic fields. Am J Epidemiol 128:21–38

Schreibner GH, Swaen GMH, Meijers JMM, Slangen JJM, Sturmans F (1993) Cancer mortality and residence near electricity transmission equipment: a retrospective cohort study. Int J Epidemiol 22:9-15

Singh N, Lai H (1998) 60 Hz magnetic field exposure induces DNA crosslinks in rat brain cells. Mutat Res 400:313–320

Singh NP, McCoy MT, Tice RR, Schneider EL (1988) A simple technique for quantitation of low levels of DNA damage in individual cells. Exp Cell Res 175:184–191

Singh NP, Tice RR, Stephens RE, Schneider EL (1991) A microgelelectrophoresis technique for direct quantitation of DNA damage and repair in individual fibroblasts cultured on microscope slides. Mutat Res 252:289–296

Svedenstal BM, Johanson KJ, Mild K H (1999a) DNA damage induced in brain cells of CBA mice exposed to magnetic fields. In Vivo 13:551–552

Svedenstal BM, Johanson KJ, Mattsson MO, Paulsson LE (1999b) DNA damage, cell kinetics and ODC activities studied in CBA mice exposed to electromagnetic fields generated by transmission lines. In Vivo 13:507–513

Tomenius L (1986) 50 Hz electromagnetic environment and the incidence of childhood tumors in Stockholm County. Bioelectromagnetics 7:191–207

Van den Bosch M, Lohman PHM, Pastink (2002) A DNA double strand break repair by homologous recombination. Rev Biol Chem 383:873–892

Van Gent DC, Hoeijmakers JH, Kanaar R (2001) Chromosomal stability and the DNA double-strand break connection. Nat Rev Genet 2:196–206

Verkasalo PK, Pukkala E, Hongisto MY, Valjus JE, Järvinen PJ, Heikkilä KV, Koskenvuo M (1993) Risk of cancer in Finnish children living close to power lines. Br Med J 307:895–899

Wertheimer N, Leeper E (1979) Electrical wiring configurations and childhood cancer. Am J Epidemiol 109: 273–284
Acknowledgements
This study was funded by the European Union under the programme "Quality of Life and Management of Living Resources", Key Action 4 "Environment and Health": QLK4-CT-01574.
About this article
Cite this article
Ivancsits, S., Diem, E., Jahn, O. et al. Intermittent extremely low frequency electromagnetic fields cause DNA damage in a dose-dependent way. Int Arch Occup Environ Health 76, 431–436 (2003). https://doi.org/10.1007/s00420-003-0446-5
Received:

Accepted:

Published:

Issue Date:
Keywords
ELF-EMF

50-Hz sinusoidal

Intermittent exposure

Comet assay