Abstract
Health education is effective in primary, secondary and tertiary prevention of occupational skin disorders, as clearly demonstrated by interventional studies carried out at the University of Osnabrueck. Health education may intervene with (a) habituated behaviour of affected employees and (b) the condition of working environments. In conclusion, prevention of occupational skin diseases and maintenance of health can be achieved by the conditioning of individual behaviour via specific educational programmes in addition to dermatological care.
Access options
Buy single article
Instant access to the full article PDF.
USD 39.95
Price excludes VAT (USA)
Tax calculation will be finalised during checkout.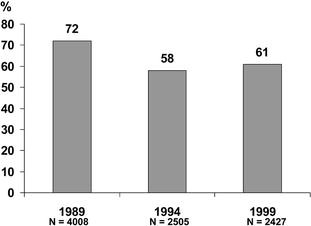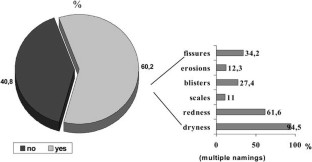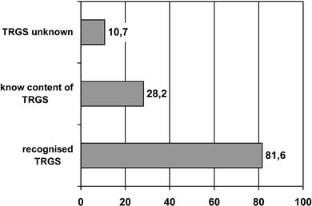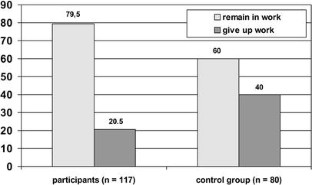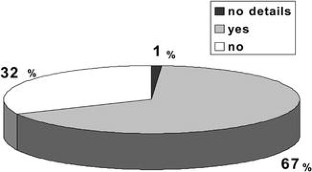 References
Berg M (1991) Evaluation of a questionnaire used in dermatological epidemiology. Discrepancy between self-reported symptoms and objective signs. Acta Derm Venereol 156:13–17

Bornmann M, Mahrenholz M, Manschwetus H, Weber H, Zeidler H (1993) Informationen und Gruppenseminare für Patienten mit rheumatischen Erkrankungen. Prävention 16:116–120

Budde U, Schwanitz HJ (1991) Kontaktdermatitiden bei Auszubildenden des Friseurhandwerks in Niedersachsen. Dermatosen 39:41–48

Clauss G, Finze F, Partzsch L (1995) Statistik für Soziologen, Pädagogen, Psychologen und Mediziner. Deutsch, Frankfurt, Germany

Donabedian A (1968) Promoting quality through evaluating the process of patient care. Med Care 6:181–202

Ehlers A, Gieler U, Stangier U (1995) Treatment of atopic dermatitis: a comparison of psychological and dermatological approaches to relapse prevention. J Consult Clin Psychol 63:624–635

Fartasch M (1995) Human barrier formation and reaction to irritation. In: Elsner P, Maibach HI (eds) Irritant dermatitis. New clinical and experimental aspects. Current problems in dermatology. Karger, Basle, Switzerland, pp 95–103

Greilich K, Revermann K, Wulfhorst B, Schwanitz HJ (1999) Dermatosen bei Auszubildenden des Friseurhandwerks in Niedersachsen im Jahre 1999. Dermatosen 47:195–196

Kalimo K, Kautiainen H, Niskanen T, Niemi L (1999) 'Eczema school' to improve compliance in an occupational dermatology clinic. Contact Dermatitis 41:315–319

Nevitt GJ, Hutchinson PE (1996) Psoriasis in the community: prevalence, severity and patients' beliefs and attitudes towards the disease. Br J Dermatol 135:533–537

Riehl U (2000) Interventionsstudie zur Prävention von Hauterkrankungen bei Auszubildenden des Friseurhandwerks. Rasch, Osnabrück, Germany

Rycroft RJG (1992) Occupational contact dermatitis. In: Rycroft RJG, Menné T, Frosch PJ, Benezra C (eds) Textbook of contact dermatitis. Springer, Berlin Heidelberg New York, pp 343–412

Schmid-Ott G, Jaeger B, Kuensebeck HW, Ott R, Lamprecht F (1996) Dimension of stigmatisation in patients with psoriasis in a "Questionnaire on experience with skin complaints". Dermatology 193:304–310

Schmidt U, Schwanitz HJ (1994) Dermatosen bei Auszubildenden des Friseurhandwerks in Niedersachsen—ein Vergleich zwischen 1989 und 1994. Dermatosen 45:121–125

Schwanitz HJ (1988) Atopic palmoplantar eczema. Springer, Heidelberg Berlin Tokyo New York

Schwanitz HJ, Uter W (2000) Interdigital dermatitis: sentinel skin damage in hairdressers. Br J Dermatol 142:1011–1012

Schwanitz HJ, Wulfhorst B (2000) Workers education. In: Kanerva L, et al. (eds) Occupational dermatoses handbook. Springer, Berlin Heidelberg New York, pp 441–443

Siller E, Schliephacke J (1994) Arbeitssicherheitsgesetz (ASIG). 11. überarb. Aufl., BG für Feinmechanik und Elektrotechnik, Cologne, Germany

Stresemann E, Rudolph R, Fischer K (1992) Wiederherstellung berufskranker Friseure. Ein neues Rehabilitationsmodell. Dustri, München-Deisenhofen

Troschke JV (1993) Qualitätssicherung in der Prävention und Gesundheitsförderung. Prävention 16:4–8

Uter W, Gefeller O, Schwanitz HJ (1995) Occupational dermatitis in hairdressing apprentices: early onset irritant skin damage. In: Elsner P, Maibach HI (eds) Irritant dermatitis, new clinical and experimental aspects. Karger, Basle, Switzerland, pp 49–55

Van der Valle HB, Brunsveld VM (1994) Dermatitis in hairdressers (I). The experience of the past 4 years. Contact Dermatitis 30:217–221

Verband deutscher Rentenversicherungsträger (VDR ) (eds) (1991) Reha-Kommission Abschlussberichte. Bd. VI Arbeitsbereich Wissenschaft und Lehre. Frankfurt, Germany

World Health Organization (WHO) (1986) Ottawa Charter for Health Promotion. WHO, Geneva

Wulfhorst B (1996) Hautschutzseminare. In: Schwanitz HJ, Uter W, Wulfhorst B (eds) Neue Wege zur Prävention: Paradigma Friseurekzem. Rasch, Osnabrück, Germany, pp 176–186

Wulfhorst B (1996) Betriebsberatungen. In: Schwanitz HJ, Uter W, Wulfhorst B (eds) Neue Wege zur Prävention: Paradigma Friseurekzem. Rasch, Osnabrück, Germany, pp 187–197
Additional information
Paper presented at the Occupational Skin care Management State-of-the-Art Conference, 1–3 September 2000, Zurich
About this article
Cite this article
Schwanitz, H.J., Riehl, U., Schlesinger, T. et al. Skin care management: educational aspects. Int Arch Occup Environ Health 76, 374–381 (2003). https://doi.org/10.1007/s00420-002-0428-z
Received:

Accepted:

Published:

Issue Date:

DOI: https://doi.org/10.1007/s00420-002-0428-z
Keywords
Occupational skin diseases

Wet work occupations

Health promotion

Health education

Primary, secondary and tertiary prevention

Behaviour and condition prevention