Abstract
No expression and distribution patterns of polyamines (PAs), spermine, spermidine, and their precursor putrescine in mammalian hair follicle are available, although polyamines are known to correlate well with hair growth and epidermal tumor genesis. Immunohistochemistry (IHC) using our original two monoclonal antibodies (mAbs) ASPM-29 specific for spermine or spermidine, and APUT-32 specific for putrescine allowed us to detect immunoreactivity for polyamines in hair follicles from normal adult rats. A wide range of immunoreactivity for the total spermine and spermidine was observed in the compartments of hair follicle: The highest degree of immunoreactivity for polyamines was observed in the matrix, in the Huxley's layer, in the deeper Henle's layer, and in the cuticle of the inner root sheath/the hair cuticle, while moderate immunoreactivity existed in the lower-to-mid cortex and the companion layer, followed by lower immunoreactivity in the outer root sheath, including the bulge region and in the deeper medulla, in which the immunoreactivity was also evident in their nuclei. In addition, somewhat surprisingly, with IHC by APUT-32 mAb, we detected significant levels of putrescine in the compartments, in which the immunostaining pattern was the closely similar to that of the total spermine and spermidine. Thus, among these compartments, the cell types of the matrix, the Huxley's layer, the deeper Henle's layer, and the cuticle of the inner root sheath/the hair cuticle seem to have the biologically higher potential in compartments of anagen hair follicle, maybe suggesting that they are involved more critically in the biological event of hair growth. In addition, we noted sharp differences of immunostaining by IHCs between ASPM-29 mAb and APUT-32 mAb in the epidermis cells and fibroblast. ASPM-29 mAb resulted in strong staining in both the cell types, but APUT-32 mAb showed only very light staining in both types. Consequently, the use of the two IHCs could be extremely useful in further studies on hair cycle and epidermal tumor genesis experimentally or clinically.
Access options
Buy single article
Instant access to the full article PDF.
USD 39.95
Price excludes VAT (USA)
Tax calculation will be finalised during checkout.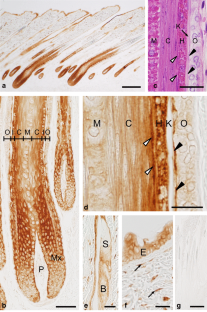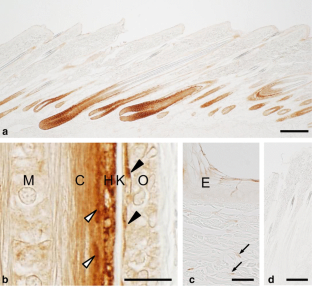 Abbreviations
PAs:

Polyamine(s)

Spm:

Spermine

Spd:

Spermidine

Put:

Putrescine

t-SP:

Total Spm and Spd

IHC:

Immunohistochemistry

ASPM-29 mAb:

Anti-spermine monoclonal antibody

APUT-32 mAb:

Anti-putrescine monoclonal antibody

RT:

Room temperature

HF:

Hair follicle

PBS:

Phosphate-buffered saline

TBS:

50 mM Tris–HCl buffer pH 7.4 containing 0.86% NaCl

TBST:

TBS supplemented with 0.1% Triton X-100
References
Algranati ID, Goldemberg SH (1977) Translation of natural mRNA in cell-free systems from a polyamine-requiring mutant of Escherichia coli. Biochem Biophys Res Commun 75(4):1045–1051

Fawcett DW (1986) A textbook of histology, 11th edn. Saunders, Igaku-Shoin, pp 543–575

Feith DJ, Origanti S, Shoop PL, Sass-Kuhn S, Shantz LM (2006) Tumor suppressor activity of ODC antizyme in MEK-driven skin tumorigenesis. Carcinogenesis 27:1090–1098

Fujiwara K, Masuyama Y (1995) Monoclonal antibody against the glutaraldehyde-conjugated polyamine, spermine. Histochem Cell Biol 104:309–316

Fujiwara K, Masuyama Y, Kitagawa T (1996) Immunocytochemical localization of polyamines in the gastrointestinal tracts of rats and mice. Histochem Cell Biol 106:465–471

Fujiwara K, Bai G, Kitagawa T, Tsuru D (1998) Immunoelectron microscopic study for polyamines. J Histochem Cytochem 46:1321–1328

Fujiwara K, Tanabe T, Yabuuchi M, Ueoka R, Tsuru D (2001) A monoclonal antibody against the glutaraldehyde-conjugated polyamine, putrescine: application to immunocytochemistry. Histochem Cell Biol 115:471–477

Fujiwara K, Shin M, Hougaard DM, Larsson LI (2007) Distribution of anticancer antibiotic daunomycin in the rat heart and kidney revealed by immunocytochemistry using monoclonal antibodies. Histochem Cell Biol 127(1):69–77

Graham RC, Karnovsky MJ (1966) Glomerular permeability. Ultrastructural cytochemical studies using peroxidases as protein tracers. J Exp Med 124:1123–1134

Homberg M, Magin TM (2014) Beyond expectations: novel insights into epidermal keratin function and regulation. Int Rev Cell Mol Biol 311:265–306

Hynd PI, Nancarrow MJ (1996) Inhibition of polyamines synthesis alters hair follicle function and fiber composition. J Invest Dermatol 106:249–253

Jänne J, Pösö H, Raina A (1978) Polyamines in rapid growth and cancer.Biochim. Biophys Acta 473(3–4):241–93

Langbein L, Yoshida H, Praetzel-Wunder S, Parry DA, Schweizer J (2010) The keratins of the human beard hair medulla: The riddle in the middle. J Invest Dermatol 130:55–73

Mathur M, Neo M (1976) kinetics of proliferation and differentiation in the hair follicle and epidermis in neonatally undernourished rats. Am J Pathol 82:9–24

McCormack SA, Johnson LR (2001) Polyamines and cell migration. J Physiol Pharmacol 52:327–349

Moll R, Divo M, Langbein L (2008) The human keratins: biology and pathology. Histochem Cell Biol 129:705–733

Myllyharju J, Kivirikko KI (2001) Collagens and collagen-related diseases. Ann Med 33:7–21

Nancarrow MJ, Nesci A, Hynd PI, Powell BC (1999) Dynamic expression of ornithine decarboxylase in hair growth. Mech Develop 84:161–164

Ogasawara T, Ito K, Igarashi K (1989) Effect of polyamines on globin synthesis in a rabbit reticulocyte polyamine-free protein synthetic system. J Biochem 105:164–167

Pegg AE (1986) Recent advances in the biochemistry of polymines in eukaryotes. Biochem J 234: 249 – 62

Probst E, Krebs A (1975) Ornithine decarboxylase activity in relation to DNA synthesis in mouse interfollicular epidermis and hair follicles. Biochim Biophys Acta 407:147–157

Ramot Y, Pietila M, Giuliani G, Rinaldi F, Alhonen L, Paus R (2010) Polyamines and hair: a couple in search of perfection. Exp Dermatol 19:784–790

Shi C, Cooper TK, McCloskey DE, Glick AB, Shantz LM, Feith DJ (2012) S-adenosylmethionine decarboxylase overexpression inhibits mouse skin tumor promotion. Carcinogenesis 33:1310–1318

Shin M, Hirokawa K, Fujiwara K (2006) Immunoelectron microscopic study of polyamines in the gastrointestinal tract of rat. Histochem Cell Biol 125:369–375

Shin M, Nakamuta H, Oda-Ueda N, Larsson LI, Fujiwara K (2008) Immunocytochemical demonstration of polyamines in nucleoli and nuclei. Histochem Cell Biol 129:659–665

Soler AP, Gilliard G, Megosh LC, O'Brien TG (1996) Modulation of murine hair follicle function by alterations in ornithine decarboxylase activity. J Invest Dermatol 106:1108–1113

Sundberg JP, Erickson AA, Roop DR, Binder RL (1994) Ornithine decarboxylase expression in cutaneous papillomas in Sencar mice is associated with altered expression of keratins 1 and 10. Cancer Res 54:1344–1351

Sylvie R-B, Ruggiero F (2005) The collagen superfamily: from the extracellular matrix to the cell membrane. Pathol Biol (Paris) 53(7):430–442

Tabor H, Tabor CW (1964) Spermidine, spermine and related amines. Pharmacol Rev 16:245–300

Tabor CW, Tabor H (1984) Polyamines. Annu Rev Biochem 53:749–790

Thomas T, Thomas TJ (2003) Polyamine metabolism and cancer. J Cell Med 7:113–126
About this article
Cite this article
Yamamoto, Y., Makino, T., Kudo, H. et al. Expression and distribution patterns of spermine, spermidine, and putrescine in rat hair follicle. Histochem Cell Biol 149, 161–167 (2018). https://doi.org/10.1007/s00418-017-1621-1
Accepted:

Published:

Issue Date:

DOI: https://doi.org/10.1007/s00418-017-1621-1
Keywords
Polyamine(s)

Spermine

Spermidine

Putrescine

Immunohistochemistry

Hair follicle(s)

Monoclonal antibody

Rat