Abstract
Reconstitution and renewal of tissues are key topics in developmental biology. In this brief work, we analyzed the wintry spent phase of the reproductive cycle in the Manila clam Ruditapes philippinarum (Bivalvia, Veneridae) in order to study the gonad rebuilding that in this species occurs at the beginning of the warmer months. We labeled VASA homolog protein—a germ cell marker—and compared the histological observations of the spent phase with those of the previously analyzed gametogenic phase. In R. philippinarum, during the reproductive season, most of the body mass is represented by sack-like structures (acini) full of developing gametes. In that period, VASA-stained cells are present at the basal pole of the gut epithelium, in the connective tissue, and around the acini. We here show that during the spent phase large portions of the intestine lack such cell type, except for some areas showing a few faintly VASA-stained cells. Cells with similar nuclear morphology are present among loosely organized cells of connective tissue, sometimes as single units, sometimes in small groups, rarely partially organized in primordial gonadic structures. These observations match the findings of RNA-targeting studies that during the spent phase identified the source of bivalve germ cells within the connective tissue in the form of quiescent units and add new information on the possible maintenance of VASA-stained, multipotent cells among the batiprismatic cells of the intestine during the whole life span of these bivalves.
Access options
Buy single article
Instant access to the full article PDF.
USD 39.95
Price excludes VAT (USA)
Tax calculation will be finalised during checkout.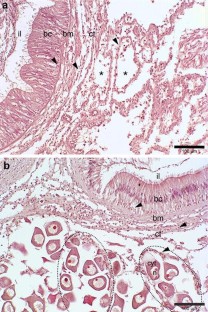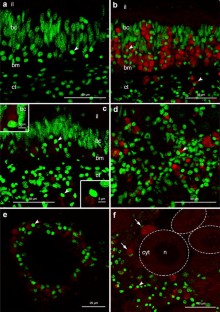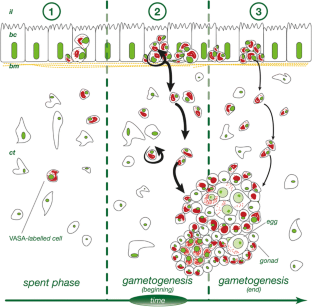 References
Beninger PG, Le Pennec G, Le Pennec M (2003) Demonstration of nutrient pathway from the digestive system to oocytes in the gonad intestinal loop of the scallop Pecten maximus L. Biol Bull 205:83–92. doi:10.2307/1543448

Bettini S, Lazzari M, Franceschini V (2012) Quantitative analysis of crypt cell population during postnatal development of the olfactory organ of the guppy, Poecilia reticulata (Teleostei, Poecilidae), from birth to sexual maturity. J Exp Biol 215:2711–2715. doi:10.1242/jeb.069039

Devauchelle N (1990) Sexual development and maturity of Tapes philippinarum. In: Agostini D, Alessandra G (eds) Tapes philippinarum: biologia e sperimentazione, 1st edn. Ente Sviluppo Agricolo Veneto (ESAV), Venice, pp 48–62

Fabioux C, Pouvreau S, Le Roux F et al (2004) The oyster vasa-like gene: A specific marker of the germline in Crassostrea gigas. Biochem Biophys Res Commun 315:897–904. doi:10.1016/j.bbrc.2004.01.145

Gosling E (2003) Bivalve molluscs: biology, ecology and culture. Fishing News Books, Oxford

Juliano CE, Swartz SZ, Wessel GM (2010) A conserved germline multipotency program. Development 137:4113–4126. doi:10.1242/dev.047969

Khanna DR, Yadav PR (2004) Biology of Mollusca. Discovery publishing house, New Delhi

Lasko P (2013) The DEAD-box helicase Vasa: evidence for a multiplicity of functions in RNA processes and developmental biology. Biochim Biophys Acta 1829:810–816. doi:10.1016/j.bbagrm.2013.04.005

Linder P, Fuller-Pace FV (2013) Looking back on the birth of DEAD-box RNA helicases. Biochim Biophys Acta 1829:750–755. doi:10.1016/j.bbagrm.2013.03.007

Milani L, Ghiselli F, Maurizii MG et al (2011) Doubly uniparental inheritance of mitochondria as a model system for studying germ line formation. PLoS One 6:e28194. doi:10.1371/journal.pone.0028194

Milani L, Maurizii MG, Pecci A et al (2015a) Localization and dynamics of primordial germ cells in the bivalve species Ruditapes philippinarum. Mol Reprod Dev 82:406–407. doi:10.1002/mrd.22502

Milani L, Ghiselli F, Pecci A et al (2015b) The expression of a novel mitochondrially-encoded gene in gonadic precursors may drive paternal inheritance of mitochondria. PLoS One 10:e0137468. doi:10.1371/journal.pone.0137468

Milani L, Pecci A, Ghiselli F et al (2017) VASA expression suggests shared germ line dynamics in bivalve molluscs. Histochem Cell Biol 148:157–171. doi:10.1007/s00418-017-1560-x

Obata M, Sano N, Kimata S et al (2010) The proliferation and migration of immature germ cells in the mussel, Mytilus galloprovincialis: observation of the expression pattern in the M. galloprovincialis vasa-like gene (Myvlg) by in situ hybridization. Dev Genes Evol 220:139–149. doi:10.1007/s00427-010-0335-3

Salvini-Plawen Lv, Hauptmann G (2013) Mollusca. In: Westheide W, Rieger R (eds) Spezielle Zoologie, Teil 1: Einzeller und wirbellose Tiere, 3rd edn. Spectrum, München, pp 293–356

Sano N, Kimata S, Obata M et al (2015) Distribution and migration of immature germ cells in the pearl oyster Pinctada fucata with the expression pattern of the vasa ortholog by In situ hybridization. J Shellfish Res 34:803–809. doi:10.2983/035.034.0309

Sbrenna G, Campioni D (1994) Gametogenic and spawning patterns of Manila clams Tapes philippinarum (Bivalvia:Veneroida) in two lagoons of the river Po Delta, Italy. J Shellfish Res 13:37–46

Solana J (2013) Closing the circle of germline and stem cells: the primordial stem cell hypothesis. EvoDevo 4:2. doi:10.1186/2041-9139-4-2

Takashima S, Gold D, Hartenstein V (2013) Stem cells and lineages of the intestine: a developmental and evolutionary perspective. Dev Genes Evol 223:85–102. doi:10.1007/s00427-012-0422-8

Weismann AJF (1892) Das Keimplasma: eine Theorie der Vererbung. Fischer, Jena

Wessel GM (2016) Germ line mechanics—and unfinished business. Curr Top Dev Biol 117:553–566. doi:10.1016/bs.ctdb.2015.11.030

Woodland HR (2016) The birth of animal development: multicellularity and the germline. Curr Top Dev Biol 117:609–630. doi:10.1016/bs.ctdb.2015.10.020

Yajima M, Wessel GM (2011) The multiple hats of Vasa: its functions in the germline and in cell cycle progression. Mol Reprod Dev 78:861–867. doi:10.1002/mrd.21363

Yajima M, Wessel GM (2015) Essential elements for translation: the germline factor Vasa functions broadly in somatic cells. Development 142:1960–1970. doi:10.1242/dev.118448
Acknowledgements
We would like to thank Edoardo Turolla (Istituto Delta Ecologia Applicata, Ferrara, Italy) for providing Ruditapes philippinarum specimens, and Simone Bettini for his help in histological sample preparation.
Ethics declarations
Ethics approval
All applicable international, national, and/or institutional guidelines for the care and use of animals were followed, in accordance with the Directive 2010/63/EU.
Conflict of interest
The authors declare that they have no competing interests.
Funding
This study was funded by the Italian Ministry of Education, University and Research MIUR-SIR Programme (Grant Number RBSI14G0P5) funded to LM, by the Italian Ministry of Education, University and Research MIUR-FIR Programme (Grant Number RBFR13T97A) funded to FG, and by 2014 RFO funding University of Bologna to MGM.
Electronic supplementary material
Below is the link to the electronic supplementary material.
About this article
Cite this article
Milani, L., Pecci, A., Ghiselli, F. et al. Germ cell line during the seasonal sexual rest of clams: finding niches of cells for gonad renewal. Histochem Cell Biol 149, 105–110 (2018). https://doi.org/10.1007/s00418-017-1607-z
Accepted:

Published:

Issue Date:

DOI: https://doi.org/10.1007/s00418-017-1607-z
Keywords
VASA

DEAD-box RNA helicase

Multipotent stem cells

Gonad development

Ruditapes philippinarum