Abstract
The blood–urine barrier is the tightest and most impermeable barrier in the body and as such represents a problem for intravesical drug delivery applications. Differentiation-dependent low endocytotic rate of urothelial cells has already been noted; however, the differences in endocytosis of normal and cancer urothelial cells have not been exploited yet. Here we analysed the endocytosis of rhodamine B isothiocyanate-labelled polyacrylic acid-coated cobalt ferrite nanoparticles (NPs) in biomimetic urothelial in vitro models, i.e., in highly and partially differentiated normal urothelial cells, and in cancer cells of the papillary and invasive urothelial neoplasm. We demonstrated that NPs enter papillary and invasive urothelial neoplasm cells by ruffling of the plasma membrane and engulfment of NP aggregates by macropinocytotic mechanism. Transmission electron microscopy (TEM) and spectrophotometric analyses showed that the efficacy of NPs delivery into normal urothelial cells and intercellular space is largely restricted, while it is significantly higher in cancer urothelial cells. Moreover, we showed that the quantification of fluorescent NP internalization in cells or tissues based on fluorescence detection could be misleading and overestimated without TEM analysis. Our findings contribute to the understanding of endocytosis-mediated cellular uptake of NPs in cancer urothelial cells and reveal a highly selective mechanism to distinguish cancer and normal urothelial cells.
Access options
Buy single article
Instant access to the full article PDF.
USD 39.95
Price excludes VAT (USA)
Tax calculation will be finalised during checkout.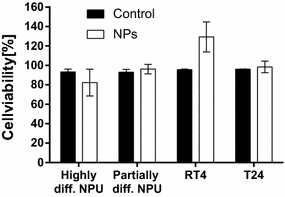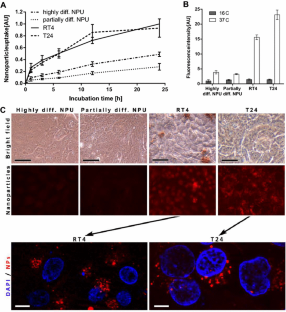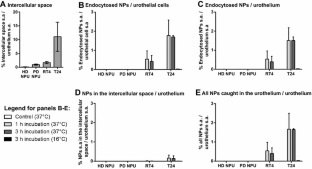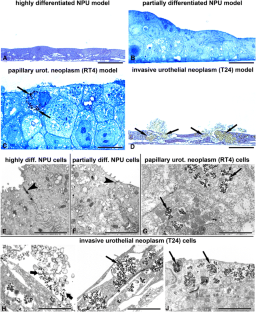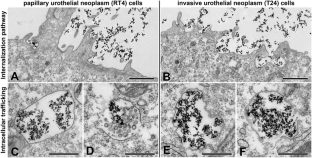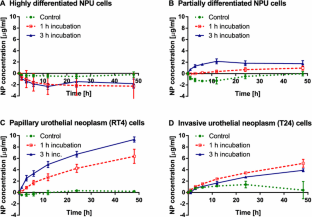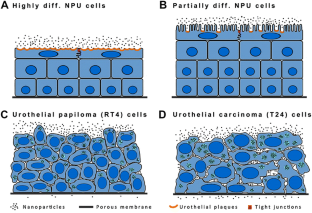 Abbreviations
NP:

Nanoparticle

PAA:

Polyacrylic acid

RITC:

Rhodamine B isothiocyanate

FBS:

Foetal bovine serum

DLS:

Dynamic light scattering

NPU:

Normal porcine urothelial cells

T24:

Human bladder invasive urothelial neoplasm cell line

RT4:

Human bladder papillary urothelial neoplasm cell line

TEM:

Transmission electron microscopy

AU:

Arbitrary units
References
Amiri S, Shokrollahi H (2013) The role of cobalt ferrite magnetic nanoparticles in medical science. Mater Sci Eng C 33:1–8. doi:10.1016/j.msec.2012.09.003

Apodaca G (2004) The uroepithelium: not just a passive barrier. Traffic Cph Den 5:117–128. doi:10.1046/j.1600-0854.2003.00156.x

Bae YH, Park K (2011) Targeted drug delivery to tumors: myths, reality and possibility. J Control Release Off J Control Release Soc 153:198–205. doi:10.1016/j.jconrel.2011.06.001

Bilensoy E, Sarisozen C, Esendağli G, Doğan AL, Aktaş Y, Sen M, Mungan NA (2009) Intravesical cationic nanoparticles of chitosan and polycaprolactone for the delivery of Mitomycin C to bladder tumors. Int J Pharm 371:170–176. doi:10.1016/j.ijpharm.2008.12.015

Bregar VB, Pavlin M, Žnidaršič A (2010) Magnetization state in magnetic nanoparticle agglomerates. In: Proc 8th Int Conf Sci Clin Appl Magn Carr May 25–29 2010 Rostock Ger Melveille NY Am Inst Phys, vol 1311, pp 59–64

Bregar VB, Lojk J, Šuštar V, Veranič P, Pavlin M (2013) Visualization of internalization of functionalized cobalt ferrite nanoparticles and their intracellular fate. Int J Nanomed 8:919–931. doi:10.2147/IJN.S38749

Bubeník J, Barešová M, Viklický V, Jakoubková J, Sainerová H, Donner J (1973) Established cell line of urinary bladder carcinoma (T24) containing tumour-specific antigen. Int J Cancer 11:765–773. doi:10.1002/ijc.2910110327

Campelj S, Makovec D, Drofenik M (2008) Preparation and properties of water-based magnetic fluids. J Phys Condens Matter 20:204101. doi:10.1088/0953-8984/20/20/204101

Chang L-C, Wu S-C, Tsai J-W, Yu T-J, Tsai T-R (2009) Optimization of epirubicin nanoparticles using experimental design for enhanced intravesical drug delivery. Int J Pharm 376:195–203. doi:10.1016/j.ijpharm.2009.04.045

Chen G, He Y, Wu X, Zhang Y, Luo C, Jing P (2012) In vitro and in vivo studies of pirarubicin-loaded SWNT for the treatment of bladder cancer. Braz J Med Biol Res 45:771–776. doi:10.1590/S0100-879X2012007500111

Chihara Y, Fujimoto K, Kondo H, Moriwaka Y, Sasahira T, Hirao Y, Kuniyasu H (2007) Anti-tumor effects of liposome-encapsulated titanium dioxide in nude mice. Pathobiol J Immunopathol Mol Cell Biol 74:353–358. doi:10.1159/000110029

Derycke ASL, Kamuhabwa A, Gijsens A, Roskams T, De Vos D, Kasran A, Huwyler J, Missiaen L, de Witte PAM (2004) Transferrin-conjugated liposome targeting of photosensitizer AlPcS4 to rat bladder carcinoma cells. J Natl Cancer Inst 96:1620–1630. doi:10.1093/jnci/djh314

Erdoğar N, Iskit AB, Mungan NA, Bilensoy E (2012) Prolonged retention and in vivo evaluation of cationic nanoparticles loaded with Mitomycin C designed for intravesical chemotherapy of bladder tumours. J Microencapsul 29:576–582. doi:10.3109/02652048.2012.668957

Erdoğar N, Iskit AB, Eroğlu H, Sargon MF, Mungan NA, Bilensoy E (2015) Antitumor efficacy of Bacillus Calmette-Guerin loaded cationic nanoparticles for intravesical immunotherapy of bladder tumor induced rat model. J Nanosci Nanotechnol 15:10156–10164

Föllmann W, Guhe C, Weber S, Birkner S, Mähler S (2000) Cultured porcine urinary bladder epithelial cells as a screening model for genotoxic effects of aromatic amines: characterisation and application of the cell culture model. Altern Lab Anim ATLA 28:833–854

Frangos DN, Killion JJ, Fan D, Fishbeck R, von Eschenbach AC, Fidler IJ (1990) The development of liposomes containing interferon alpha for the intravesical therapy of human superficial bladder cancer. J Urol 143:1252–1256

Guo H, Qian H, Idris NM, Zhang Y (2010) Singlet oxygen-induced apoptosis of cancer cells using upconversion fluorescent nanoparticles as a carrier of photosensitizer. Nanomed Nanotechnol Biol Med 6:486–495. doi:10.1016/j.nano.2009.11.004

Habuchi T (2005) Origin of multifocal carcinomas of the bladder and upper urinary tract: molecular analysis and clinical implications. Int J Urol Off J Jpn Urol Assoc 12:709–716. doi:10.1111/j.1442-2042.2005.01155.x

Herr HW, Dotan Z, Donat SM, Bajorin DF (2007) Defining optimal therapy for muscle invasive bladder cancer. J Urol 177:437–443. doi:10.1016/j.juro.2006.09.027

Homhuan A, Harashima H, Yano I (2008) Cellular attachment and internalization of cationic liposomes containing mycobacterial cell wall. Sci Asia 34:179. doi:10.2306/scienceasia1513-1874.2008.34.179

Horiguchi Y, Larchian WA, Kaplinsky R, Fair WR, Heston WD (2000) Intravesical liposome-mediated interleukin-2 gene therapy in orthotopic murine bladder cancer model. Gene Ther 7:844–851. doi:10.1038/sj.gt.3301157

Huang C, Neoh KG, Xu L, Kang ET, Chiong E (2012) Polymeric nanoparticles with encapsulated superparamagnetic iron oxide and conjugated cisplatin for potential bladder cancer therapy. Biomacromolecules 13:2513–2520. doi:10.1021/bm300739w

Hudoklin S, Zupančič D, Makovec D, Kreft Romih R (2013) Gold nanoparticles as physiological markers of urine internalization into urothelial cells in vivo. Int J Nanomed. doi:10.2147/IJN.S44363

Imani R, Veranič P, Iglič A, Kreft ME, Pazoki M, Hudoklin S (2015) Combined cytotoxic effect of UV-irradiation and TiO2 microbeads in normal urothelial cells, low-grade and high-grade urothelial cancer cells. Photochem Photobiol Sci Off J Eur Photochem Assoc Eur Soc Photobiol 14:583–590. doi:10.1039/c4pp00272e

Jerman UD, Kreft ME, Veranič P (2015) Epithelial–mesenchymal interactions in urinary bladder and small intestine and how to apply them in tissue engineering. Tissue Eng Part B Rev 21:521–530. doi:10.1089/ten.TEB.2014.0678

Johnson JW, Nayar R, Killion JJ, von Eschenbach AC, Fidler IJ (1989) Binding of liposomes to human bladder tumor epithelial cell lines: implications for an intravesical drug delivery system for the treatment of bladder cancer. Sel Cancer Ther 5:147–155

Kang MR, Yang G, Place RF, Charisse K, Epstein-Barash H, Manoharan M, Li L-C (2012) Intravesical delivery of small activating RNA formulated into lipid nanoparticles inhibits orthotopic bladder tumor growth. Cancer Res 72:5069–5079. doi:10.1158/0008-5472.CAN-12-1871

Kaufman DS (2006) Challenges in the treatment of bladder cancer. Ann Oncol Off J Eur Soc Med Oncol ESMO 17(Suppl 5):v106–v112. doi:10.1093/annonc/mdj963

Khandelwal P, Abraham SN, Apodaca G (2009) Cell biology and physiology of the uroepithelium. Am J Physiol Ren Physiol 297:F1477–F1501. doi:10.1152/ajprenal.00327.2009

Killion JJ, Fan D, Bucana CD, Frangos DN, Price JE, Fidler IJ (1989) Augmentation of antiproliferative activity of interferon alfa against human bladder tumor cell lines by encapsulation of interferon alfa within liposomes. J Natl Cancer Inst 81:1387–1392

Kim J-H, Kim Y-S, Park K, Lee S, Nam HY, Min KH, Jo HG, Park JH, Choi K, Jeong SY, Park R-W, Kim I-S, Kim K, Kwon IC (2008) Antitumor efficacy of cisplatin-loaded glycol chitosan nanoparticles in tumor-bearing mice. J Control Release Off J Control Release Soc 127:41–49. doi:10.1016/j.jconrel.2007.12.014

Kirkali Z, Chan T, Manoharan M, Algaba F, Busch C, Cheng L, Kiemeney L, Kriegmair M, Montironi R, Murphy WM, Sesterhenn IA, Tachibana M, Weider J (2005) Bladder cancer: epidemiology, staging and grading, and diagnosis. Urology 66:4–34. doi:10.1016/j.urology.2005.07.062

Ko Y-J, Canil CM, Mukherjee SD, Winquist E, Elser C, Eisen A, Reaume MN, Zhang L, Sridhar SS (2013) Nanoparticle albumin-bound paclitaxel for second-line treatment of metastatic urothelial carcinoma: a single group, multicentre, phase 2 study. Lancet Oncol 14:769–776. doi:10.1016/S1470-2045(13)70162-1

Kreft ME, Sterle M, Veranic P, Jezernik K (2005) Urothelial injuries and the early wound healing response: tight junctions and urothelial cytodifferentiation. Histochem Cell Biol 123:529–539. doi:10.1007/s00418-005-0770-9

Kreft ME, Jezernik K, Kreft M, Romih R (2009a) Apical plasma membrane traffic in superficial cells of bladder urothelium. Ann N Y Acad Sci 1152:18–29. doi:10.1111/j.1749-6632.2008.04004.x

Kreft ME, Romih R, Kreft M, Jezernik K (2009b) Endocytotic activity of bladder superficial urothelial cells is inversely related to their differentiation stage. Differentiation 77:48–59. doi:10.1016/j.diff.2008.09.011

Lasič E, Višnjar T, Kreft ME (2015) Properties of the urothelium that establish the blood–urine barrier and their implications for drug delivery. Rev Physiol Biochem Pharmacol 168:1–29. doi:10.1007/112_2015_22

Leakakos T, Ji C, Lawson G, Peterson C, Goodwin S (2003) Intravesical administration of doxorubicin to swine bladder using magnetically targeted carriers. Cancer Chemother Pharmacol 51:445–450. doi:10.1007/s00280-003-0597-9

Lin T-Y, Zhang H, Luo J, Li Y, Gao T, Lara PNJ, de Vere White R, Lam KS, Pan C-X (2012) Multifunctional targeting micelle nanocarriers with both imaging and therapeutic potential for bladder cancer. Int J Nanomed 7:2793–2804. doi:10.2147/IJN.S27734

Lin T-Y, Li Y-P, Zhang H, Luo J, Goodwin N, Gao T, de Vere White R, Lam KS, Pan CX (2013) Tumor-targeting multifunctional micelles for imaging and chemotherapy of advanced bladder cancer. Nanomedicine 8:1239–1251. doi:10.2217/nnm.12.150

Lojk J, Bregar VB, Rajh M, Miš K, Kreft ME, Pirkmajer S, Veranič P, Pavlin M (2015) Cell type-specific response to high intracellular loading of polyacrylic acid-coated magnetic nanoparticles. Int J Nanomed 10:1449–1462. doi:10.2147/IJN.S76134

Lu Z, Yeh T-K, Wang J, Chen L, Lyness G, Xin Y, Wientjes MG, Bergdall V, Couto G, Alvarez-Berger F, Kosarek CE, Au JL-S (2011) Paclitaxel gelatin nanoparticles for intravesical bladder cancer therapy. J Urol 185:1478–1483. doi:10.1016/j.juro.2010.11.091

Martin DT, Hoimes CJ, Kaimakliotis HZ, Cheng CJ, Zhang K, Liu J, Wheeler MA, Kelly WK, Tew GN, Saltzman WM, Weiss RM (2013) Nanoparticles for urothelium penetration and delivery of the histone deacetylase inhibitor belinostat for treatment of bladder cancer. Nanomed Nanotechnol Biol Med 9:1124–1134. doi:10.1016/j.nano.2013.05.017

Martin DT, Steinbach JM, Liu J, Shimizu S, Kaimakliotis HZ, Wheeler MA, Hittelman AB, Saltzman WM, Weiss RM (2014) Surface modified nanoparticles enhance transurothelial penetration and delivery of survivin siRNA in treating bladder cancer. Mol Cancer Ther 13:71–81. doi:10.1158/1535-7163.MCT-13-0502

Matsumoto K, Kikuchi E, Horinaga M, Takeda T, Miyajima A, Nakagawa K, Oya M (2011) Intravesical interleukin-15 gene therapy in an orthotopic bladder cancer model. Hum Gene Ther 22:1423–1432. doi:10.1089/hum.2011.013

McKiernan JM, Barlow LJ, Laudano MA, Mann MJ, Petrylak DP, Benson MC (2011) A phase I trial of intravesical nanoparticle albumin-bound paclitaxel in the treatment of bacillus Calmette–Guérin refractory nonmuscle invasive bladder cancer. J Urol 186:448–451. doi:10.1016/j.juro.2011.03.129

Moll R, Wu XR, Lin JH, Sun TT (1995) Uroplakins, specific membrane proteins of urothelial umbrella cells, as histological markers of metastatic transitional cell carcinomas. Am J Pathol 147:1383–1397

Mosesson Y, Mills GB, Yarden Y (2008) Derailed endocytosis: an emerging feature of cancer. Nat Rev Cancer 8:835–850. doi:10.1038/nrc2521

Mudshinge SR, Deore AB, Patil S, Bhalgat CM (2011) Nanoparticles: Emerging carriers for drug delivery. Saudi Pharm J 19:129–141. doi:10.1016/j.jsps.2011.04.001

Mugabe C, Matsui Y, So AI, Gleave ME, Baker JHE, Minchinton AI, Manisali I, Liggins R, Brooks DE, Burt HM (2011) In vivo evaluation of mucoadhesive nanoparticulate docetaxel for intravesical treatment of non-muscle-invasive bladder cancer. Clin Cancer Res Off J Am Assoc Cancer Res 17:2788–2798. doi:10.1158/1078-0432.CCR-10-2981

Nakamura T, Fukiage M, Higuchi M, Nakaya A, Yano I, Miyazaki J, Nishiyama H, Akaza H, Ito T, Hosokawa H, Nakayama T, Harashima H (2014) Nanoparticulation of BCG-CWS for application to bladder cancer therapy. J Control Release Off J Control Release Soc 176:44–53. doi:10.1016/j.jconrel.2013.12.027

Neutsch L, Wambacher M, Wirth E-M, Spijker S, Kählig H, Wirth M, Gabor F (2013a) UPEC biomimickry at the urothelial barrier: lectin-functionalized PLGA microparticles for improved intravesical chemotherapy. Int J Pharm 450:163–176. doi:10.1016/j.ijpharm.2013.04.058

Neutsch L, Wirth E-M, Spijker S, Pichl C, Kählig H, Gabor F, Wirth M (2013b) Synergistic targeting/prodrug strategies for intravesical drug delivery—lectin-modified PLGA microparticles enhance cytotoxicity of stearoyl gemcitabine by contact-dependent transfer. J Control Release Off J Control Release Soc 169:62–72. doi:10.1016/j.jconrel.2013.04.004

Nirmal J, Chuang Y-C, Tyagi P, Chancellor MB (2012) Intravesical therapy for lower urinary tract symptoms. Urol Sci 23:70–77. doi:10.1016/j.urols.2012.07.005

Nogawa M, Yuasa T, Kimura S, Tanaka M, Kuroda J, Sato K, Yokota A, Segawa H, Toda Y, Kageyama S, Yoshiki T, Okada Y, Maekawa T (2005) Intravesical administration of small interfering RNA targeting PLK-1 successfully prevents the growth of bladder cancer. J Clin Invest 115:978–985. doi:10.1172/JCI23043

Oliveira TR, Stauffer PR, Lee C-T, Landon CD, Etienne W, Ashcraft KA, McNerny KL, Mashal A, Nouls J, Maccarini PF, Beyer WF, Inman B, Dewhirst MW (2013) Magnetic fluid hyperthermia for bladder cancer: a preclinical dosimetry study. Int J Hyperth Off J Eur Soc Hyperthermic Oncol North Am Hyperth Group 29:835–844. doi:10.3109/02656736.2013.834384

Owusu RA, Abern MR, Inman BA, Owusu RA, Abern MR, Inman BA (2013) Hyperthermia as adjunct to intravesical chemotherapy for bladder cancer, hyperthermia as adjunct to intravesical chemotherapy for bladder cancer. BioMed Res Int BioMed Res Int 2013:e262313. doi:10.1155/2013/262313

Palaniyandi K, Pockaj BA, Gendler SJ, Chang X-B (2012) Human breast cancer stem cells have significantly higher rate of clathrin-independent and caveolin-independent endocytosis than the differentiated breast cancer cells. J Cancer Sci Ther 4:214–222

Pavlin M, Bregar VB (2012) Stability of nanoparticle suspensions in different biologically relevant media. Dig J Nanomater Biostructures 7:1389–1400

Prijic S, Prosen L, Cemazar M, Scancar J, Romih R, Lavrencak J, Bregar VB, Coer A, Krzan M, Znidarsic A, Sersa G (2012) Surface modified magnetic nanoparticles for immuno-gene therapy of murine mammary adenocarcinoma. Biomaterials 33:4379–4391. doi:10.1016/j.biomaterials.2012.02.061

Rajaganapathy BR, Chancellor MB, Nirmal J, Dang L, Tyagi P (2015) Bladder uptake of liposomes after intravesical administration occurs by endocytosis. PLoS One 10:e0122766. doi:10.1371/journal.pone.0122766

Resnik N, Repnik U, Kreft ME, Sepčić K, Maček P, Turk B, Veranič P (2015) Highly selective anti-cancer activity of cholesterol-interacting agents methyl-β-cyclodextrin and ostreolysin A/pleurotolysin B protein complex on urothelial cancer cells. PLoS One 10:e0137878. doi:10.1371/journal.pone.0137878

Rigby CC, Franks LM (1970) A human tissue culture cell line from a transitional cell tumour of the urinary bladder: growth, chromosone pattern and ultrastructure. Br J Cancer 24:746–754

Seth S, Matsui Y, Fosnaugh K, Liu Y, Vaish N, Adami R, Harvie P, Johns R, Severson G, Brown T, Takagi A, Bell S, Chen Y, Chen F, Zhu T, Fam R, Maciagiewicz I, Kwang E, McCutcheon M, Farber K, Charmley P, Houston MEJ, So A, Templin MV, Polisky B (2011) RNAi-based therapeutics targeting survivin and PLK1 for treatment of bladder cancer. Mol Ther J Am Soc Gene Ther 19:928–935. doi:10.1038/mt.2011.21

Strojan K, Leonardi A, Bregar VB, Križaj I, Svete J, Pavlin M (2017) Dispersion of nanoparticles in different media importantly determines the composition of their protein corona. PLoS One 12:e0169552. doi:10.1371/journal.pone.0169552

Sun TT, Zhao H, Provet J, Aebi U, Wu XR (1996) Formation of asymmetric unit membrane during urothelial differentiation. Mol Biol Rep 23:3–11

Sun T, Zhang YS, Pang B, Hyun DC, Yang M, Xia Y (2014) Engineered nanoparticles for drug delivery in cancer therapy. Angew Chem Int Ed 53:12320–12364. doi:10.1002/anie.201403036

Sweeney SK, Luo Y, O'Donnell MA, Assouline J (2016) Nanotechnology and cancer: improving real-time monitoring and staging of bladder cancer with multimodal mesoporous silica nanoparticles. Cancer Nanotechnol. doi:10.1186/s12645-016-0015-8

Tomlinson B, Lin T, Dall'Era M, Pan CX (2015) Nanotechnology in bladder cancer: current state of development and clinical practice. Nanomedicine 10:1189–1201. doi:10.2217/nnm.14.212

Tonsho M, Michel S, Ahmed Z, Alessandrini A, Madsen JC (2014) Heart transplantation: challenges facing the field. Cold Spring Harb Perspect Med. doi:10.1101/cshperspect.a015636

Tourinho FA, Franck R, Massart R (1990) Aqueous ferrofluids based on manganese and cobalt ferrites. J Mater Sci 25:3249–3254. doi:10.1007/BF00587682

Tratnjek L, Romih R, Kreft ME (2017) Differentiation-dependent rearrangements of actin filaments and microtubules hinder apical endocytosis in urothelial cells. Accept Histochem Cell Biol. doi:10.1007/s00418-017-1566-4

Triantafyllou M, Studer UE, Birkhäuser FD, Fleischmann A, Bains LJ, Petralia G, Christe A, Froehlich JM, Thoeny HCJM (2013) Ultrasmall superparamagnetic particles of iron oxide allow for the detection of metastases in normal sized pelvic lymph nodes of patients with bladder and/or prostate cancer. Eur J Cancer Oxf Engl 49:616–624. doi:10.1016/j.ejca.2012.09.034

Truschel ST, Wang E, Ruiz WG, Leung S-M, Rojas R, Lavelle J, Zeidel M, Stoffer D, Apodaca G (2002) Stretch-regulated exocytosis/endocytosis in bladder umbrella cells. Mol Biol Cell 13:830–846. doi:10.1091/mbc.01-09-0435

Tsallas A, Jackson J, Burt H (2010) The uptake of paclitaxel and docetaxel into ex vivo porcine bladder tissue from polymeric micelle formulations. Cancer Chemother Pharmacol 68:431–444. doi:10.1007/s00280-010-1499-2

Turner AM, Subramaniam R, Thomas DFM, Southgate J (2008) Generation of a functional, differentiated porcine urothelial tissue in vitro. Eur Urol 54:1423–1432. doi:10.1016/j.eururo.2008.03.068

Višnjar T, Kreft ME (2013) Air-liquid and liquid-liquid interfaces influence the formation of the urothelial permeability barrier in vitro. In Vitro Cell Dev Biol Anim 49:196–204. doi:10.1007/s11626-013-9585-5

Višnjar T, Kreft ME (2015) The complete functional recovery of chitosan-treated biomimetic hyperplastic and normoplastic urothelial models. Histochem Cell Biol 143:95–107. doi:10.1007/s00418-014-1265-3

Višnjar T, Kocbek P, Kreft ME (2012) Hyperplasia as a mechanism for rapid resealing urothelial injuries and maintaining high transepithelial resistance. Histochem Cell Biol 137:177–186. doi:10.1007/s00418-011-0893-0

Wei J, Cheang T, Tang B, Xia H, Xing Z, Chen Z, Fang Y, Chen W, Xu A, Wang S, Luo J (2013) The inhibition of human bladder cancer growth by calcium carbonate/CaIP6 nanocomposite particles delivering AIB1 siRNA. Biomaterials 34:1246–1254. doi:10.1016/j.biomaterials.2012.09.068

Wientjes MG, Badalament RA, Wang RC, Hassan F, Au JL (1993) Penetration of mitomycin C in human bladder. Cancer Res 53:3314–3320

Winquist E, Ernst DS, Jonker D, Moore MJ, Segal R, Lockwood G, Rodgers A (2003) Phase II trial of pegylated-liposomal doxorubicin in the treatment of locally advanced unresectable or metastatic transitional cell carcinoma of the urothelial tract. Eur J Cancer 39:1866–1871. doi:10.1016/S0959-8049(03)00358-7

Yan X, Al-Hayek S, Huang H, Zhu Z, Zhu W, Guo H (2013) Photodynamic effect of 5-aminolevulinic acid-loaded nanoparticles on bladder cancer cells: a preliminary investigation. Scand J Urol 47:145–151. doi:10.3109/00365599.2012.713000

Yang H-W, Hua M-Y, Liu H-L, Tsai R-Y, Pang S-T, Hsu P-H, Tang H-J, Yen T-C, Chuang C-K (2012) An epirubicin-conjugated nanocarrier with MRI function to overcome lethal multidrug-resistant bladder cancer. Biomaterials 33:3919–3930. doi:10.1016/j.biomaterials.2012.02.020

Zhou D, Zhang G, Gan Z (2013) c(RGDfK) decorated micellar drug delivery system for intravesical instilled chemotherapy of superficial bladder cancer. J Control Release Off J Control Release Soc 169:204–210. doi:10.1016/j.jconrel.2013.01.025

Zupancic D, Romih R (2013) Heterogeneity of uroplakin localization in human normal urothelium, papilloma and papillary carcinoma. Radiol Oncol 47:338–345. doi:10.2478/raon-2013-0052
Acknowledgements
We express gratitude to Sandra Žunič, Sanja Čabraja, Linda Štrus, Nada Pavlica Dubarič, and Sabina Železnik for their technical assistance. The study was supported by the Slovenian Research Agency (Grant nos. J2-6758, J3-6794, J7-7424, J3-7494, P1-0055, P3-0108, young researchers program and MRIC UL IP-0510 Infrastructure program).
Ethics declarations
Conflict of interest
Jasna Lojk, Vladimir Boštjan Bregar, Peter Veranič, Mojca Pavlin and Mateja Erdani Kreft declare a pending patent (GB1418311.5). The authors declare no other conflict of interests.
About this article
Cite this article
Lojk, J., Bregar, V.B., Strojan, K. et al. Increased endocytosis of magnetic nanoparticles into cancerous urothelial cells versus normal urothelial cells. Histochem Cell Biol 149, 45–59 (2018). https://doi.org/10.1007/s00418-017-1605-1
Accepted:

Published:

Issue Date:

DOI: https://doi.org/10.1007/s00418-017-1605-1
Keywords
Urothelial models

Endocytosis

Uptake quantification

Toxicity

Selective uptake