Abstract
Vesicle-associated membrane protein 5 (VAMP5) is a member of the SNARE protein family, which is generally thought to regulate the docking and fusion of vesicles with their target membranes. This study investigated the expression and localization of the VAMP5 protein. Immunoblotting analyses detected the VAMP5 protein in skeletal muscle, heart, spleen, lung, liver, and kidney tissue, but not in brain or small intestine tissue. Through the immunofluorescence microscopy of skeletal muscle, we found that the expression level of VAMP5 varies among fibers. Most of the fibers with high expression levels of VAMP5 were categorized as type IIa fibers on the basis of their myosin heavy chain subtypes. In addition, the expression patterns of VAMP5 and glucose transporter 4 (GLUT4) were similar. In cardiac muscle, we determined that VAMP5 was localized to the vicinity of intercalated discs. These results suggest that VAMP5 plays local roles in membrane trafficking in skeletal and cardiac muscle.
Access options
Buy single article
Instant access to the full article PDF.
US$ 39.95
Tax calculation will be finalised during checkout.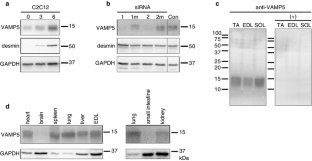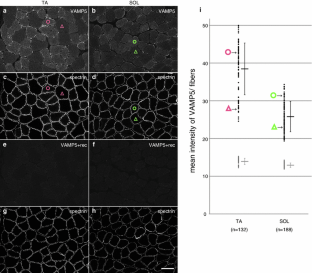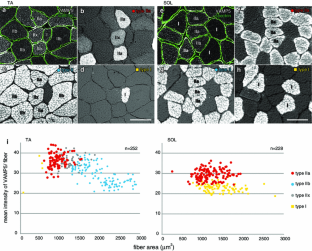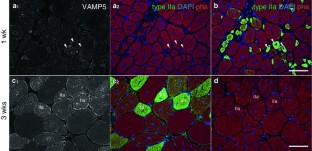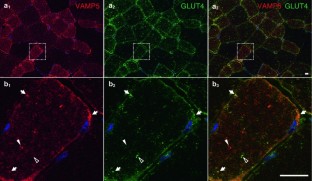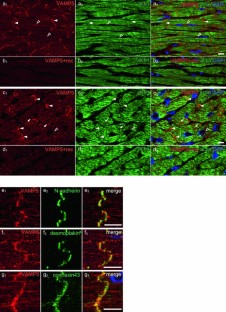 References
Beardslee MA, Laing JG, Beyer EC, Saffitz JE (1998) Rapid turnover of connexin43 in the adult rat heart. Circ Res 83:629–635

Berthoud V (2004) Pathways for degradation of connexins and gap junctions. Cardiovasc Res 62:256–267. doi:10.1016/j.cardiores.2003.12.021

Bryant NJ, Govers R, James DE (2002) Regulated transport of the glucose transporter GLUT4. Nat Rev Mol Cell Biol 3:267–277. doi:10.1038/nrm782

Chaineau M, Danglot L, Galli T (2009) Multiple roles of the vesicular-SNARE TI-VAMP in post-Golgi and endosomal trafficking. FEBS Lett 583:3817–3826. doi:10.1016/j.febslet.2009.10.026

Chen YA, Scheller RH (2001) SNARE-mediated membrane fusion. Nat Rev Mol Cell Biol 2:98–106. doi:10.1038/35052017

Hoyt RH, Cohen ML, Saffitz JE (1989) Distribution and three-dimensional structure of intercellular junctions in canine myocardium. Circ Res 64:563–574

Jahn R, Scheller RH (2006) SNAREs—engines for membrane fusion. Nat Rev Mol Cell Biol 7:631–643. doi:10.1038/nrm2002

Lauritzen HPMM, Galbo H, Brandauer J et al (2008) Large GLUT4 vesicles are stationary while locally and reversibly depleted during transient insulin stimulation of skeletal muscle of living mice: imaging analysis of GLUT4-enhanced green fluorescent protein vesicle dynamics. Diabetes 57:315–324. doi:10.2337/db06-1578

Marette A, Richardson JM, Ramlal T et al (1992) Abundance, localization, and insulin-induced translocation of glucose transporters in red and white muscle. Am J Physiol 263:C443–C452

Noorman M, van der Heyden MAG, van Veen TAB et al (2009) Cardiac cell–cell junctions in health and disease: electrical versus mechanical coupling. J Mol Cell Cardiol 47:23–31. doi:10.1016/j.yjmcc.2009.03.016

Peters MF, Adams ME, Froehner SC (1997) Differential association of syntrophin pairs with the dystrophin complex. J Cell Biol 138:81–93. doi:10.2307/1618124

Ploug T, van Deurs B, Ai H et al (1998) Analysis of GLUT4 distribution in whole skeletal muscle fibers: identification of distinct storage compartments that are recruited by insulin and muscle contractions. J Cell Biol 142:1429–1446

Rose AJ, Jeppesen J, Kiens B, Richter EA (2009) Effects of contraction on localization of GLUT4 and v-SNARE isoforms in rat skeletal muscle. Am J Physiol Regul Integr Comp Physiol 297:R1228–R1237. doi:10.1152/ajpregu.00258.2009

Sato M, Yoshimura S, Hirai R et al (2011) The role of VAMP7/TI-VAMP in cell polarity and lysosomal exocytosis in vivo. Traffic 12:1383–1393. doi:10.1111/j.1600-0854.2011.01247.x

Schwenk RW, Dirkx E, Coumans WA et al (2010) Requirement for distinct vesicle-associated membrane proteins in insulin- and AMP-activated protein kinase (AMPK)-induced translocation of GLUT4 and CD36 in cultured cardiomyocytes. Diabetologia 53:2209–2219. doi:10.1007/s00125-010-1832-7

Severs NJ, Shovel KS, Slade AM et al (1989) Fate of gap junctions in isolated adult mammalian cardiomyocytes. Circ Res 65:22–42

Shewan AM, van Dam EM, Martin S, et al. (2003) GLUT4 recycles via a trans-Golgi network (TGN) subdomain enriched in syntaxins 6 and 16 but not TGN38: involvement of an acidic targeting motif

Smyth JW, Hong T–T, Gao D et al (2010) Limited forward trafficking of connexin 43 reduces cell–cell coupling in stressed human and mouse myocardium. J Clin Invest 120:266. doi:10.1172/JCI39740

Smyth JW, Vogan JM, Buch PJ et al (2012) Actin cytoskeleton rest stops regulate anterograde traffic of connexin 43 vesicles to the plasma membrane. Circ Res 110:978–989. doi:10.1161/CIRCRESAHA.111.257964

Tajika Y, Sato M, Murakami T et al (2007) VAMP2 is expressed in muscle satellite cells and up-regulated during muscle regeneration. Cell Tissue Res 328:573–581. doi:10.1007/s00441-006-0376-0

Tajika Y, Murakami T, Sato M et al (2008) VAMP2 is expressed in myogenic cells during rat development. Dev Dyn 237:1886–1892. doi:10.1002/dvdy.21596

Tajika Y, Takahashi M, Hino M et al (2010) VAMP2 marks quiescent satellite cells and myotubes, but not activated myoblasts. Acta Histochem Cytochem 43:107–114. doi:10.1267/ahc.10010

Towler MC, Kaufman SJ, Brodsky FM (2004) Membrane traffic in skeletal muscle. Traffic 5:129–139. doi:10.1111/j.1600-0854.2003.00164.x

Zeng Q, Subramaniam V, Wong S et al (1998) A novel synaptobrevin/VAMP homologous protein (VAMP5) is increased during in vitro myogenesis and present in the plasma membrane. Mol Biol Cell 9:2423–2437
Acknowledgments
We thank H. Matsuda, M. Shikada and Y. Morimura for both technical and administrative assistance. This work was supported in part by Grants-in-Aid for Scientific Research from the Ministry of Education, Culture, Sports, Science, and Technology of Japan.
About this article
Cite this article
Takahashi, M., Tajika, Y., Khairani, A.F. et al. The localization of VAMP5 in skeletal and cardiac muscle. Histochem Cell Biol 139, 573–582 (2013). https://doi.org/10.1007/s00418-012-1050-0
Accepted:

Published:

Issue Date:
Keywords
VAMP5

SNARE

Skeletal muscle

Cardiac muscle

Vesicle trafficking

Membrane fusion