Abstract
The presence of multipotent cells in several adult and embryo-related tissues opened new paths for their use in regenerative medicine. Extraembryonic tissues such as umbilical cord are considered a promising source of stem cells, potentially useful in therapy. The characterization of cells from the umbilical cord matrix (Wharton's Jelly) and amniotic membrane revealed the presence of a population of mesenchymal-like cells, sharing a set of core-markers expressed by "mesenchymal stem cells". Several reports enlightened the differentiation capabilities of these cells, even if at times the lack of an extensive characterization of surface markers and immune co-stimulators expression revealed hidden pitfalls when in vivo transplantation was performed. The present work describes a novel isolation protocol for obtaining mesenchymal stem cells from the umbilical cord matrix. These cells are clonogenic, retain long telomeres, can undergo several population doublings in vitro, and can be differentiated in mature mesenchymal tissues as bone and adipose. We describe for the first time that these cells, besides expressing all of the core-markers for mesenchymal stem cells, feature also the expression, at both protein and mRNA level, of tolerogenic molecules and markers of all the three main lineages, potentially important for both their differentiative potential as well as immunological features.
This is a preview of subscription content, log in to check access.
Access options
Buy single article
Instant access to the full article PDF.
US$ 39.95
Tax calculation will be finalised during checkout.
Subscribe to journal
Immediate online access to all issues from 2019. Subscription will auto renew annually.
US$ 199
Tax calculation will be finalised during checkout.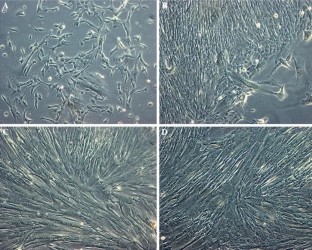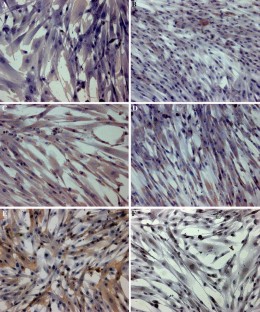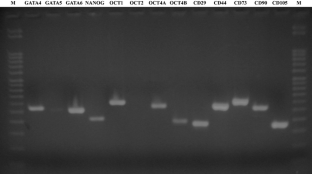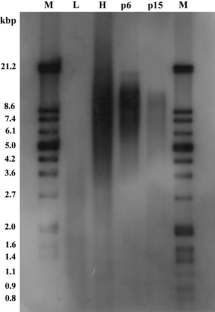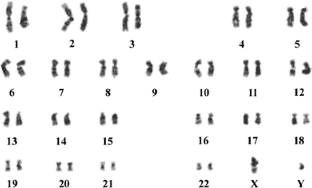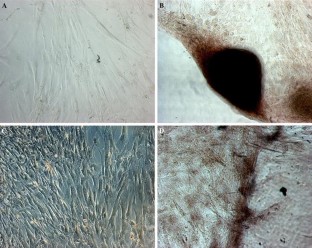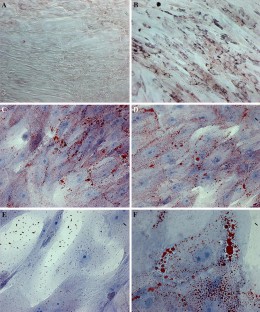 References
Alviano F, Fossati V, Marchionni C, Arpinati M, Bonsi L, Franchina M, Lanzoni G, Cantoni S, Cavallini C, Bianchi F, Tazzari PL, Pasquinelli G, Foroni L, Ventura C, Grossi A, Bagnara GP (2007) Term amniotic membrane is a high throughput source for multipotent mesenchymal stem cells with the ability to differentiate into endothelial cells in vitro. BMC Dev Biol 7:11

Baker DEC, Harrison NJ, Maltby E, Smith K, Moore HD, Shaw PJ, Heath PR, Holden H, Andrews PW (2007) Adaptation to culture of human embryonic stem cells and oncogenesis in vivo. Nat Biotechnol 25:207–215

Balamurugan AN, He J, Guo F, Stolz DB, Bertera S, Geng X, Ge X, Trucco M, Bottino R (2005) Harmful delayed effects of exogenous isolation enzymes on isolated human islets: relevance to clinical transplantation. Am J Transplant 5:2671–2681

Blaschitz A, Hutter H, Dohr G (2001) HLA Class I protein expression in the human placenta. Early Pregnancy 5:67–69

Campbell PA, Perez-Iratxeta C, Andrade-Navarro MA, Rudnicki MA (2007) Oct4 targets regulatory nodes to modulate stem cell function. PLoS ONE 2:e533

Can A, Karahuseyinoglu S (2007) Concise review: human umbilical cord stroma with regard to the source of fetus-derived stem cells. Stem Cells 25:2886–2895

Chamberlain G, Fox J, Ashton B, Middleton J (2007) Mesenchymal stem cells: their phenotype, differentiation capacity, immunological features and potential for homing. Stem Cells 25:2739–2749

Chiavegato A, Bollini S, Pozzobon M, Callegari A, Gasparotto L, Taiani J, Piccoli M, Lenzini E, Gerosa G, Vendramin I, Cozzi E, Angelini A, Iop L, Zanon GF, Atala A, De Coppi P, Sartore S (2007) Human amniotic fluid-derived stem cells are rejected after transplantation in the myocardium of normal, ischemic, immuno-suppressed or immuno-deficient rat. J Mol Cell Cardiol 42:746–759

Csaki C, Matis U, Mobasheri A, Ye H, Shakibaei M (2007) Chondrogenesis, osteogenesis and adipogenesis of canine mesenchymal stem cells: a biochemical, morphological and ultrastructural study. Histochem Cell Biol 128:507–520

De Coppi P, Bartsch J Jr, Siddiqui MM, Xu T, Santos CC, Perin L, Mostoslavsky G, Serre AC, Snyder EY, Yoo JJ, Furth ME, Soker S, Atala A (2007) Isolation of amniotic stem cell lines with potential for therapy. Nat Biotechnol 25:100–106

Emslie D, D'Costa K, Hasbold J, Metcalf D, Takatsu K, Hodgkin PO, Corcoran LM (2008) Oct2 enhanced antibody-secreting cell differentiation through regulation of IL-5 receptor alpha chain expression on activated B cells. J Exp Med 205:409–421

English K, Barry FP, Mahon BP (2008) Murine mesenchymal stem cells suppress dendritic cell migration, maturation and antigen presentation. Immunol Lett 115:50–58

Franco D, Moreno N, Ruiz-Lozano P (2007) Non-resident stem cell populations in regenerative cardiac medicine. Cell Mol Life Sci 64:683–691

Haigh T, Chen CP, Jones CJP, Aplin JD (1999) Studies of mesenchymal cells from 1st trimester human placenta: expression of cytokeratin outside the trophoblast lineage. Placenta 20:615–625

Hung CT, Mauck RL (2004) Biological assays: cellular level. In: Moore JE, Zouridakis G (eds) Biomedical technology and devices handbook. CRC Press, London, pp 15:1–15:39

In 'tAnker PS, Scherjon SA, Kleijburg-van der Keur C, Noort WA, Claas FHJ, Willemze R, Fibbe WE, Kanhai HHH (2003) Amniotic fluid as a novel source of mesenchymal stem cells for therapeutic transplantation. Blood 102:1548–1549

Kang XQ, Zang WJ, Bao LJ, Li DL, Xu XL, Yu XJ (2006) Differentiating characterization of human umbilical cord blood-derived mesenchymal stem cells in vitro. Cell Biol Int 30:569–575

Karahuseyinoglu S, Cinar O, Kilic E, Kara F, Akay GG, Demiralp DO, Tukun A, Uckan D, Can A (2007) Biology of stem cells in human umbilical cord stroma: in situ and in vitro surveys. Stem Cells 25:319–331

Katoh Y, Katoh M (2007) Conserved POU-binding site linked to SP1-binding site within FZD5 promoter: transcriptional mechanisms of FZD5 in undifferentiated human ES cells, fetal liver/spleen, adult colon, pancreatic islet, and diffuse-type gastric cancer. Int J Oncol 30:751–755

Kolf CM, Cho E, Tuan RS (2007) Biology of adult mesenchymal stem cells: regulation of niche, self-renewal and differentiation. Arthritis Res Ther 9:204

La Rocca G, Anzalone R, Magno F, Farina F, Cappello F, Zummo G (2007) Cigarette smoke exposure inhibits extracellular MMP-2 (gelatinase A) activity in human lung fibroblasts. Respir Res 8:23

Le Bouteiller P (2000) HLA-G in the human placenta: expression and potential functions. Biochem Soc Trans 28:208–212

Lee J, Kim HK, Rho J-Y, Han Y-M, Kim J (2006) The human OCT-4 isoforms differ in their ability to confer self-renewal. J Biol Chem 281:33554–33565

Magatti M, De Munari S, Vertua E, Gibelli L, Wengler GS, Parolini O (2008) Human amnion mesenchyme harbors cells with allogeneic T-cell suppression and stimulation capabilities. Stem Cells 26:182–192

Mantel C, Guo Y, Lee MR, Kim MK, Han MK, Shibayama H, Fukuda S, Yoder MC, Pelus LM, Kim KS, Broxmeyer HE (2007) Checkpoint-apoptosis uncoupling in human and mouse embryonic stem cells: a source of karyotpic instability. Blood 109:4518–4527

Marcus AJ, Woodbury D (2008) Fetal stem cells from extra-embryonic tissues: do not discard. J Cell Mol Med 12:730–742

Miao Z, Jin J, Chen L, Zhu J, Huang W, Zhao J, Quian H, Zhang X (2006) Isolation of mesenchymal stem cells from human placenta: comparison with human bone marrow mesenchymal stem cells. Cell Biol Int 30:681–687

Mitchell KE, Weiss ML, Mitchell BA, Martin P, Davis D, Morales L, Helwig B, Beerenstrauch M, Abou-Easa K, Hildreth T, Troyer D (2003) Matrix cells from Wharton's Jelly form neurons and glia. Stem Cells 21:50–60

Moffett A, Loke YW (2004) The immunological paradox of pregnancy: a reappraisal. Placenta 25:1–8

Neumüller J, Neumüller-Guber SE, Lipovac M, Mosgoeller W, Vetterlein M, Pavelka M, Huber J (2006) Immunological and ultrastructural characterization of endothelial cell cultures differentiated from human cord blood derived endothelial progenitor cells. Histochem Cell Biol 126:649–664

Payushina OV, Domaratskaya EI, Starostin VI (2006) Mesenchymal stem cells: sources, phenotype, and differentiation potential. Biol Bull 33:2–18

Peterkin T, Gibson A, Loose M, Patient R (2005) The roles of GATA-4, -5 and -6 in vertebrate heart development. Semin Cell Dev Biol 16:83–94

Pfisterer P, Hess J, Wirth T (1997) Identification of target genes of the lymphoid-specific transcription factor Oct2. Immunobiology 198:217–226

Rabreau M, Rouas-Freiss N, Landi M, Le Danff C, Carosella ED (2000) HLA-G expression in trophoblast cells is independent of embryonic development. Hum Immunol 61:1108–1112

Rao MS (2006) Are there morally acceptable alternatives to blastocyst derived ESC? J Cell Biochem 98:1054–1061

Rebuzzini P, Neri T, Mazzini G, Zuccotti M, Redi CA, Garagna S (2008) Karyotype analysis of the euploid cell population of a mouse embryonic stem cell line revealed a high incidence of chromosome abnormalities that varied during culture. Cytogenet Genome Res 121:18–24

Romanov YA, Svintsitskaya VA, Smirnov VN (2003) Searching for alternative sources of postnatal human mesenchymal stem cells: candidate MSC-like cells from umbilical cord. Stem Cells 21:105–110

Rouas-Freiss N, Goncalves RMB, Menier C, Dausset J, Carosella ED (1997) Direct evidence to support the role of HLA-G in protecting the fetus from maternal uterine natural killer cytolysis. Proc Natl Acad Sci USA 94:11520–11525

Ryan JM, Barry FP, Murphy JM, Mahon BP (2005) Mesenchymal stem cells avoid allogeneic rejection. J Inflamm 2:8

Sansom DM, Manzotti CN, Zheng Y (2003) What's the difference between CD80 and CD86? Trends Immunol 24:313–318

Smith A (2006) A glossary for stem-cell biology. Nature 441:1060

Takahashi K, Mitsui K, Yamanaka S (2003) Role of Eras in promoting tumour-like properties in mouse embryonic stem cells. Nature 423:541–545

Takeda J, Seino S, Bell GI (1992) Human Oct3 gene family: cDNA sequences, alternative splicing, gene organization, chromosomal location, and expression at low levels in adult tissues. Nucleic Acids Res 20:4613–4620

Tamaki T, Okada Y, Uchiyama Y, Tono K, Masuda M, Wada M, Hoshi A, Akatsuka A (2007) Synchronized reconstitution of muscle fibers, peripheral nerves and blood vessels by murine skeletal muscle-derived CD34−/45− cells. Histochem Cell Biol 128:349–360

Wagner W, Feldmann RE Jr, Seckinger A, Maurer MH, Wein F, Blake J, Krause U, Kalenka A, Burgers HF, Saffrich R, Wuchter P, Kuschinsky W, Ho AD (2006) The heterogeneity of human mesenchymal stem cell preparations—evidence from simultaneous analysis of proteomes and transcriptomes. Exp Hematol 34:536–548

Wang H-S, Hung S-C, Peng S-T, Huang C-C, Wei H-M, Guo Y-J, Fu Y-S, Lai M-C, Chen C-C (2004) Mesenchymal stem cells in the Wharton's jelly of the human umbilical cord. Stem Cells 22:1330–1337

Weiss ML, Medicetty S, Bledsoe AR, Rachakatla RS, Choi M, Merchav S, Luo Y, Rao MS, Velagaleti G, Troyer D (2006) Human umbilical cord matrix stem cells: preliminmary characterization and effect of transplantation in a rodent model of Parkinson's disease. Stem Cells 24:781–792

Yasuda K, Yashiro M, Sawada T, Ohira M, Hirakawa K (2007) Eras oncogene expression and epigenetic regulation by histone acetylation in human cancer cells. Anticancer Res 27:4701–4705

Young HE, Mancini ML, Wright RP, Smith JC, Black AC Jr, Reagan CR, Lucas PA (1995) Mesenchymal stem cells reside within the connective tissues of many organs. Dev Dyn 202:134–144

Zhu X-Y, Zhou Y-H, Wang M-Y, Jin L-P, Yuan M-M, Li D-J (2005) Blockade of CD86 signaling facilitates a Th2 bias at the maternal–fetal interface and expands peripheral CD4+CD25+ regulatory T cells to rescue abortion-prone fetuses. Biol Reprod 72:338–345

Zuk PA, Zhu M, Ashjian P, De Ugarte DA, Huang JI, Mizuno H, Alfonso ZC, Fraser JK, Benhaim P, Hedrick MH (2002) Human adipose tissue is a source of multipotent stem cells. Mol Biol Cell 13:4279–4295

Zummo G, Bucchieri F, Cappello F, Bellafiore M, La Rocca G, David S, Di Felice V, Anzalone R, Peri G, Palma A, Farina F (2007) Adult stem cells: the real root into the embryo? Eur J Histochem 51(supplement 1):83–85
Acknowledgments
The work was supported by University of Palermo grants (ex 60%) to FF, FC, GZ.
Additional information
G. La Rocca and R. Anzalone have contributed equally to this work.
About this article
Cite this article
La Rocca, G., Anzalone, R., Corrao, S. et al. Isolation and characterization of Oct-4+/HLA-G+ mesenchymal stem cells from human umbilical cord matrix: differentiation potential and detection of new markers. Histochem Cell Biol 131, 267–282 (2009). https://doi.org/10.1007/s00418-008-0519-3
Accepted:

Published:

Issue Date:
Keywords
Mesenchymal stem cells

Umbilical cord matrix

Differentiation protocols

Tolerogenic properties

Self-renewal markers