Abstract
The present study demonstrates that cultured macrophages are able to liberate gold ions from metallic gold surfaces, a process suggested to be called "dissolucytosis", in a way analogous to the release taking place when metallic implants are placed in a body. Using the ultra-sensitive autometallographic (AMG) technique, we demonstrate that murine macrophages grown on a surface of metallic gold liberate gold ions. Ultra-structural AMG reveals that the gold ions are located in an ultra-thin membrane-like structure, "the dissolution membrane", intervened between the macrophages and the metal surface. The presence of AMG silver enhanced gold nanoparticles in the dissolution membrane proves that the release of charged gold atoms takes place extracellularly. The dissolution membrane is most likely secreted and chemically controlled by the "dissolucytes", here macrophages, and the membrane is essential for the dissolution of metal implants and particles, which cannot be phagocytosed. Our findings support the notion that whenever a metallic gold surface is attacked by dissolucytes, gold ions are liberated and taken up by surrounding cells. As gold ions can suppress the inflammatory process, it is reasonable to expect that when dissolucytosis takes place in the living organism the liberated gold ions will cause local immunosuppression.
Access options
Buy single article
Instant access to the full article PDF.
US$ 39.95
Tax calculation will be finalised during checkout.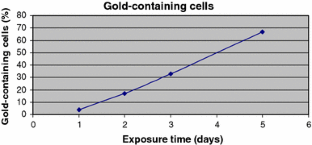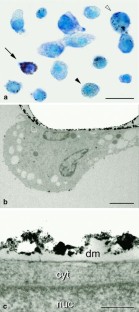 References
Brunk UT, Dalen H, Roberg K, Hellquist HB (1997) Photo-oxidative disruption of lysosomal membrane causes apoptosis of cultured human fibroblasts. Free Radic Biol Med 23:616–626

Canumalla AJ, Al-Zamil N, Phillips M, Isab AA, Shaw III CF (2001) Redox and ligand exchange reactions of potential gold(I) and gold(III)-cyanide metabolites under biominetic conditions. J Inorg Biochem 85:67–76

Danscher G (1981) Localization of gold in biological tissue. A photochemical method for light and electron microscopy. Histochemistry 71:81–88

Danscher G (2002) In vivo liberation of gold ions from gold implants. Autometallographic tracing of gold in cells adjacent to metallic gold. Histochem Cell Biol 117:447–452

Danscher G (2006) Medicament and method of treatment of patients with heavy metals. US Patent Application No. US20060121079. Published June 8, pp 1–8

Danscher G, Stoltenberg M (2006) Autometallography (AMG). Silver enhancement of quantum dots resulting from (1) metabolism of toxic metals in animals and humans, (2) in vivo, in vitro and immersion created zinc-sulphur/zinc-selenium nanocrystals, (3) metal ions liberated from metal implants and particles. Prog Histochem Cytochem 41:57–139

Elder RC, Zhao Z, Zhang Y, Dorsey JG, Hess EV, Tepperman K (1993) Dicyanogold (I) is a common human metabolite of different gold drugs. J Rheumatol 20:268–272

Ferre N, Claria J (2006) New insight into the regulation of liver inflammation and oxidative stress. Mini Rev Med Chem 6:1321–1330

Futami T, Fujii N, Ohnishi H, Taquchi N, Kusakari H, Ohshima H, Maeda T (2000) Tissue response to titanium implants in the rat maxilla: ultrastructural and histochemical observations of the bone-titanium interface. J Periodontol 71:287–298

Graham GG, Dale MM (1990) The activation of gold complexes by cyanide produced by polymorphnuclear leukocytes-II. Evidence for the formation and biological activity of aurocyanide. Biochem Pharmacol 39:1697–1702

Graham GG, Kettle AJ (1998) The activation of gold complexes by cyanide produced by polymorphnuclear leukocytes III. The formation of aurocyanide by myeloperoxidase. Biochem Pharmacol 56:307–312

Jaeger GT, Larsen S, Soli N, Moe L (2006) Double-blind, placebo-controlled trial of the pain-relieving effects of the implantation of gold beads into dogs with hip dysplasia. Vet Rec 158:722–726

Kao WJ, Hubbell JA, Anderson JM (1999) Protein-mediated macrophage adhesion and activation on biomaterials: a model for modulating cell behavior. J Mater Sci Mater Med 10:601–605

Klippel JH, Dieppe PA (1994) Rheumatology, 1 edn. Mosby, London

Li W, Yuan XM, Nordgren G, Dalen H, Dubrowski G, Firestone RA, Brunk UT (2000) Induction of cell death by the lysosomotropic detergent MSDH. FEBS Lett 470:35–39

Lopes FA, Morin P, Oliveira R, Melo LF (2006) Interaction of Desulfovibrio desulfuricans biofilms with stainless steel surface and its impact on bacterial metabolism. J Appl Microbiol 101:1087–1095

Persillin RH, Ziff M (1966) The effect of gold salt on lysosomal enzymes of the peritoneal macrophage. Arthritis Rheum 9:57–65

Puddephatt RS (1978) The chemistry of gold. Top Org Gen Chem (NY) 16:160

Puerner NJ, Siegel SM (1976) Geomycology. Life Sci Space Res 14:363–366

Roach P, Eglin D, Rohde K, Perry CC (2007) Modern biomaterials: a review-bulk properties and implications of surface modifications. J Mater Sci Mater Med April (Epub ahead of print)

Rosengren A, Johansson BR, Thomsen P, Ericson LE (1994) Method for immunolocalization of extracellular proteins in association with the implant-soft tissue interface. Biomaterials 15:17–24

Rudkowski R, Graham GG, Champion GD, Ziegler JB (1990) The activation of gold complexes by cyanide produced by polymorphnuclear leukocytes – I The effects of aurocyanide on the oxidative burst of polymorphnuclear leukocytes. Biochem Pharmacol 39:1687–1695

Sennerby L, Thomsen P, Ericson LE (1993) Early tissue response to titanium implants inserted in rabbit cortical bone. J Mater Sci Mater Med 4:494–502

Takahashi K, Griem P, Goebel C, Gonzalez J, Gleichmann E, (1994) The antirheumatic drug gold, a coin with two faces: Au(I) and Au(III). Desired and undesired effects on the immune system. Metal-Based Drugs 1:483–496

Traber KE, Okamoto H, Kurono C, Baba M, Saliou C, Soji T, Packer L, Okamoto T (1999) Anti-rheumatic compound aurothioglucose inhibits tumor necrosis factor-alpha-induced HIV-1 replication in latently infected OM10.1 and Ach2 cells. Int Immunol 11:143–150

Walivaara B, Aronsson BO, Rodahl M, Lausmaa J, Tenqvall P (1994) Titanium with different oxides: in vitro studies of protein adsorption and contact activation. Biomaterials 15:827–834

Yang JP, Merin JP, Nakano T, Kato T, Kitade Y, Okamoto T (1995) Inhibition of the DNA-binding activity of NF-kappa B by gold compounds in vitro. FBBS Lett 361:89–96

Yanni G, Nabil M, Farahat MR, Poston RN, Panayi GS (1994) Intramuscular gold decreases cytokine expression and macrophage numbers in the rheumatoid synovial membrane. Ann Rheum Dis 53:315–322

Yoshida S, Kato T, Sakurada S, Kurono C, Yang JP, Matsui N, Soji T, Okamoto T (1999) Inhibition of IL-6 and IL-8 induction from cultured rheumatoid synovial fibroblasts by treatment with aurothioglucose. Int Immunol 11:151–158

Zdolsek JM, Olson GM, Brunk UT (1990) Photooxidative damage to lysosomes of cultured macrophages by acridine orange. Photochem Photobiol 51:67–76

Zhao M, Eaton JW, Brunk UT (2000) Protection against oxidant-mediated lysosomal rupture: a new anti-apoptotic activity of BCL-2? FEBS Lett 485:104–108

Ziats NP, Miller KM, Anderson JM (1988) In vitro and in vivo interactions of cells with biomaterials. Biomaterials 9:5–13
Acknowledgements
The authors are grateful for the technical assistance provided by Dorete Jensen, Albert Meier, Lene Munkøe, Majken Sand, Janne Svejstrup and Karin Wiedemann. Professor emeritus Svend Erik Rasmussen is most gratefully acknowledged for supplying us with valuable insight into the chemistry of gold. We are grateful for the financial support from Aase and Ejnar Danielsen Foundation, the Hede Nielsen Foundatuion, the Faculty of Health Science at Aarhus University, The Aarhus University Research Foundation and Direktør Jacob Madsen og Hustru Olga Madsens Foundation.
About this article
Cite this article
Larsen, A., Stoltenberg, M. & Danscher, G. In vitro liberation of charged gold atoms: autometallographic tracing of gold ions released by macrophages grown on metallic gold surfaces. Histochem Cell Biol 128, 1–6 (2007). https://doi.org/10.1007/s00418-007-0295-5
Accepted:

Published:

Issue Date:
Keywords
Autometallograhy (AMG)

Dissolucytosis

Metallic gold

Anti-inflammatory

Macrophages