Abstract
To investigate the expression of the endocannabinoid 1 and 2 receptors by human adipocyte cells of omental and subcutaneous fat tissue, as well as to determine whether these receptors are functional. The expression of CB1 and CB2 receptors on human adipocytes was analyzed by western blotting, immunohistology and immunocytology. We also investigated intracytoplasmic cyclic AMP level modulation following CB1 and CB2 receptor stimulation by an enzymatic immuno assay. All mature adipocytes, from visceral (epiploon) and subcutaneous fat tissue, express CB1 and CB2 on their plasma membranes. We also demonstrate in this study that adipocyte precursors (pre-adipocytes) express CB1 and CB2 on their plasma membranes and that both receptors are functional. Activation of CB1 increases intracytoplasmic cyclic AMP whilst CB2 activation leads to a cyclic AMP decrease. Here we demonstrate, for the first time, that adipocytes of human adipose tissue (mature adipocytes and pre-adipocytes) express functional plasma membrane CB1 and CB2 receptors. Their physiological role on the adipose tissue is not known. However, their major involvement in the physiology of other tissues leads us to suppose that they could play a significant role in the homeostasis of the energy balance and/or in the regulation of adipose tissue inflammation.
Access options
Buy single article
Instant access to the full article PDF.
US$ 39.95
Tax calculation will be finalised during checkout.
Subscribe to journal
Immediate online access to all issues from 2019. Subscription will auto renew annually.
US$ 119
Tax calculation will be finalised during checkout.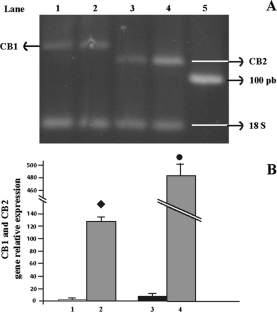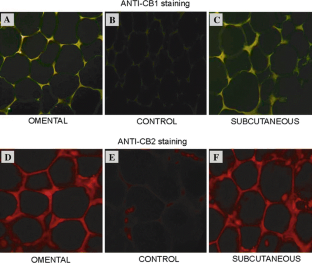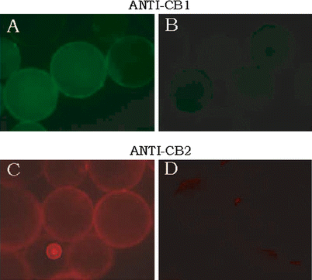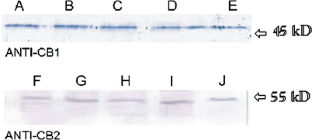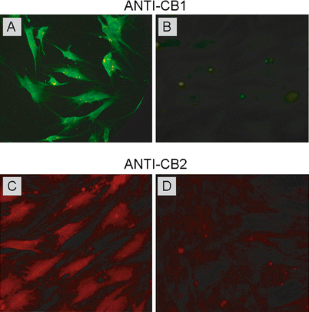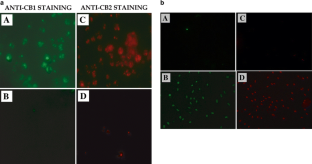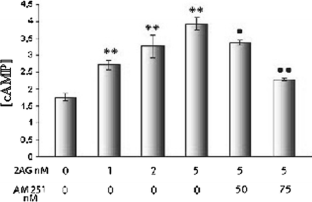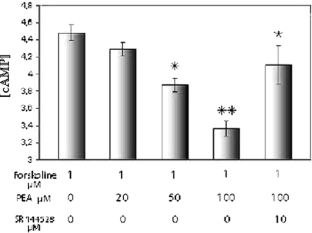 References
Bensaid M, Gary-Bobo M, Esclangon A, Maffrand JP, Le Fur G, Oury-Donat F, Soubrie P (2003) The cannabinoid CB1 receptor antagonist SR141716 increases Acrp30 mRNA expression in adipose tissue of obese fa/fa rats and in cultured adipocyte cells. Mol Pharmacol 63(4):908–914

Ben-Shabat S, Fride E, Sheskin T, Tamiri T, Rhee MH, Vogel Z, Bisogno T, De Petrocellis L, Di Marzo V, Mechoulam R (1998) An entourage effect: inactive endogenous fatty acid glycerol esters enhance 2-arachidonoyl-glycerol cannabinoid activity. Eur J Pharmacol 353:23–31

Berry EM, Mechoulam R (2002) Tetrahydrocannabinol and endocannabinoids in feeding and appetite. Pharmacol Ther 95:185–190

Bouaboula M, Rinaldi M, Carayon P, Carillon C, Delpech B, Shire D, Le Fur G, Casellas P (1993) Cannabinoid-receptor expression in human leukocytes. Eur J Biochem 214:173–180

Cabral GA, Fischer-Stenger K (1994) Inhibition of macrophage inducible protein expression by delta-9-tetrahydrocannabinol. Life Sci 54:1831–1844

Cota D, Marsicano G, Tschop M, Grubler Y, Flachskamm C, Schubert M, Auer D, Yassouridis A, Thone-Reineke C, Ortmann S et al (2003a) The endogenous cannabinoid system affects energy balance via central orexigenic drive and peripheral lipogenesis. J Clin Invest 112:423–431

Cota D, Marsicano G, Lutz B, Vicennati V, Stalla GK, Pasquali R, Pagotto U (2003b) Endogenous cannabinoid system as a modulator of food intake. Int J Obes Relat Metab Disord 27:289–301

Devane WA, Hanus L, Breuer A, Pertwee RG, Stevenson LA, Griffin G, Gibson D, Mandelbaum A, Etinger A, Mechoulam R (1992) Isolation and structure of a brain constituent that binds to the cannabinoid receptor. Science 258:1946–1949

Facci L, Dal Toso R, Romanello S, Buriani A, Skaper SD, Leon A (1995) Mast cells express a peripheral cannabinoid receptor with differential sensitivity to anandamide and palmitoylethanolamide. Proc Natl Acad Sci USA 92:3376–3380

Felder CC, Glass M (1998) Cannabinoid receptors and their endogenous agonists. Annu Rev Pharmacol Toxicol 38:179–200

Felder CC, Veluz JS, Williams HL, Briley EM, Matsuda LA (1992) Cannabinoid agonists stimulate both receptor- and non-receptor-mediated signal transduction pathways in cells transfected with and expressing cannabinoid receptor clones. Mol Pharmacol 42:838–845

Felder CC, Briley EM, Axelrod J, Simpson JT, Mackie K, Devane WA (1993) Anandamide, an endogenous cannabimimetic eicosanoid, binds to the cloned human cannabinoid receptor and stimulates receptor-mediated signal transduction. Proc Natl Acad Sci USA 90:7656–7660

Festy F, Hoareau L, Bes-Houtmann S, Péquin AM, Gonthier MP, Munstun A, Hoarau JJ, Césari M, Roche R (2005) Surface proteins expression between human adipose tissue-derived stromal cells and mature adipocytes. Histochem Cell Biol 20:1–9

Galiegue S, Mary S, Marchand J, Dussossoy D, Carriere D, Carayon P, Bouaboula M, Shire D, Le Fur G, Casellas P (1995) Expression of central and peripheral cannabinoid receptors in human immune tissues and leukocyte subpopulations. Eur J Biochem 232:54–61

Gaoni Y, Mechoulam R (1964) Isolation, structure and partial synthesis of an active constituent of hashish. J Am Chem Soc 86:1646–1647

Glass M, Felder CC (1997) Concurrent stimulation of cannabinoid CB1 and dopamine D2 receptors augments cAMP accumulation in striatal neurons: evidence for a Gs linkage to the CB1 receptor. J Neurosci 17:5327–5333

Gomez R, Navarro M, Ferrer B, Trigo JM, Bilbao A, Del Arco I, Cippitelli A, Nava F, Piomelli D, Rodriguez de Fonseca F (2002) A peripheral mechanism for CB1 cannabinoid receptor-dependent modulation of feeding. J Neurosci 22:9612–9617

Herkenham M, Lynn AB, Little MD, Johnson MR, Melvin LS, de Costa BR, Rice KC (1990) Cannabinoid receptor localization in brain. Proc Natl Acad Sci USA 87:1932–1936

Howlett AC, Bidaut-Russell M, Devane WA, Melvin LS, Johnson MR, Herkenham M (1990) The cannabinoid receptor: biochemical, anatomical and behavioral characterization. Trends Neurosci 13:420–423

Hubert HB, Feinleib M, McNamara PM, Castelli WP (1983) Obesity as an independent risk factor for cardiovascular disease: a 26-year follow-up of participants in the Framingham Heart Study. Circulation 67:968–977

Klein TW, Newton C, Larsen K, Chou J, Perkins I, Lu L, Nong L, Friedman H (2004) Cannabinoid receptors and T helper cells. J Neuroimmunol 147:91–94

Liu J, Gao B, Mirshahi F, Sanyal AJ, Khanolkar AD, Makriyannis A, Kunos G (2000) Functional CB1 cannabinoid receptors in human vascular endothelial cells. Biochem J 346(Pt 3):835–840

Martinez-Gonzalez D, Bonilla-Jaime H, Morales-Otal A, Henriksen SJ, Velazquez-Moctezuma J, Prospero-Garcia O (2004) Oleamide and anandamide effects on food intake and sexual behavior of rats. Neurosci Lett 364:1–6

Massa F, Marsicano G, Hermann H, Cannich A, Monory K, Cravatt BF, Ferri GL, Sibaev A, Storr M, Lutz B (2004) The endogenous cannabinoid system protects against colonic inflammation. J Clin Invest 113:1202–1209

Matsuda LA, Lolait SJ, Brownstein MJ, Young AC, Bonner TI (1990) Structure of a cannabinoid receptor and functional expression of the cloned cDNA. Nature 346:561–564

McCoy KL, Matveyeva M, Carlisle SJ, Cabral GA (1999) Cannabinoid inhibition of the processing of intact lysozyme by macrophages: evidence for CB2 receptor participation. J Pharmacol Exp Ther 289:1620–1625

Mechoulam R, Ben-Shabat S, Hanus L, Ligumsky M, Kaminski NE, Schatz AR, Gopher A, Almog S, Martin BR, Compton DR et al (1995) Identification of an endogenous 2-monoglyceride, present in canine gut, that binds to cannabinoid receptors. Biochem Pharmacol 50:83–90

Munro S, Thomas KL, Abu-Shaar M (1993) Molecular characterization of a peripheral receptor for cannabinoids. Nature 365:61–65

Nieri P, Greco R, Adinolfi B, Breschi MC, Martinotti E, Nannetti C, Podesta A (2003) CB1- and CB2-cannabinoid receptor-independent lipolysis induced by WIN 55,212-2 in male rat adipocytes. Naunyn Schmiedebergs Arch Pharmacol 368:352–359

Piomelli D, Giuffrida A, Calignano A, Rodriguez de Fonseca F (2000) The endocannabinoid system as a target for therapeutic drugs. Trends Pharmacol Sci 21:218–224

Rhee MH, Bayewitch M, Avidor-Reiss T, Levy R, Vogel Z (1998) Cannabinoid receptor activation differentially regulates the various adenylyl cyclase isozymes. J Neurochem 71:1525–1534

Rinaldi-Carmona M, Barth F, Heaulme M, Shire D, Calandra B, Congy C, Martinez S, Maruani J, Neliat G, Caput D et al (1994) SR141716A, a potent and selective antagonist of the brain cannabinoid receptor. FEBS Lett 350:240–244

Rinaldi-Carmona M, Barth F, Millan J, Derocq JM, Casellas P, Congy C, Oustric D, Sarran M, Bouaboula M, Calandra B, Portier M, Shire D, Breliere JC, Le Fur GL (1998) SR 144528, the first potent and selective antagonist of the CB2 cannabinoid receptor. J Pharmacol Exp Ther 284:644–650

Sengenes C, Lolmede K, Zakaroff-Girard A, Busse R, Bouloumie A (2005) Preadipocytes in the human subcutaneous adipose tissue display distinct features from the adult mesenchymal and hematopoietic stem cells. J Cell Physiol 205(1):114–122

Shire D, Carillon C, Kaghad M, Calandra B, Rinaldi-Carmona M, Le Fur G, Caput D, Ferrara P (1995) An amino-terminal variant of the central cannabinoid receptor resulting from alternative splicing. J Biol Chem 270:3726–3731

Vogel Z, Barg J, Levy R, Saya D, Heldman E, Mechoulam R (1993) Anandamide, a brain endogenous compound, interacts specifically with cannabinoid receptors and inhibits adenylate cyclase. J Neurochem 61:352–355

Weisberg SP, McCann D, Desai M, Rosenbaum M, Leibel RL, Ferrante AW Jr (2003) Obesity is associated with macrophage accumulation in adipose tissue. J Clin Invest 112:1796–1808

Wellen KE, Hotamisligil GS (2003) Obesity-induced inflammatory changes in adipose tissue. J Clin Invest 112:1785–1788

Xu H, Barnes GT, Yang Q, Tan G, Yang D, Chou CJ, Sole J, Nichols A, Ross JS, Tartaglia LA et al (2003) Chronic inflammation in fat plays a crucial role in the development of obesity-related insulin resistance. J Clin Invest 112:1821–1830

Yanovski SZ, Yanovski JA (2002) Obesity. N Engl J Med 346:591–602
Acknowledgements
We would like to thank the plastic surgeons J.F. Baron, P. Delarue and J. Gonçalves who took part in this study and allowed the collection of subcutaneous adipose tissue samples; the gastrointestinal surgeons Y. Haffaf, A. Munstun and T. Aziz who took part in this study and allowed the collection of visceral adipose tissue samples; the CHD Félix Guyon Hospital, Reunion Island, for welcoming our research team, as well as for all of the technical services placed at our disposal; The Ministry of National Education and of Research, as well as the Overseas Ministry of the French State for their financial support; The Regional Council, also for their financial support. Finally all patients who consented to the collection of peri-operative tissue samples and thus made this study possible.
About this article
Cite this article
Roche, R., Hoareau, L., Bes-Houtmann, S. et al. Presence of the cannabinoid receptors, CB1 and CB2, in human omental and subcutaneous adipocytes. Histochem Cell Biol 126, 177–187 (2006). https://doi.org/10.1007/s00418-005-0127-4
Accepted:

Published:

Issue Date:
Keywords
Cannabinoid receptors

Endocannabinoids

Pre-adipocyte

Adipocyte

Human fat tissue