Abstract
In normal hyaline cartilage the predominant collagen type is collagen type II along with its associated collagens, for example, types IX and XI, produced by normal chondrocytes. In contrast, investigations have demonstrated that in vitro a switch from collagen type II to collagen type I occurs. Some authors have detected collagen type I in osteoarthritic cartilage also in vivo, especially in late stages of osteoarthritis, while others have not. In the light of these diverging results, we have attempted to elucidate which type of collagen, type I and/or type II, is synthesized in the consecutive stages of human osteoarthritis. We performed in situ hybridization and immunohistochemistry with cartilage tissue samples from patients suffering from various stages of osteoarthritis. Furthermore, we quantitated our results on the gene expression of collagen type I and type II with the help of real-time PCR. We found that with the progression of the disease not only collagen type II, but also increasing amounts of collagen type I mRNA were produced. This supports the conclusion that collagen type I gradually becomes one of the factors involved in the pathogenesis of osteoarthritis.
Access options
Buy single article
Instant access to the full article PDF.
USD 39.95
Price excludes VAT (USA)
Tax calculation will be finalised during checkout.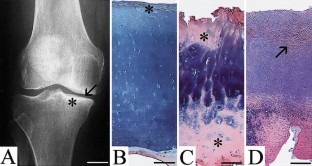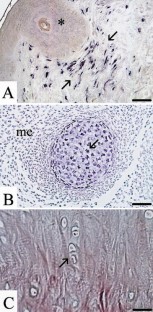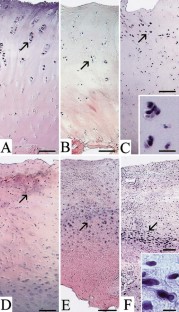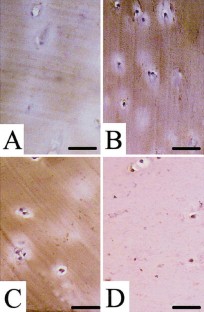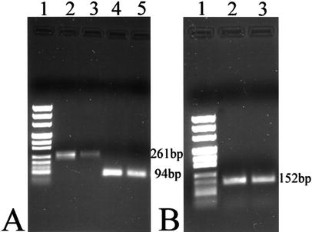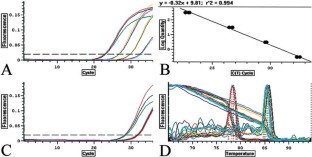 References
Aigner T, Stoss H, Weseloh G, Zeiler G, von der Mark K (1992) Activation of collagen type II expression in osteoarthritic and rheumatoid cartilage. Virchows Archiv B Cell Pathol 62:337–345

Aigner T, Bertling W, Stoss H, Weseloh G, von der Mark K (1993) Independent expression of fibril-forming collagens I, II, and III in chondrocytes of human osteoarthritic cartilage. J Clin Invest 91:829–837

Aigner T, Dietz U, Stoss H, von der Mark (1995) Differential expression of collagen types I, II, III, and X in human osteophytes. Lab Invest 73:236–243

Aigner T, Vornehm SI, Zeiler G, Dudhia K, von der Mark K, Bayliss MT (1997) Suppression of cartilage matrix gene expression in upper zone chondrocytes of osteoarthritic cartilage. Arthritis Rheum 40:562–569

Altman R, Asch E, Bloch D, Bole G, Borenstein D, Brandt K, Christy W, Cooke TD, Greenwald R, Hochberg M, et al (1986) Development of criteria for the classification and reporting of osteoarthritis. Classification of osteoarthritis of the knee. Diagnostic and Therapeutic Criteria Committee for the American Rheumatism Association. Arthritis Rheum 29:1039–1049

Binette F, McQuaid DP, Haudenschild DR, Yaeger PC, McPherson JM, Tubo R (1998) Expression of a stable articular cartilage phenotype without evidence of hypertrophy by adult human articular chondrocytes in vitro. J Orthop Res16:207–216

Bretschneider HJ (1980) Myocardial protection. Thorac Cardiovasc Surg 28:295–202

Bustin SA (2002) Quantification of mRNA using real-time reverse transcription (RT-PCR): trends and problems. J Mol Endocrinol 29:23–39

Calandruccio RA, Gilmers WS (1962) Proliferation, regeneration and repair of articular cartilage of immature animals. J Bone Joint Surg Am 44A:431–455

Claassen H, Kampen WU, Kirsch T (1996) Localization of collagens and alkaline phosphatase activity during mineralization and ossification of human first rib cartilage. Histochem Cell Biol 105:213–219

Collins DH, McElligott TF (1960) Sulphate uptake by chondrocytes in relation to histological changes in osteoarthritic human articular cartilage. Ann Rheum Dis 19:318–330

Doege KJ, Sasaki M, Kimura T, Yamada Y (1991) Complete coding sequence and deduced primary structure of the human cartilage large aggregating proteoglycan, aggrecan. Human-specific repeats, and additional alternatively spliced forms. J Biol Chem 266:894–902

Gay S, Müller P, Lemmen C, Remberger K, Matzen K, Kühn K (1986) Immunohistochemical study on collagen in cartilage-bone metamorphosis and degenerative osteoarthritis. Klin Wochenschr 54:969–976

Gebhard PM, Gehrsitz A, Bau B, Soder S, Eger W, Aigner T (2003) Quantification of expression levels of cellular differentiation markers does not support a general shift in the cellular phenotype of osteoarthritic chondrocytes. J Orthop Res 21:96–101

Goldwasser M, Astley T, van der Rest M, Glorieux FH (1982) Analysis of the type of collagen present in osteoarthritic human cartilage. Clin Orthop 167:296–302

Holbrook KA, Smith LT (1993) Morphology of connective tissue: structure of the skin and tendon. In: Royce PM, Steinman B (eds) Connective tissue and its heritable disorders. Wiley-Liss, New York, pp 51–71

Holmdahl R, Rubin K, Klareskog L, Larsson E, Wigzell H (1986) Characterization of the antibody response in mice with type II collagen-induced arthritis, using monoclonal anti-type II collagen antibodies. Arthritis Rheum 29:400–410

Kielty CM, Hopkinson I, Grant ME (1993) Collagen. The collagen family: structure, assembly, and organization in the extracellular matrix. In: Royce PM, Steinman B (eds) Connective tissue and its heritable disorders. Wiley-Liss, New York, pp 103–147

Kühn K (1978) The classical collagens: types I, II, and III. In: Mayne R, Burgeson RE (eds) Structure and function of collagen types. Academic, New York, pp 1–42

Layman DL, Sokoloff L, Miller EJ (1972) Collagen synthesis by articular chondrocytes in monolayer culture. Exp Cell Res 73:107–112

Lui VC, Ng LJ, Nicholls J, Tam PP, Cheah KS (1995) Tissue-specific and differential expression of alternatively spliced alpha 1(II) collagen mRNAs in early human embryos. Dev Dyn 203:198–211

Mankin HJ, Dorfman H, Lippiello L, Zarins A (1971) Biochemical and metabolic abnormalities in articular cartilage from osteo-arthritic human hips. II. Correlation of morphology with biochemical data. J Bone Joint Surg Am 53:523–537

Marlovits S, Hombauer M, Truppe M, Vecsei V, Schlegel W (2004) Changes in the ratio of type-I and type-II collagen expression during monolayer culture of human chondrocytes. J Bone Joint Surg Br 86:286–295

Martel-Pelletier J (1998) Pathophysiology of osteoarthritis. Osteoarthritis Cartilage 6:374–376

Martin I, Jakob M, Schafer D, Dick W, Spagnoli G, Heberer M (2001) Quantitative analysis of gene expression in human articular cartilage from normal and osteoarthritic joints. Osteoarthritis Cartilage 9:112–118

Mayne R (1989) Cartilage collagens. Arthritis Rheum 32:241–246

McDonald JA, Broekelmann TJ, Matheke ML, Crouch E, Koo M, Kuhn C III (1986) A monoclonal antibody to the carboxy terminal domain of procollagen type I visualizes collagen-synthesizing fibroblasts. Detection of an altered fibroblast phenotype in lungs of patients with pulmonary fibrosis. J Clin Invest 78:1237–1244

Miosge N, Flachsbart K, Götz W, Schulz W, Kresse H, Herken R (1994) Light and electron microscopical localization of the small proteoglycan core proteins decorin and biglycan in human knee joint cartilage. Histochem J 26:939–945

Miosge N, Waletzko K, Bode C, Quondamatteo F, Schultz W, Herken R (1998) Light and electron microscopic in situ hybridization of collagen type I and type II mRNA in the fibrocartilaginous tissue of late-stage osteoarthritis. Osteoarthritis Cartilage 6:278–285

Nerlich AG, Wiest I, von der Mark K (1993) Immunohistochemical analysis of interstitial collagens in cartilage of different stages of osteoarthrosis. Virchows Archiv B Cell Pathol 63:249–255

Pfaffl MW (2001) A new mathematical model for relative quantification in real-time RT-PCR. Nucleic Acids Res 29:e45

Poole AR (1999) An introduction to the pathophysiology of osteoarthritis. Front Biosci 4:662–670

Prockop DJ, Kivirikko KI, Tuderman L, Guzman NA (1979) The biosynthesis of collagen and its disorders. N Engl J Med 301:13–23

Sandell LJ, Nalin AM, Reife RA (1994) Alternative splice form of type II procollagen mRNA (IIA) is predominant in skeletal precursors and non-cartilaginous tissues during early mouse development. Dev Dyn 199:129–140

Smith RL (1999) Degradative enzymes in osteoarthritis. Front Biosci 4:704–712

Vandesompele J, De Preter K, Pattyn F, Poppe B, Van Roy N, De Paepe A, et al (2002) Accurate normalization of real-time quantitative RT-PCR data by geometric averaging of multiple internal control genes. Genome Biol 3:RES0034

von der Mark K, Gauss V, von der Mark H, Muller P (1977) Relationship between cell shape and type of collagen synthesised as chondrocytes lose their cartilage phenotype in culture. Nature 267:531–532

Voss B, Glössl J, Cully Z, Kresse H (1986) Immunocytochemical investigation on the distribution of small chondroitin sulfate-dermatan sulfate proteoglycan in the human. J Histochem Cytochem 34:1013–1019
Acknowledgements
We would like to thank Dr. Thomas Aigner, Erlangen, for donating the cDNAs for this investigation and the team of Dr. Wolfgang Schultz, head of the Department of Orthopaedics, Georg-August-Universitaet, Goettingen, for the specimens of osteoarthritic cartilage. Parts of the work were taken from the doctoral theses of Michael Hartmann and Felix Stockhammer.
About this article
Cite this article
Miosge, N., Hartmann, M., Maelicke, C. et al. Expression of collagen type I and type II in consecutive stages of human osteoarthritis. Histochem Cell Biol 122, 229–236 (2004). https://doi.org/10.1007/s00418-004-0697-6
Accepted:

Published:

Issue Date:

DOI: https://doi.org/10.1007/s00418-004-0697-6
Keywords
Human articular cartilage

Osteoarthritis

In situ hybridization

Real-time PCR

Collagen type I and type II