Abstract
Purpose
Myotonic dystrophy type 1 is the most common muscular dystrophy in adulthood, caused by a triplet repeat in chromosome 19q13.3. The present study investigates the frequency of the different ocular alterations in Spanish patients with DM1 and its relationship with the severity of the genetic alteration.
Methods
Cross-sectional and multicenter study was conducted on patients with genetically confirmed DM1. Ophthalmologic examinations included visual acuity assessment, manifest refraction, slit-lamp biomicroscopy, tonometry, ocular motility, corneal tomography, and macular and optic nerve optical coherence tomography.
Results
A total of 42 patients (84 eyes) were included. Mean age was 46.9 ± 13.4 (SD) years, and 57.1% were women. Fifteen patients had undergone cataract surgery in at least one eye (35.7%), and 13 (30.9%) had significant cataract. Mean intraocular pressure (IOP) was 10.5 ± 2.9 mmHg, and mean central corneal thickness (CCT) was 580.04 ± 48.61 μm. Half of the patients had significant ptosis, and 8 patients (9.75%) had undergone eyelid surgery. Macular abnormalities included retinal pigment epithelium alterations in 8 eyes of 6 patients, epiretinal membrane in 3 eyes, and lamellar hole in 2 eyes. A moderate correlation was found between IOP and ptosis with the number of triplet repeats.
Conclusion
Early cataract onset, low IOP, thicker CCT, and ptosis were the most significant manifestations of DM in our sample. Correlation found between IOP and ptosis with CTG repeat could be interesting in order to improve diagnosis and medical care of these patients but should be confirmed in further studies.
Access options
Buy single article
Instant access to the full article PDF.
USD 39.95
Price excludes VAT (USA)
Tax calculation will be finalised during checkout.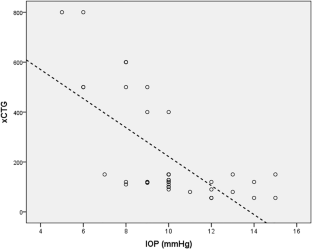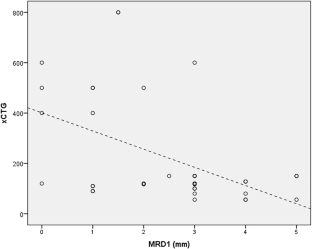 References
Thornton CA (2014) Myotonic dystrophy. Neurol Clin 32:705–719

Theadom A, Rodrigues M, Roxburgh R, Balalla S, Higgins C, Bhattacharjee R et al (2014) Prevalence of muscular dystrophies: a systematic literature review. Neuroepidemiology 43:259–268

Darras BT (2021) Myotonic dystrophy: etiology, clinical features, and diagnosis. UpToDate. In: Shefner JM, Nordli DR (eds). Up to date. 2021

Gutiérrez Gutiérrez G, Díaz-Manera J, Almendrote M, Azriel S, Eulalio Bárcena J, Cabezudo García P et al (2020) Clinical guide for the diagnosis and follow-up of myotonic dystrophy type 1, MD1 or Steinert's disease. Neurologia 35:185–206

Eshaghian J, March WF, Goossens W, Rafferty NS (1978) Ultrastructure of cataract in myotonic dystrophy. Investig Ophthalmol Vis Sci 17:289–293

Rosa N, Lanza M, Borrelli M, Palladino A, Di Gregorio MG, Politano L (2009) Intraocular pressure and corneal biomechanical properties in patients with myotonic dystrophy. Ophthalmology 116:231–234

Rosa N, Lanza M, Borrelli M, De Bernardo M, Palladino A, Di Gregorio MG et al (2011) Low intraocular pressure resulting from ciliary body detachment in patients with myotonic dystrophy. Ophthalmology 118:260–264

Ikeda KS, Iwabe-Marchese C, França MC, Nucci A, de Carvalho KM (2016) Distrofia miotônica tipo 1: Frequência dos achados oftalmológicos. Arq Neuropsiquiatr 74:183–188

Choi SH, Yang HK, Hwang JM, Park KS (2016) Ocular findings of myotonic dystrophy type 1 in the Korean population. Graefe's Arch Clin Exp Ophthalmol 254:1189–1193

Sarks J, Liu H, Killingsworth M, Horowitz G, Penfold P, Sarks S (1985) Retinal changes in myotonic dystrophy: a clinicomorphological study. Aust N Z J Ophthalmol 13:19–36

Kimizuka Y, Kiyosawa M, Tamai M, Takase S (1993) Retinal changes in myotonic dystrophy. Clinical and follow-up evaluation - PubMed. Retina 13:129–135

Abed E, D'Amico G, Rossi S, Perna A, Bianchi MLE, Silvestri G (2020) Spectral domain optical coherence tomography findings in myotonic dystrophy. Neuromuscul Disord 30:144–150

Acosta R, Hoffmeister L, Román R, Comas M, Castilla M, Castells X (2006) Revisión sistemática de estudios poblacionales de prevalencia de catarata. Arch Soc Esp Oftalmol 81:509–516

Medica I, Teran N, Volk M, Pfeifer V, Ladavac E, Peterlin B (2007) Patients with primary cataract as a genetic pool of DMPK protomutation. J Hum Genet 52:123–128

Sánchez Marín JP, Sienes Bailo P, Lahoz Alonso R, Capablo Liesa JL, Gazulla Abio J, Giménez Muñoz JA, Modrego Pardo PJ, Pardiñas Barón B, Izquierdo Álvarez S (2021) Myotonic dystrophy type1: 13years of experience at a tertiary hospital. Clinical and epidemiological study and genotype-phenotype correlation. Distrofia miotónica tipo1: 13años de experiencia en un hospital terciario. Estudio clínico y epidemiológico. Correlación genotipo-fenotipo. Neurologia (Barcelona, Spain), S0213–4853(21)00050–5. Advance online publication. https://doi.org/10.1016/j.nrl.2021.02.012

Marchini C, Lonigro R, Verriello L, Pellizzari L, Bergonzi P, Damante G (2000) Correlations between individual clinical manifestations and CTG repeat amplification in myotonic dystrophy. Clin Genet 57:74–82

Aring E, Ekström AB, Tulinius M, Sjöström A (2012) Ocular motor function in relation to gross motor function in congenital and childhood myotonic dystrophy type 1. Acta Ophthalmol 90:369–374

Salehi LB, Bonifazi E, Di Stasio E, Gennarelli M, Botta A, Vallo L et al (2007) Risk prediction for clinical phenotype in myotonic dystrophy type 1: data from 2,650 patients. Genet Test 11:84–90

Leydhecker W (1958) Ein neues Verfahren der klinischen Tonographie. [A new procedure of clinical tonography]. Klin Monbl Augenheilkd Augenarztl Fortbild 132:77–95

Garcia Filho CA, Prata TS, Sousa AK, Doi LM, Melo LA Jr. (2011) Intraocular pressure, corneal thickness, and corneal hysteresis in Steinert's myotonic dystrophy. Arquivos Brasileiros de Oftalmologia 74(3):161–162. https://doi.org/10.1590/s0004-27492011000300002

Sánchez-Tocino H, Bringas-Calvo R, Iglesias-Cortiñas D (2007) Correlación entre presión intraocular, paquimetría y queratometría en una población normal. Arch Soc Esp Oftalmol 82:267–272

Esteves F, Dolz-Marco R, Hernández-Martínez P, Díaz-Llopis M, Gallego-Pinazo R (2013) Pattern dystrophy of the macula in a case of Steinert disease. Case Rep Ophthalmol 4:129–133

Kersten HM, Roxburgh RH, Child N, Polkinghorne PJ, Frampton C, Danesh-Meyer HV (2014) Epiretinal membrane: a treatable cause of visual disability in myotonic dystrophy type 1. J Neurol 261:37–44

Alasil T, Wang K, Keane PA, Lee H, Baniasadi N, De Boer JF et al (2013) Analysis of normal retinal nerve fiber layer thickness by age, sex, and race using spectral domain optical coherence tomography. J Glaucoma 22:532–541
Ethics declarations
Ethics approval
All procedures performed in studies involving human participants were in accordance with the ethical standards of the Ramón y Cajal University Hospital Ethics Committee and with the 1964 Helsinki Declaration and its later amendments or comparable ethical standards.
Consent to participate
Informed consent was obtained from all individual participants included in the study.
Conflict of interest
The authors declare no competing interests.
Additional information
Publisher's note
Springer Nature remains neutral with regard to jurisdictional claims in published maps and institutional affiliations.
Rights and permissions
Springer Nature or its licensor (e.g. a society or other partner) holds exclusive rights to this article under a publishing agreement with the author(s) or other rightsholder(s); author self-archiving of the accepted manuscript version of this article is solely governed by the terms of such publishing agreement and applicable law.
About this article
Cite this article
García-Cruz, I., Muñoz-Negrete, F.J., Benito-Pascual, B. et al. Ocular findings in a Spanish cohort of myotonic dystrophy type 1. Graefes Arch Clin Exp Ophthalmol 261, 1109–1114 (2023). https://doi.org/10.1007/s00417-022-05875-4
Received:

Revised:

Accepted:

Published:

Issue Date:

DOI: https://doi.org/10.1007/s00417-022-05875-4
Keywords