Abstract
Purpose
To explore the effect of pregnancy on the clinical course, outcome, and treatment in multiparous women with non-infectious uveitis.
Methods
Retrospective study of women with a history of non-infectious uveitis and pregnancies prior to and during disease course. Disease activity and severity 1-year prior pregnancy, during pregnancy, and 1-year postpartum were recorded as well as patients' and diseases' characteristics. The main outcome measures included the rate and severity of uveitis attacks and the effect on ocular complications and therapies.
Results
Included were 32 women (70 pregnancies, mean of 2.6 pregnancies/patient), with a mean follow-up time of 6.5 years. The most common uveitis types were anterior (31%) and pan-uveitis (31%). Flare-ups were more frequent in the year prior to pregnancy, in the first trimester, and in the postpartum period and decreased markedly during pregnancy. Women who experienced a flare-up during pregnancy had a higher rate of flare-ups in the year prior pregnancy than those who did not experience a flare-up during pregnancy (p-0.047). The rate of flare-ups 12 months' postpartum was also higher compared to women without any flare-up during pregnancy (p = 0.01). Severity of flare-ups in the postpartum period was worse in women who experienced a flare-up during pregnancy compared to women without flare-ups (p = 0.001). The severity of flare-ups was higher in the first pregnancy compared to subsequent pregnancies.
Conclusions
Women who had active or non-controlled uveitis prior to pregnancy have higher disease activity and severity during pregnancy as well. The first pregnancy seems to behave differently from subsequent pregnancies, in terms of disease severity.
Access options
Buy single article
Instant access to the full article PDF.
USD 39.95
Price excludes VAT (USA)
Tax calculation will be finalised during checkout.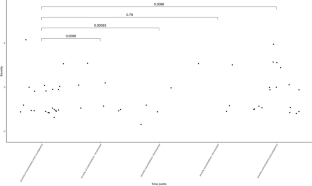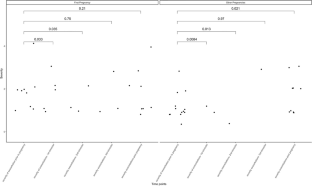 References
Tsirouki T, Dastiridou A, Symeonidis C et al (2018) A focus on the epidemiology of uveitis. Ocul Immunol Inflamm 26:2–16. https://doi.org/10.1080/09273948.2016.1196713

Chang JHM, Wakefield D (2002) Uveitis: a global perspective. Ocul Immunol Inflamm 10:263–279. https://doi.org/10.1076/ocii.10.4.263.15592

Wilder RL (1998) Hormones, pregnancy, and autoimmune diseases. Ann N Y Acad Sci 840:45–50. https://doi.org/10.1111/j.1749-6632.1998.tb09547.x

Desai MK, Brinton RD (2019) Autoimmune disease in women: endocrine transition and risk across the lifespan. Front Endocrinol 10:265

Williams Z (2012) Inducing tolerance to pregnancy. N Engl J Med 367:1159–1161. https://doi.org/10.1056/NEJMcibr1207279

Borchers AT, Naguwa SM, Keen CL, Gershwin ME (2010) The implications of autoimmunity and pregnancy. J Autoimmun 34: https://doi.org/10.1016/j.jaut.2009.11.015

Borba VV, Zandman-Goddard G, Shoenfeld Y (2019) Exacerbations of autoimmune diseases during pregnancy and postpartum. Best Pract Res Clin Endocrinol Metab 33:101321. https://doi.org/10.1016/J.BEEM.2019.101321

Piccinni MP, Lombardelli L, Logiodice F, et al (2016) How pregnancy can affect autoimmune diseases progression? Clin Mol Allergy 14:. https://doi.org/10.1186/S12948-016-0048-X

Ernerudh J, Berg G, Mjösberg J (2011) Regulatory T helper cells in pregnancy and their roles in systemic versus local immune tolerance. Am J Reprod Immunol 66:31–43. https://doi.org/10.1111/J.1600-0897.2011.01049.X

Chan CC, Reed GF, Kim Y et al (2004) A correlation of pregnancy term, disease activity, serum female hormones, and cytokines in uveitis. Br J Ophthalmol 88:1506–1509. https://doi.org/10.1136/BJO.2004.048595

Kump LI, Cervantes-Castañeda RA, Androudi SN et al (2006) Patterns of exacerbations of chronic non-infectious uveitis in pregnancy and puerperium. Ocul Immunol Inflamm 14:99–104. https://doi.org/10.1080/09273940500557027

Chiam NPY, Lim LLP (2014) Uveitis and gender: the course of uveitis in pregnancy. J Ophthalmol 2014:401915. https://doi.org/10.1155/2014/401915

Grotting LA, Papaliodis GN (2017) A review of the course and treatment of non-infectious uveitis during pregnancy. Semin Ophthalmol 32:75–81. https://doi.org/10.1080/08820538.2016.1228402

Rabiah PK, Vitale AT (2003) Noninfectious uveitis and pregnancy. Am J Ophthalmol 136:91–98. https://doi.org/10.1016/S0002-9394(03)00110-7

Bloch-Michel E, Nussenblatt RB (1987) International uveitis study group recommendations for the evaluation of intraocular inflammatory disease. Am J Ophthalmol 103:234–235. https://doi.org/10.1016/S0002-9394(14)74235-7

Jabs DA, Nussenblatt RB, Rosenbaum JT (2005) Standardization of uveitis nomenclature for reporting clinical data. Results of the First International Workshop. Am J Ophthalmol 140:509–516

Chiam NPY, Hall AJH, Stawell RJ et al (2013) The course of uveitis in pregnancy and postpartum. Br J Ophthalmol 97:1284–1288. https://doi.org/10.1136/BJOPHTHALMOL-2013-303358
Ethics declarations
Ethics approval
All procedures performed in studies involving human participants were in accordance with the ethical standards of the (Rabin Medical Center, Petah-Tikva, Israel, and Hadassah University Hospital, Jerusalem, Israel) and with the 1964 Helsinki declaration and its later amendments or comparable ethical standards.
Informed consent
Informed consent was not applicable in this study.
Conflict of interest
The authors declare no competing interests.
Additional information
Publisher's note
Springer Nature remains neutral with regard to jurisdictional claims in published maps and institutional affiliations.
Rights and permissions
Springer Nature or its licensor holds exclusive rights to this article under a publishing agreement with the author(s) or other rightsholder(s); author self-archiving of the accepted manuscript version of this article is solely governed by the terms of such publishing agreement and applicable law.
About this article
Cite this article
Sharon, Y., Adler, A., Tiosano, A. et al. The effect of pregnancy on the course of uveitis in single and multiple pregnancies. Graefes Arch Clin Exp Ophthalmol 261, 803–808 (2023). https://doi.org/10.1007/s00417-022-05829-w
Received:

Revised:

Accepted:

Published:

Issue Date:

DOI: https://doi.org/10.1007/s00417-022-05829-w
Keywords