Abstract
Purpose
To evaluate the 2-year efficacy and safety of micropulse transscleral cyclophotocoagulation (MP-TSCPC) in Taiwanese patients with glaucoma.
Methods
We included the patients who received standardized MP-TSCPC with follow-up examinations on a regular basis for 24 months. Treatment success was defined as the attainment of a postoperative intraocular pressure (IOP) between 6 and 21 mmHg or a ≥ 20% reduction in IOP from baseline without an increase in glaucoma medications.
Results
A total of 60 eyes from 56 patients who underwent MP-TSCPC for refractory glaucoma were included. The median age at MP-TSCPC intervention was 58.9 ± 12.4 years. The percentage of treatment success was 88.3% at 3 months, 83.3% at 6 months, 78.3% at 12 months, and 75.0% at 24 months. The mean baseline IOP prior to MP-TSCPC was 34 ± 11.9 mmHg (range 14–56 mmHg). The mean postoperative IOP decreased to 20.9 ± 10.0 mmHg, 18.0 ± 7.8 mmHg, 17.5 ± 6.4 mmHg, and 18.2 ± 7.1 mmHg after 3 months, 6 months, 12 months, and 24 months, respectively, in successful cases. The mean number of glaucoma medications at baseline was 3.8 ± 0.2, and the mean numbers of glaucoma medications at postoperative months 3, 6, 12, and 24 were 2.6 ± 0.7, 2.8 ± 0.6, 2.5 ± 1.4 and 2.6 ± 1.4, respectively, in successful cases. Younger age and prior CW-TSCPC significantly contributed to surgical failure in the multivariate model. Complications after MP-TSCPC included mild anterior chamber inflammation, conjunctival hemorrhage, hypotony, and mydriasis, and all subsided after treatment. None of the eyes developed vitreous hemorrhage, cystoid macular edema, or phthisis bulbi in the late postoperative period.
Conclusions
This study demonstrated that younger age and prior CW-TSCPC were risk factors for MP-TSCPC failure within 2 years. MP-TSCPC might be safe and effective for refractory glaucoma patients with maximal antiglaucoma medications.
Access options
Buy single article
Instant access to the full article PDF.
USD 39.95
Price includes VAT (USA)
Tax calculation will be finalised during checkout.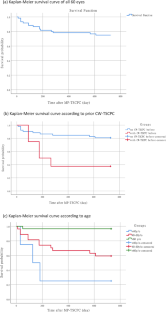 Data availability
The data of this study are available from the corresponding author upon reasonable request.
References
1.

Tan AM, Chockalingam M, Aquino MC et al (2010) Micropulse transscleral diode laser cyclophotocoagulation in the treatment of refractory glaucoma. Clin Exp Ophthalmol 38:266–272

2.

Abdelrahman AM, El Sayed YM (2018) Micropulse versus continuous wave transscleral cyclophotocoagulation in refractory pediatric glaucoma. J Glaucoma 27:900–905

3.

Maslin JS, Chen PP, Sinard J et al (2020) Histopathologic changes in cadaver eyes after MicroPulse and continuous wave transscleral cyclophotocoagulation. Can J Ophthalmol 55:330–335

4.

Johnstone MA, SONG S, Padilla S, et al. (2019) Microscope real-time video (MRTV), high- resolution OCT (HR-OCT) & histopathology (HP) to assess how transcleral micropulse laser (TML) affects the sclera, ciliary body (CB), muscle (CM), secretory epithelium (CBSE), suprachoroidal space (SCS) & aqueous outflow system. Invest Ophthalmol Vis Sci 60: 2825-2825

5.

Chan EW, Li X, Tham YC et al (2016) Glaucoma in Asia: regional prevalence variations and future projections. Br J Ophthalmol 100:78–85

6.

Hodapp E, Parrish RK, Anderson DR (1993) Clinical decisions in glaucoma. Mosby Incorporated pp. 52–61.

7.

Jabs DA, Nussenblatt RB, Rosenbaum JT (2005) Standardization of uveitis nomenclature for reporting clinical data. Results of the First International Workshop. Am J Ophthalmol 140:509–516

8.

Yun S, Chua B, Clement CI (2015) Does Chronic Hypotony following Trabeculectomy Represent Treatment Failure? J Curr Glaucoma Pract 9:12–15

9.

Nguyen AT, Maslin J, Noecker RJ (2020) Early results of micropulse transscleral cyclophotocoagulation for the treatment of glaucoma. Eur J Ophthalmol 30:700–705

10.

Zaarour K, Abdelmassih Y, Arej N et al (2019) Outcomes of micropulse transscleral cyclophotocoagulation in uncontrolled glaucoma patients. J Glaucoma 28:270–275

11.

Souissi S, Baudouin C, Labbé A et al (2019) Micropulse transscleral cyclophotocoagulation using a standard protocol in patients with refractory glaucoma naive of cyclodestruction. Eur J Ophthalmol 31(1):112–119. https://doi.org/10.1177/1120672119877586

12.

de Crom R, Slangen C, Kujovic-Aleksov S et al (2020) Micropulse trans-scleral cyclophotocoagulation in patients with glaucoma: 1- and 2-year treatment outcomes. J Glaucoma 29:794–798

13.

Williams AL, Moster MR, Rahmatnejad K et al (2018) Clinical efficacy and safety profile of micropulse transscleral cyclophotocoagulation in refractory glaucoma. J Glaucoma 27:445–449

14.

Cheung JJC, Li KKW, Tang SWK (2019) Retrospective review on the outcome and safety of transscleral diode laser cyclophotocoagulation in refractory glaucoma in Chinese patients. Int Ophthalmol 39:41–46

15.

Kaushik S, Pandav SS, Jain R et al (2008) Lower energy levels adequate for effective transcleral diode laser cyclophotocoagulation in Asian eyes with refractory glaucoma. Eye (Lond) 22:398–405

16.

Cantor LB, Nichols DA, Katz LJ et al (1989) Neodymium-YAG transscleral cyclophotocoagulation. The role of pigmentation. Invest Ophthalmol Vis Sci 30:1834–1837

17.

Pastor SA, Singh K, Lee DA et al (2001) Cyclophotocoagulation: a report by the american academy of ophthalmology11Prepared by the Ophthalmic Technology Assessment Committee Glaucoma Panel and approved by the American Academy of Ophthalmology's Board of Trustees August 1, 2001. Ophthalmology 108:2130–2138

18.

Liu GJ, Mizukawa A, Okisaka S (1994) Mechanism of intraocular pressure decrease after contact transscleral continuous-wave Nd:YAG laser cyclophotocoagulation. Ophthalmic Res 26:65–79

19.

Hampton C, Shields MB (1988) Transscleral neodymium-YAG cyclophotocoagulation. A histologic study of human autopsy eyes. Arch Ophthalmol 106:1121–1123

20.

Grueb M, Rohrbach JM, Bartz-Schmidt KU et al (2006) Transscleral diode laser cyclophotocoagulation as primary and secondary surgical treatment in primary open-angle and pseudoexfoliatve glaucoma. Long-term clinical outcomes. Graefes Arch Clin Exp Ophthalmol 244:1293–1299

21.

Garcia GA, Nguyen CV, Yelenskiy A et al (2019) Micropulse transscleral diode laser cyclophotocoagulation in refractory glaucoma: short-term efficacy, safety, and impact of surgical history on outcomes. Ophthalmol Glaucoma 2:402–412

22.

Schlote T, Derse M, Rassmann K et al (2001) Efficacy and safety of contact transscleral diode laser cyclophotocoagulation for advanced glaucoma. J Glaucoma 10:294–301

23.

Threlkeld AB, Johnson MH (1999) Contact transscleral diode cyclophotocoagulation for refractory glaucoma. J Glaucoma 8:3–7

24.

Gärtner J (1970) Electron microscopic observations on the cilio-zonular border area of the human eye with particular reference to the aging changes. Z Anat Entwicklungsgesch 131:263–273

25.

Vieira GM, Vieira FJ, Ritch R (2017) Urrets-Zavalia syndrome after diode laser transscleral cyclophotocoagulation. J Glaucoma 26:678–682

26.

Egbert PR, Fiadoyor S, Budenz DL et al (2001) Diode laser transscleral cyclophotocoagulation as a primary surgical treatment for primary open-angle glaucoma. Arch Ophthalmol 119:345–350

27.

Aquino MC, Barton K, Tan AM et al (2015) Micropulse versus continuous wave transscleral diode cyclophotocoagulation in refractory glaucoma: a randomized exploratory study. Clin Exp Ophthalmol 43:40–46
Funding
This study was supported by Chang Gung Memorial Hospital Research Grants (CMRPG3I0071-3 and MRPG3L0151), a Ministry of Science and Technology Research Grant (MOST 109–2314-B-182A-019-MY3) The sponsors had no role in the design or conduct of this research.
Ethics declarations
Ethics approval
We obtained approval from the Institutional Review Board of Chang Gung Medical Foundation (202100095B0), and all the methods described were compliant with the tenets of the Declaration of Helsinki.
Consent to participate
Not applicable.
Conflict of interest
The authors declare no conflict of interest.
Additional information
Publisher's note
Springer Nature remains neutral with regard to jurisdictional claims in published maps and institutional affiliations.
About this article
Cite this article
Chen, H.SL., Yeh, PH., Yeh, CT. et al. Micropulse transscleral cyclophotocoagulation in a Taiwanese population: 2-year clinical outcomes and prognostic factors. Graefes Arch Clin Exp Ophthalmol (2021). https://doi.org/10.1007/s00417-021-05468-7
Received:

Revised:

Accepted:

Published:
Keywords
Intraocular pressure

Glaucoma

Treatment lasers

Micropulse