Abstract
Purpose
The purpose of the study was to evaluate glaucoma patients' quality of life (QoL) as measured by National Eye Institute Visual Functioning Questionnaire (NEI VFQ-39) and to examine the influence of patient characteristics and disease stage measured by visual field loss on QoL.
Methods
A prospective survey of patients with an established diagnosis of glaucoma without concomitant eye disease was conducted. Patients completed a validated German translation of the NEI VFQ-39 questionnaire. Visual field defects were graded using simplified Hodapp's classification. VFQ-39 scores were compared between groups.
Results
We included 60 patients, 28 of whom were classified as early, 16 as moderate, and 16 as advanced stage glaucoma. No differences were found in sex, visual acuity of the better eye, near visual acuity, treatment type, and VFQ rating for "General health" between groups. In the advanced group, VFQ-39 (p = 0.01) and VFQ-25 (p = 0.01) composite scores were significantly lower than in the early group. In addition, distance visual acuity (worse eye) was significantly worse in the advanced than in early stage patients (p = 0.04, Table 4). Patients with advanced glaucoma had significantly lower VFQ-39 subscale scores for "General vision" (p = 0.023), "Near activities" (p = 0.02), "Distance activities" (p = 0.003), "Mental health" (p = 0.008), "Driving" (p = 0.011), and "Peripheral vision" (p = 0.017) than early glaucoma patients. Patients with moderate glaucoma had significantly lower scores for "Distance activities" (p = 0.028) than early stage glaucoma patients. VFI (better eye: r = 0.65, worse eye: r = 0.5) and MD (better eye: r = 0.6, worse eye: r = 0.49) were significantly (p < 0.001) correlated with VFQ-39. Correlations of VFQ-39 with age, VFI intereye difference, distance, or near visual acuity were not significant.
Conclusion
Compared to patients with early glaucoma, patients with moderate stage glaucoma reported higher difficulty with distance activities (e.g. navigating an urban environment, watching television). Patients with advanced stage glaucoma reported lower VFQ-39 composite and subscale scores relevant to topics of general vision complaints, difficulties with near work and finding things, navigating urban outdoor environments, and watching television; worries and frustrations with vision difficulties; and difficulty driving and noticing objects off to the side of footpaths. Visual field indices MD and VFI were strongly correlated with QoL as assessed by VFQ-39. VA was not correlated with QoL. In patients with moderate or advanced glaucoma, QoL may be significantly impacted by glaucomatous visual field defects even when visual acuity is preserved.
Access options
Buy single article
Instant access to the full article PDF.
USD 39.95
Price includes VAT (USA)
Tax calculation will be finalised during checkout.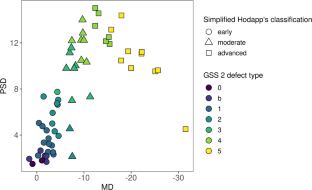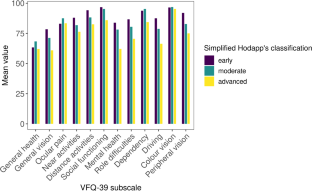 References
1.

Grant WM, Burke JF (1982) Why do some people go blind from glaucoma? Ophthalmology 89:991–998. https://doi.org/10.1016/S0161-6420(82)34675-8

2.

Weinreb RN, Khaw PT (2004) Primary open-angle glaucoma. Lancet 363:1711–1720. https://doi.org/10.1016/s0140-6736(04)16257-0

3.

Buys YM, Gaspo R, Kwok K (2012) Referral source, symptoms, and severity at diagnosis of ocular hypertension or open-angle glaucoma in various practices. Can J Ophthalmol 47:217–222. https://doi.org/10.1016/j.jcjo.2012.03.031

4.

Quaranta L, Riva I, Gerardi C et al (2016) Quality of life in glaucoma: a review of the literature. Adv Ther 33:959–981. https://doi.org/10.1007/s12325-016-0333-6

5.

Mangione CM, Berry S, Spritzer K et al (1998) Identifying the content area for the 51-item National Eye Institute Visual Function Questionnaire: results from focus groups with visually impaired persons. Arch Ophthalmol 116:227–233. https://doi.org/10.1001/archopht.116.2.227

6.

Nassiri N, Mehravaran S, Nouri-Mahdavi K, Coleman AL (2013) National Eye Institute Visual Function Questionnaire: usefulness in glaucoma. Optom Vis Sci 90:745–753. https://doi.org/10.1097/OPX.0000000000000003

7.

Franke G, Esser J, Voigtländer A, Mähner N (2009) NEI-vfq - national eye institute visual function questionnaire - deutsche adaptation. ZPID (Leibniz Institute for Psychology) – Open Test Archive. https://doi.org/10.23668/psycharchives.4571

8.

Mangione CM, Lee PP, Gutierrez PR et al (2001) Development of the 25-item National Eye Institute Visual Function Questionnaire. Arch Ophthalmol 119:1050–1058. https://doi.org/10.1001/archopht.119.7.1050

9.

Nelson-Quigg JM, Cello K, Johnson CA (2000) Predicting binocular visual field sensitivity from monocular visual field results. Invest Ophthalmol Vis Sci 41:2212–2221

10.

European Glaucoma Society (2020) Patient examination. In: Azuara-Blanco A (ed) Terminology and guidelines for glaucoma, 5th edn. PubliComm, Savona, pp 53–89

11.

Chow-Wing-Bom H, Dekker TM, Jones PR (2020) The worse eye revisited: evaluating the impact of asymmetric peripheral vision loss on everyday function. Vision Res 169:49–57. https://doi.org/10.1016/j.visres.2019.10.012

12.

Hirneiss C (2014) The impact of a better-seeing eye and a worse-seeing eye on vision-related quality of life. Clinical ophthalmology (Auckland, NZ) 8:1703–1709

13.

van Gestel A, Webers CAB, Beckers HJM et al (2010) The relationship between visual field loss in glaucoma and health-related quality-of-life. Eye (Lond) 24:1759–1769

14.

Franke GH, Esser J, Voigtländer A, Mähner N (1998) Der National Eye Institute Visual Function Questionnaire (NEI-VFQ) - Erste Ergebnisse zur psychometrischen Ueberpruefung eines Verfahrens zur Erfassung der Lebensqualitaet bei Sehbeeinträchtigten. Z Med Psychol 7:178–184

15.

Hodapp E, Parrish RK, Anderson DR (1993) Clinical decisions in glaucoma. Mosby, Maryland Heights

16.

Brusini P, Filacorda S (2006) Enhanced glaucoma staging system (GSS 2) for classifying functional damage in glaucoma. J Glaucoma 15:40–46. https://doi.org/10.1097/01.ijg.0000195932.48288.97

17.

R Core Team (2020) R: a language and environment for statistical computing. https://www.R-project.org/. Accessed 1 Apr 2021

18.

Wolfram C, Lorenz K, Breitscheidel L et al (2013) Health- and vision-related quality of life in patients with ocular hypertension or primary open-angle glaucoma. Ophthalmologica 229:227–234. https://doi.org/10.1159/000350553

19.

Medeiros FA, Gracitelli CPB, Boer ER et al (2015) Longitudinal changes in quality of life and rates of progressive visual field loss in glaucoma patients. Ophthalmology 122:293–301. https://doi.org/10.1016/j.ophtha.2014.08.014

20.

Hirneiß C, Schmid-Tannwald C, Kernt M et al (2009) The NEI VFQ-25 vision-related quality of life and prevalence of eye disease in a working population. Graefe's Archive for Clinical and Experimental Ophthalmology 248:85. https://doi.org/10.1007/s00417-009-1186-3

21.

Globe D, Varma R, Azen SP et al (2003) Psychometric performance of the NEI VFQ-25 in visually normal Latinos: the Los Angeles Latino eye study. Invest Ophthalmol Vis Sci 44:1470–1478. https://doi.org/10.1167/iovs.02-0292

22.

Nickels S, Schuster AK, Singer S et al (2017) The National Eye Institute 25-Item Visual Function Questionnaire (NEI VFQ-25) - reference data from the German population-based Gutenberg Health Study (GHS). Health Qual Life Outcomes 15:156. https://doi.org/10.1186/s12955-017-0732-7

23.

Aspinall PA, Johnson ZK, Azuara-Blanco A et al (2008) Evaluation of quality of life and priorities of patients with glaucoma. Invest Ophthalmol Vis Sci 49:1907–1915. https://doi.org/10.1167/iovs.07-0559

24.

Burr JM, Kilonzo M, Vale L, Ryan M (2007) Developing a preference-based glaucoma utility index using a discrete choice experiment. Optom Vis Sci 84:797–808. https://doi.org/10.1097/OPX.0b013e3181339f30

25.

Ramulu PY, West SK, Munoz B et al (2009) Driving cessation and driving limitation in glaucoma: the Salisbury Eye Evaluation Project. Ophthalmology 116:1846–53

26.

Kulkarni KM, Mayer JR, Lorenzana LL et al (2012) Visual field staging systems in glaucoma and the activities of daily living. Am J Ophthalmol 154:445-451.e3. https://doi.org/10.1016/j.ajo.2012.03.030

27.

Murata H, Hirasawa H, Aoyama Y et al (2013) Identifying areas of the visual field important for quality of life in patients with glaucoma. PLoS ONE 8:1–7. https://doi.org/10.1371/journal.pone.0058695
Acknowledgements
Source code for GSS 2 classification was provided by Stephen Kelly from David Crabb's group at City, University of London, UK, and is gratefully acknowledged.
Ethics declarations
Ethical approval and informed consent
The study protocol and patient consent form were approved by the ethics committee of the city of Vienna. The study was conducted in accordance with the World Medical Association's Declaration of Helsinki (2013) and the guideline for Good Clinical Practice established by the International Council for Harmonisation of Technical Requirements for Pharmaceuticals for Human Use (2017). All patients provided informed consent prior to inclusion in the study.
Conflict of interest
All authors declare that they have no conflicts of interest that are relevant to the content of this article.
Additional information
Publisher's note
Springer Nature remains neutral with regard to jurisdictional claims in published maps and institutional affiliations.
About this article
Cite this article
Szegedi, S., Boltz, A., Scharinger, EM. et al. Quality of life in patients with glaucoma assessed by 39-item National Eye Institute Visual Functioning Questionnaire (NEI VFQ-39). Graefes Arch Clin Exp Ophthalmol (2021). https://doi.org/10.1007/s00417-021-05434-3
Received:

Revised:

Accepted:

Published:
Keywords
Glaucoma

Quality of life

NEI-VFQ-39

NEI-VFQ-25