Abstract
Purpose
Sector retinitis pigmentosa (RP) is a rare form of rod-cone degeneration typically associated with mutations in the RHO gene. We describe six unrelated patients presenting with this atypical phenotype in association with biallelic mutations in EYS gene.
Methods
Multinational, multicentre cross-sectional case series. Patients with biallelic disease-causing variants in EYS and a clinical diagnosis of sector RP were recruited from specialized centres in Portugal and Brazil. All patients underwent a comprehensive ophthalmologic examination complemented by deep phenotyping. Peripheral blood samples were collected from all probands and available relatives for genetic analysis. Genetic counselling was provided to all subjects.
Results
Seven disease-causing variants (4 pathogenic; 3 likely pathogenic) were identified in 6 unrelated female patients. Best-corrected visual acuity ranged from 75 to 85 ETDRS letters. All eyes showed bilateral and symmetrical areas of outer retinal atrophy distributed along the inferior vascular arcades and extending temporally and/or nasally in a crescent-shaped pattern. On fundus autofluorescence (AF), a foveal-sparing curvilinear band of hyperAF encroaching the optic nerve head and extending temporally was seen in 4 patients. The remaining 2 presented bilateral and symmetrical patches of hypoAF inside crescent-shaped areas of hyperAF along the inferior temporal vascular arcade. Visual field testing revealed superior visual field defects of varying extents, always in close association with the fundus AF findings.
Conclusions
Even though EYS has only recently been listed as a cause of the sector RP phenotype, we believe that this presentation is not infrequent and should be considered an important differential for sector RP.

Access options
Buy single article
Instant access to the full article PDF.
USD 39.95
Price includes VAT (USA)
Tax calculation will be finalised during checkout.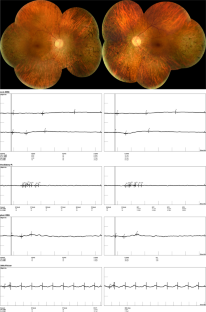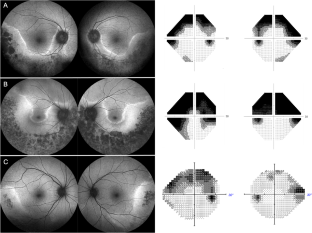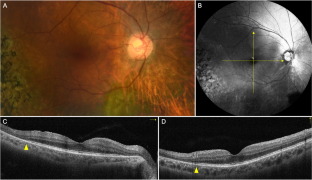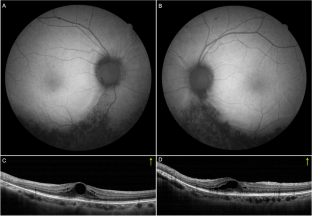 References
1.

Massof Rw, Finkelstein D (1979) Vision threshold profiles in sector retinitis pigmentosa. Arch Ophthalmol 97(10):1899–1904

2.

Van Woerkom C, Ferrucci S (2005) Sector retinitis pigmentosa. Optometry 76(5):309–317

3.

Napier Ml, Durga D, Wolsley Cj et al (2015) Mutational analysis of the rhodopsin gene in sector retinitis pigmentosa. Ophthalmic Genet 36(3):239–243

4.

Coussa Rg, Basali D, Maeda A et al (2019) Sector retinitis pigmentosa: report of ten cases and a review of the literature. Mol Vis 25:869–889

5.

Xiao T, Xu K, Zhang X et al (2019) Sector retinitis pigmentosa caused by mutations of the Rho gene. Eye (Lond) 33(4):592–599

6.

Oliveira Ma, Neves E, Marques Jp (2020) Genetic, anatomical, and functional correlation of sector retinitis pigmentosa. Jama Ophthalmol 138(6):E193133

7.

Bisantis C (1971) [G.B. Bietti's sectorial pigmentary retinopathy. contribution to the knowledge of its various clinical aspects]. Ann Ocul (Paris) 204(9):907–54

8.

Xt Nguyen, Talib M, Van Cauwenbergh C et al (2020) Clinical characteristics and natural history of Rho-associated retinitis pigmentosa: a long-term follow-up study. Retina 41(1):213–223

9.

Ramon E, Cordomi A, Aguila M et al (2014) Differential light-induced responses in sectorial inherited retinal degeneration. J Biol Chem 289(52):35918–35928

10.

Georgiou M, Ps Grewal, Narayan A et al (2020) Sector Retinitis pigmentosa: extending the molecular genetics basis and elucidating the natural history. Am J Ophthalmol 221:299–310

11.

Saihan Z, StabejPle Q, Robson Ag et al (2011) Mutations in the Ush1c gene associated with sector retinitis pigmentosa and hearing loss. Retina 31(8):1708–1716

12.

Branson Sv, Mcclintic Ji, Stamper Th et al (2016) Sector retinitis pigmentosa associated with novel compound heterozygous mutations of Cdh23. Ophthalmic Surg Lasers Imaging Retina 47(2):183–186

13.

Sato M, Oshika T, Kaji Y et al (2004) A novel homozygous Gly107arg mutation in the Rdh5 gene in a japanese patient with fundus albipunctatus with sectorial retinitis pigmentosa. Ophthalmic Res 36(1):43–50

14.

Nakamachi Y, Nakamura M, Fujii S et al (1998) Oguchi disease with sectoral retinitis pigmentosa harboring adenine deletion at position 1147 in the arrestin gene. Am J Ophthalmol 125(2):249–251

15.

Pappalardo J, Heath Jeffery RC, Thompson JA et al (2021) Progressive sector retinitis pigmentosa due to C.440g>T mutation in SAG in an Australian family. Ophthalmic Genet 42(1):62–70

16.

Arai Y, Maeda A, Hirami Y et al (2015) Retinitis pigmentosa with eys mutations is the most prevalent inherited retinal dystrophy in Japanese populations. J Ophthalmol 2015:819760

17.

Audo I, Ja S, Mohand-Said S et al (2010) Eys is a major gene for rod-cone dystrophies in France. Hum Mutat 31(5):E1406–E1435

18.

Barragan I, Borrego S, Ji P et al (2010) Mutation spectrum of eys in spanish patients with autosomal recessive retinitis pigmentosa. Hum Mutat 31(11):E1772–E1800

19.

Yang L, Fujinami K, Ueno S et al (2020) Genetic spectrum of eys-associated retinal disease in a large Japanese cohort: identification of disease-associated variants with relatively high allele frequency. Sci Rep 10(1):5497

20.

Abd El-Aziz Mm, Barragan I, O'driscoll Ca et al (2008) Encoding an ortholog of drosophila spacemaker, is mutated in autosomal recessive retinitis pigmentosa. Nat Genet 40(11):1285–1287

21.

Collin Rw, Littink Kw, Klevering Bj et al (2008) Identification of A 2 Mb human ortholog of drosophila eyes shut/spacemaker that is mutated in patients with retinitis pigmentosa. Am J Hum Genet 83(5):594–603

22.

Pierrache Lhm, Messchaert M, Thiadens A et al (2019) Extending the spectrum of eys-associated retinal disease to macular dystrophy. Invest Ophthalmol Vis Sci 60(6):2049–2063

23.

Sengillo Jd, Lee W, Nagasaki T et al (2018) A distinct phenotype of eyes shut homolog (eys)-retinitis pigmentosa is associated with variants near the c-terminus. Am J Ophthalmol 190:99–112

24.

Mucciolo Dp, Sodi A, Passerini I et al (2018) Fundus phenotype in retinitis pigmentosa associated with eys mutations. Ophthalmic Genet 39(5):589–602

25.

Marques Jp, Carvalho Al, Henriques J et al (2020) Design, development and deployment of a web-based interoperable registry for inherited retinal dystrophies in Portugal: the ird-pt. Orphanet J Rare Dis 15(1):304

26.

Mcculloch Dl, Marmor Mf, Brigell Mg et al (2015) Iscev standard for full-field clinical electroretinography (2015 update). Doc Ophthalmol 130(1):1–12

27.

Fbo Porto, Em Jones, Branch J et al (2017) Molecular screening of 43 Brazilian families diagnosed with leber congenital amaurosis or early-onset severe retinal dystrophy. Genes (Basel) 8(12):355

28.

Giambene B, Verdina T, Pennino M et al (2020) Multifocal electroretinographic responses in sector retinitis pigmentosa. Int Ophthalmol 40(3):703–708

29.

Bandah-Rozenfeld D, Littink Kw, Ben-Yosef T et al (2010) Novel null mutations in the eys gene are a frequent cause of autosomal recessive retinitis pigmentosa in the Israeli population. Invest Ophthalmol Vis Sci 51(9):4387–4394

30.

Cundy O, Broadgate S, Halford S et al (2020) Genetic and clinical findings in an ethnically diverse retinitis pigmentosa cohort associated with pathogenic variants in eys. Eye (Lond) 35(5):1440–1449

31.

Db Mcguigan, Heon E, Av Cideciyan et al (2017) Eys mutations causing autosomal recessive retinitis pigmentosa: changes of retinal structure and function with disease progression. Genes (Basel) 8(7):178

32.

Habibi I, Chebil A, Falfoul Y et al (2016) Identifying mutations in tunisian families with retinal dystrophy. Sci Rep 6(1):37455

33.

Gonzalez-Del Pozo M, Borrego S, Barragan I et al (2011) Mutation screening of multiple genes in Spanish patients with autosomal recessive retinitis pigmentosa by targeted resequencing. PLoS ONE 6(12):E27894

34.

Schwartz L, Boelle Py, D'hermies F et al (2003) Blue light dose distribution and retinitis pigmentosa visual field defects: an hypothesis. Med Hypotheses 60(5):644–649

35.

Alfano G, Kruczek Pm, Shah Az et al (2016) Eys is a protein associated with the ciliary axoneme in rods and cones. PLoS ONE 11(11):E0166397
Ethics declarations
Ethics approval
All procedures performed in studies involving human participants were in accordance with the ethical standards of the HREC of Centro Hospitalar e Universitário de Coimbra (CHUC) and with the 1964 Helsinki declaration and its later amendments or comparable ethical standards.
Consent to participate
Informed consent was obtained from all individual participants included in the study.
Conflict of interest
The authors declare no competing interests.
Additional information
Publisher's note
Springer Nature remains neutral with regard to jurisdictional claims in published maps and institutional affiliations.
Supplementary Information
Below is the link to the electronic supplementary material.
Full-field electroretinogram (ffERG) of Patients 4, 5 and 6. On patients 4 and 5, bilateral marginally recordable scotopic and photopic responses were recorded. Patient 6 presented a subnormal scotopic and photopic ffERG. (PNG 1308 kb)
About this article
Cite this article
Marques, J.P., Porto, F.B.O., Carvalho, A.L. et al. EYS-Associated Sector Retinitis Pigmentosa. Graefes Arch Clin Exp Ophthalmol (2021). https://doi.org/10.1007/s00417-021-05411-w
Received:

Revised:

Accepted:

Published:
Keywords
Retinitis pigmentosa

EYS

Ophthalmic genetics

Inherited retinal dystrophies

Genotype–phenotype correlations