Abstract
Purpose
To evaluate the efficacy and safety profile of netarsudil 0.02% ophthalmic solution in a tertiary glaucoma referral center.
Methods
This retrospective cohort study included patients with glaucoma initiated on netarsudil 0.02% at a single institution from November 2017 to September 2018. Demographic and clinical data were collected, including intraocular pressure (IOP) and drug side effects at baseline and 1-, 3-, and 6-month follow-up visits.
Results
A total of 340 eyes of 233 patients were included; mean ± SD patient age was 69.1 ± 12.5 years. One hundred twenty (48%) eyes experienced ≥ 20% decreases in IOP at the 1-month study visit; this effect was maintained through the 6-month visit. IOP-lowering effects in patients using ≥ 3 topical glaucoma medications were similar (all p > 0.1). Eighteen (7.4%) and 7 (2.9%) patients experienced increases in IOP of ≥ 3 and ≥ 5 mmHg, respectively. Across all study visits, conjunctival hyperemia was noted at a rate of 27.6%, and though frequently reported, complaints of blurred vision (31.1%) did not manifest in significant worsening of visual acuity. The rate of drug discontinuation due to insufficient IOP-lowering and side effects was 15.6% and 24.8%, respectively. Twenty-nine (11.4%) and 82 (32.3%) eyes required additional medical and surgical/laser intervention, respectively.
Conclusion
Commonly used as the last-line medical therapy in this case series, netarsudil safely and significantly reduced IOP in patients with glaucoma, even in those using ≥ 3 glaucoma medications. Increases in IOP of ≥ 3 mmHg occurred in a small number of patients. Subjective vision changes and conjunctival hyperemia were the most frequently reported side effects.

Access options
Buy single article
Instant access to the full article PDF.
US$ 39.95
Tax calculation will be finalised during checkout.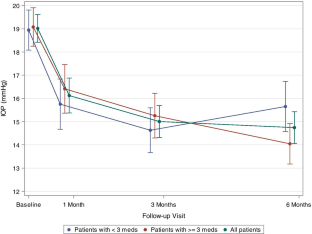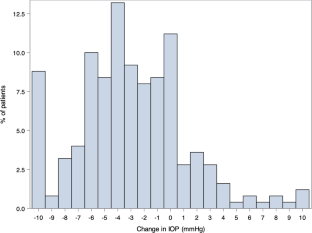 Data availability
Available upon reasonable request.
References
1.

Resnikoff S, Pascolini D, Etya'ale D et al (2004) Global data on visual impairment in the year 2002. Bull World Health Organ 82:844–851

2.

Anderson DR, Normal Tension Glaucoma S (2003) Collaborative normal tension glaucoma study. Curr Opin Ophthalmol 14:86–90

3.

Kass MA, Heuer DK, Higginbotham EJ et al (2002) The ocular hypertension treatment study: a randomized trial determines that topical ocular hypotensive medication delays or prevents the onset of primary open-angle glaucoma. Arch Ophthalmol 120:701–713 (discussion 829-730)

4.

Leske MC, Heijl A, Hussein M et al (2003) Factors for glaucoma progression and the effect of treatment: the early manifest glaucoma trial. Arch Ophthalmol 121:48–56

5.

European Glaucoma Society (2014) Terminology and guidelines for glaucoma. Savona, Italy

6.

Boland MV, Chang DS, Frazier T, Plyler R, Friedman DS (2014) Electronic monitoring to assess adherence with once-daily glaucoma medications and risk factors for nonadherence: the automated dosing reminder study. JAMA Ophthalmol 132:838–844

7.

Robin AL, Novack GD, Covert DW, Crockett RS, Marcic TS (2007) Adherence in glaucoma: objective measurements of once-daily and adjunctive medication use. Am J Ophthalmol 144:533–540

8.

Honjo M, Inatani M, Kido N et al (2001) Effects of protein kinase inhibitor, HA1077, on intraocular pressure and outflow facility in rabbit eyes. Arch Ophthalmol 119:1171–1178

9.

Kopczynski CC, Epstein DL (2014) Emerging trabecular outflow drugs. J Ocul Pharmacol Ther 30:85–87

10.

Tian B, Kaufman PL (2005) Effects of the Rho kinase inhibitor Y-27632 and the phosphatase inhibitor calyculin A on outflow facility in monkeys. Exp Eye Res 80:215–225

11.

Tokushige H, Inatani M, Nemoto S et al (2007) Effects of topical administration of y-39983, a selective rho-associated protein kinase inhibitor, on ocular tissues in rabbits and monkeys. Invest Ophthalmol Vis Sci 48:3216–3222

12.

Wang RF, Williamson JE, Kopczynski C, Serle JB (2015) Effect of 0.04% AR-13324, a ROCK, and norepinephrine transporter inhibitor, on aqueous humor dynamics in normotensive monkey eyes. J Glaucoma 24:51–54

13.

Lin CW, Sherman B, Moore LA et al (2018) Discovery and preclinical development of netarsudil, a novel ocular hypotensive agent for the treatment of glaucoma. J Ocul Pharmacol Ther 34:40–51

14.

Sturdivant JM, Royalty SM, Lin CW et al (2016) Discovery of the ROCK inhibitor netarsudil for the treatment of open-angle glaucoma. Bioorg Med Chem Lett 26:2475–2480

15.

Bacharach J, Dubiner HB, Levy B, Kopczynski CC, Novack GD, Group A-CS (2015) Double-masked, randomized, dose-response study of AR-13324 versus latanoprost in patients with elevated intraocular pressure. Ophthalmology 122:302–307

16.

Kahook MY, Serle JB, Mah FS et al (2019) Long-term safety and ocular hypotensive efficacy evaluation of netarsudil ophthalmic solution: Rho Kinase Elevated IOP Treatment Trial (ROCKET-2). Am J Ophthalmol 200:130–137

17.

Khouri AS, Serle JB, Bacharach J et al (2019) Once-daily netarsudil versus twice-daily timolol in patients with elevated intraocular pressure: the randomized phase 3 ROCKET-4 study. Am J Ophthalmol 204:97–104

18.

Serle JB, Katz LJ, McLaurin E et al (2018) Two phase 3 clinical trials comparing the safety and efficacy of netarsudil to timolol in patients with elevated intraocular pressure: Rho Kinase Elevated IOP Treatment Trial 1 and 2 (ROCKET-1 and ROCKET-2). Am J Ophthalmol 186:116–127

19.

Kiel JW, Kopczynski CC (2015) Effect of AR-13324 on episcleral venous pressure in Dutch belted rabbits. J Ocul Pharmacol Ther 31:146–151

20.

Levy B, Ramirez N, Novack GD, Kopczynski C (2015) Ocular hypotensive safety and systemic absorption of AR-13324 ophthalmic solution in normal volunteers. Am J Ophthalmol 159:980-985 e981

21.

Lewis RA, Levy B, Ramirez N et al (2016) Fixed-dose combination of AR-13324 and latanoprost: a double-masked, 28-day, randomised, controlled study in patients with open-angle glaucoma or ocular hypertension. Br J Ophthalmol 100:339–344

22.

Bartlett VL, Dhruva SS, Shah ND, Ryan P, Ross JS (2019) Feasibility of using real-world data to replicate clinical trial evidence. JAMA Netw Open 2:e1912869

23.

Kazemi A, McLaren JW, Kopczynski CC, Heah TG, Novack GD, Sit AJ (2018) The effects of netarsudil ophthalmic solution on aqueous humor dynamics in a randomized study in humans. J Ocul Pharmacol Ther 34:380–386

24.

Ren R, Li G, Le TD, Kopczynski C, Stamer WD, Gong H (2016) Netarsudil increases outflow facility in human eyes through multiple mechanisms. Invest Ophthalmol Vis Sci 57:6197–6209

25.

Tanihara H, Kakuda T, Sano T et al (2019) Safety and efficacy of ripasudil in japanese patients with glaucoma or ocular hypertension: 3-month interim analysis of ROCK-J, a post-marketing surveillance study. Adv Ther 36:333–343

26.

Asrani S, Robin AL, Serle JB et al (2019) Netarsudil/latanoprost fixed-dose combination for elevated intraocular pressure: three-month data from a randomized phase 3 trial. Am J Ophthalmol 207:248–257

27.

Wisely CE, Liu KC, Gupta D, Carlson AN, Asrani SG, Kim T (2020) Reticular bullous epithelial edema in corneas treated with netarsudil: a case series. Am J Ophthalmol. https://doi.org/10.1016/j.ajo.2020.04.002

28.

Mundorf T, Mah F, Sheng H, Heah T (2020) Effects of Netarsudil on the corneal endothelium: three-month findings from a phase 3 trial. Ophthalmol Glaucoma 3:421–425

29.

Tanna AP, Esfandiari H, Teramoto K (2020) Reversible corneal endothelial abnormalities with netarsudil. J Glaucoma. https://doi.org/10.1097/IJG.0000000000001507

30.

Wisely CE, Sheng H, Heah T, Kim T (2020) Effects of Netarsudil and latanoprost alone and in fixed combination on corneal endothelium and corneal thickness: post-hoc analysis of MERCURY-2. Adv Ther 37:1114–1123
Acknowledgements
The authors acknowledge the support of the Biostatistics Consulting Core, Vickie and Jack Farber Vision Research Center, Wills Eye Hospital.
Ethics declarations
Ethics approval
IRB number #18-736E.
Consent to participate
Informed consent was obtained from all individual participants included in the study.
Consent for publication
Not applicable.
Competing interests
The authors declare no competing interests.
Additional information
Publisher's note
Springer Nature remains neutral with regard to jurisdictional claims in published maps and institutional affiliations.
About this article
Cite this article
Shiuey, E.J., Mehran, N.A., Ustaoglu, M. et al. The effectiveness and safety profile of netarsudil 0.02% in glaucoma treatment: real-world 6-month outcomes. Graefes Arch Clin Exp Ophthalmol (2021). https://doi.org/10.1007/s00417-021-05410-x
Received:

Revised:

Accepted:

Published:
Keywords
Intraocular pressure

Glaucoma

Netarsudil

Rho kinase inhibitors