Abstract
Purpose
To evaluate morphologic changes of choroidal neovascularization (CNV) on optical coherence tomography angiography (OCTA) during the nonexudative period and to correlate the features and timing of recurrence in neovascular age-related macular degeneration. (AMD).
Methods
Two hundred thirty-eight eyes with type 1 CNV were retrospectively reviewed. For cases with exudative recurrence, OCTA images were tracked for analysis between the recurrences. Qualitative parameters of morphologic changes of CNV on OCTA, including tiny branching vessels, anastomotic loops, peripheral vascular arcade, and perilesional halo, were correlated with the features of exudative recurrence.
Results
Exudative recurrence was identified in 163 cases, and among them, nonexudative morphological changes in CNV were identified using OCTA in 45 cases. For the cases with nonexudative changes on OCTA, exudative recurrence eventually developed within 0.5–3.5 months (mean, 2.3 ± 2.0 months) after identifying morphologic changes OCTA. The following changes in CNV were revealed on OCTA: tiny branching vessels in 53.3% (24/45) of cases, anastomotic loops in 40.0% (18/45), peripheral vascular arcades in 44.4% (20/45), and perilesional halo in 35.6% (16/45). Among the morphologic parameters, development of tiny branching vessels was significantly associated with early exudative recurrence (1.5 ± 1.2 months, p = 0.019), higher incidence of intraretinal fluid (IRF) (p = 0.016), and subretinal or subretinal pigment epithelial hemorrhage (p = 0.023) at recurrence, compared with other morphologic changes.
Conclusion
Development of tiny branching vessels of CNV on OCTA during the nonexudative period was associated with early exudative recurrence, including IRF or hemorrhage. Identifying the nonexudative changes of CNV on OCTA might predict exudative recurrence and provide additional parameters for monitoring neovascular AMD.
Access options
Buy single article
Instant access to the full article PDF.
US$ 39.95
Tax calculation will be finalised during checkout.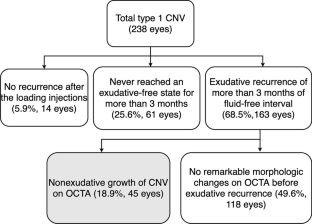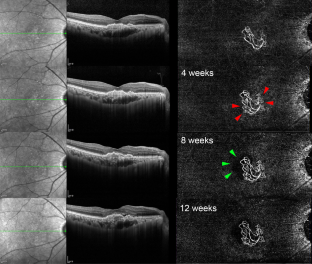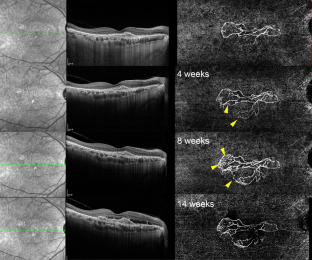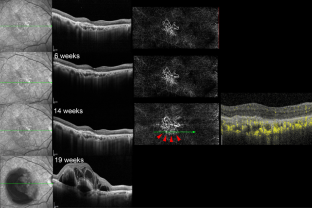 Data availability
The data are available from the corresponding author upon reasonable request.
Ethics declarations
Ethics approval
The study was approved by the Institutional Review Board of Kim's Eye Hospital, Konyang University College of Medicine.
Informed consent
The need for informed consent was waived by the Institutional Review Board of Kim's Eye Hospital, Konyang University College of Medicine.
Conflict of interest
The authors declare no competing interests.
Additional information
Publisher's note
Springer Nature remains neutral with regard to jurisdictional claims in published maps and institutional affiliations.
About this article
Cite this article
Cho, H.J., Kim, J., Nah, S.K. et al. Nonexudative morphologic changes of neovascularization on optical coherence tomography angiography as predictive factors for exudative recurrence in age-related macular degeneration. Graefes Arch Clin Exp Ophthalmol (2021). https://doi.org/10.1007/s00417-021-05405-8
Received:

Revised:

Accepted:

Published:
Keywords
Age-related macular degeneration

Choroidal neovascularization

Optical coherence tomography angiography

Vascular endothelial growth factor