Abstract
Purpose
To evaluate changes in corrected distance visual acuity (CDVA), ratio of anterior and posterior corneal radii over the thinnest region of the cornea (ARC/PRC), and astigmatism after cross-linking (CXL) in keratoconus.
Methods
Subjective refraction and ARC/PRC (using Pentacam™) were monitored over 1 year in (I) keratoconus treated with routine CXL (n = 53), (II) relatively stable keratoconus (n = 23), and (III) age/gender matched controls (n = 24).
Results
CDVA (median, mode, interquartile range) improved significantly in group I, compared with groups II and III (p < 0.05), from 0.45 (0.60, 0.20–0.63) to 0.80 (0.95, 0.60–0.95); change in CDVA was associated with preop CDVA (p < 0.01 at all times postop). ARC/PRC (mean ± sd, 95% CI) changed from 1.362 (± 0.048, 1.347–1.377) to 1.425 (± 0.073, 1.401–1.449). CDVA and ARC/PRC remained stable in II and III. Significant relationships were revealed between logCDVA and ARC/PRC in I and II (at 12 months, I rs =  − 0.464, II rs − 0.449) and logCDVA at postop(y), log CDVA at preop(x1), and ARC/PRC at preop(x2) in I (at 12 months, y = 0.356x1 − 1.312x2 + 1.806, r21 = 0.494, r22 = 0.203). Astigmatic power (mean ± sd, 95% CI) improved from − 3.10DC (± 1.52, − 3.55 to − 2.66) to − 2.53DC (± 1.24, − 2.90 to − 2.17) in I, and worsened from − 1.27DC (± 1.32, − 1.81 to − 0.73) to − 1.61DC (± 1.28, − 2.13 to − 1.09) in II. Vector analysis revealed in group I (a) the power of the surgically induced astigmatism (SIA) was linked to astigmatic power at preop and (b) the difference between the axis of astigmatism at preop(ø) and the axis of the SIA was linked to ø.
Conclusion
CXL improved CDVA, increased the ARC/PRC ratio, and modified the association between CDVA and ARC/PRC. The change in CDVA was linked to preop CDVA and ARC/PRC values. The association between SIA and preop astigmatism implies there is not a simple cause and effect relationship with CXL.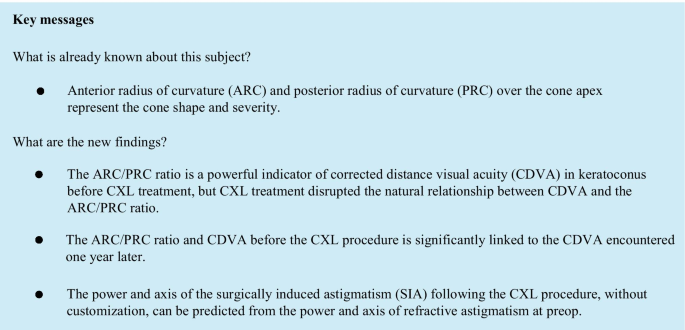 This is a preview of subscription content,
to check access.
Access this article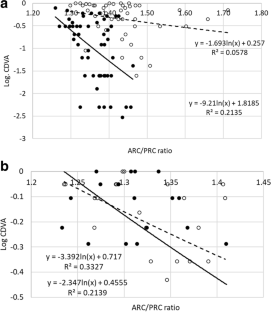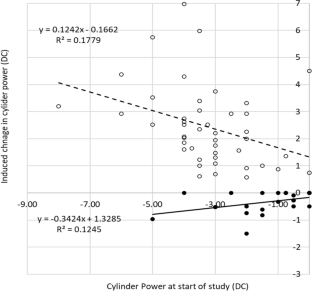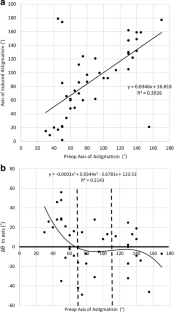 Similar content being viewed by others
References
Wollensak G, Spoerl E, Seiler T (2003) Riboflavin/ultraviolet-a-induced collagen cross-linking for the treatment of keratoconus. Am J Ophthalmol 135:620–627

Wittig-Silva C, Chan E, Islam FM et al (2014) A randomized, controlled trial of corneal collagen cross-linking in progressive keratoconus: three-year results. Ophthalmology 121(4):812–821

Raiskup F, Theuring A, Pillunat LE et al (2015) Corneal collagen crosslinking with riboflavin and ultraviolet-A light in progressive keratoconus: ten-year results. J Cataract Refract Surg 41:41–46

De Bernardo M, Capasso L, Lanza M et al (2015) Long-term results of corneal collagen crosslinking for progressive keratoconus. J Optom 8:180–186

Khattak A, Nakhli FR, Cheema HR (2015) Corneal collagen crosslinking for progressive keratoconus in Saudi Arabia: one-year controlled clinical trial analysis. Saudi J Ophthalmol 29:249–254

Maier P, Reinhard T, Kohlhaas M (2019) Corneal collagen cross-linking in the stabilization of keratoconus. Dtsch Arztebl Int 116(11):184–190

Koller T, Pajic B, Vinciguerra P et al (2011) Flattening of the cornea after collagen crosslinking for keratoconus. J Cataract Refract Surg 37(8):1488–1928

Greenstein SA, Hersh PS (2013) Characteristics influencing outcomes of corneal collagen crosslinking for keratoconus and ectasia: implications for patient selection. J Cataract Refract Surg 39(8):1133–1140

Hashemi K, Guber I, Bergin C et al (2015) Reduced precision of the Pentacam HR in eyes with mild to moderate keratoconus. Ophthalmology 122:211–212

Gustafsson I, Bergström A, Myers AC et al (2020) Association between keratoconus disease severity and repeatability in measurements of parameters for the assessment of progressive disease. PLoS ONE 15(2):e0228992

Steinberg J, Ahmadiyar M, Rost A et al (2014) Anterior and posterior corneal changes after crosslinking for keratoconus. Optom Vis Sci 91(2):178–186

Belin MW, Duncan JK, Ambrósio R et al (2015) A new tomographic method of staging/classifying keratoconus: the ABCD grading system. Int J KeratEctCor Dis 4(3):55–63

Choi JA, Kim MS (2012) Progression of keratoconus by longitudinal assessment with corneal topography. Invest Ophthalmol Vis Sci 53(2):927–935

Chen D, Lam AK (2009) Reliability and repeatability of the Pentacam on corneal curvatures. Clin Exp Optom 92(2):110–118

Chen D, Lam AK (2007) Intrasession and intersession repeatability of the Pentacam system on posterior corneal assessment in the normal human eye. J Cataract Refract Surg 33:448–454

Piñero DP, Saenz C, Alió JL (2009) Intraobserver and interobserver repeatability of curvature and aberrometric measurements of the posterior corneal surface in normal eyes using the Pentacam system. J Cataract Refract Surg 35:113–120

Epstein RL, Chiu YL, Epstein GL (2012) Pentacam HR criteria for curvature change in keratoconus and postoperative LASIK ectasia. J Refract Surg 28:890–894

Raymont J (2001) Life after the honeymoon: getting to know, understand, respect and live with your UV system and process. SGIA J 3:39–47

Alpins NA (1993) A new method of analyzing vectors for changes in astigmatism. J Cataract Refract Surg 19:524–533

Vinciguerra P, Albe E, Trazza S et al (2009) Refractive, topographic, tomographic, and aberrometric analysis of keratoconic eyes undergoing corneal cross-linking. Ophthalmology 116:369–378

Hersh PS, Greenstein SA, Fry KL et al (2011) Corneal collagen crosslinking for keratoconus and corneal ectasia: one-year results. J Cataract Refract Surg 37:149–160

Caporossi A, Mazzotta C, Baiocchi S et al (2010) Long-term results of riboflavin ultraviolet A corneal collagen cross-linking for keratoconus in Italy: the Siena eye cross study. Am J Ophthalmol 149:585–593

Grišević S, Gilevska F, Biščević A et al. (2020) Cross-linking treatment for better visual acuity. Med Glas (Zenica) 1;17(1)

Nicula C, Pop R, Rednik A et al (2019) 10-year results of standard cross-linking in patients with progressive keratoconus in Romania. J Ophthalmol 2019:8285649

Kitazawa K, Yokota I, Sotozono C, Kinoshita S (2016) Measurement of corneal endothelial surface area using anterior segment optical coherence tomography in normal subjects. Cornea 35(9):1229–1233

Kitazowa K, Itoi M, Yokota I et al (2018) Involvement of anterior and posterior corneal surface area imbalance in the pathological change of keratoconus. Sci Rep 8(1):14993

Schlegel Z, Hoang-Xuan T, Gatinel D et al (2007) Comparison of the anterior and posterior corneal elevation maps in normal and keratoconus-suspect eyes. Invest Ophthalmol Vis Sci 48(13):1842

Spadea L, Tonti E, Vingolo EM (2016) Corneal stromal demarcation line after collagen cross-linking in corneal ectatic diseases: a review of the literature. Clin Ophthalmol 10:1803–1810

Raiskup-Wolf F, Hoyer A, Spoerl E et al (2008) Collagen crosslinking with riboflavin and ultraviolet-A light in keratoconus: longterm results. J Cataract Refract Surg 34:796–801

Nejabat M, Khalili MR, Dehghani C (2012) Cone location and correction of keratoconus with rigid gas-permeable contact lenses. Cont Lens Anterior Eye 35(1):17–21

Tan B, Baker K, Chen YL et al (2008) How keratoconus influences optical performance of the eye. J Vis 8(2):13

Seiler TG, Fischinger I, Koller T et al (2016) Customized corneal cross-linking: one-year results. Am J Ophthalmol 166:14–21

Leinonen J, Laakkonen E, Laatikainen L (2006) Repeatability (test-retest variability) of refractive error measurement in clinical settings. Acta Ophthalmol Scand 84(4):532–536
Ethics declarations
Ethics approval
The study was performed under the tenets of Helsinki agreement and approved by the Ethics committee at the Sistina Ophthalmology hospital.
Consent for publication
The author transfers to Springer the non-exclusive publication rights and he warrants that her contribution is original and that she has full power to make this grant. The author signs for and accepts responsibility for releasing this material on behalf of any and all co-authors. This transfer of publication rights covers the non-exclusive right to reproduce and distribute the article, including reprints, translations, photographic reproductions, microform, electronic form (offline, online), or any other reproductions of similar nature.
Consent to participate
All patients signed informed consent for procedure performed.
Competing interests
The authors declare no competing interests.
Additional information
Publisher's note
Springer Nature remains neutral with regard to jurisdictional claims in published maps and institutional affiliations.
About this article
Cite this article
Gilevska, F., Biscevic, A., Popovic Suic, S. et al. Are changes in visual acuity and astigmatism after corneal cross-linking (CXL) in keratoconus predictable?. Graefes Arch Clin Exp Ophthalmol 259, 2259–2268 (2021). https://doi.org/10.1007/s00417-021-05173-5
Received:

Revised:

Accepted:

Published:

Issue Date:

DOI: https://doi.org/10.1007/s00417-021-05173-5
Keywords