Abstract
Purpose
To report the 10-year experience of two tertiary medical centers with children presenting with proptosis due to an intraorbital space-occupying lesion.
Methods
Patients were identified by file review. Data were collected on demographics, findings on ophthalmologic and imaging evaluations, etiology, treatment, and outcome.
Results
Nineteen children (7 male) were included. Eleven patients had optic nerve glioma, including 9 with substantially decreased visual acuity. Treatment consisted of chemotherapy alone or with radiation, resection or anti-VEGF agents, MEK inhibitor, or observation only (n = 1). Visual and cosmetic outcomes were poor in all cases. Outcome for arteriovenous malformations was good following corticosteroid treatment (n = 1), but catheterization led to persistent proptosis and fluctuating visual acuity (n = 1). Compound capillary hemangioma (n = 1) was treated with laser and systemic beta blockers with satisfactory results. Rhabdomyosarcoma had a good prognosis in one patient treated with resection and radiation but was fatal in another even after chemotherapy. Juvenile xanthogranuloma, frontal bone osteoma, and localized hypertrophic neuropathy of the supraorbital nerve (n = 1 each) were treated by resection with good visual and cosmetic outcomes.
Conclusions
Proptosis accompanied by visual loss is an uncommon presentation in children and suggests an orbital tumor. We found that visual outcome was better when the nerve was not involved by tumor. Optic nerve glioma was the most common cause and failed to respond to various treatments. Catheterization for arteriovenous malformation did not prevent proptosis, and final visual acuity fluctuated. Surgery for rhabdomyosarcoma and xanthogranuloma led to remission with preservation of vision in 2 of 3 cases.
Access options
Buy single article
Instant access to the full article PDF.
US$ 39.95
Tax calculation will be finalised during checkout.
Subscribe to journal
Immediate online access to all issues from 2019. Subscription will auto renew annually.
US$ 119
Tax calculation will be finalised during checkout.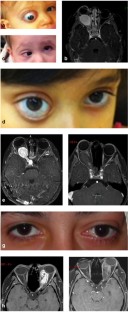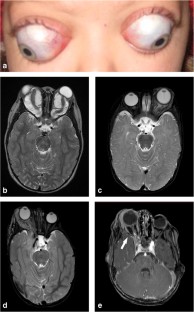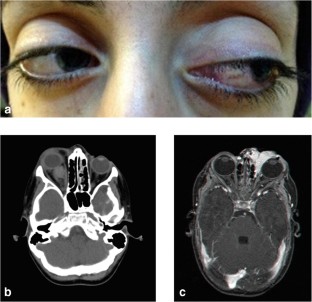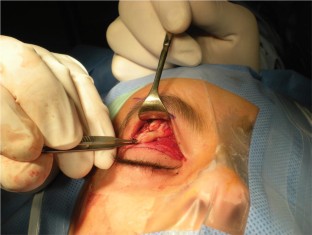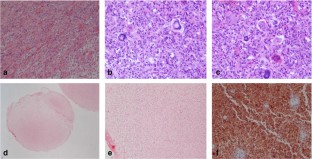 References
1.

Khan SN, Sepahdari AR (2012) Orbital masses: CT and MRI of common vascular lesions, benign tumors, and malignancies. Saudi J Ophthalmol 26:373–383. https://doi.org/10.1016/j.sjopt.2012.08.001

2.

Miller NR (2004) Primary tumours of the optic nerve and its sheath. Eye (Lond) 18:1026–1037. https://doi.org/10.1038/sj.eye.6701592

3.

Glass LRD, Canoll P, Lignelli A et al (2014) Optic nerve glioma: case series with review of clinical, radiologic, molecular, and histopathologic characteristics. Ophthal Plast Reconstr Surg 30:372–376. https://doi.org/10.1097/IOP.0000000000000106

4.

Tow SL, Chandela S, Miller NR, Avellino AM (2003) Long-term outcome in children with gliomas of the anterior visual pathway. Pediatr Neurol 28:262–270

5.

Spicer GJ, Kazim M, Glass LRD et al (2013) Accuracy of MRI in defining tumor-free margin in optic nerve glioma surgery. Ophthal Plast Reconstr Surg 29:277–280. https://doi.org/10.1097/IOP.0b013e318291658e

6.

Varan A, Batu A, Cila A et al (2013) Optic glioma in children: a retrospective analysis of 101 cases. Am J Clin Oncol 36:287–292. https://doi.org/10.1097/COC.0b013e3182467efa

7.

Dutton JJ (1994) Gliomas of the anterior visual pathway. Surv Ophthalmol 38:427–452

8.

Nair AG, Pathak RS, Iyer VR, Gandhi RA (2014) Optic nerve glioma: an update. Int Ophthalmol 34:999–1005. https://doi.org/10.1007/s10792-014-9942-8

9.

Bessero A-C, Fraser C, Acheson J, Davagnanam I (2013) Management options for visual pathway compression from optic gliomas. Postgrad Med J 89:47–51. https://doi.org/10.1136/postgradmedj-2011-130414

10.

Shofty B, Ben-Sira L, Freedman S et al (2011) Visual outcome following chemotherapy for progressive optic pathway gliomas. Pediatr Blood Cancer 57:481–485. https://doi.org/10.1002/pbc.22967

11.

Warrier S, Prabhakaran VC, Valenzuela A et al (2008) Orbital arteriovenous malformations. Arch Ophthalmol 126:1669. https://doi.org/10.1001/archophthalmol.2008.501

12.

Gil-Salú JL, González-Darder JM, Vera-Román JM (2004) Intraorbital arteriovenous malformation: case report. Skull Base 14:31–36. https://doi.org/10.1055/s-2004-821358

13.

Krema H (2015) Primary surgical excision for pediatric orbital capillary hemangioma. Semin Ophthalmol 30:214–217. https://doi.org/10.3109/08820538.2013.835841

14.

Tronina SA, Bobrova NF, Khrinenko VP (2008) Combined surgical method of orbital and periorbital hemangioma treatment in infants. Orbit 27:249–257. https://doi.org/10.1080/01676830802250101

15.

Hill RH, Shiels WE, Foster JA et al (2012) Percutaneous drainage and ablation as first line therapy for macrocystic and microcystic orbital lymphatic malformations. Ophthal Plast Reconstr Surg 28:119–125. https://doi.org/10.1097/IOP.0b013e318242ab0f

16.

Karcioglu ZA, Hadjistilianou D, Rozans M, DeFrancesco S (2004) Orbital rhabdomyosarcoma. Cancer Control 11:328–333. https://doi.org/10.1177/107327480401100507

17.

Eade E, Tumuluri K, Do H et al (2017) Visual outcomes and late complications in paediatric orbital rhabdomyosarcoma. Clin Exp Ophthalmol 45:168–173. https://doi.org/10.1111/ceo.12809

18.

Dagher R, Helman L (1999) Rhabdomyosarcoma: an overview. Oncologist 4:34–44. https://doi.org/10.1634/theoncologist.4-1-34

19.

Sultan I, Qaddoumi I, Yaser S et al (2009) Comparing adult and pediatric rhabdomyosarcoma in the surveillance, epidemiology and end results program, 1973 to 2005: an analysis of 2,600 patients. J Clin Oncol 27:3391–3397. https://doi.org/10.1200/JCO.2008.19.7483

20.

Ginat DT, Vargas SO, Silvera VM et al (2016) Imaging features of juvenile xanthogranuloma of the pediatric head and neck. AJNR Am J Neuroradiol 37:910–916. https://doi.org/10.3174/ajnr.A4644

21.

Newell GB, Stone OJ, Mullins JF (1973) Juvenile xanthogranuloma and neurofibromatosis. Arch Dermatol 107:262. https://doi.org/10.1001/archderm.1973.01620170070019

22.

Wei LA, Ramey NA, Durairaj VD et al (2014) Orbital osteoma: clinical features and management options. Ophthal Plast Reconstr Surg 30:168–174. https://doi.org/10.1097/IOP.0000000000000039

23.

Selva D, White VA, O'Connell JX, Rootman J (2004) Primary bone tumors of the orbit. Surv Ophthalmol 49:328–342. https://doi.org/10.1016/j.survophthal.2004.02.011

24.

Simmons Z, Mahadeen ZI, Kothari MJ et al (1999) Localized hypertrophic neuropathy: magnetic resonance imaging findings and long-term follow-up. Muscle Nerve 22:28–36

25.

Laviv Y, Toledano H, Michowiz S et al (2012) BRAF, GNAQ, and GNA11 mutations and copy number in pediatric low-grade glioma. FEBS Open Bio 2:129–134. https://doi.org/10.1016/j.fob.2012.05.004

26.

Farazdaghi MK, Katowitz WR, Avery RA (2019) Current treatment of optic nerve gliomas. Curr Opin Ophthalmol 30:356–363. https://doi.org/10.1097/ICU.0000000000000587
Funding
This study was partially supported by the Zanvyl and Isabelle Krieger Fund, Baltimore, MD, USA. The funding organization had no role in the design or conduct of this research.
Ethics declarations
Conflict of interest
No conflicts of interest.
All authors certify that they have no affiliations with or involvement in any organization or entity with any financial interest (such as honoraria; educational grants; participation in speakers' bureaus; membership, employment, consultancies, stock ownership, or other equity interest; and expert testimony or patent-licensing arrangements), or non-financial interest (such as personal or professional relationships, affiliations, knowledge, or beliefs) in the subject matter or materials discussed in this manuscript.
Ethical approval
All procedures performed in studies involving human participants were in accordance with the ethical standards of the Rabin Medical Center and Bnai Zion Medical Center Institutional Ethics Committee and with the 1964 Helsinki declaration and its later amendments or comparable ethical standards.
Informed consent
Due to the retrospective nature of the study, informed consent was waived by the Rabin and Bnai Zion Medical Center Institutional Ethics Committee.
Additional information
Publisher's note
Springer Nature remains neutral with regard to jurisdictional claims in published maps and institutional affiliations.
About this article
Cite this article
Zahavi, A., Luckman, J., Ben-David, G.S. et al. Proptosis due to intraorbital space-occupying lesions in children. Graefes Arch Clin Exp Ophthalmol 258, 2541–2550 (2020). https://doi.org/10.1007/s00417-020-04840-3
Received:

Revised:

Accepted:

Published:

Issue Date:
Keywords
Tumor

Optic nerve

Optic nerve glioma

Chemotherapy

Surgery