Abstract
Purpose
To evaluate the initial experiences of several vitreoretinal surgeons in Brazil, both experienced and beginners, with a three-dimensional (3D) system, and to report the advantages and disadvantages of this technology. We also report surgical manipulations performed using the heads-up method in porcine eyes. For full-thickness idiopathic macular holes (MHs), we analyzed the times required for pars plana vitrectomy (PPV) and internal limiting membrane (ILM) rhexis by using traditional microscopy and 3D system, and to evaluate anatomical surgical results.
Methods
During experimental vitreoretinal surgery on porcine eyes, two retinal surgeons applied the heads-up method. In clinical surgery, 14 retinal surgeons performed almost all types of vitreoretinal surgeries in association with facectomy, Ahmed glaucoma valve implant, or minimally invasive glaucoma surgery using an iStent®. The Ngenuity® 3D Visualization System was digitally integrated with intraoperative optical coherence tomography, the Verion™ Image-Guided System, and an endoscope (with a modified GoPro® camera). To compare the 3D system with traditional microscopy, ergonomics, educational value, image sharpness, depth perception, field of view, advantages and disadvantages, and technical feasibility were assessed using a questionnaire. One year later, the 14 surgeons answered the same questionnaire again, in order to assess whether they became more comfortable or not with 3D. For treating MHs, four surgeons (surgeon 1, fellows 1, 2, 3) performed the total of 40 surgeries. Each one performed 10 surgeries (5 with traditional microscopy and 5 with 3D visualization). The completion time for PPV and ILM rhexis were determined by using both methods.
Results
In porcine eyes, disabling the color channels allowed better visualization of the ILM, either with Brilliant Blue G (BBG), indocyanine green chorioangiography (ICG), or açai dye; transillumination through the sclera was also better without a color channel, but visualization of the peripheral vitreous was better with a blue channel. Regarding clinical experience, the questionnaire responses showed that the respondents generally favored the heads-up method compared with traditional microscopy (p < 0.05); however, despite a slightly higher average score, the 3D system was not statistically significantly preferred in terms of technical feasibility (p = 0.1814). Answering again the same questionnaire 1 year later, the 14 surgeons felt more comfortable with 3D (p < 0.05). The type of surgery benefitting most from the 3D system was peeling of the ILM or epiretinal membrane (p < 0.001), and that receiving the least benefit was anterior segment surgery (p < 0.001). In addition, surgeons did not report benefits of color channels, preferring to disable it (p < 0.001). Comparisons between the average time for full PPV and ILM rhexis by using the two methods were non-significant, neither in each individual case of 3D surgery for each surgeon. Surgeon 1 had always been faster than his fellows. Thirty-six (90%) full-thickness MHs were successfully closed with one surgery.
Conclusions
The 3D system was preferred to traditional microscopy. The 3D system was especially helpful for certain specific types of surgeries and served as an educational tool, having reduced illumination and allowing precise focusing. Concerning MH surgery, heads-up method was similar to traditional microscopy regarding length of time and anatomical surgical results. As a digital platform, it will be amenable to constant upgrades and may ultimately become the new standard for ophthalmic surgery.
This is a preview of subscription content, log in to check access.
Access options
Buy single article
Instant access to the full article PDF.
US$ 39.95
Price includes VAT for USA
Subscribe to journal
Immediate online access to all issues from 2019. Subscription will auto renew annually.
US$ 199
This is the net price. Taxes to be calculated in checkout.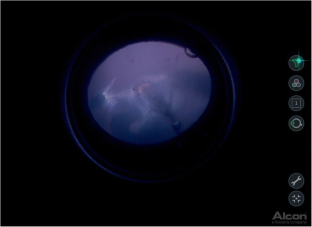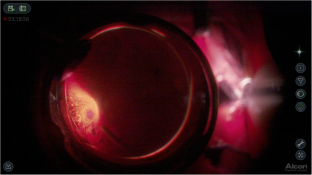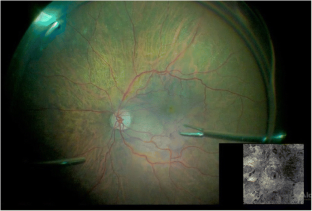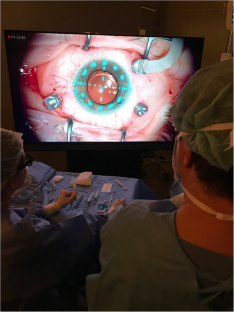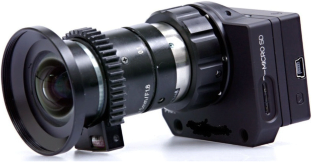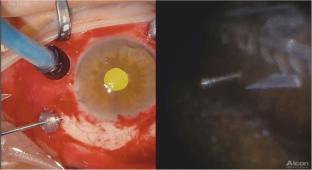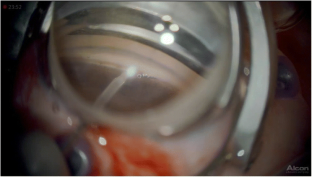 References
1.

Allen CH, David WF, Jason H et al (2015) The case for 3-D retina surgery. Retina Today 10(8):76–78

2.

Weinstock RJ (2011) Operate with your head up. Cataract Refract Surg Today 66(74):8

3.

Eckardt C (2014) Live surgery presentation in 3-D. Frankfurt Retina Meeting, March 15, Mainz, Germany

4.

Eckardt C, Paulo EB (2016) Heads-up surgery for vitreoretinal procedures: an experimental and clinical study. Retina 36:137–147

5.

Coppola M, La Spina C, Rabiolo A et al (2017) Heads-up 3D vision system for retinal detachment surgery. Int J Retin Vitr 3:46

6.

Berrocal M, Figueroa M, Packo KH et al (2016) A new way to see the big picture in a micro environment. Insert to Retina Today 3:4–7

7.

Stem MS (2017) Heads-up 3-D visualization in complex vitreoretinal surgery. Retina Today 12(5):44–48

8.

Charles S (2008) Illumination and phototoxicity issues in vitreoretinal surgery. Retina 28:1–4

9.

Rodrigues EB, Maia M, Meyer CH et al (2007) Vital dyes for chromovitrectomy. Curr Opin Ophthalmol 18:179–187

10.

Charles S, Dugel PU, Packo KH (2018) Innovation in retina surgery. Eurotimes 23(3):4–5

11.

Adam MK, Thornton S, Regillo CD et al (2017) Minimal endoillumination levels and display luminous emittance during threedimensional heads-up vitreoretinal surgery. Retina 37:1746–1749

12.

Chow DR (2017) Is 3-D surgery associated with enhanced stereopsis? Myth or fact? EURETINA Meeting, Sep 8, Barcelona, Spain

13.

Charles S (2017) Getting specific about 3-D visualization. Retina Today 12(8):48–49

14.

Yoshihiro Y (2016) Seeing the world through 3-d glasses. Retina today 11(7):54–60

15.

Kitchens JW (2011) Modified external needle drainage of subretinal fluid in the management of rhegmatogenous retinal detachment using the "guarded needle" approach. Arch Ophthalmol 129(7):949–951

16.

Desai URT, Abdulhak MM, Bhatti R (2004) Occupational Back and neck problems in vitreoretinal surgeons. In: Paper presented at: American Society of Retina Specialists Annual Meeting, San Diego, CA

17.

Dhimitri KC, McGwin G, McNeal SF et al (2005) Symptoms of musculoskeletal disorders in ophthalmologists. Am J Ophthalmol 139:179–181

18.

Ehlers JP, Tam T, Kaiser PK et al (2014) Utility of intraoperative optical coherence tomography during vitrectomy surgery for vitreomacular traction syndrome. Retina 34(7):1341–1346

19.

Wykoff CC, Berrocal AM, Schefler AC et al (2010) Intraoperative OCT of a full-thickness macular hole before and after internal limiting membrane peeling. Ophthalmic Surg Lasers Imaging 41(1):7–11

20.

Ehlers JP, Tao YK, Srivastava SK (2014) The value of intraoperative OCT imaging in vitreoretinal surgery. Curr Opin Ophthalmol 25(3):221–227

21.

Webers VSC, Bauer NJC, Visser N et al (2017) Image-guided system versus manual marking for toric intraocular lens alignment in cataract surgery. J Cataract Refract Surg 43(6):781–788

22.

Elhofi AH, Helaly HA (2015) Comparison between digital and manual marking for toric intraocular lenses: a randomized trial. Medicine (Baltimore) 94(38):e1618

23.

Marra KV, Yonekawa Y, Papakostas TD et al (2013) Indications and techniques of endoscope assisted vitrectomy. J Ophthalmic Vis Res 8(3):282–290

24.

De Smet MD, Carlborg EA (2005) Managing severe endophthalmitis with the use of an endoscope. Retina 25(8):976–980

25.

Olsen TW, Pribila JT (2011) Pars plana vitrectomy with endoscope-guided sutured posterior chamber intraocular lens implantation in children and adults. Am J Ophthalmol 151(2):287–296

26.

Saheb H, Ianchulev T, Ahmed II (2014) Optical coherence tomography of the suprachoroid after CyPass Micro-Stent implantation for the treatment of open-angle glaucoma. Br J Ophthalmol 98:19–23

27.

Saheb H, Ahmed IIK (2012) Micro-invasive glaucoma surgery: current perspectives and future directions. Curr Opin Ophthalmol 23(2):96–104

28.

Skinner CC, Riemann CD (2018) Heads up digitally assisted surgical viewing for retinal detachment repair in a patient with severe kyphosis. Retin Cases Brief Rep 12(3):257–259
Ethics declarations
The study was in accordance with the ethical standards of the 1964 Helsinki declaration and its later amendments and it was approved by the Ethics Committee of the Federal University of São Paulo, under protocol number 2.423.404, and also by the Committee on the Use of Animals of the same university, under protocol number 7236170817.
Conflict of interest
The authors declare that they have no conflict of interest.
Additional information
Publisher's Note
Springer Nature remains neutral with regard to jurisdictional claims in published maps and institutional affiliations.
About this article
Cite this article
Palácios, R.M., de Carvalho, A.C.M., Maia, M. et al. An experimental and clinical study on the initial experiences of Brazilian vitreoretinal surgeons with heads-up surgery. Graefes Arch Clin Exp Ophthalmol 257, 473–483 (2019). https://doi.org/10.1007/s00417-019-04246-w
Received:

Revised:

Accepted:

Published:

Issue Date:
Keywords
Heads-up

3D

Microscopy

Digital integration

Ergonomics

Technical feasibility

Resolution

Field of view

Educational value

Depth perception

Color filters