Abstract
Purpose
Folic acid (FA) is an essential vitamin for embryonic development. It plays particularly a critical role in RNA, DNA and protein synthesis. On the other hand, the collagen IV and laminin-1 are important proteins during embryonic development. This study was done to find if FA deficiency at a short and a long term in mothers could alter the tissue texture of retina and lens of the progeny.
Methods
Collagen IV and laminin-1 were localized by immunohistochemistry in the lens and retina of the FA-deficient embryos. To carry out the image processing, texture segmentation was performed through canny edge detection and Fourier transform (FT). We defined a parameter, the grain size, to describe the texture of the lens and retina. A bootstrap method to estimate the distribution and confidence intervals of the mean, standard deviation, skewness and kurtosis of the grain size has been developed.
Results
Analysis through image processing using Matlab showed changes in the grain size between control- and FA-deficient groups in both studied molecules. Measures of texture based on FT exhibited changes in the directionality and arrangements of type IV collagen and laminin-1.
Conclusions
Changes introduced by FA deficiency were visible in the short term (2 weeks) and evident in the long term (8 weeks) in both grain size and orientation of fibre structures in the tissues analysed (lens and retina). This is the first work devoted to study the effect of FA deficit in the texture of eye tissues using image processing techniques.
Access options
Buy single article
Instant access to the full article PDF.
US$ 39.95
Tax calculation will be finalised during checkout.
Subscribe to journal
Immediate online access to all issues from 2019. Subscription will auto renew annually.
US$ 119
Tax calculation will be finalised during checkout.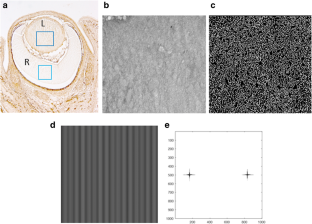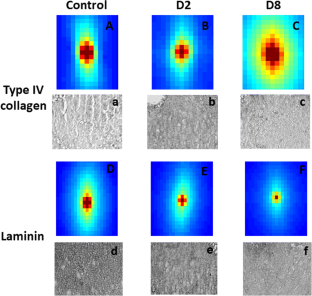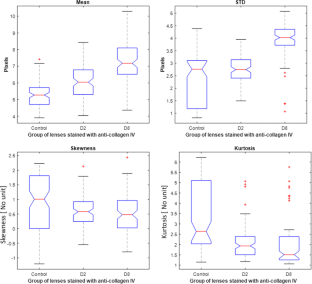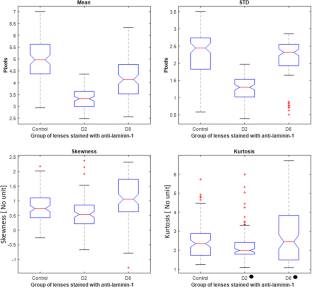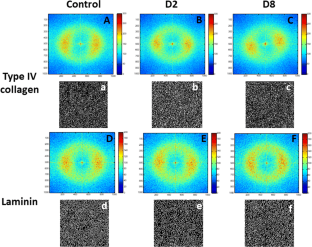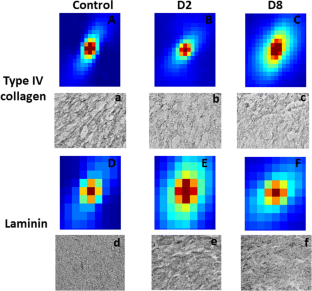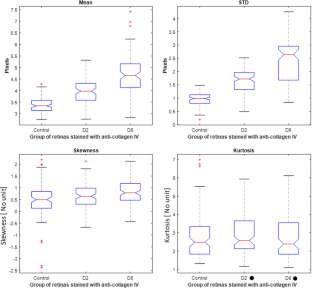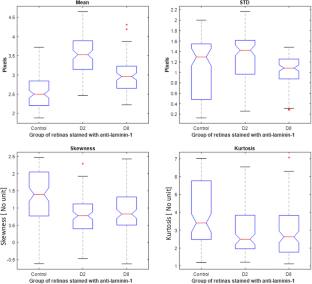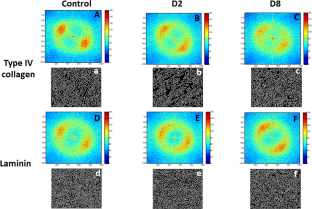 References
1.

Smelser GK (1965) Embryology and morphology of the lens. Invest Ophthalmol Vis Sci 4:398–410

2.

Rao PV, Maddala R (2006) The role of the lens actin cytoskeleton in fiber cell elongation and differentiation. Semin Cell Dev Biol 17:698–711. https://doi.org/10.1016/j.semcdb.2006.11.011

3.

Pei Y, Rhodin J (1970) The prenatal development of the mouse eye. Anat Rec 168:105–125

4.

Smith RS, John SW, Nishina PM, Sundberg JP (2001) Systematic evaluation of the mouse eye: anatomy, pathology, and biomethods. CRC press, Boca Ratan

5.

Sarthy PV, Fu M (1990) Localization of laminin B1 mRNA in retinal ganglion cells by in situ hybridization. J Cell Biol 110:2099–2108

6.

Taylor L, Arnér K, Engelsberg K, Ghosh F (2015) Scaffolding the retina: the interstitial extracellular matrix during rat retinal development. Int J Dev Neurosci 42:46–58

7.

Schaefer L, Schaefer RM (2010) Proteoglycans: from structural compounds to signaling molecules. Cell Tissue Res 339:237–246. https://doi.org/10.1007/s00441-009-0821-y

8.

LeBleu VS, MacDonald B, Kalluri R (2007) Structure and function of basement membranes. Exp Biol Med 232:1121–1129

9.

Frantz C, Stewart KM, Weaver VM (2010) The extracellular matrix at a glance. J Cell Sci 123:4195–4200

10.

Rozario T, DeSimone DW (2010) The extracellular matrix in development and morphogenesis: a dynamic view. Dev Biol 341:126–140

11.

Bateman JF, Boot-Handford RP, Lamandé SR (2009) Genetic diseases of connective tissues: cellular and extracellular effects of ECM mutations. Nat Rev Genet 10:173–183

12.

Hirrlinger PG, Pannicke T, Winkler U, Claudepierre T, Varshney S, Schulze C, Reichenbach A, Brunken WJ, Hirrlinger J (2011) Genetic deletion of laminin isoforms β2 and γ3 induces a reduction in Kir4. 1 and aquaporin-4 expression and function in the retina. PLoS One 6:e16106

13.

Forrester JV, Dick AD, McMenamin PG, Roberts F, Pearlman E (2015) The eye: basic sciences in practice. Elsevier Health Sciences, Edimburgh

14.

Young RW, Ocumpaugh DE (1966) Autoradiographic studies on the growth and development of the lens capsule in the rat. Investig Ophthalmol 5:583–589

15.

Danysh BP, Duncan MK (2009) The lens capsule. Exp Eye Res 88:151–164

16.

Reinhard J, Joachim SC, Faissner A (2015) Extracellular matrix remodeling during retinal development. Exp Eye Res 133:132–140

17.

Hausman RE (2007) Ocular extracellular matrices in development. Prog Retin Eye Res 26:162–188

18.

Tang LS, Santillano DR, Wlodarczyk BJ, Miranda RC, Finnell RH (2005) Role of Folbp1 in the regional regulation of apoptosis and cell proliferation in the developing neural tube and craniofacies. American Journal of Medical Genetics Part C: Seminars in Medical Genetics. Wiley Online Library, pp. 48–58

19.

Maddox DM, Manlapat A, Roon P, Prasad P, Ganapathy V, Smith SB (2003) Reduced-folate carrier (RFC) is expressed in placenta and yolk sac, as well as in cells of the developing forebrain, hindbrain, neural tube, craniofacial region, eye, limb buds and heart. BMC Dev Biol 3:6

20.

Zhao Y, Huang G, Chen S, Gou Y, Dong Z, Zhang X (2016) Folic acid deficiency increases brain cell injury via autophagy enhancement after focal cerebral ischemia. J Nutr Biochem 38:41–49

21.

Kao T-T, Chu C-Y, Lee G-H, Hsiao T-H, Cheng N-W, Chang N-S, Chen B-H, Fu T-F (2014) Folate deficiency-induced oxidative stress contributes to neuropathy in young and aged zebrafish—implication in neural tube defects and Alzheimer's diseases. Neurobiol Dis 71:234–244

22.

Sijilmassi O, López Alonso JM, Barrio Asensio MC, Del Río Sevilla A (2018) Collagen IV and laminin-1 expression in embryonic mouse lens using principal components analysis technique. J Microsc. https://doi.org/10.1111/jmi.12709

23.

Nassif R, Pellen F, Magne C, Le Jeune B, Le Brun G, Abboud M (2012) Laser speckle dynamic for monitoring fruits maturation Speckle 2012: V International Conference on Speckle Metrology. International Society for Optics and Photonics, pp. 84131G

24.

COUNCIL NR COMMITTEE ON ANIMAL NUTRITION. SUBCOMMITTEE ON POULTRY NUTRITION (1995) Nutrient requirements of poultry. National Academy Press, Washington

25.

Otis EM, Brent R (1954) Equivalent ages in mouse and human embryos. Anat Rec 120:33–63

26.

Martínez-Sanz E, Del Río A, Barrio C, Murillo J, Maldonado E, Garcillán B, Amorós M, Fuerte T, Fernández Á, Trinidad E (2008) Alteration of medial-edge epithelium cell adhesion in two Tgf-β3 null mouse strains. Differentiation 76:417–430

27.

Gonzalez RC, Woods RE, Eddins SL (2004) Digital image processing using MATLAB. Pearson Prentice Hall, Upper Saddle River

28.

Canny J (1986) A computational approach to edge detection. IEEE Trans Pattern Anal Mach Intell PAMI 8(6):679–698

29.

Hwang J, Kim M, Kim S, Lee J (2013) Quantifying morphological parameters of the terminal branching units in a mouse lung by phase contrast synchrotron radiation computed tomography. PLoS One 8:e63552

30.

Shim D-S, Chang S (2008) Sub-pixel retinal vessel tracking and measurement using modified canny edge detection method. J Imaging Sci Technol 52:20505-20501-20505-20506

31.

Li Y, Chen WR, Zhang Y, Qian W, Liu H (2002) Comparison of analog and digital Fourier transforms in medical image analysis. J Biomed Opt 7:255–261

32.

Efron B, Tibshirani RJ (1993) An introduction to the bootstrap: monographs on statistics and applied probability, vol 57. Chapman and Hall/CRC, New York and London

33.

Goodhue DL, Lewis W, Thompson R (2012) Does PLS have advantages for small sample size or non-normal data? MIS Q 36(3):981–1001

34.

Tukey JW (1977) Exploratory data analysis. Addison-Wesley, Reading, Massachusetts

35.

Sarthy V (1993) Collagen IV mRNA expression during development of the mouse retina: an in situ hybridization study. Invest Ophthalmol Vis Sci 34:145–152

36.

Parmigiani C, McAvoy J (1984) Localisation of laminin and fibronectin during rat lens morphogenesis. Differentiation 28:53–61

37.

Rafighdoost H, Jalali M, Nikravesh MR (2013) Evaluation of laminin expression during mouse lens development. Anat Sci J 10:1–6

38.

Olivero DK, Furcht LT (1993) Type IV collagen, laminin, and fibronectin promote the adhesion and migration of rabbit lens epithelial cells in vitro. Invest Ophthalmol Vis Sci 34(10):2825–2834

39.

Hughes RC, Mills G, Courtois Y (1979) Role of fibronectin in the adhesiveness of bovine lens epithelial cells. Biol Cell 36:321–329

40.

Terranova VP, Rohrbach DH, Martin GR (1980) Role of laminin in the attachment of PAM 212 (epithelial) cells to basement membrane collagen. Cell 22:719–726

41.

Kleinman HK, Klebe RJ, Martin GR (1981) Role of collagenous matrices in the adhesion and growth of cells. J Cell Biol 88:473–485. https://doi.org/10.1083/jcb.88.3.473

42.

Savige J, Sheth S, Leys A, Nicholson A, Mack HG, Colville D (2015) Ocular features in Alport syndrome: pathogenesis and clinical significance. Clin J Am Soc Nephrol 10:703–709. https://doi.org/10.2215/cjn.10581014

43.

Ohkubo S, Takeda H, Higashide T, Ito M, Sakurai M, Shirao Y, Yanagida T, Oda Y, Sado Y (2003) Immunohistochemical and molecular genetic evidence for type IV collagen alpha 5 chain abnormality in the anterior lenticonus associated with Alport syndrome. Arch Ophthalmol 121:846–850. https://doi.org/10.1001/archopht.121.6.846

44.

Kuida K, Zheng TS, Na SQ, Kuan CY, Yang D, Karasuyama H, Rakic P, Flavell RA (1996) Decreased apoptosis in the brain and premature lethality in CPP32-deficient mice. Nature 384:368–372. https://doi.org/10.1038/384368a0

45.

Libby RT, Lavallee CR, Balkema GW, Brunken WJ, Hunter DD (1999) Disruption of laminin beta 2 chain production causes alterations in morphology and function in the CNS. J Neurosci 19:9399–9411

46.

Favor J, Gloeckner CJ, Janik D, Klempt M, Neuhauser-Klaus A, Pretsch W, Schmahl W, Quintanilla-Fend L (2007) Type IV procollagen missense mutations associated with defects of the eye, vascular stability, the brain, kidney function and embryonic or postnatal viability in the mouse, Mus musculus: an extension of the Col4 alpha 1 allelic series and the identification of the first two Col4a2 mutant alleles. Genetics 175:725–736. https://doi.org/10.1534/genetics.106.064733

47.

Satz JS, Philp AR, Nguyen H, Kusano H, Lee J, Turk R, Riker MJ, Hernandez J, Weiss RM, Anderson MG, Mullins RF, Moore SA, Stone EM, Campbell KP (2009) Visual impairment in the absence of dystroglycan. J Neurosci 29:13136–13146. https://doi.org/10.1523/jneurosci.0474-09.2009

48.

Pinzon-Duarte G, Daly G, Li YN, Koch M, Brunken WJ (2010) Defective formation of the inner limiting membrane in laminin beta 2-and gamma 3-null mice produces retinal dysplasia. Invest Ophthalmol Vis Sci 51:1773–1782. https://doi.org/10.1167/iovs.09-4645
Acknowledgments
The authors thank Alda Serrano Javier from Optics Department for reviewing the draft of the paper and for his helpful suggestions and comments on this manuscript. The authors would also like to acknowledge Dolores Arroyo and Alicia Cerro from the Anatomy and Human Embryology Department for their excellent technical assistance.
Funding
This study was supported by grants to the Complutense Research Group 920202 from the Spanish Ministry of Health (PI06/0184 and PS09/01762). Likewise, it was supported by grants from the Spanish Ministry of Economy and competitiveness (TEC2013-40442). Finally, this article was done with a pre-doctoral fellowship awarded by Complutense University of Madrid and Santander bank (reference number CT27/16–CT28/16).
Ethics declarations
Conflict of interest
The authors declare that they have no conflict of interest.
Ethical approval
Animal experiments: All applicable international, national, and/or institutional guidelines for the care and use of animals were followed. All procedures performed in studies involving animals were in accordance with the ethical standards of the Animal Experimentation Committee of the Universidad Complutense of Madrid (UCM). The mice were maintained at animal house of the School of Medicine at the UCM.
About this article
Cite this article
Sijilmassi, O., López-Alonso, J.M., Barrio Asensio, M.D. et al. Alteration of lens and retina textures from mice embryos with folic acid deficiency: image processing analysis. Graefes Arch Clin Exp Ophthalmol 257, 111–123 (2019). https://doi.org/10.1007/s00417-018-4176-5
Received:

Revised:

Accepted:

Published:

Issue Date:
Keywords
Folic acid deficiency

Type IV collagen

Laminin-1

Matlab texture analysis

Retina

Lens