Abstract
Purpose
Our purpose was both to introduce the new technique of suprachoroidal drainage with collagen sheet implantation as a novel technique of non-penetrating glaucoma surgery and to present first results of a prospective pilot study.
Methods
A superficial rectangular sclera flap of half-scleral thickness sized 4 × 4.5 mm is dissected anteriorly until clear cornea. Then, a second scleral flap is created underneath the first one sized 3.5x4mm and is cut down full-thickness to the choroid exposing the suprachoroidal space. The flap is then bluntly prepared until the scleral spur is reached. Sharp dissection above the sclera spur exposes Schlemm's canal, which is located directly anteriorly. Schlemm's canal is unroofed, juxtacanalicular meshwork is peeled and the deep flap is cut off at its base. An absorbable collagen sheet (Ologen®, Dahlhausen, Cologne, Germany) is placed into the suprachoroidal space at the level of the ciliary body, and the superficial sclera flap is sutured tightly to prevent leakage.
Results
We prospectively analyzed 65 eyes that underwent suprachoroidal drainage with collagen sheet implantation. Mean reduction of intraocular pressure after 3 months was 35.1% (from 21.0 ± 4.3 mmHg to 13.5 ± 3.4 mmHg)(p < 0.01) and after 12 months 35.6% (from 21.0 ± 4.3 mmHg to 13.5 ± 3.0  mmHg)(p < 0.01). The number of topical IOP-reducing medication decreased significantly from 3.5 ± 0.7 to 0.6 ± 0.9 and to 0.9 ± 1.1 after 3 and 12 months, respectively (p < 0.01). No serious complications occurred.
Conclusion
Suprachoroidal drainage with collagen sheet implantation seems to be a safe and effective surgical technique for non-penetrating glaucoma surgery that yields the opportunity of a sufficient IOP reduction for eyes unsuitable for canaloplasty.
Access options
Buy single article
Instant access to the full article PDF.
USD 39.95
Price excludes VAT (USA)
Tax calculation will be finalised during checkout.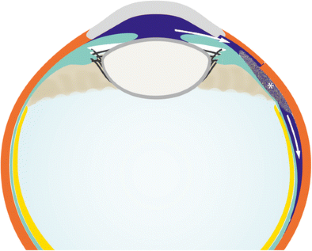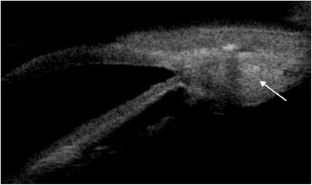 References
Klink T, Sauer J, Korber NJ, Grehn F, Much MM, Thederan L, Matlach J, Salgado JP (2014) Quality of life following glaucoma surgery: canaloplasty versus trabeculectomy. Clin Ophthalmol 18:7–16. https://doi.org/10.2147/OPTH.S72357

Morgan MG (2015) Canaloplasty: its role in glaucoma management. J Cataract Refract Surg 41:249–250. https://doi.org/10.1016/j.jcrs.2014.11.013

Lewis RA, von Wolff K, Tetz M, Koerber N, Kearney JR, Shingleton BJ, Samuelson TW (2011) Canaloplasty: Three-year results of circumferential viscodilation and tensioning of Schlemm canal using a microcatheter to treat open-angle glaucoma. J Cataract Refract Surg 37:682–690. https://doi.org/10.1016/j.jcrs.2010.10.055

Fyodorov SN (1989) Non penetrating deep sclerectomy in open-angle glaucoma. Eye Microsurg 2:52

Delarive T, Rossier A, Rossier S, Ravinet E, Shaarawy T, Mermoud A (2003) Aqueous dynamic and histological findings after deep sclerectomy with collagen implant in an animal model. Br J Ophthalmol 87:1340–1344

Mansouri K, Shaarawy T, Wedrich A, Mermoud A (2006) Comparing polymethylmethacrylate implant with collagen implant in deep sclerectomy: a randomized controlled trial. J Glaucoma 15:264–270. https://doi.org/10.1097/01.ijg.0000212211.33265.6d

Mesci C, Erbil HH, Karakurt Y, Akçakaya AA (2012) Deep sclerectomy augmented with combination of absorbable biosynthetic sodium hyaluronate scleral implant and mitomycin C or with mitomycin C versus trabeculectomy: long-term results. Clin Exp Ophthalmol 40:197–207. https://doi.org/10.1111/j.1442-9071.2011.02611.x

Loscos-Arenas J, Parera-Arranz A, Romera-Romera P, Castellvi-Manent J, Sabala-Llopart A, de la Cámara-Hermoso J (2015) Deep Sclerectomy with a new nonabsorbable Uveoscleral implant (Esnoper-clip): 1-year outcomes. J Glaucoma 24:421–425. https://doi.org/10.1097/IJG.0000000000000253

Bettin P, Di Matteo F, Rabiolo A, Fiori M, Ciampi C, Bandello F (2016) Deep Sclerectomy with Mitomycin C and Injectable cross-linked Hyaluronic acid implant: long-term results. J Glaucoma 25:625–629. https://doi.org/10.1097/IJG.0000000000000309

Rękas M, Byszewska A, Petz K, Wierzbowska J, Jünemann A (2015) Canaloplasty versus non-penetrating deep sclerectomy - a prospective, randomised study of the safety and efficacy of combined cataract and glaucoma surgery; 12-month follow-up. Graefes Arch Clin Exp Ophthalmol 253:591–599. https://doi.org/10.1007/s00417-015-2931-4

Ambresin A, Shaarawy T, Mermoud A (2002) Deep sclerectomy with collagen implant in one eye compared with trabeculectomy in the other eye of the same patient. J Glaucoma 11:214–220

Russo V, Scott IU, Stella A, Balducci F, Cosma A, Barone A, Delle Noci N (2008) Nonpenetrating deep sclerectomy with reticulated hyaluronic acid implant versus punch trabeculectomy: a prospective clinical trial. Eur J Ophthalmol 18:751–757

Cheng J-W, Cheng S-W, Cai J-P, Li Y, Wei R-L (2011) Systematic overview of the efficacy of nonpenetrating glaucoma surgery in the treatment of open angle glaucoma. Med Sci Monit 17:RA155–RA163. https://doi.org/10.12659/MSM.881840

Matlach J, Dhillon C, Hain J et al (2015) Trabeculectomy versus canaloplasty (TVC study) in the treatment of patients with open-angle glaucoma: a prospective randomized clinical trial. Acta Ophthalmol 93:753–761. https://doi.org/10.1111/aos.12722

Januschowski K, Leers S, Haus A et al (2016) Is trabeculectomy really superior to canaloplasty? Acta Ophthalmol 94:e666–e667. https://doi.org/10.1111/aos.13026

Szurman P, Januschowski K, Boden KT, Szurman GB (2016) A modified scleral dissection technique with suprachoroidal drainage for canaloplasty. Graefes Arch Clin Exp Ophthalmol 254:351–354. https://doi.org/10.1007/s00417-015-3234-5

Seuthe AM, Ivanescu C, Leers S, Boden K, Januschowski K, Szurman P (2016) Modified canaloplasty with suprachoroidal drainage versus conventional canaloplasty-1-year results. Graefes Arch Clin Exp Ophthalmol 254:1591–1597. https://doi.org/10.1007/s00417-016-3370-6

Johnson M, McLaren JW, Overby DR (2016) Unconventional aqueous humor outflow: a review. Exp Eye Res 158:94–111. https://doi.org/10.1016/j.exer.2016.01.017

Heuer DK, Barton K, Grehn F, Shaarawy T, Sherwood M (2008) Consensus of definitions of success. In: Shaarawy T, Grehn F, Sherwood M (eds) Guidelines on design and reporting of glaucoma surgical trials. World Glaucoma Association, Kugler Publications, The Hague, Amsterdam,The Netherlands, pp 15–24

Abdelrahman AM, El Cheweikh HM, El-Fayoumi DMS, Allam RSHM (2016) A new ultrasound biomicroscopic sign seen after deep Sclerectomy (dolphin head sign). J Curr Glaucoma Pract 10:56–59. https://doi.org/10.5005/jp-journals-10008-1202

Bull H, von Wolff K, Körber N, Tetz M (2011) Three-year canaloplasty outcomes for the treatment of open-angle glaucoma: European study results. Graefes Arch Clin Exp Ophthalmol 249:1537–1545. https://doi.org/10.1007/s00417-011-1728-3

Gesser C, Wiermann A, Keserü M, Richard G, Klemm M (2014) Long-term follow-up after deep sclerectomy. Klin Monatsbl Augenheilkd 231:535–539. https://doi.org/10.1055/s-0033-1360380

Suominen SM, Harju MP, Vesti ET (2016) Deep sclerectomy in primary open-angle glaucoma and exfoliative glaucoma. Eur J Ophthalmol 26:568–574. https://doi.org/10.5301/ejo.5000762
Funding
No funding was received for this research.
Ethics declarations
All authors certify that they have no affiliations
with or involvement in any organization or entity with any financial interest (such as honoraria; educational grants; participation in speakers' bureaus; membership, employment, consultancies, stock ownership, or other equity interest; and expert testimony or patent-licensing arrangements), or non-financial interest (such as personal or professional relationships, affiliations, knowledge or beliefs) in the subject matter or materials discussed in this manuscript.
Ethical approval
All procedures performed in studies involving human participants were in accordance with the ethical standards of the institutional and/or national research committee and with the 1964 Helsinki Declaration and its later amendments or comparable ethical standards.
Human and animal rights and informed consent
For this type of study formal consent is not required.
This article does not contain any studies with animals performed by any of the authors.
Disclosure
Szurman (none), Januschowski (none), Boden (none), and Seuthe (none).
About this article
Cite this article
Szurman, P., Januschowski, K., Boden, K.T. et al. Suprachoroidal drainage with collagen sheet implant- a novel technique for non-penetrating glaucoma surgery. Graefes Arch Clin Exp Ophthalmol 256, 381–385 (2018). https://doi.org/10.1007/s00417-017-3873-9
Received:

Revised:

Accepted:

Published:

Issue Date:

DOI: https://doi.org/10.1007/s00417-017-3873-9
Keywords