Abstract
Purpose
To compare segmented retinal layer thicknesses between patients with idiopathic infantile nystagmus (IIN) and controls.
Methods
This retrospective case-control study included 66 patients with IIN and 66 age-matched controls. The retinal layers were examined using spectral domain optical coherence tomography with autosegmentation. Central foveal thickness (CFT), outer nuclear layer (ONL), and outer segment length (OSL) thickness were measured at the fovea center. Mean values for retinal nerve fiber layer, ganglion cell inner plexiform layer (GCIPL), inner nuclear layer, outer plexiform-outer nuclear layer (OPNL) thicknesses were calculated at two measurement points (nasal and temporal hump points at the macula area).
Results
There were no significant between-group differences in age, gender, or refraction error. The CFT was thicker in the IIN group compared with the control group (225.0 μm vs. 217.8 μm, P = 0.017) and OSL was shorter in IIN than in controls (40.0 μm vs. 43.7 μm., P < 0.001). The ONL thickness at the central fovea was not statistically different between the two groups. At the nasal and temporal position where the ganglion cell density was thickest, the GCIPL thickness was thinner in the IIN group compared to the controls (99.5 μm vs. 102.8 μm, P = 0.010). The GCIPL thickness was negatively correlated with logMAR visual acuity (Spearman's rho = −0.502, P < 0.001).
Conclusions
The foveal pit was shallower, OSL was shorter, and the GCIPL thicknesses at macular humps were decreased in the patients with IIN compared with that of controls. The faulty development of the macula may be related to unknown pathophysiologic mechanism during fovea maturation in IIN or continuous eye movement itself interrupt fovea development.
Access options
Buy single article
Instant access to the full article PDF.
US$ 39.95
Tax calculation will be finalised during checkout.
Subscribe to journal
Immediate online access to all issues from 2019. Subscription will auto renew annually.
US$ 119
Tax calculation will be finalised during checkout.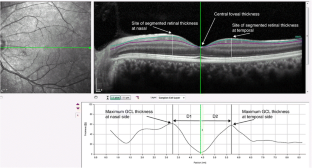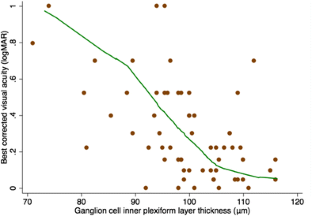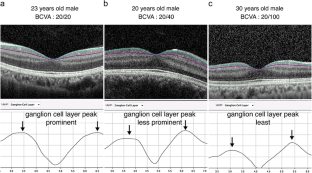 References
1.

Leigh RJ, Zee DD (2006) The neurology of eye movements, 4th edn. Oxford University Press

2.

Felius J, Muhanna ZA (2013) Visual deprivation and foveation characteristics both underlie visual acuity deficits in idiopathic infantile nystagmus. Invest Ophthalmol Vis Sci 54:3520–3525

3.

Weiss AH, Kelly JP (2007) Acuity development in infantile nystagmus. Invest Ophthalmol Vis Sci 48:4093–4099

4.

Fu VL, Bilonick RA, Felius J, Hertle RW, Birch EE (2011) Visual acuity development of children with infantile nystagmus syndrome. Invest Ophthalmol Vis Sci 52:1404–1411

5.

Abadi RV, Bjerre A (2002) Motor and sensory characteristics of infantile nystagmus. Br J Ophthalmol 86:1152–1160

6.

Bedell HE, Loshin DS (1991) Interrelations between measures of visual acuity and parameters of eye movement in congenital nystagmus. Invest Ophthalmol Vis Sci 32:416–421

7.

Thomas MG, Gottlob I (2012) Optical coherence tomography studies provides new insights into diagnosis and prognosis of infantile nystagmus: a review. Strabismus 20:175–180

8.

Tarpey P, Thomas S, Sarvananthan N, Mallya U, Lisgo S, Talbot CJ, Roberts EO, Awan M, Surendran M, McLean RJ, Reinecke RD, Langmann A, Lindner S, Koch M, Jain S, Woodruff G, Gale RP, Bastawrous A, Degg C, Droutsas K, Asproudis I, Zubcov AA, Pieh C, Veal CD, Machado RD, Backhouse OC, Baumber L, Constantinescu CS, Brodsky MC, Hunter DG, Hertle RW, Read RJ, Edkins S, O'Meara S, Parker A, Stevens C, Teague J, Wooster R, Futreal PA, Trembath RC, Stratton MR, Raymond FL, Gottlob I (2006) Mutations in FRMD7, a newly identified member of the FERM family, cause X-linked idiopathic congenital nystagmus. Nat Genet 38:1242–1244

9.

Thomas MG, Crosier M, Lindsay S, Kumar A, Thomas S, Araki M, Talbot CJ, McLean RJ, Surendran M, Taylor K, Leroy BP, Moore AT, Hunter DG, Hertle RW, Tarpey P, Langmann A, Lindner S, Brandner M, Gottlob I (2011) The clinical and molecular genetic features of idiopathic infantile periodic alternating nystagmus. Brain 134:892–902

10.

Thomas MG, Crosier M, Lindsay S, Kumar A, Araki M, Leroy BP, McLean RJ, Sheth V, Maconachie G, Thomas S, Moore AT, Gottlob I (2014) Abnormal retinal development associated with FRMD7 mutations. Hum Mol Genet 23:4086–4093

11.

Pu J, Lu X, Zhao G, Yan Y, Tian J, Zhang B (2012) FERM domain containing protein 7 (FRMD7) upregulates the expression of neuronal cytoskeletal proteins and promotes neurite outgrowth in neuro-2a cells. Mol Vis 18:1428–1435

12.

Ctori I, Huntjens B (2015) Repeatability of foveal measurements using Spectralis optical coherence tomography segmentation software. PLoS One 10:e0129005

13.

Holmstrom G, Eriksson U, Hellgren K, Larsson E (2010) Optical coherence tomography is helpful in the diagnosis of foveal hypoplasia. Acta Ophthalmol 88:439–442

14.

Healey N, McLoone E, Mahon G, Jackson AJ, Saunders KJ, McClelland JF (2013) Investigating the relationship between foveal morphology and refractive error in a population with infantile nystagmus syndrome. Invest Ophthalmol Vis Sci 54:2934–2939

15.

Harvey PS, King RA, Summers CG (2006) Spectrum of foveal development in albinism detected with optical coherence tomography. J AAPOS 10:237–242

16.

Thomas MG, Kumar A, Mohammad S, Proudlock FA, Engle EC, Andrews C, Chan WM, Thomas S, Gottlob I (2011) Structural grading of foveal hypoplasia using spectral-domain optical coherence tomography a predictor of visual acuity? Ophthalmology 118:1653–1660

17.

Thomas MG, Kumar A, Thompson JR, Proudlock FA, Straatman K, Gottlob I (2013) Is high-resolution spectral domain optical coherence tomography reliable in nystagmus? Br J Ophthalmol 97:534–536

18.

Dell'Osso LF, Daroff RB (1975) Congenital nystagmus waveforms and foveation strategy. Doc Ophthalmol 39:155–182

19.

Gottlob I, Proudlock FA (2014) Aetiology of infantile nystagmus. Curr Opin Neurol 27:83–91

20.

Betts-Henderson J, Bartesaghi S, Crosier M, Lindsay S, Chen HL, Salomoni P, Gottlob I, Nicotera P (2010) The nystagmus-associated FRMD7 gene regulates neuronal outgrowth and development. Hum Mol Genet 19:342–351

21.

Kirby MA, Steineke TC (1992) Morphogenesis of retinal ganglion cells during formation of the fovea in the rhesus macaque. Vis Neurosci 9:603–616

22.

Hendrickson A, Possin D, Vajzovic L, Toth CA (2012) Histologic development of the human fovea from midgestation to maturity. Am J Ophthalmol 154:767–778 e762

23.

Dell'Osso LF, Jacobs JB (2002) An expanded nystagmus acuity function: intra- and intersubject prediction of best-corrected visual acuity. Doc Ophthalmol 104:249–276

24.

Felius J, Fu VL, Birch EE, Hertle RW, Jost RM, Subramanian V (2011) Quantifying nystagmus in infants and young children: relation between foveation and visual acuity deficit. Invest Ophthalmol Vis Sci 52:8724–8731

25.

Cesarelli M, Bifulco P, Loffredo L, Bracale M (2000) Relationship between visual acuity and eye position variability during foveations in congenital nystagmus. Doc Ophthalmol 101:59–72

26.

Fledelius HC, Jensen H (2014) Infantile nystagmus and visual deprivation: foveal instability and refractive development in a low vision register series. Eur J Ophthalmol 24:599–607

27.

Fresina M, Benedetti C, Marinelli F, Versura P, Campos EC (2013) Astigmatism in patients with idiopathic congenital nystagmus. Graefes Arch Clin Exp Ophthalmol 251:1635–1639

28.

Packer O, Hendrickson AE, Curcio CA (1990) Development redistribution of photoreceptors across the Macaca nemestrina (pigtail macaque) retina. J Comp Neurol 298:472–493

29.

Li N, Wang L, Cui L, Zhang L, Dai S, Li H, Chen X, Zhu L, Hejtmancik JF, Zhao K (2008) Five novel mutations of the FRMD7 gene in Chinese families with X-linked infantile nystagmus. Mol Vis 14:733–738
Acknowledgements
All authors contributed to the work and fit the authorship criteria.
Ethics declarations
Funding
This study was supported by a faculty research grant of Yonsei University College of Medicine (6–2015-0077). The sponsor had no role in the design or conduct of this research
Conflict of interests
All authors certify that they have no affiliations with or involvement in any organization or entity with any financial interest (such as honoraria; educational grants; participation in speakers' bureaus; membership, employment, consultancies, stock ownership, or other equity interest; and expert testimony or patent-licensing arrangements), or non-financial interest (such as personal or professional relationships, affiliations, knowledge or beliefs) in the subject matter or materials discussed in this manuscript.
Ethical approval
All procedures performed in this study involving human participants were in accordance with the institutional review board of Severance Hospital and with the 1964 Declaration of Helsinki and its later amendments or comparable ethical standards.
Informed consent
For this type of study, formal consent is not required.
Electronic supplementary material
About this article
Cite this article
Han, J., Lee, T., Lee, J.B. et al. Retinal microstructures are altered in patients with idiopathic infantile nystagmus. Graefes Arch Clin Exp Ophthalmol 255, 1661–1668 (2017). https://doi.org/10.1007/s00417-017-3713-y
Received:

Revised:

Accepted:

Published:

Issue Date:
Keywords
Infantile nystagmus

Retinal layer thickness

Optical coherence tomography

Visual acuity