Abstract
Purpose
To examine the surgical outcome of three-flap external dacryocystorhinostomy (3-flap ex-DCR) based on the most common site of granulation occurrence in no-flap endonasal DCR (no-flap en-DCR).
Methods
This was a retrospective observational study. We first examined the location of granulation occurrence in the osteotomy site using nasal endoscopy after no-flap en-DCR on 53 sides of 37 patients (5 male, 32 female) with nasolacrimal duct obstruction. Based on the results of this surgery, we performed 3-flap ex-DCR on 70 sides of 61 patients (18 male, 43 female) with nasolacrimal duct obstruction. Anatomical success was defined as no reflux under lacrimal irrigation and a patent osteotomy site under nasal endoscopic examination at postoperative 12 months. Functional success was defined as no symptoms of watery eyes over the same period.
Results
In the no-flap en-DCR patients, the granulation was formed in 42 sides (79.2 %): 18 sides (34.0 %) on the superior portion, 9 sides (17.0 %) on the inferior portion, 35 sides (66.0 %) on the anterior portion, and only 1 side (1.9 %) on the posterior portion, which was very small. Based on these results, we performed the 3-flap ex-DCR with the anterior, superior, and inferior flaps. Anatomical success with this technique was achieved in all sides (100 %), and functional success was obtained in 66 of 70 sides (94.3 %).
Conclusions
The 3-flap ex-DCR did not cause recurrent nasolacrimal duct obstruction, rendering it a very useful technique in terms of quality of life and medical economics.
Access options
Buy single article
Instant access to the full article PDF.
USD 39.95
Price excludes VAT (USA)
Tax calculation will be finalised during checkout.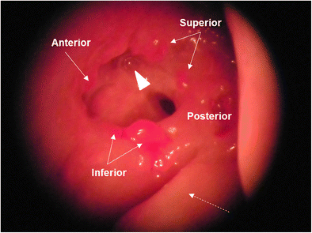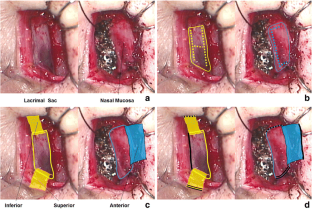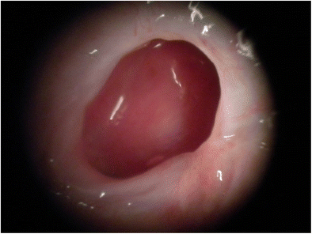 References
Kamal S, Ali MJ (2015) Primary acquired nasolacrimal duct obstruction (PANDO) and secondary acquired lacrimal duct obstructions (SALDO). In: Ali MJ (ed) Principles and practice of lacrimal surgery. Springer, New Delhi, pp 133–141

Serin D, Alagöz G, Karshoğlu Ş, Celebi S, Kükner S (2007) External dacryocystorhinostomy: double-flap anastomosis or excision of the posterior flaps? Ophthal Plast Reconstr Surg 23:28–31

Yazici B, Yazici Z (2003) Final nasolacrimal ostium after external dacryocystorhinostomy. Arch Ophthalmol 121:76–80

Ali MJ, Psaltis AJ, Bassiouni A, Wormald PJ (2014) Long-term outcomes in primary powered endoscopic dacryocystorhinostomy. Br J Ophthalmol 98:1678–1680

Roy H (2011) Fractures and dislocations: general considerations. In: Roy H (ed) Short textbook of surgery. Jaypee Brothers Medical Publishers, New Delhi, p 354

Takahashi Y, Nakamura Y, Kakizaki H (2015) Eight-flap anastomosis in external dacryocystorhinostomy. Br J Ophthalmol 99:1527–1530

Balikoglu-Yilmaz M, Yilmaz T, Taskin U, Taskapili M, Akcay M, Oktay MF, Eren S (2015) Prospective comparison of 3 dacryocystorhinostomy surgeries: external versus endoscopic versus transcanalicular multidiode laser. Ophthal Plast Reconstr Surg 31:13–18

Malhotra R, Wright M, Olver JM (2003) A consideration of the time taken to do dacryo-cystorhinostomy (DCR) surgery. Eye 17:691–696

Takahashi Y, Mito H, Kakizaki H (2015) External dacryocystorhinostomy with or without double mucosal flap anastomosis: comparison of surgical outcomes. J Craniofac Surg 26:1290–1293

Elwan S (2003) A randomized study comparing DCR with and without excision of the posterior mucosal flap. Orbit 22:7–13

Bukhari AA (2013) Meta-analysis of the effect of posterior mucosal flap anastomosis in primary external dacryocystorhinostomy. Clin Ophthalmol 7:2281–2285

Erdoğan G, Unlü C, Vural ET, Aykut A, Bayramlar H (2010) Inferior flap anastomosis in external dacryocystorhinostomy. Ophthal Plast Reconstr Surg 26:277–280

Kakizaki H (2015) Anatomy, physiology, and immunology of the lacrimal system. In: Ali MJ (ed) Principles and practice of lacrimal surgery. Springer, New Delhi, pp 17–33

Hartikainen J, Antila J, Varpula M, Puukka P, Seppä H, Grénman R (1998) Prospective randomized comparison of endonasal endoscopic dacryocystorhinostomy and external dacryocystorhinostomy. Laryngoscope 108:1861–1866

Tsirbas A, Davis G, Wormald PJ (2004) Mechanical endonasal dacryocystorhinostomy versus external dacryocystorhinostomy. Ophthal Plast Reconstr Surg 20:50–56

Hartikainen J, Grenman R, Puukka P, Seppä H (1998) Prospective randomized comparison of external dacryocystorhinostomy and endonasal laser dacryocystorhinostomy. Ophthalmology 105:1106–1113

Tarbet KJ, Custer PL (1995) External dacryocystorhinostomy: surgical success, patient satisfaction, and economic cost. Ophthalmology 102:1065–1070

Shams PN, Chen PG, Wormald PJ, Sloan B, Wilcsek G, McNab A, Selva D (2014) Management of functional epiphora in patients with an anatomically patent dacryocystorhinostomy. JAMA Ophthalmol 132:1127–1132

Malbouisson JMC, Bittar MDR, Obeid HN, Guimaräes FC, Cruz AAV (1997) Quantitative study of the effect of dacryocystorhinostomy on lacrimal drainage. Acta Ophthalmol Scand 75:290–294

Lee H, Takahashi Y, Ichinose A, Kakizaki H (2014) Comparison of surgical outcomes between simple posterior layer advancement of lower eyelid retractors and combination with a lateral tarsal strip procedure for involutional entropion in a Japanese population. Br J Ophthalmol 98:1579–1582

Morgan NJ, MacGregor FB, Birchall MA, Lund VJ, Sittampalam Y (1995) Racial differences in nasal fossa dimensions determined by acoustic rhinometry. Rhinology 33:224–228

Cohen AJ, Weinberg DA (2012) Management of the failed dacryocystorhinostomy. In: Black EH, Nesi FA, Gladstone G, Levine MR, Calvano CJ (eds) Smith and Nesi's ophthalmic plastic and reconstructive surgery, 3rd edn. Springer, New York, pp 689–695

Tos M, Ans GB, Perriard A, Balle V (1995) Extranasal microsurgical dacryocystorhinostomy. In: Tos M, Thomsen J, Balle V (eds) Rhinology: a state of the art. Kugler Publications, Amsterdam, p 241
Acknowledgments
All authors contributed to the work and fit the authorship criteria.
Ethics declarations
Funding
No funding was received for this research.
Conflict of interest
All authors certify that they have no affiliations with or involvement in any organization or entity with any financial interest (such as honoraria, educational grants, participation in speakers' bureaus, membership, employment, consultancies, stock ownership, other equity interests, expert testimony or patent-licensing arrangements) or non-financial interest (such as personal or professional relationships, affiliations, knowledge, or beliefs) in the subject matter or materials discussed in this manuscript.
Ethical approval
As there was no ethics committee at Ide Eye Hospital, institutional review board (IRB) approval was obtained from Aichi Medical University Hospital (nos. 2014-H123 and 2015-H135) on behalf of the institution, and followed the tenets of the Declaration of Helsinki. The IRB granted a waiver of informed consent for the study based on the ethical guidelines for medical and health research involving human subjects established by the Japanese Ministry of Education, Culture, Sports, Science and Technology, and by the Ministry of Health, Labour, and Welfare. The waiver was granted because the study was a retrospective chart review, not an interventional study, and because it was difficult to obtain consent from patients who had been treated several years prior. Nevertheless, at the request of the IRB, we published an outline of the study, available for public viewing, on the Aichi Medical University website and on the notice board at Ide Eye Hospital; this also gave patients the opportunity to decline participation. No patient declined to participate. Personal identifiers were removed from the records prior to data analysis.
About this article
Cite this article
Kakizaki, H., Kitaguchi, Y., Takahashi, Y. et al. Prevention of re-obstruction in watery eye treatment: three-flap technique in external dacryocystorhinostomy. Graefes Arch Clin Exp Ophthalmol 254, 2455–2460 (2016). https://doi.org/10.1007/s00417-016-3490-z
Received:

Accepted:

Published:

Issue Date:

DOI: https://doi.org/10.1007/s00417-016-3490-z
Keywords
Three-flap external dacryocystorhinostomy

No-flap endonasal dacryocystorhinostomy

Granulation

Re-obstruction